Free Extras!
When you buy an Eglu Classic you also get over £50 worth of accessories absolutely free! Not only that, we're so confident you'll love everything about the Eglu Classic and your new chickens we offer a 30-day, no-quibble money-back guarantee.

Like ladies at Ascot during a downpour, chickens don't like getting their plumage wet. Luckily the all weather shade is a perfect gentleman protecting your chickens from wind and rain. What's more in summer this useful device keeps the delicate ladies out of the heat of the midday sun.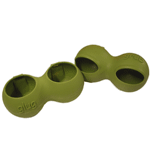 Created for use with the Eglu Classic run, these food and water containers have the combination of great design and practicality you expect from Omlet.
They clip neatly onto the run, maximising floor area and can be put in the dishwasher. The covered design of the Grub prevents food from being spoiled by the rain as well as minimising wastage. The Grub will keep 4 chickens fed for 2 days and the Glug water container holds a thirst quenching 4 pints (2.2 liters).
You can see how these containers work with this short movie.

If you are getting an Eglu Classic with chickens you will also receive a bag of Omlet's complete organic feed. This is the perfect food for your chickens and if you only feed them on this they will have a balanced nutritious diet. You can of course give them scraps from the kitchen as well.

Written by Omlet and packed with straight-forward tips on looking after chickens, the guide is an invaluable information source for the beginner and advanced user alike.

You will soon find that your home grown eggs are in high demand from friends and family. You will be able to make giving them even more special with your own egg boxes!

Each chicken will reward you with an egg most mornings. What could be better than that?

If for any reason you are not entirely satisfied with the Eglu Classic or the chickens you can send it back to us for a full refund. This does not affect your statutory rights.