Putting the Fun into Fundraising
It's easy and fun to raise money for an eglu and chickens at your school! You can take advantage of our 100 egg boxes offer and raise the funds through your school's PTA. Alternatively, there are some really good grant schemes available from organisations who support creative projects in schools, which we have put together as a list below.
Omlet's golden eggs offer!
The eggs from your school's chickens are sure to be in high demand so why not start taking orders early? We can send you a hundred Omlet egg boxes (for free!) which you can then sell to parents to raise the money for an eglu and chickens. Once the chickens start laying you pick a box from the pile and over the course of the term each pupil can take home their box full of wonderful eggs!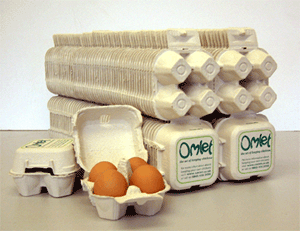 There's gold in them there egg boxes
If you would like to raise the money for your eglu and chickens by selling egg boxes please email info@omlet.co.uk to request them.
Grants

A national school grounds charity. They often have grants schemes running themselves, and if you become a member (£Ãƒâ€šÃ'£55 annually for schools) you can access an up to date list of grants that are available nationwide.

Stating the well known fact that 'Everyone knows children would rather be out than in' the guys at teachernet know about the importance of the outside classroom. They have loads of good ideas about funding for school gardens and outdoor training, and they also provide helpful information about health and safety and linking the outdoors with the National Curriculum.

The Royal Society provides up to £3000 for a science project where your school teams up with either an engineer or a scientist. If you have a science project in mind that involves the chickens, then all you have to do is find a scientist that is willing to work with you and apply for the grant, it may fund the purchase of your entire Eglu and hens! One idea for a research project is altering the hen's diet and monitoring the egg quality, size, flavour and colour, and also the hen's behaviour.
Gardens for Schools Started in 2001 to help primary schools with funding for garden and wildlife projects, the Alan Titchmarsh Gardens for Schools scheme is financed entirely by Alan, and awards up to £500 which can be used to create a beautiful habitat for your chickens. Funding is awarded yearly and therefore the website should be checked regularly to see if they are accepting applications.
Please note that Omlet takes no responsibility for external links.