Space Required for Keeping Chickens
What size garden do you need to keep chickens? The diagram below shows the eglu in a typical garden. We recommend that you allow at least 6m (18ft) by 8m (24ft) of space for your two chickens. The eglu and run is approximately 3m (9ft) long by 1.5m (5ft) wide and weighs about 25kgs (55lbs) and can be easily moved around your garden by one person.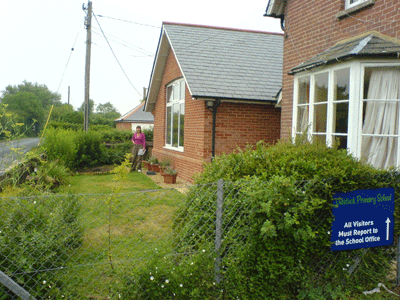 Do you need a lawn? It is possible to keep a couple of chickens if you do not have a lawn but you must provide them with a layer of bark chippings to rummage about in, and a container filled with sand (or other loose material) to bathe in. This is known as the dust bath and is an essential part of a chickens routine helping to keep her feathers and skin in tip top condition.
Our school has neighbours, what will they think? Well, they will probably be green with envy because you will be doing something amazing! You don't need to worry about disturbing them as you don't need to keep a cockerel as hens will lay just as well without one. It is a good idea to pop round and explain that you are going to keep some chickens and if they are lucky they may find a box of delicious eggs on the doorstep every now and again.
Ideally your garden should have a fence all the way round, this will prevent your chickens wandering anywhere in the school grounds. The fence should be about 1.5m (5ft) high.