The Eglu Classic!
The eglu has been designed to be comfortable for the chickens and effortless for you with easy to clean features like a slide out dropping tray and wipe clean surfaces. The eglu can't rot and doesn't need painting, in fact every couple of weeks all you need to do is wash out the inside with a hosepipe or pressure washer.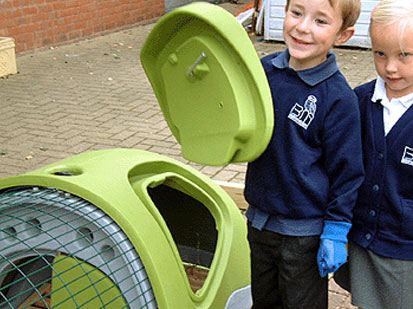 The slide out dropping tray makes cleaning simple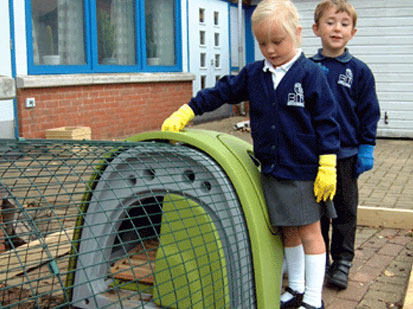 No more being late for school when you're in charge of letting the hens out!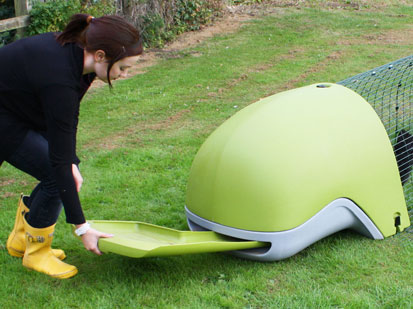 The slide out dropping tray makes cleaning simple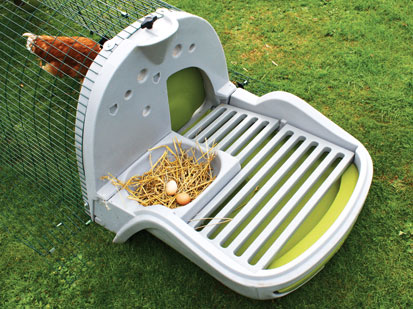 The lid is removable for easy cleaning
Inside the eglu chickens have everything they need including a roosting area and nesting box where they lay their eggs. You can keep 2-4 medium sized hens in an eglu, such as the Gingernut Ranger or Miss Pepperpot. The number of chickens you should keep depends on how much space you have and how many egg you would like to get. Two chickens will produce around 12 eggs a week, and four chickens will give you an amazing 24 eggs a week.
The chickens are kept warm in the winter and cool in the summer, thanks to modern twin walled insulation. To make collecting your eggs easy, the eglu has an eggport which gives access to the nesting box. The children can also use this hatch to watch the chickens up close inside the house.
The eglu is child friendly and they can be involved in every aspect of chicken care from foundation stage upwards. Available in five fantastic colours and made from energy efficient polymers using modern construction techniques the eglu can be 100% recycled.