If you're breeding chickens, a broody hen is good news. She will sit on her own eggs, the eggs of other hens, and even the eggs of other birds (not to mention stones and golf balls!). However, if you're just in it for the eggs, and not roosters and chicks, a broody hen is a nuisance. She will not like anyone coming close and may peck at a hand that attempts to retrieve an egg. She will also start plucking her breast feathers to line her nest, and may overheat eggs, shortening their shelf life.
This is one reason why eggs should be collected every morning. If left in the nest/egg box, a hen's brooding instincts may kick in. To prevent this habit from forming, collect eggs every day. Hens are more likely to go broody on a nest full of eggs.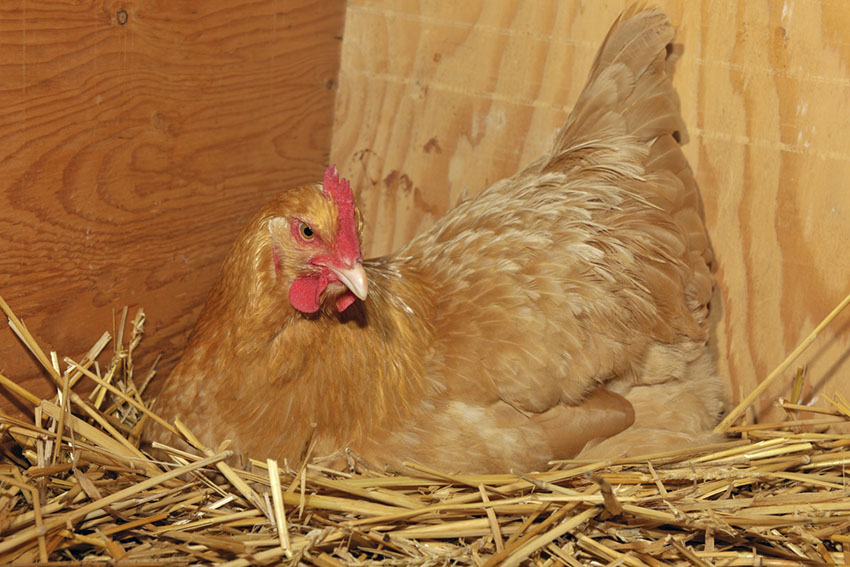 Feeling broody - a Buff Orpington hen
A hen who has already gone broody can be persuaded to abandon the eggs in a number of gentle ways. Take her off the nest at least twice a day and prevent her returning for at least ten minutes, and she will soon grow tired of the whole business. If this fails, an ice pack in the egg box will be sufficiently uncomfortable to dissuade her from brooding. Failing that, two or three days in isolation will force her to give up hopes of hatching. This isn't cruel – hen's act purely on instinct, and once the 'cure' is in place, her instinct will tell her to scratch, squabble and lay with the other hens, and she won't think twice about brooding.