The list of chicken-fancying predators is quite long, unfortunately. The specific danger depends on which part of the US you live in; but in general, you need to beware the following:
Pet dogs
Domestic cats
Bobcat (Lynx rufus)
Coyote (Canis latrans)
Fox (Vulpes vulpes fulvus)
Hawks, including:

Red-tailed Hawk (Buteo jamaicensis)
Red-shouldered Hawk (Buteo lineatus)
Sharp-shinned Hawk (Accipiter striatus)
Cooper's Hawk (Accipiter cooperii)

Mink (Neovison vison)
Opossum (or Possum, Didelphis virginiana)
Owls, especially the Great Horned (Bubo virginianus)
Raccoon (Procyon lotor)
Rat (the Norway rat Rattus norvegicus throughout the States, and the Roof rat (Rattus rattus) in some southern and western States). These are not a danger to adult birds, but will take eggs and chicks.
Skunks:

Striped Skunk (Mephitis mephitis)
Eastern spotted skunk (Spilogale putorius)
Hog-nosed skunk (Conepatus leuconotus)
Hooded skunk (Mephitis macroura)

Snakes, notably the Black Rat Snake (Pantherophis obsoletus) (although with smaller snakes it will be the other way round, with the chickens trying to catch and eat them!)
Weasel family (Mustela), including the Black-footed Ferret (Mustela nigripes) and Long-tailed Weasel (Mustela frenata)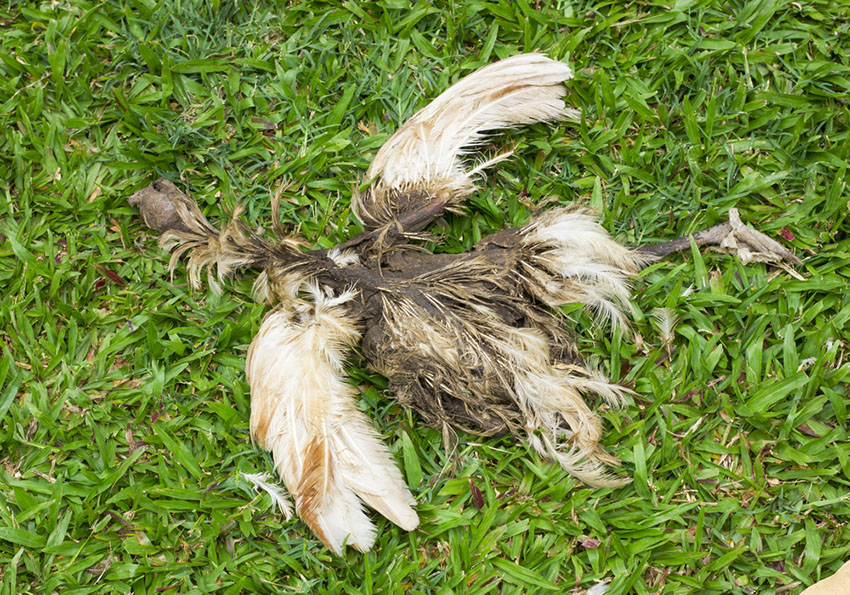 The one thing a chicken keeper never wants to see... Follow our top tips on the next page to avoid this!