Hamsters eat a wide variety of foods, but in general they will need three things; dry food, fresh fruits and vegetables, and a small amount of protein.
Modern dry food is specially formulated to contain most of the key vitamins and minerals your hamster needs to stay fit and healthy. There are a wide variety of mixes to choose from, online and from your local pet shop.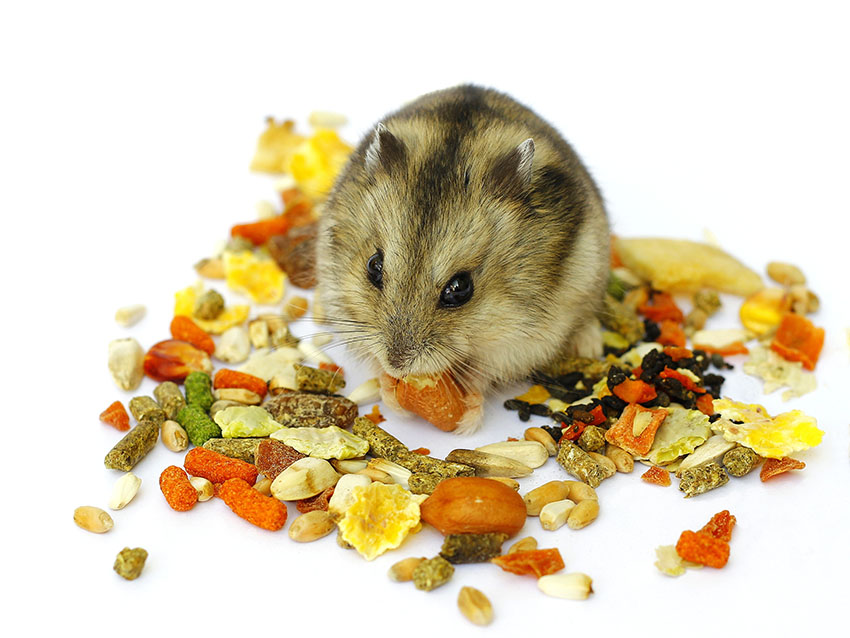 Food, glorious (hamster) food!
Fresh food is a tasty addition to the bare-bones dry food diet. Hamsters enjoy leafy greens such as dandelions and clover, and fruits and vegetables such as apples, pears, carrots and cabbage. There is a useful list of hamster foods on our Hamster Food List page.
If a hamster is feeling off-color, or recuperating from illness or pregnancy, supplementing the diet with a small amount of protein can help. A small portion of boiled egg is ideal. Don't overdo it - a hamster is a small animal with a small stomach and correspondingly small appetite!