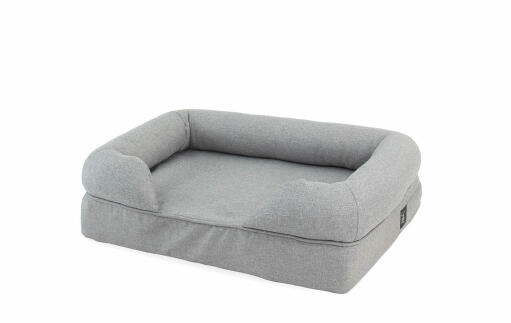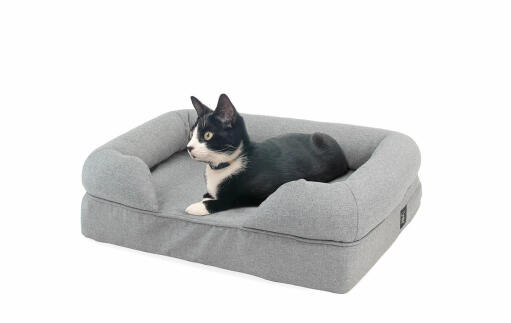 Checking stock in our warehouse...
$109.00
Upgrade your cat's bed to the luxury Omlet Bolster Cat Bed. The cushioned bolster shape is deep filled and designed to support your pet's head, offering ultimate comfort and relaxation. The premium memory foam mattress is the best you can give your pet; it molds around your cat's body and gives unparalleled support for a deep, dreamy sleep.
No need to worry about removing fur or stains from the bed, as the removable cover is made from long lasting, durable fabric that is machine washable time and time again. The memory foam mattress is in a water resistant casing, within the stylish fabric cover, to keep the foam hygienic and odor free.
The memory foam cat bed is available in three versatile colors with a subtle, woven, diamond geometric pattern. Choose from soft, elegant grey, rich, forest green or for a striking accent the vibrant, peach. Whichever you choose, Omlet's bolster bed will match the quality, look, and feel of your other soft furnishings ensuring your cat's bed is a part of the home just like they are part of your family.
Accessorize your Bolster Cat Bed with the new Luxury Super Soft Cat Blanket. Complete your cat's sleep setup and let them fulfill their natural nesting instinct with this super cozy blanket. This luxury cat blanket is double-sided to offer deluxe warmth and comfort: a quilted charcoal grey plush on one side, and a cream, luxury sherpa on the reverse.
You can also use your Bolster Cat Bed with the
Maya Nook Luxury Indoor Cat House
to raise your cat's bed off the ground, reducing drafts and disturbances, and increase coziness even more. The Maya Nook is also available with a handy wardrobe to store all your cat's treats and toys, as well as a beautiful curtain set which provides your cat with more peace and quiet to relax.
Which Size Should I Choose?
Choose from two sizes to suit your cat. The Small is perfect for most domestic cat breeds, the Medium suits larger breeds such as Maine Coons or is big enough for 2 cats to share comfortably.
Product dimensions
Bolster Bed Small: 1'2" x 1'6.8" x 6" - Internal dimension 1'6.7" x 1'1.7" Bolster Bed Medium: 2'10.4" x 1'9.6" x 8.2" - Internal dimension 2'3.5" x 1'7.6"
Memory Foam Bolster Cat Bed Small - Grey
Excellent in every way And wonderful customer care when I rang to resolve my ordering error. Could not have been handled better.
Review for:
Memory Foam Bolster Cat Bed Small - Grey
The reviewer has 2-4 pets
My very fussy cat has taken to this bed so quickly, it looks great and of very good quality, maybe a little more expensive than other beds I looked at but in my opinion it's well worth the money.
Review for:
Memory Foam Bolster Cat Bed Small - Grey
The reviewer has 1 Exotic shorthair blu pets
These beds have been instantly accepted by the cats. I no longer cringe when they sleep with their necks hanging over the edge. They look smart too.
Review for:
Memory Foam Bolster Cat Bed Small - Grey
Read more reviews