Qute Hamster and Gerbil Cage
The most beautiful and easy to clean hamster cage or gerbil house in the world. Pet friendly, child safe, it's an indoor hamster cage that you can be proud of.
Qute Hamster and Gerbil Cage with girl pointing at hamster
Qute Hamster and Gerbil Cage is available in three great colours
Qute Hamster and Gerbil Cage looks like a piece of furniture
Qute Hamster and Gerbil Cage makes it easy to handle your pets
Qute Hamster and Gerbil Cage - Mobile Pet Station with hamster eating a peanut
Composite image of Qute Hamster and Gerbil Cage in Walnut Effect
We have been delighted with the quality, appearance and general innovativeneness of this product - it looks great in our daughter's room; similar to Ikea furniture (not an eyesore like many hamster cages!)... Emma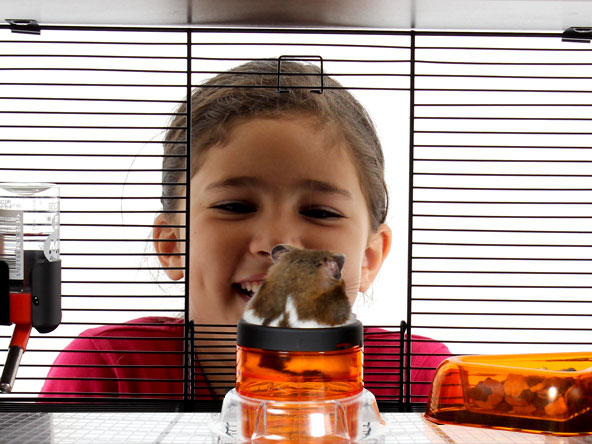 Your Kids will love the Qute.
Fun for Hamsters and Gerbils
The large, deep bedding tray allows your gerbils and hamsters to nest and burrow naturally. The bedding tray is made from virtually unbreakable polycarbonate and is crystal clear so you and your pets have the perfect view of each other.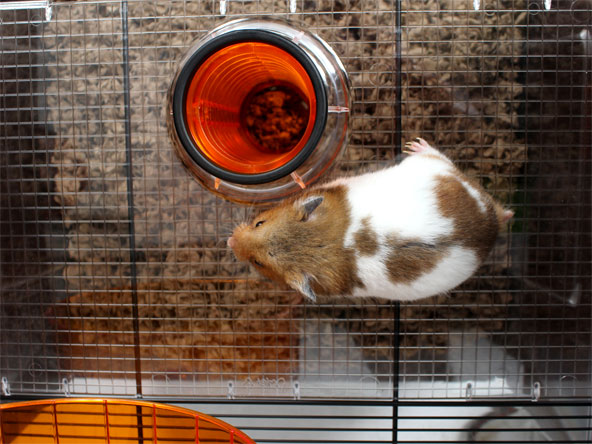 Solid Floor
The Qute Hamster and Gerbil Cage now has solid floor. The majority of the floor is made from clear plastic, allowing you to get a good view of both the top and bottom of the cage and your pet. A slightly raised grid surface design provides grip, without being uncomfortable on small feet, and a section of mesh either side offers good ventilation and allows bedding or debris to fall into the tray below.
The Lift 'n' Twist Tube™.
Qute has 2 levels, the top floor is for feeding and exercising and underneath your pets will love the extra deep tray for nesting and burrowing. You can use the Lift 'n' Twist Tube to separate the top level from the bedding tray - handy for lots of reasons...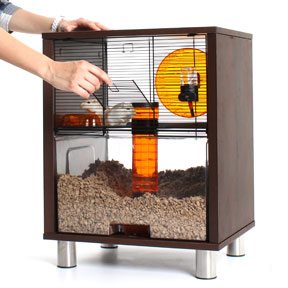 Open Door - Reach through to the tube by opening the mesh door.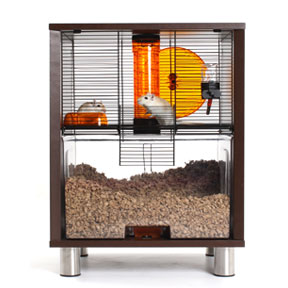 Lift 'n' Twist Tube - Lift and twist the tube to lock it in position.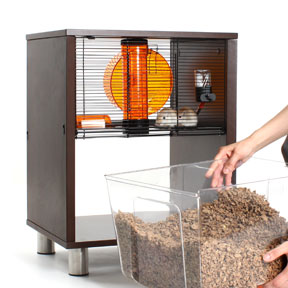 Remove Tray - Remove the bedding tray easily.
The 1-Minute-Clean™.
Cleaning your Qute is amazingly quick and simple, in fact, you can clean it in less than 1 minute! You simply Lift 'n' Twist the tube and stow your pets upstairs while you clean the bedding tray. No other small animal house is quite that easy to clean and with a hygienic home, your pets will be healthier and happier.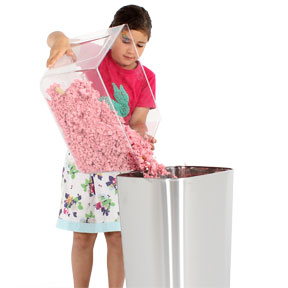 Empty Tray - Empty the used bedding out of the bedding tray straight into the dustbin or a compost heap.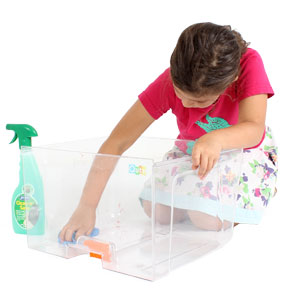 Wipe Clean - Use a pet-safe disinfectant to get the bedding tray squeaky clean.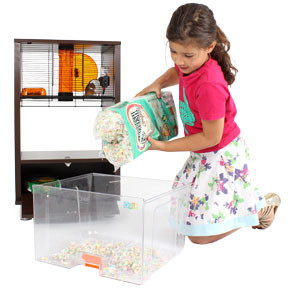 Refill Tray - Refill the bedding tray with a good layer of fresh bedding and replace.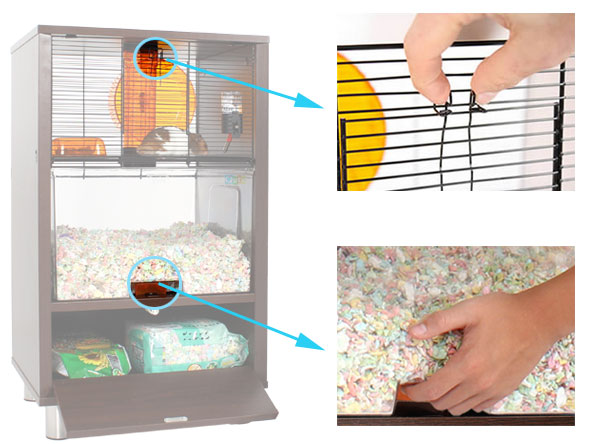 Safe and Secure
Qute is designed to keep your hamster safe and secure from other household pets including cats or dogs. The bedding tray has a secure lock on the underside - which is easy for children to use but prevents the tray from being accidentally moved. The wire spacing is suitable for gerbils, dwarf and syrian hamsters.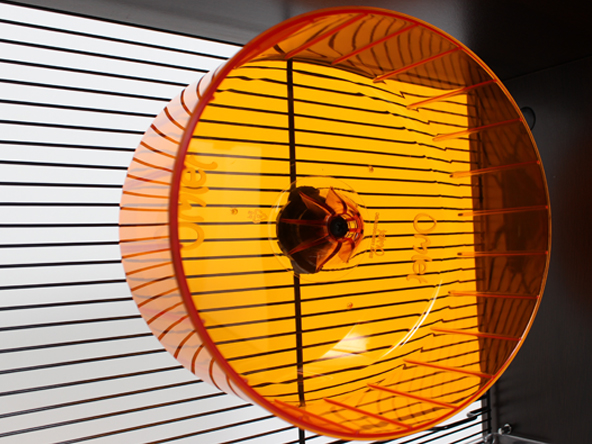 Your pets won't keep you up at night!
Silent Wheel
The Qute Hamster and Gerbil Cage has a silent wheel. The wheel mounting has an extremely low friction bearing inside, resulting in a much smoother turn which is good for the hamster and good for you!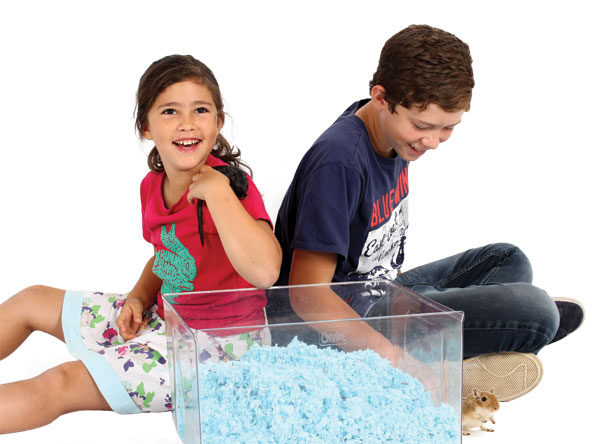 The Qute makes handling your pets fun and easy.
Easy to Handle
Qute makes it really easy to spend time and play with your hamster or gerbils. It's great fun to take your pets with you to another room, so the handy bedding tray doubles as a mobile play station. Just Lift n' Twist the tube, slide out the tray and you never have to leave your pets in the same room again.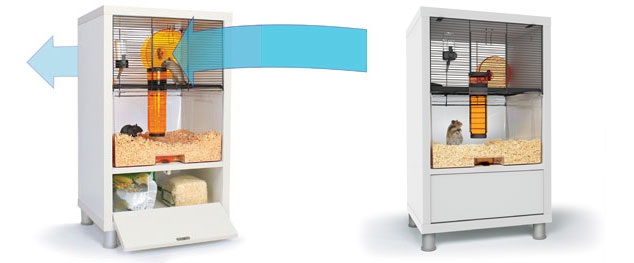 Draft Free Ventilation
The top mesh section and bedding tray provides draught-free ventilation for keeping your hamsters and gerbils healthy and happy.
Deep Bedding Tray
The large, deep bedding tray allows your Gerbils and Hamsters to nest and burrow naturally. The extra high walls prevent their bedding from spilling out.
Storage for Feed and Bedding
The storage compartments keep food and bedding tidy and conveniently right where you need it.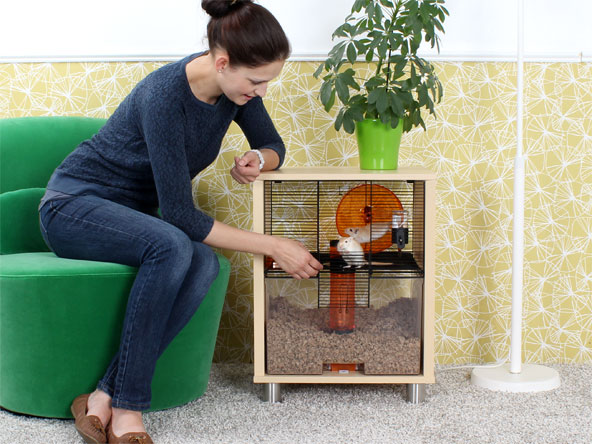 The Qute makes a great side table!
Designed for the home
Designed like a piece of contemporary furniture, Qute is more than just a hamster cage. It's the perfect size to be used as a side table in your living room, kitchen or children's bedroom. Unlike a normal hamster cage, you'll want to put your Qute on display.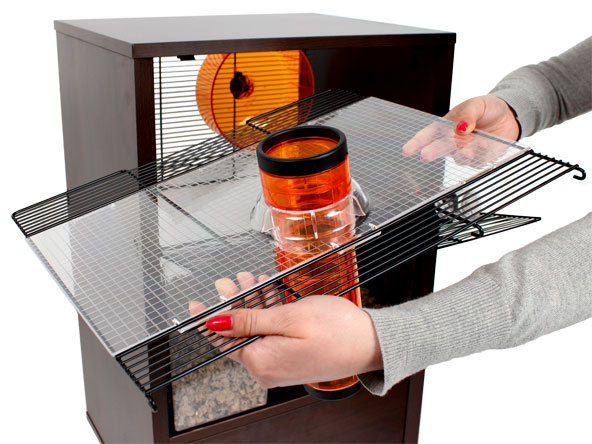 Easy to Access
You can give your Qute a really deep clean by releasing the front wire panel and removing the floor, tube, wheel and bowl and water bottle. Use the bedding tray to hold your pets while you do this - just remember to flip the front mesh panel back to prevent them from climbing out.
Dimensions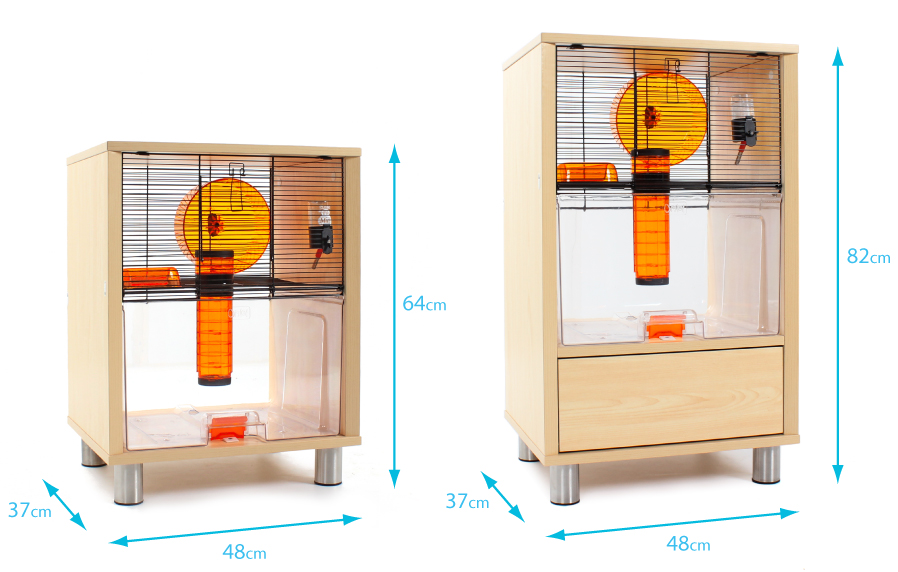 Three Great Colours


Free Extras!
The complete package as your Qute comes with the water bottle, exercise wheel and feeding bowl.
Buy Now
Qute Gerbil and Hamster Cage
Over 50 in stock
$149.00
Qute Gerbil and Hamster Cage with Storage
Only 2 in stock, order now!
$169.00
Walnut Style Qute Gerbil and Hamster Cage with Storage
Out of Stock
$169.00
Birch Style Qute Gerbil and Hamster Cage with Storage
Out of Stock
$169.00
Walnut Style Qute Gerbil and Hamster Cage
34 in stock
$149.00
Birch Style Qute Gerbil and Hamster Cage
44 in stock
$149.00
Related Products
Your Reviews - Qute Hamster and Gerbil Cage
---
Customer Images - Qute Hamster and Gerbil Cage - 30 of 59