Egg Ramp Red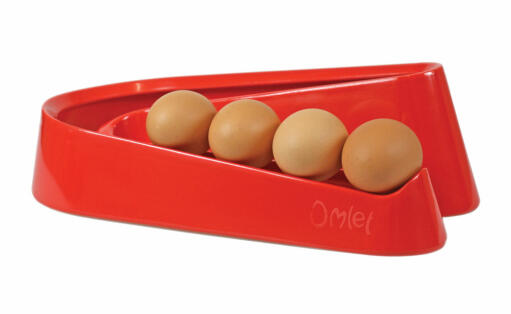 Bring your kitchen to life with the Egg Ramp™, a stylish new way to store eggs and keep them in date order. Available in 4 great colours to suit any kitchen. Keeps Your Eggs In Date Order
Every time your hens lay a lovely egg, simply add it to the shiny melamine Egg Ramp™. When it comes to using them, always use the one at the front first, which will be the oldest - no more guesswork. At only 15cm deep it looks sleek and it won't take up much space on your worktop. There are four colours to choose from so you can be sure to find one that will suit your kitchen, and your personality, perfectly! Holds 12 Chicken Eggs or Lots of Bantam Eggs!
The Egg Ramp™ can hold up to 12 medium chicken eggs. If your hens eggs are a bit bigger or smaller it doesn't matter, the Egg Ramp™ can handle them! The gap between the sides is 3cm, so unless your eggs are the size of Maltesers they won't fall through, making the Egg Ramp™ ideal for bantam eggs as well! You will of course be able to store lots more than 12 of them...pretty hendy if you have a whole flock in your garden! So, the question is...which colour will you choose?
$29.00 Ex Tax
Checking stock in our warehouse...
If you would like to be notified when it becomes available, please enter your email address below.
Packed Product Details
Weight: 0.360 kg
Height: 10 cm
Width: 16 cm
Length: 30 cm
Product SKU: 14465
Latest Product Reviews For Egg Ramp Red
---
Customer Images - Egg Ramp Red