GRADE B - Eglu Go Chicken Coop - Purple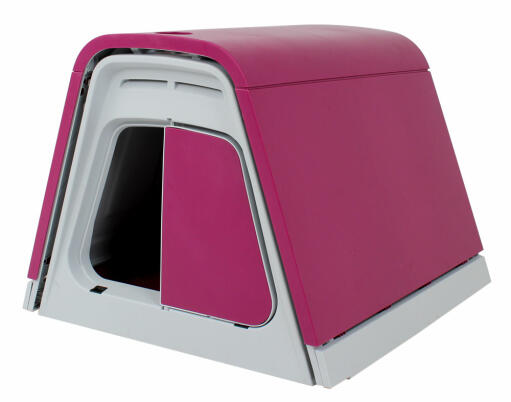 The Eglu Go Chicken Coop is the simple, stylish, straightforward way to start keeping chickens and comes complete with everything you need to get started. It has plastic roosting bars and a discreet nesting area which can be filled with straw or shredded paper to make a comfortable nest for your chickens. The freshly laid eggs can be plucked from the nest simply by opening the door at the back and can be served with some buttery soldiers in a matter of minutes - delicious!
You'll find keeping your Eglu Go Chicken Coop in tip-top condition a breeze thanks to its innovative slide-out dropping tray and wipe clean surfaces. Made from energy efficient polymers, it's a hygienic home for your hens that will last for years and at the end of its life can be 100% recycled.
The Eglu Go is quick and easy to clean with a slide out tray for collecting droppings and a large door at the back which allows easy access to the roosting bars and nesting area. Simply slide the droppings tray out out of the hen house and empty into the compost bin - they will make a wonderful fertilizer for your plants. The Eglu's smooth plastic surfaces can be washed with a hose – no difficult corners or absorbent materials, or give it a deep clean quickly with a pressure washer. Unlike wooden housing, you do not need to treat your Eglu.
GRADE B - Item is categorised as having been returned to us within 30 days of purchase. This item has been checked as being in full working order however please be aware of the potential for surface scratches or other superficial marks.
RRP: $315.00
$252.00 Ex Tax
You Save $63.00
Checking stock in our warehouse...
If you would like to be notified when it becomes available, please enter your email address below.
Packed Product Details
Weight: 20.000 kg
Height: 41 cm
Width: 70 cm
Length: 76 cm
Latest Product Reviews For GRADE B - Eglu Go Chicken Coop - Purple
---
Customer Images - GRADE B - Eglu Go Chicken Coop - Purple