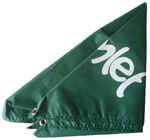 Shade - Classic - Summer
This is the shade which comes free when you buy an eglu. It covers approximately half the run giving a mixture of shade and sun.
Out of Stock
Please use this page to review the product you have purchased. If you have any questions about your order or are unhappy with the service you have received, please contact Omlet Customer Services on 0845 450 2056 or at info@omlet.co.uk
Please Note: So that we can show your review, all submitted reviews become the licensed property of Omlet Limited. You can read our full Customer Review Policy here.