Hens in your garden and fresh eggs every morning!
If you've been thinking about keeping a couple of chickens for a while, but didn't know which house to buy or where to get some chickens from, then Omlet can help!
We designed the Eglu Classic for the town garden, the first time chicken owner, the family and the eco-savvy individual. We wanted it to be as easy as looking after a goldfish but more rewarding than owning a dog (you get eggs with chickens!). Keeping a couple of chickens in your garden doesn't require a large investment of money or time, but you do get fantastic tasting eggs and a good feeling inside.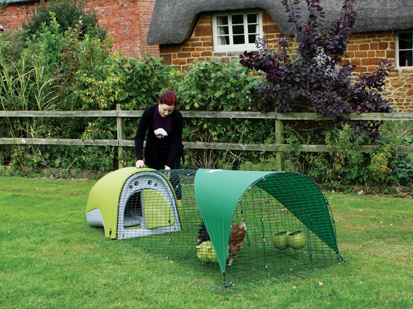 Where are my eggs?
Omlet only supplies organically reared female chickens so there isn't an early morning Cock-a-Doodle-Doo. The first your neighbours will know of your new pet is when you invite them round for a quiche and tell them proudly that you made it with your own home-grown eggs!
Use the next button below or the left hand navigation menu to find out about the service Omlet provide and the fantastic award-winning Eglu Classic- the world's most desirable chicken house.