Maya Indoor Cat House - Cat Den Furniture with Donut Bed
The Maya Cat House offers a secluded sanctuary for cozy cat naps in a stylish furniture piece. Add the cuddly Maya Donut Cat Bed for deep, squishy comfort.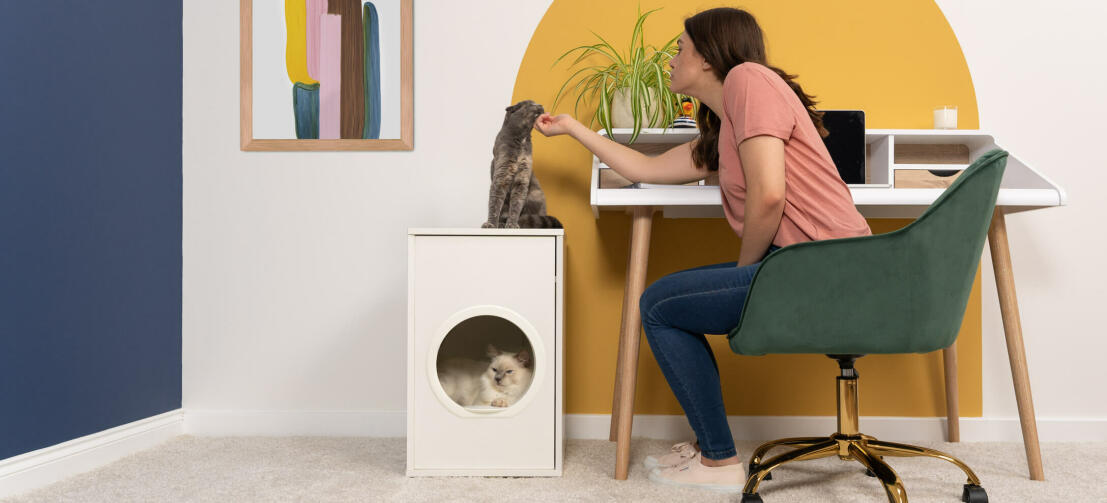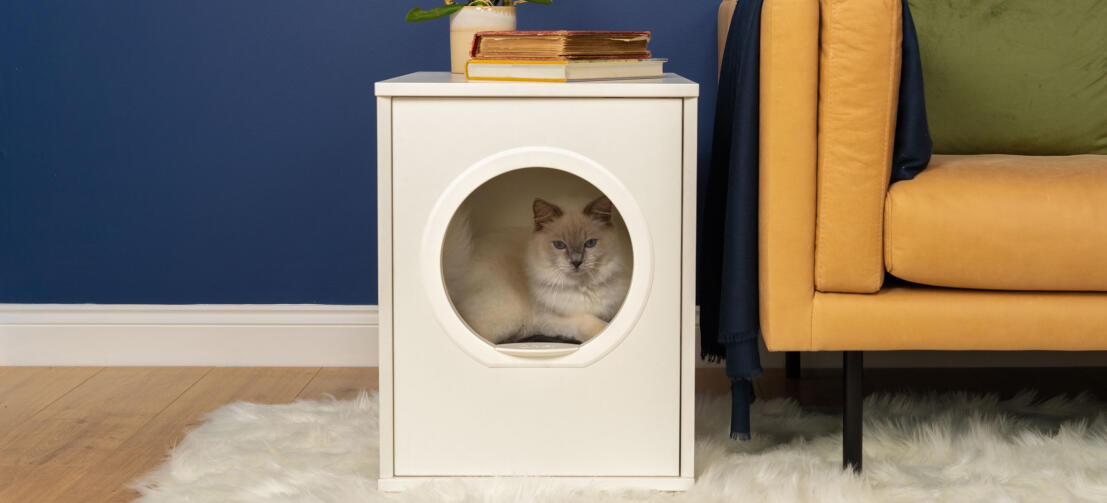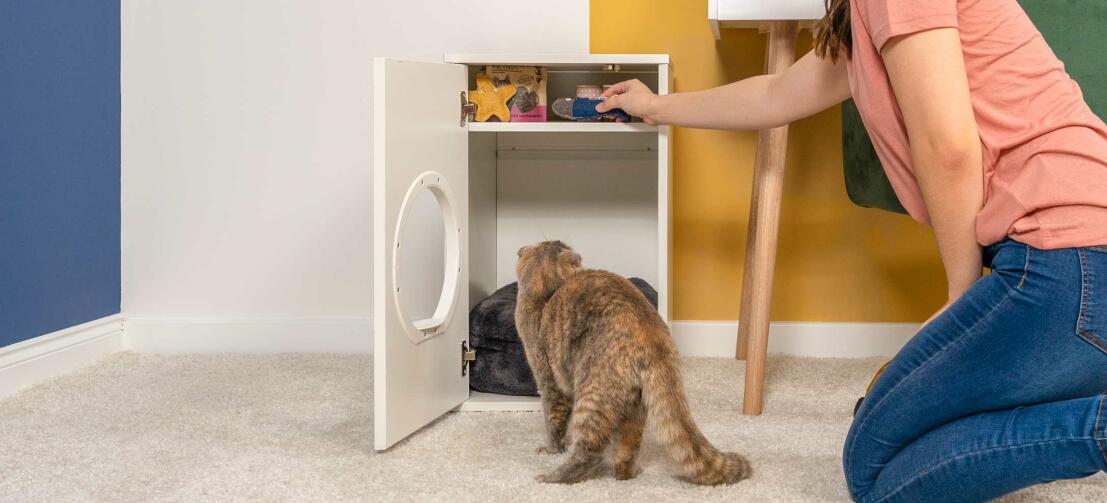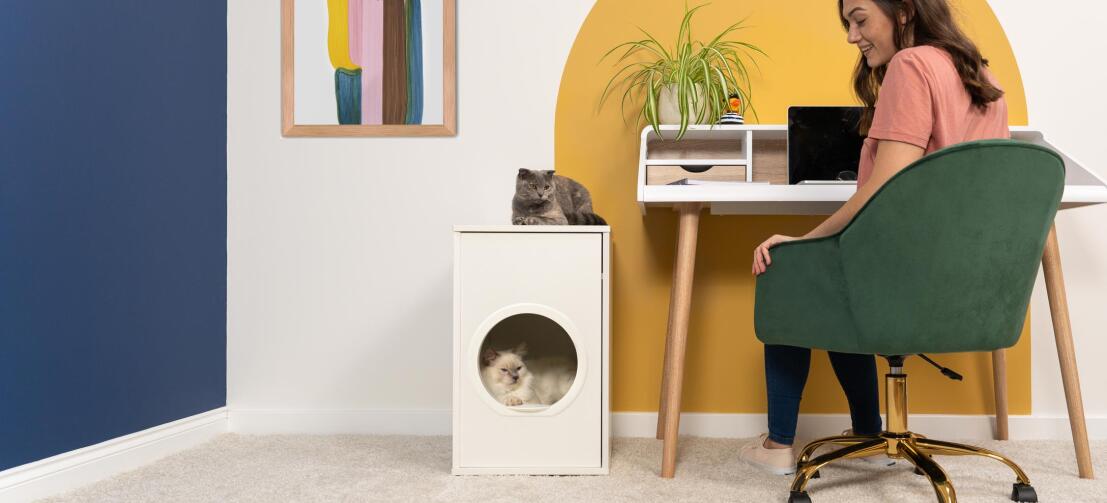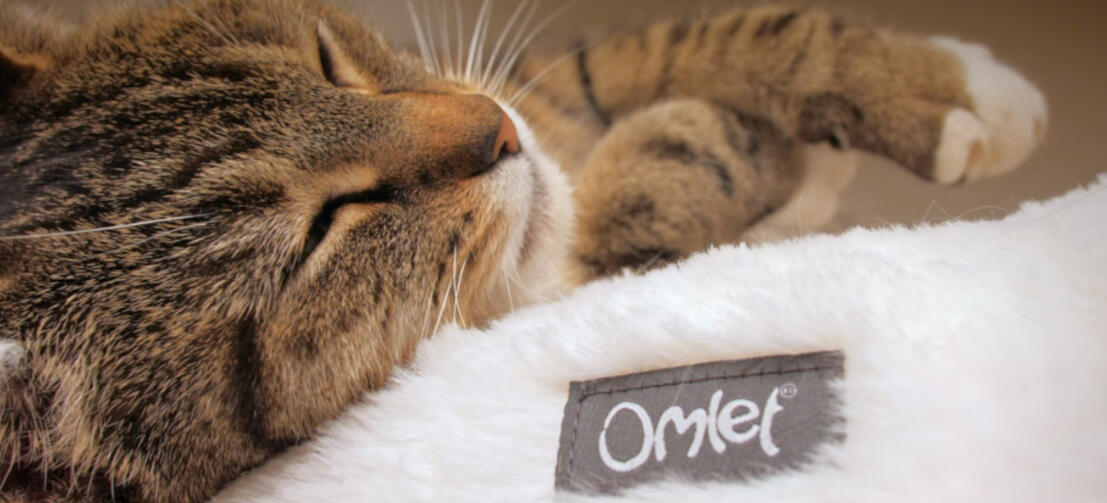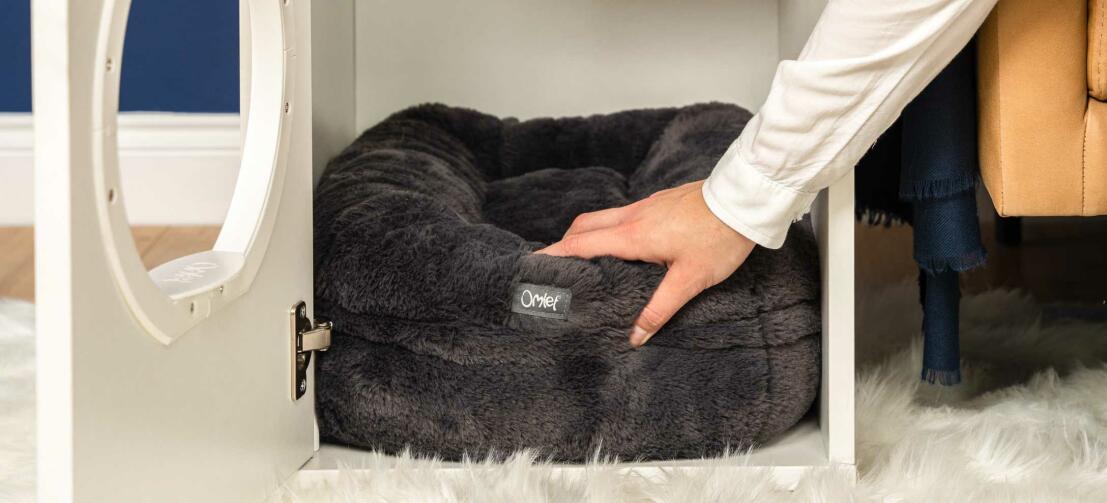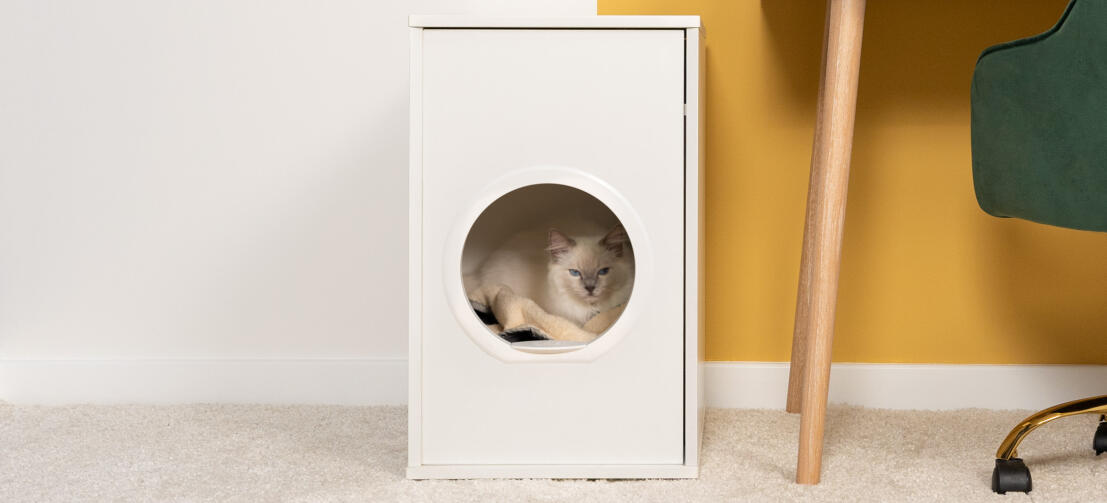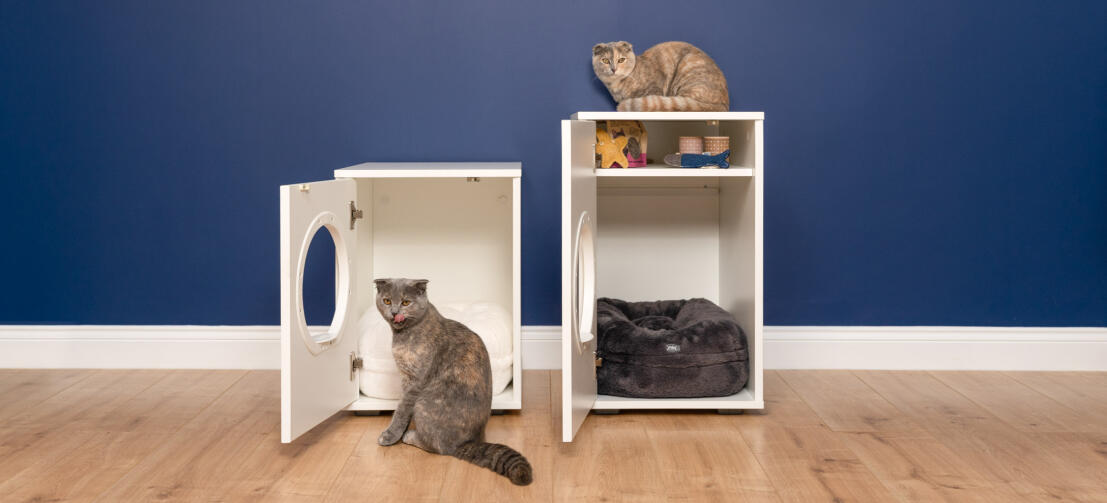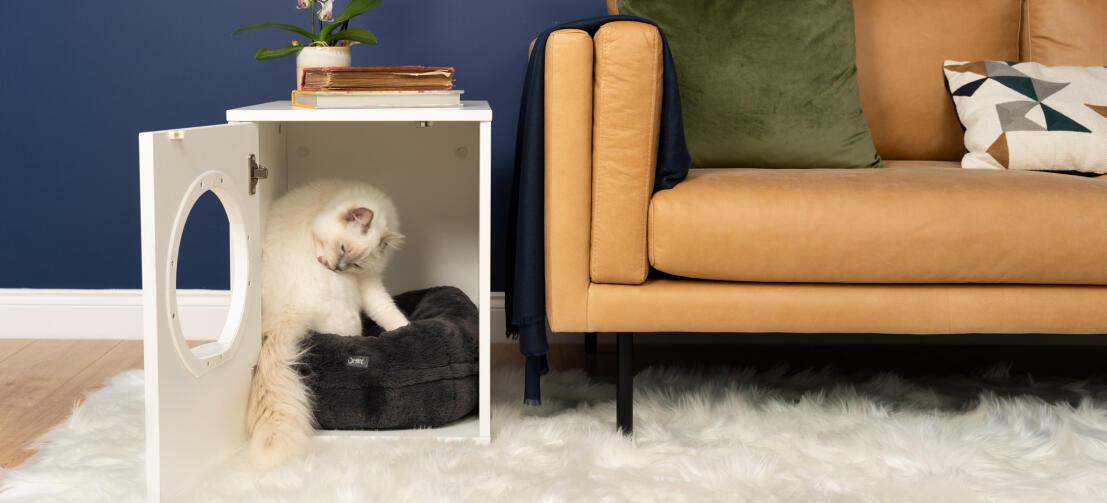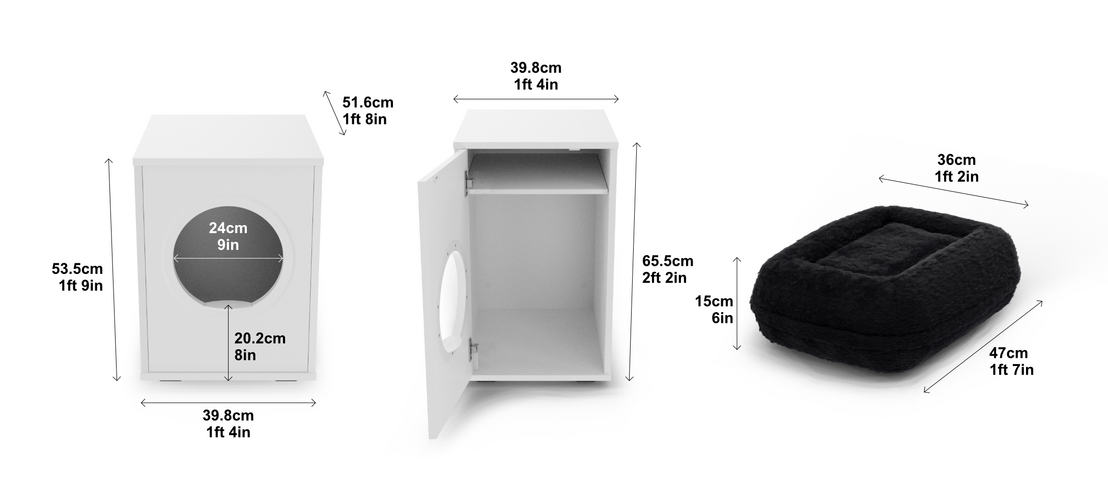 Configure Now
Stylish Indoor Cat House That Looks Great in Your Home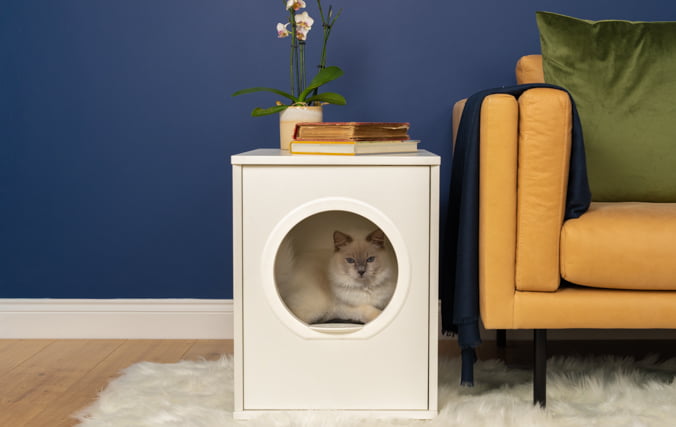 The Maya Cat House will blend in beautifully with the rest of your furniture.
The stylish white Maya Indoor Cat House is an excellent way of making your cat's bed a natural part of the house while still giving them a designated spot to fully relax. Designed like a modern piece of furniture, the wooden cat house will be a stunning addition to anywhere in your home, and you can use the top as a handy side table for your favorite (cat-friendly) plant or some picture frames.
The subtlety of the modern cat bed furniture piece allows you to choose where you want to place it; next to the sofa in the living room or in a more secluded area of the house, all depending on what your cats love and their preferences when it comes to nap time.
Calm, Enclosed Cat Hideaway for Anxious Cats Who Prefer Quiet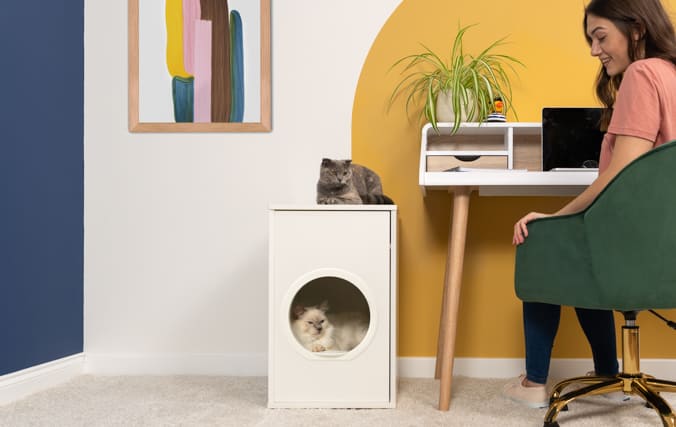 Offer a cozy hideaway for any cat that appreciates peace and quiet.
Cats take sleeping seriously, but many have specific requirements when it comes to choosing a spot to rest. An enclosed cat cave has many advantages for your pet, including:
Separating cats from the hustle and bustle of the home
Providing a space where your cat knows they won't be disturbed
Adding an opportunity to live out natural feline sleeping behaviors
Enabling unbroken sleep, which can reduce stress and prevent unwanted behavioral problems
Establishing a designated spot that young children and other pets can learn not to approach
Provide Complete Relaxation with the Maya Donut Bed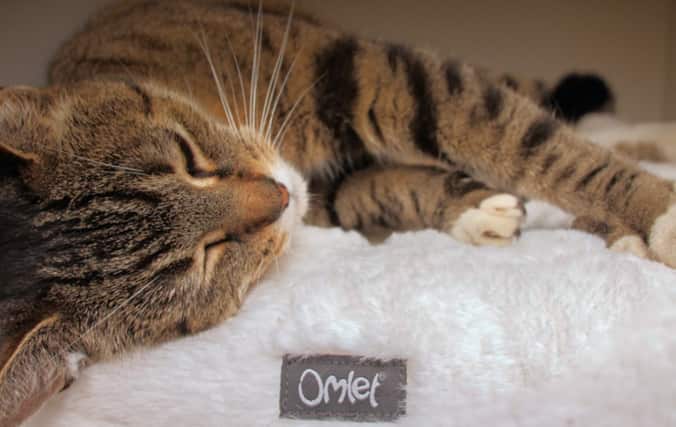 Add a Maya Donut bed to your cat's den for extremely comfortable naps.
The amazing Maya Donut premium faux fur bed with donut shape cushioning offers first class comfort, and it fits perfectly into the den of the Maya Cat House. Available in range of fifteen beautiful colors, you can pop the bed into the enclosed area to give your cat a cozy place they won't be able to resist returning to for their naps. And if you want to make the space even more cozy, why not accessorize with a super soft cat blanket?
"My rescue cat Ralph has been using this as his safe zone in the evenings when he needs to chill out somewhere he feels safe. The donut bed inside makes it super squishy and cozy, and he seems much more relaxed when he's in there away from the noise! "
6 Reasons To Buy From Omlet

180 Day Money Back Guarantee

Free shipping over $100

2 Year Warranty

Excellent Customer Service

Secure Payment

Over 17,000
5 Star Reviews
Placing Bed in Enclosed Space Reduces Drafts and Disturbances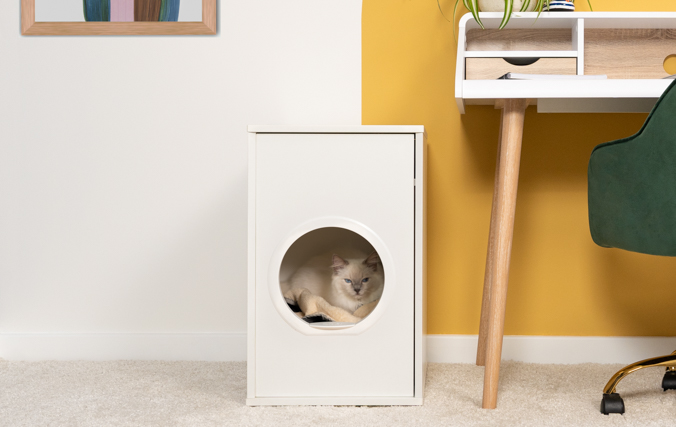 The extra height over the ground can minimize stress and improve your cat's sleep.
Hidden away and off the ground, the cat house design offers many advantages over simply placing your cat's bed on the floor. The bed will be protected from the normal disturbances that happen in a busy household, and your cat can hide away blissfully unaware of what's going on in the rest of the house.
Keeping the bed enclosed within the luxury cat furniture also protects your cat from drafts from open doors and windows, and the extra shelter will keep them warm and cozy in winter. This will provide them with a more comfortable and peaceful environment for their extremely important cat naps.
Easy to Vacuum and Wipe Clean for Everlasting Use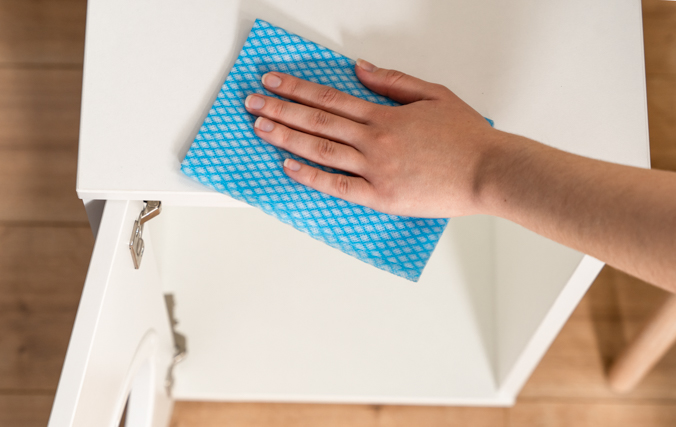 The smooth surfaces make it easy to clean your Maya Cat House in a matter of minutes.
It is super easy to keep the Maya Cat House clean and hygienic for your cat. All surfaces are super smooth, so you can easily wipe them down with a cloth and some pet-safe disinfectant, making sure your house cat can rest in a dust and dirt-free environment.
Just open the door and remove your cat's bed to vacuum or wipe inside the den as well. The Maya Donut bed has a removable cover that can be put in the washing machine whenever needed, so that both soft and hard surfaces are always kept fresh and clean.
Optional Storage for All Your Cat's Things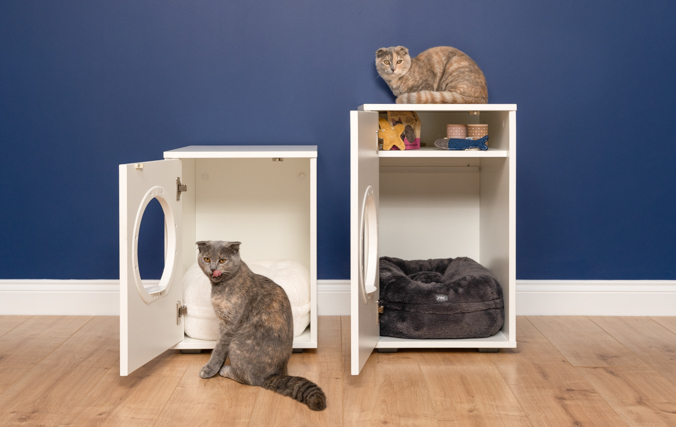 The optional handy storage shelf is easy to access by opening up the door of the Cat House.
You can choose to purchase the Maya Cat House with a handy storage compartment. The optional shelf on top of the den is perfect for storing your cat's litter, a comfy blanket or some toys, and you can easily get to it using the push-to-open door.
Omlet has got lots of amazing cat products that will make you purr with delight, including stylish Maya food and water bowls and our range of high performance cat litters with excellent odor control and highly absorbent particles to eliminate bad smells from your litter tray. Or why not pair your bed furniture with a matching Maya litter box to offer complete privacy for your cat's 1s and 2s?
---
Frequently Asked Questions
Verified Reviews - Maya Indoor Cat House - Cat Den Furniture with Donut Bed
---
Customer Images - Maya Indoor Cat House - Cat Den Furniture with Donut Bed - 3 of 3
Related Products