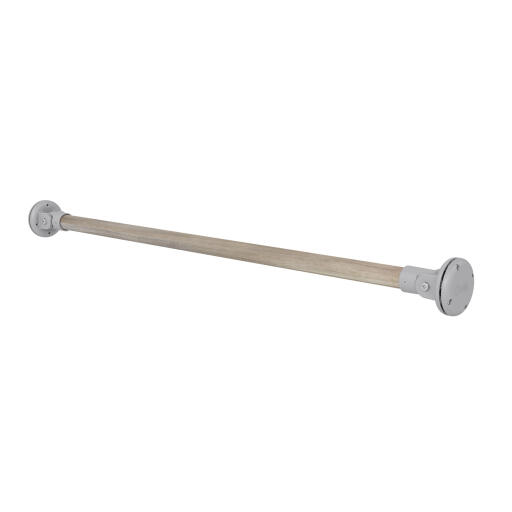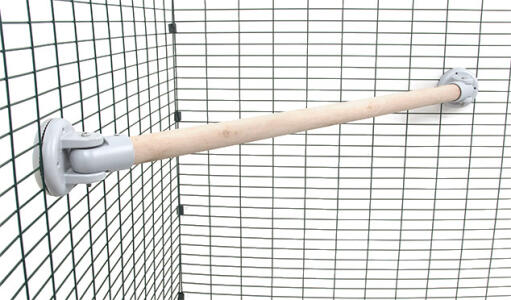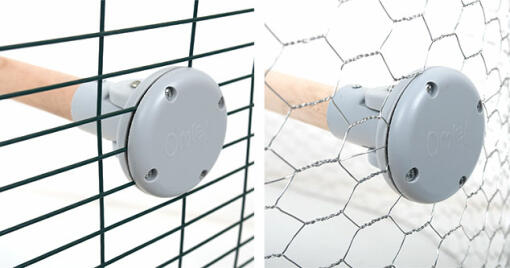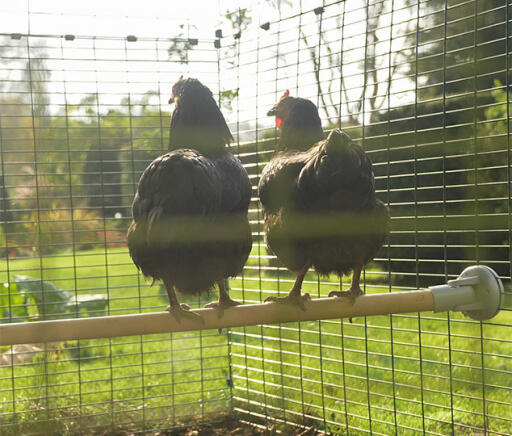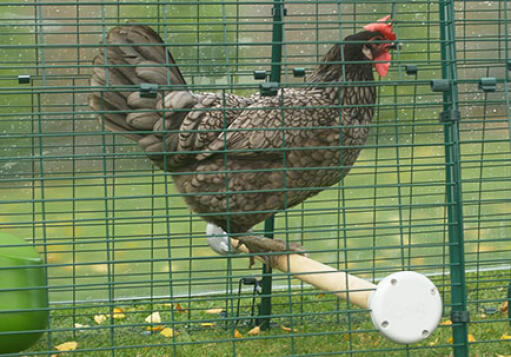 Checking stock in our warehouse...
$39.99
Give your chickens a brilliant new way to play with Omlet's sleek new Chicken Perch. It's a simple and quick way to enhance your chickens outdoor run with a fun accessory. The naturally weather resistant perch not only features an innovative bracket design - allowing it to be placed anywhere on any chicken run - but is also suitable for use by all breeds of chicken, making it the new must-have DIY chicken coop accessory!
Hentertainment of the Highest Order
Your birds love to perch and not just in their house at night. During the day you've probably noticed that they will happily hop onto a wheelbarrow handle, the back of a chair or even on the edge of flower pot. It's an instinct that comes from the very earliest chickens that lived in forests and today's domestic hens still have a natural desire to perch from the highest available point.
Fits All Chicken Runs Whether you have an Eglu Chicken Coop, a Walk in Run or a DIY chicken coop… the Omlet Chicken Perch will fit them all. This innovative perch for chickens has a special connector which clamps around any chicken wire or chicken mesh leaving a secure and very neat looking finish. It's one of the easiest and cheapest ways you can add a perch to your chicken run that your hens will use every day.
Specifications Made from naturally weather resistant eucalyptus, the perch is a comfortable size for bantams as well as large breeds of chickens to grip. Eucalyptus is a very hard and strong wood, as it's a natural material you will find some splitting along the length of the pole, this is not a defect and is part of the wood's characteristics. It comes untreated, you can use it straight out the box or you can use a pet safe varnish, paint or wood stain.
Length (assembled): Approx. 3ft
Diameter: 33mm
Omlet Chicken Perch - 3ft
Didn't know if my chickens would use it, Took a couple of days of them getting use to it, but once they did, they absolutely love it. Not hard to install, but recommend installing before putting front of encloser on as I had to crawl in the encloser and install because my Omlet Go Up was already put together.
Review for:
Omlet Chicken Perch - 3ft
The reviewer has 2-4 Wyandotte and Turkin pets
When we set up the coop, the hens seemed hesitant about going in by way of the ladder. (Older hens, set in their ways) We moved the perch closer to the ladder, and now they easily fly up to the perch and then hop to the top of the ladder. Glad we got it!
Review for:
Omlet Chicken Perch - 3ft
The reviewer has 2-4 Sex x cross pets
I bought this a few weeks ago. Received the product and it was exactly as described. Excellent documentation with hardware to install the perch in several different ways (wall mount, wire mount, etc). Very impressed with quality of product.
Review for:
Omlet Chicken Perch - 3ft
The reviewer has 2-4 Black Australorp pets
I thought our chickens would take time to warm up to it, but they use it everyday. They really do seem to enjoy it and use it.
Review for:
Omlet Chicken Perch - 3ft
The reviewer has 4-6 Easter egger and gol pets
We thought we put it too high in the run but they all hopped right up on it no problem the first day. It's now their favorite hang out spot.
Review for:
Omlet Chicken Perch - 3ft
The reviewer has 2-4 Red sex link and Gol pets
Read more reviews