Omlet Catios - Large, Spacious Outdoor Cat Enclosures
With Omlet's large outdoor cat enclosure all cats can play in the fresh air! These secure and spacious outdoor cat enclosures, available with a wide range of exciting accessories, will provide first class exercise and enrichment for your pets.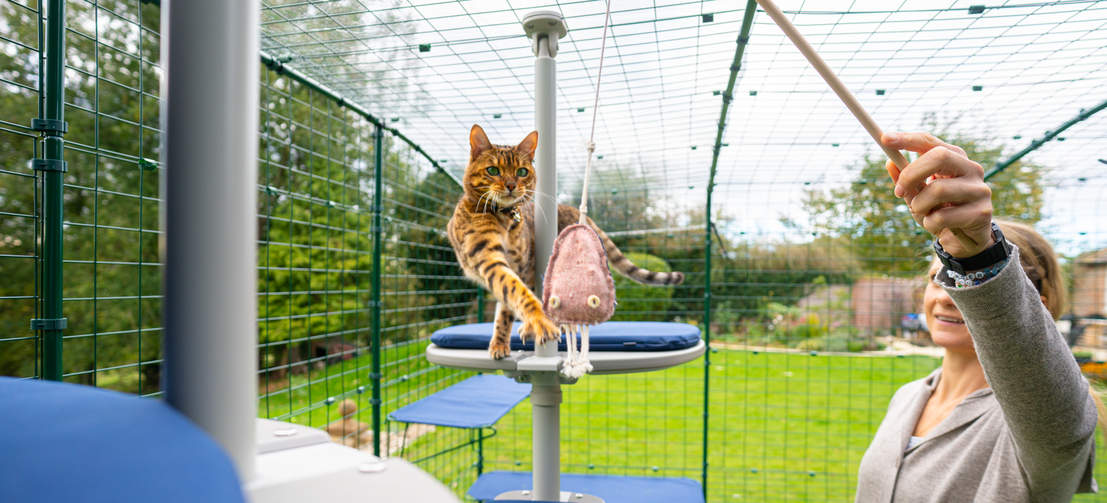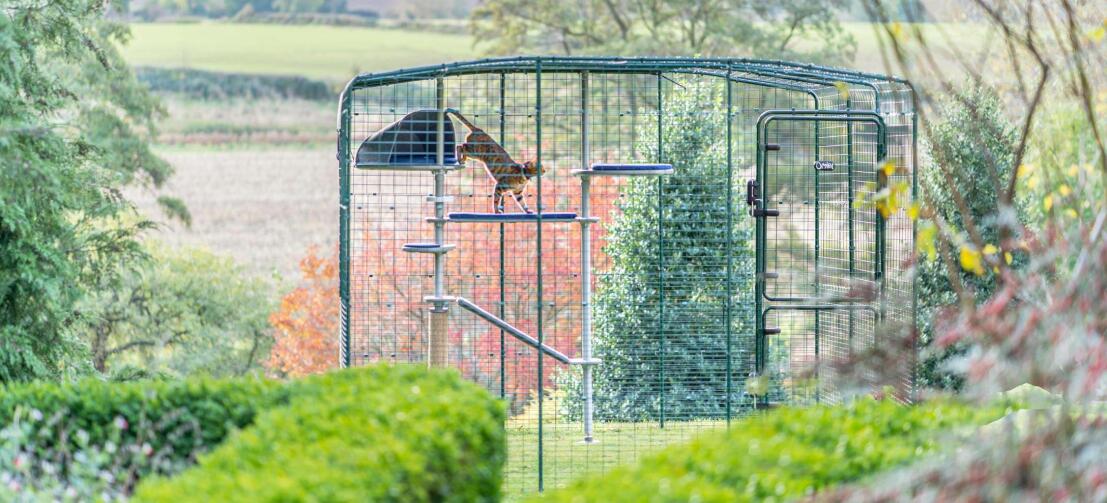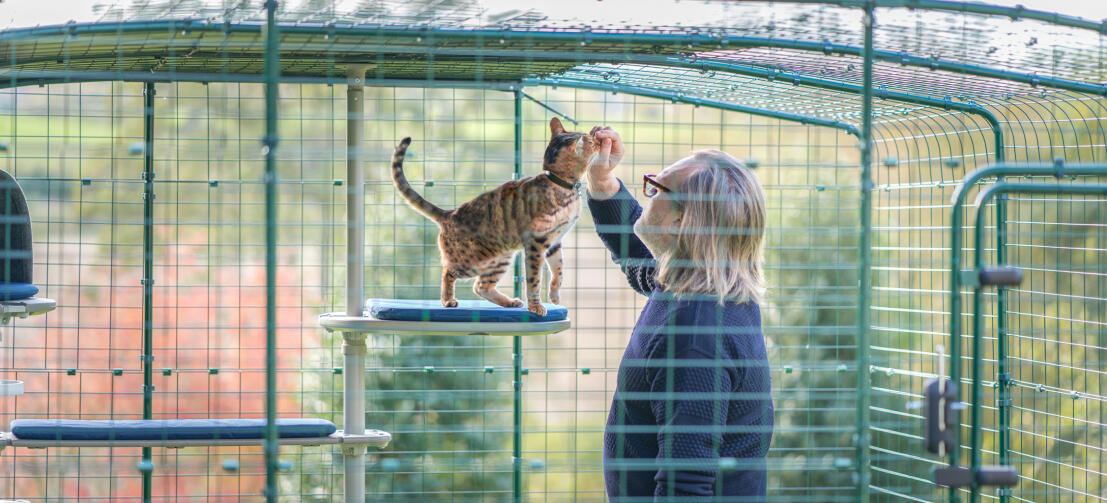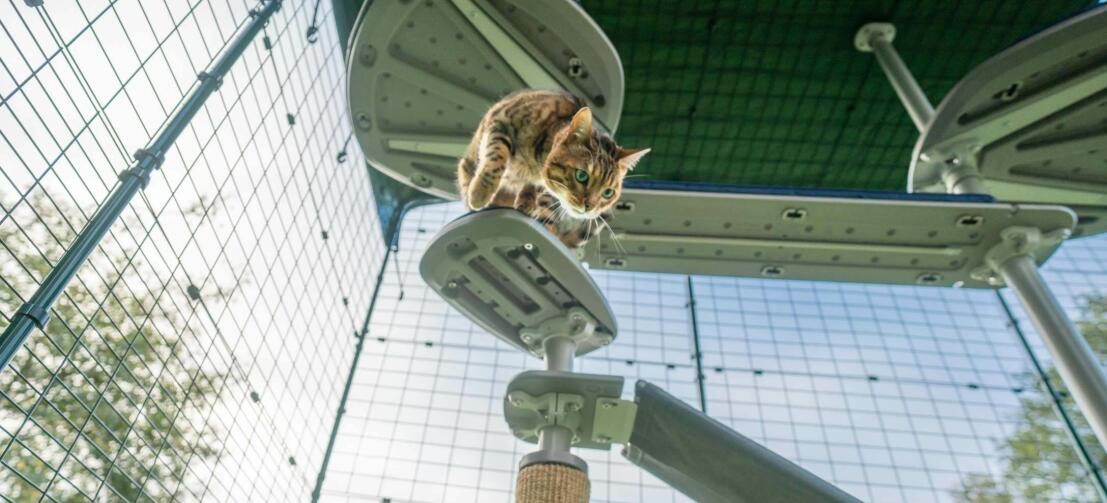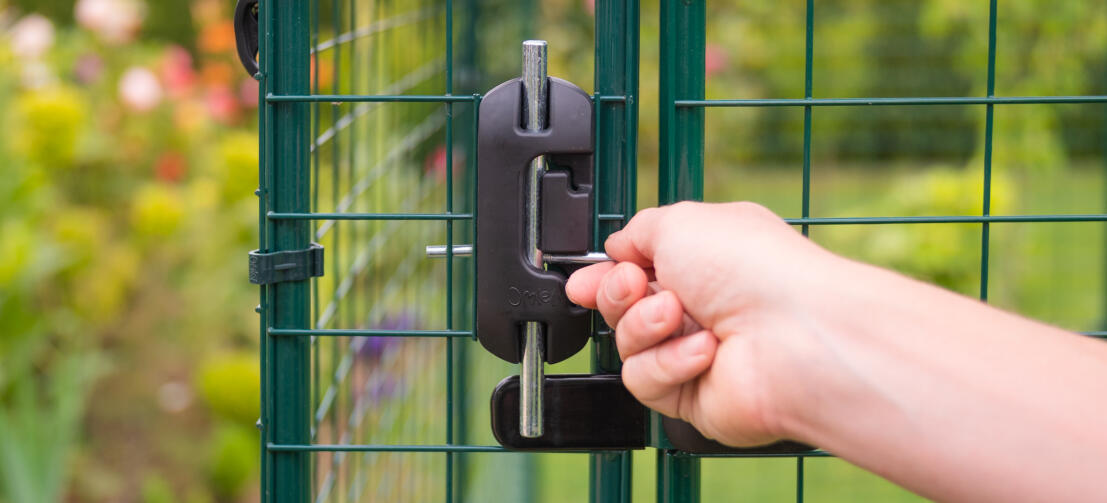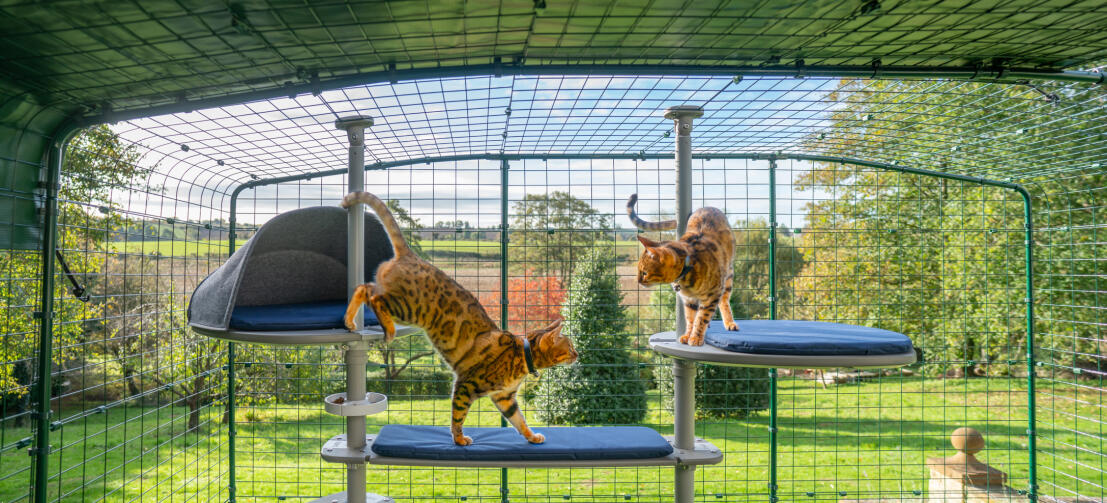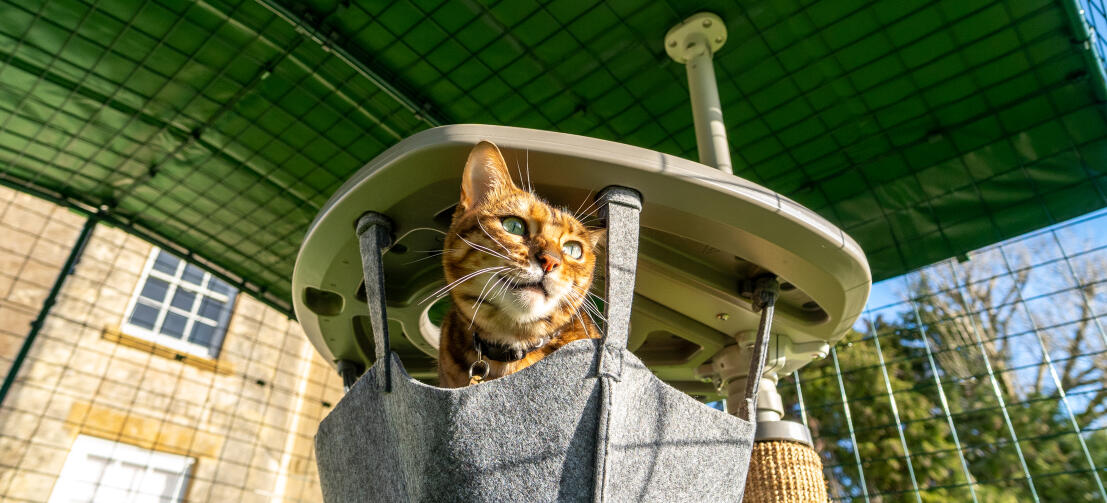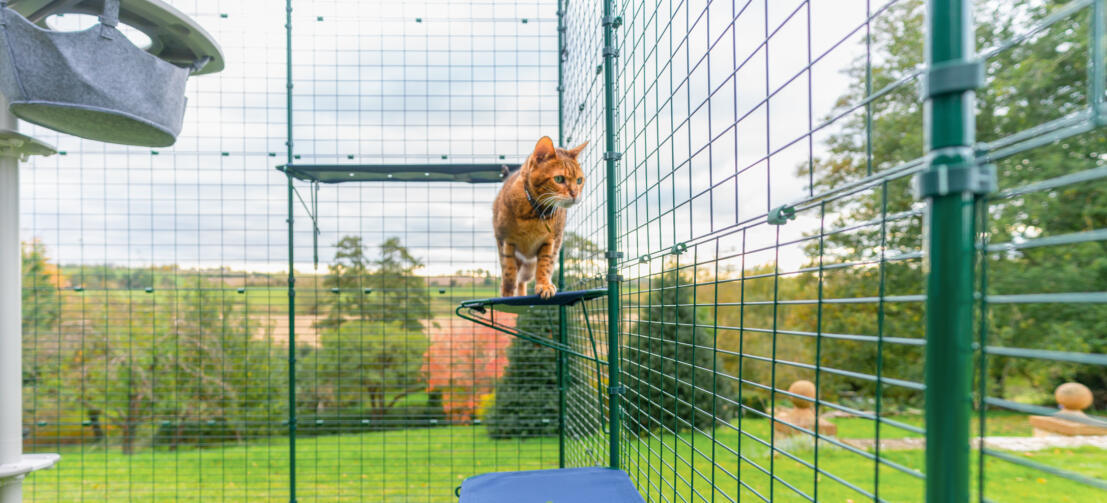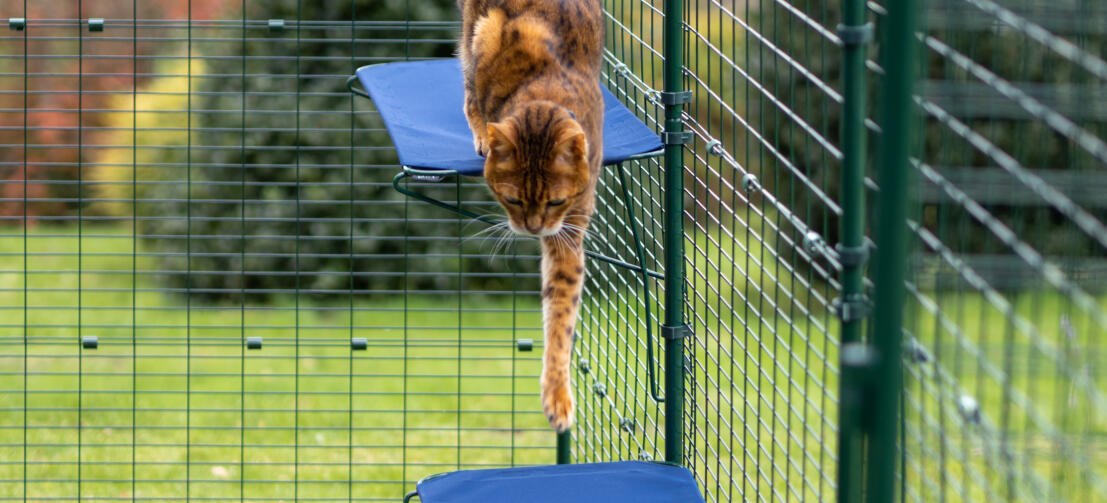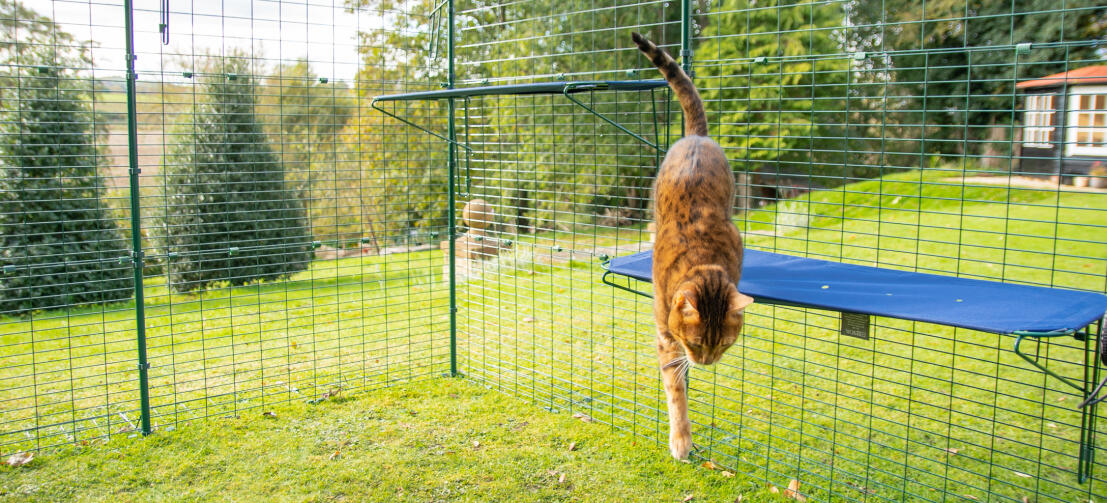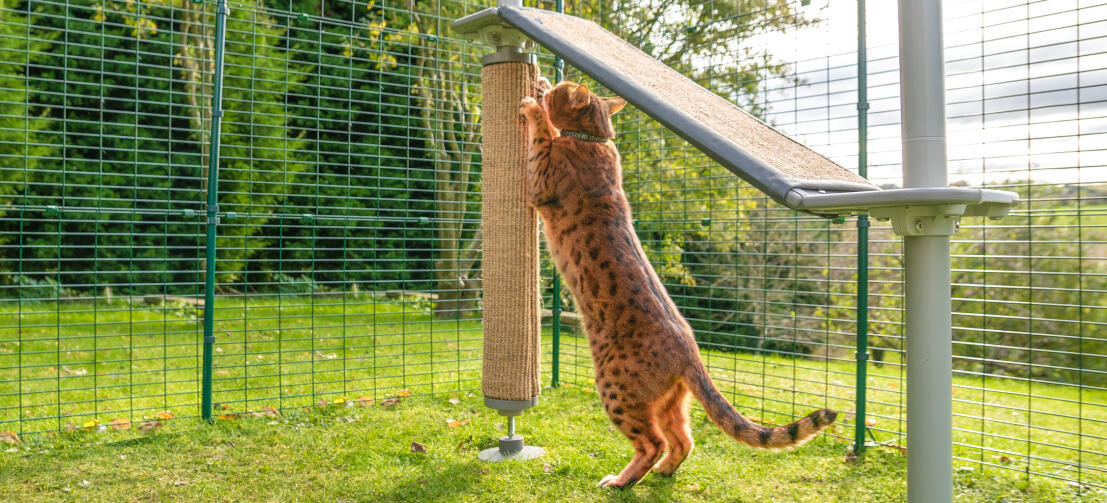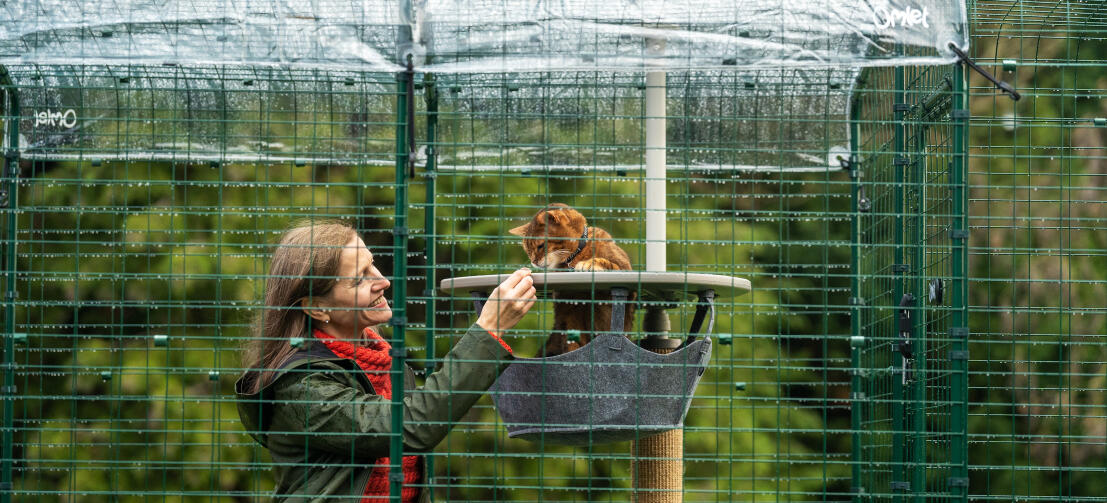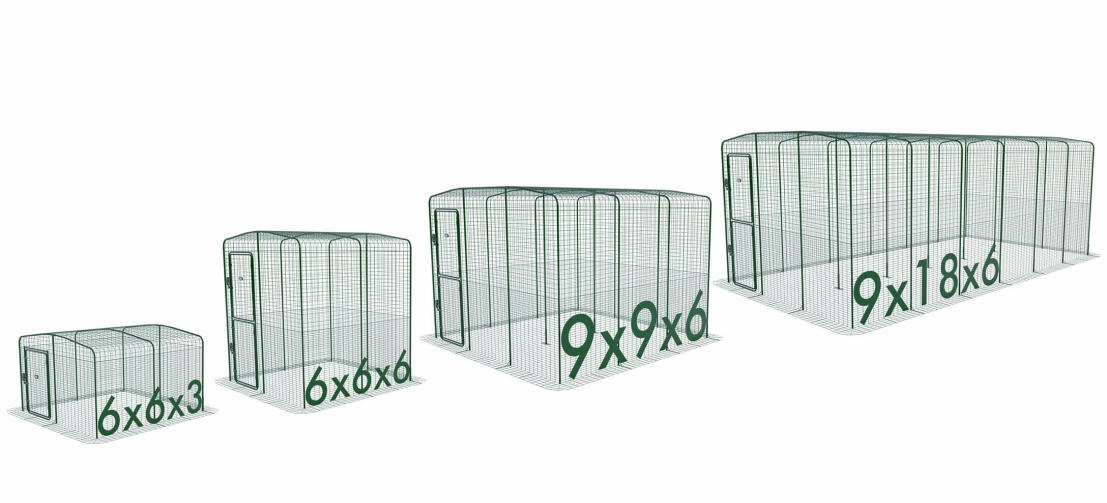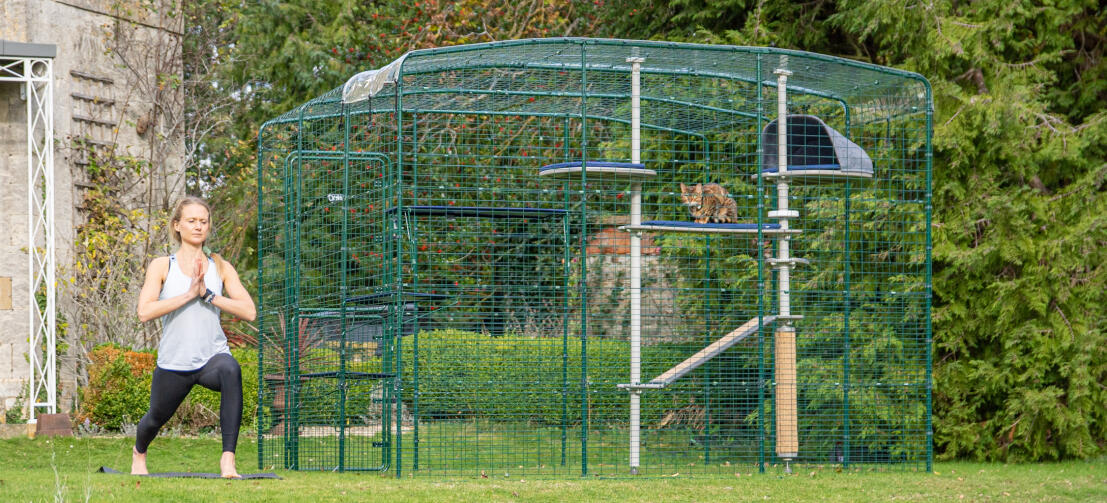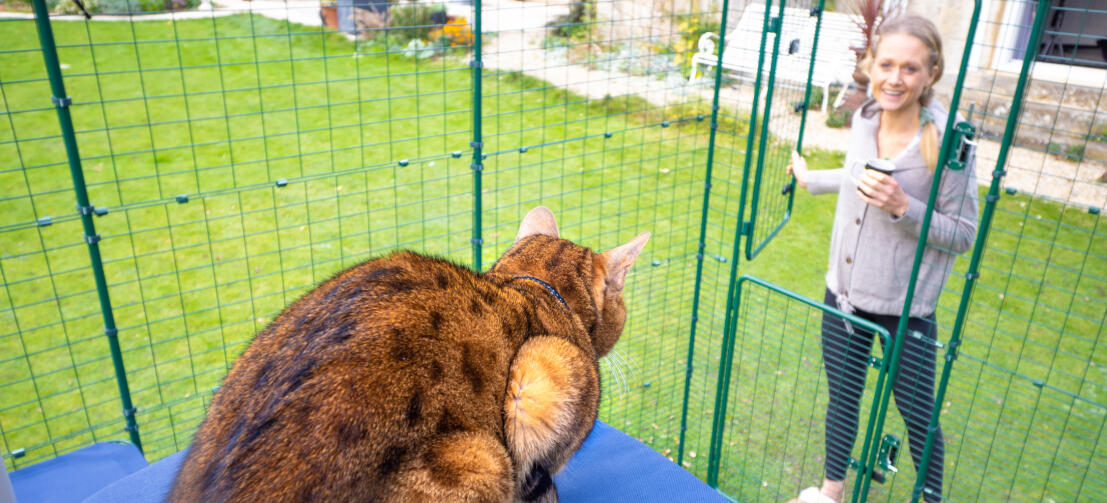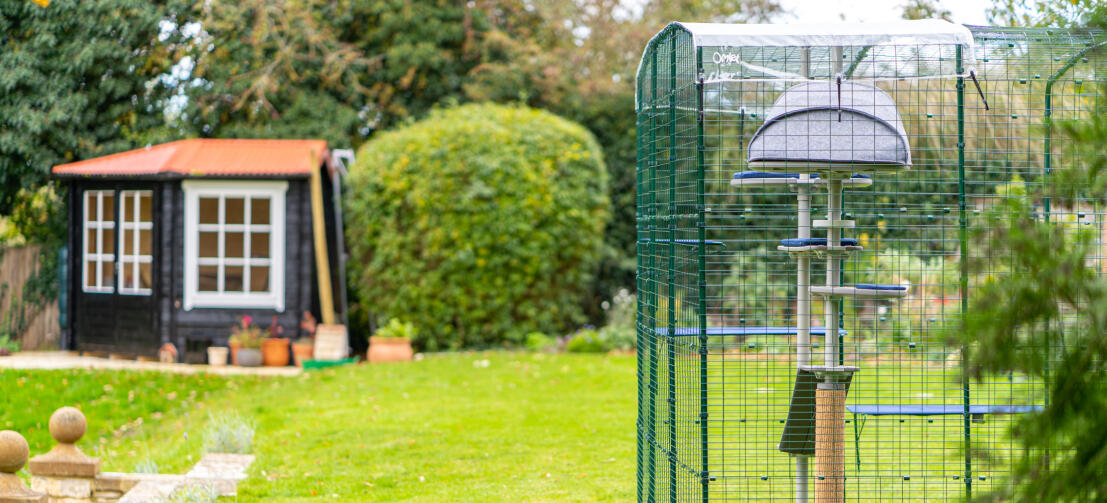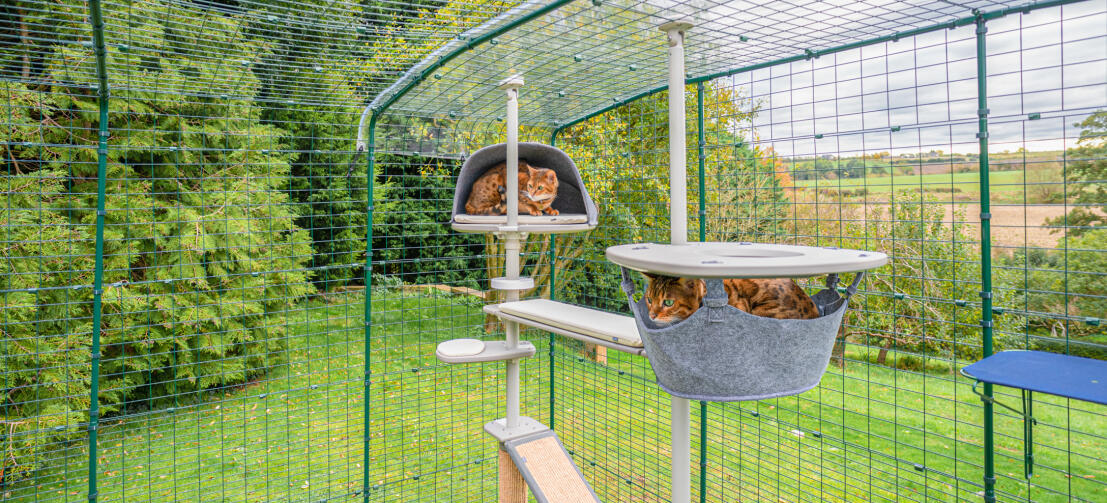 Choose Your Omlet Catios - Large, Spacious Outdoor Cat Enclosures

Could not load configurator. Refresh the page to try again.
Secure Outdoor Cat Run for All Cats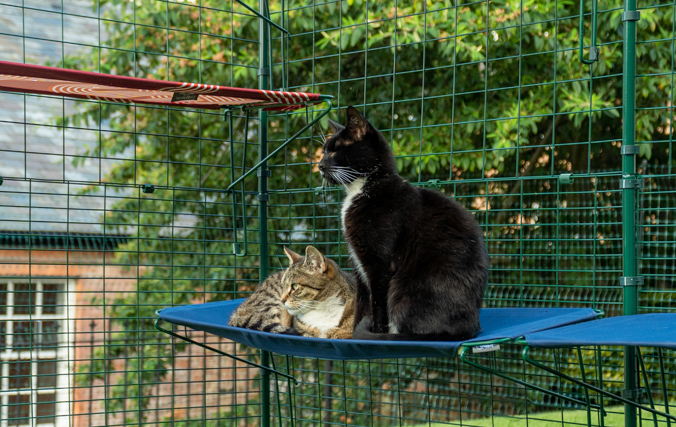 Fresh air and exercise can be extremely beneficial for your cat's health.
Omlet's Large Outdoor Cat Enclosure allows felines of all breeds to play, exercise and safely enjoy the great outdoors. All without the worry of them getting lost, caught in traffic, or into trouble with the neighborhood pets!
"I was not convinced that our indoor cat would like going outside on his own. But he absolutely loves it. He spends hours perched on a stand watching all the wildlife."
Spacious Catios With Purpose Designed Climbing Frame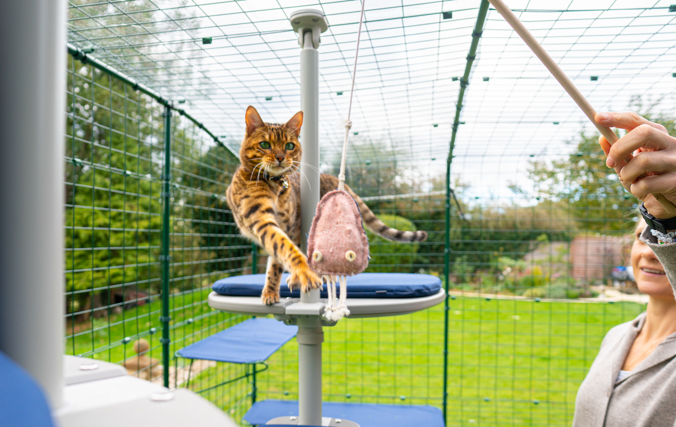 The Freestyle Outdoor Cat Tree will make the outdoor catio your pets' favorite place!
Forget boring outdoor cat enclosures, Omlet has got everything you need to make your cat's luxury, secure Catio even more special for both you and your pet with cat toys!
The amazingly versatile Freestyle Outdoor Cat Tree gives your cat the opportunity to jump, stretch, scratch and inspect the world from up high. The strong aluminum poles attach to your run, and you can then add weatherproof platforms, bridges, steps and scratchers. Building a fun outdoor cat enclosure, personalized just for your pets.
For downtime in the outdoor cat enclosure, you can add hammocks, dens, or soft cushions to your cat tree. Or why not maximize comfort with the Fabric Outdoor Cat Shelves?
6 Reasons To Buy From Omlet

180 Day Money Back Guarantee

Free shipping over $100

2 Year Warranty

Excellent Customer Service

Secure Payment

Over 17,000
5 Star Reviews
Give Your Cats Even More Space by Extending at Any Time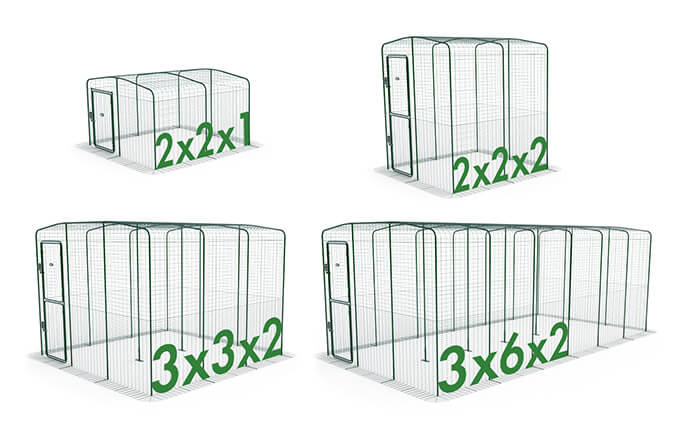 Create the perfect catio for the space you have!
The modular design of Omlet's large cat run means you can create an enclosure that suits your space, and your pets. Starting from a 6.5 ft. x 6.5 ft run, you can expand at any time using easy to add catio extensions. That way you can be sure it will be the perfect outdoor cat enclosure for years to come - even if you add more pets to your family!
You can also use our practical Extension Configurator to see what options you have to extend your large outdoor catio with ease.
Modern and Discreet Catio With Brilliant Features
The Omlet catio will blend in beautifully in any setting.
The dark green mesh of our Outdoor Cat Enclosure means you don't have to choose between having a nice looking backyard and giving your pets a safe and secure space to enjoy the great outdoors.
Omlet's large outdoor cat enclosures have been rigorously tried and tested for over ten years to create the safest and most easy to use cat run on the market. For peace of mind, every outdoor cat pen comes with heavy duty steel weld mesh, a highly practical stable style door and clever locks that can't accidentally be opened.
Keep Pets Warm and Dry All Year Under Outdoor Cat Enclosure Covers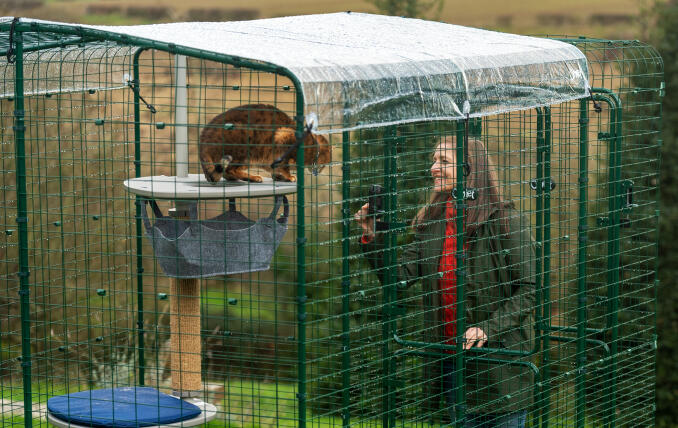 The covers are fastened to the mesh with handy bungy hooks, and are easy to move.
Our range of tailored cat run covers perfectly fit the outdoor cat enclosure, so that your pet will stay dry and comfy no matter the weather. The clear covers are great for chillier days as they stop wind and rain but let sunlight in, and the heavy duty covers provide essential shade in summer. Or for the best of both worlds, choose a combi cover!
Customize Your Run To Suit You With a Porch or Partitions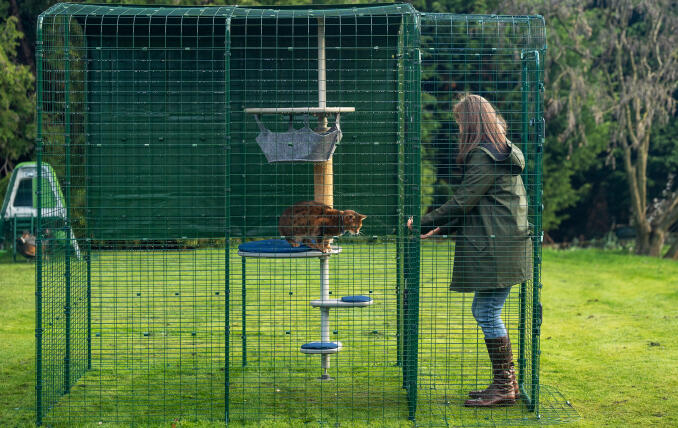 Porches and partitions can be a great way of customizing the run to suit your needs.
Add one of our Outdoor Cat Enclosure Porches to create a 2-door entry system for added security when bringing your pet in and out.
You can also choose to divide your run with convenient Omlet Cat Run Partitions. The partition features a secure door for easy personal access to each part of the run, and can be used to separate different cats or to gradually introduce new cats to each other.
Easy To Assemble Cat Enclosure With 'How To Build' Videos
With the 'How to Build' videos it's easy to get your catio up and running in no time.
Follow the clear step-by-step assembly video filmed in real time to make building your cat run a breeze.
Your outdoor cat enclosure arrives flat packed for easy delivery to your residence.
The only tool you will need is a pozi (cross type) screwdriver for the door bolt; the rest of the run is assembled using Omlet's patented run clips. You can find the how to build video and instruction manual here.
Loved by Thousands of Cat Owners Worldwide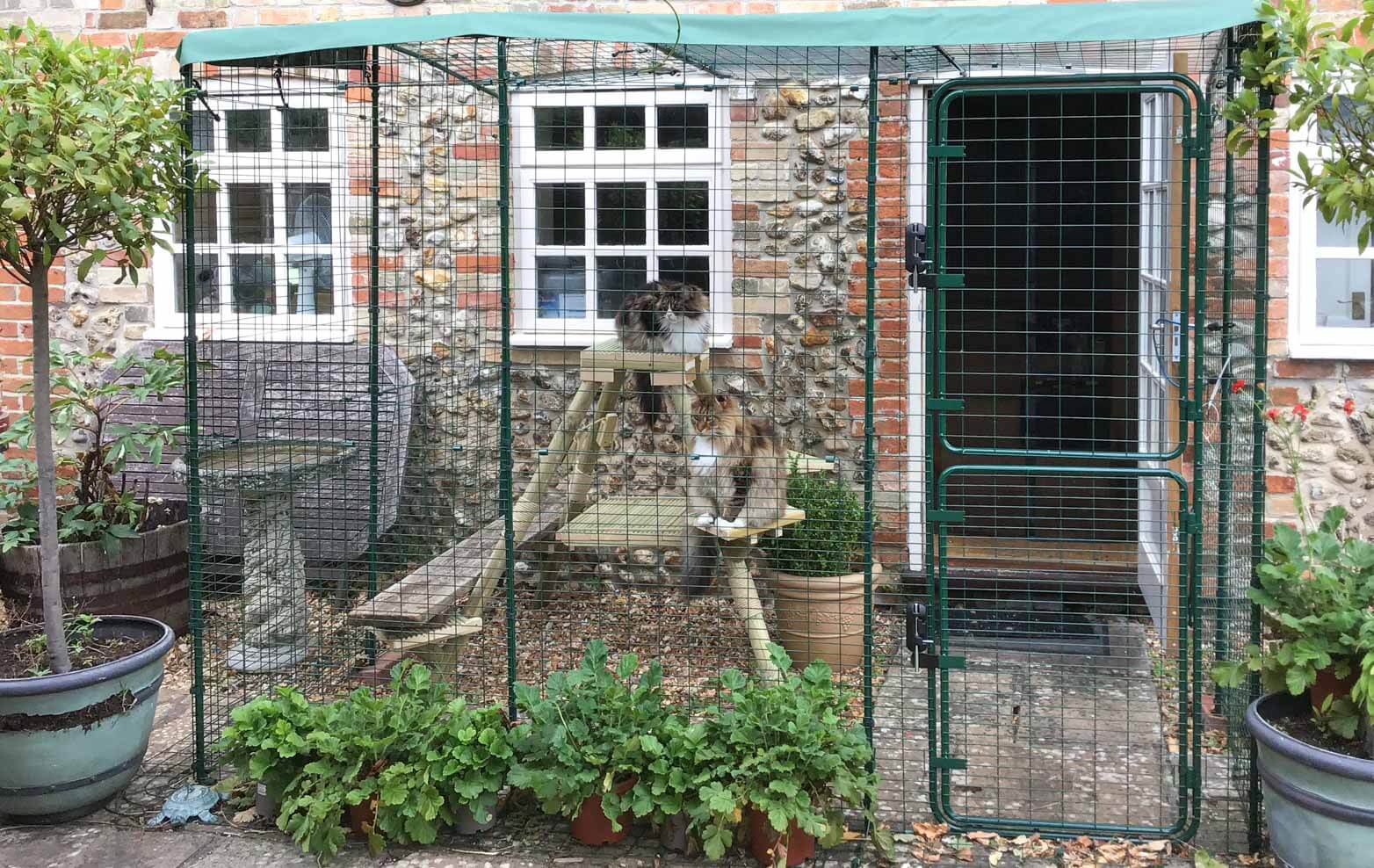 Cats and cat owners have been enjoying the Omlet catios for many years!
The Outdoor Cat Run has been tried and tested for over ten years. It is loved and trusted by thousands of cats and their owners around the world. The flexibility, stability and safety aspects of the Outdoor Cat Enclosure make it superior to other pens on the market.
The run comes with a 180-day money-back guarantee and 2 year warranty, and if you were to have any questions about the product, our friendly customer service team is always here to help!
Ready to create your own ...

---
Frequently Asked Questions
Verified Reviews - Omlet Catios - Large, Spacious Outdoor Cat Enclosures
---
Customer Images - Omlet Catios - Large, Spacious Outdoor Cat Enclosures - 29 of 144
Related Products