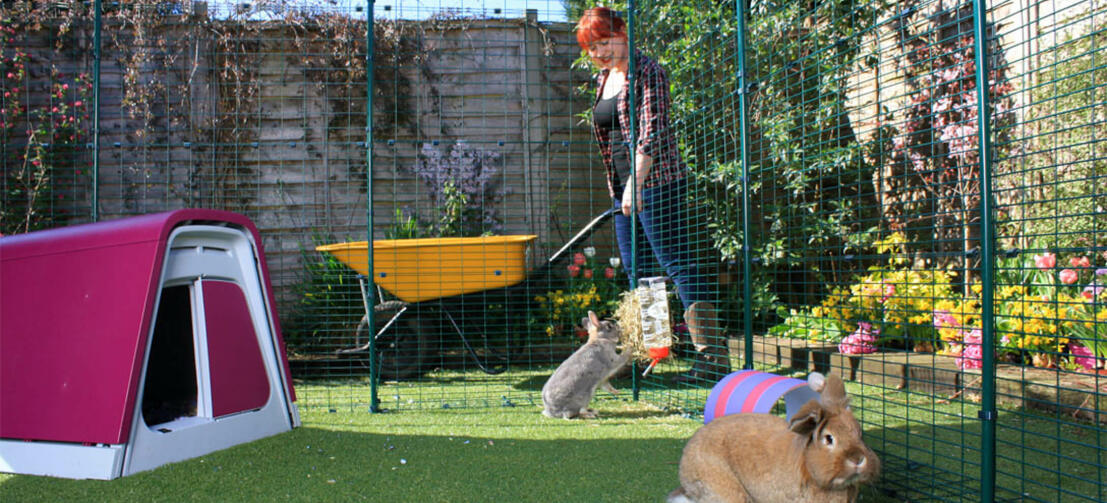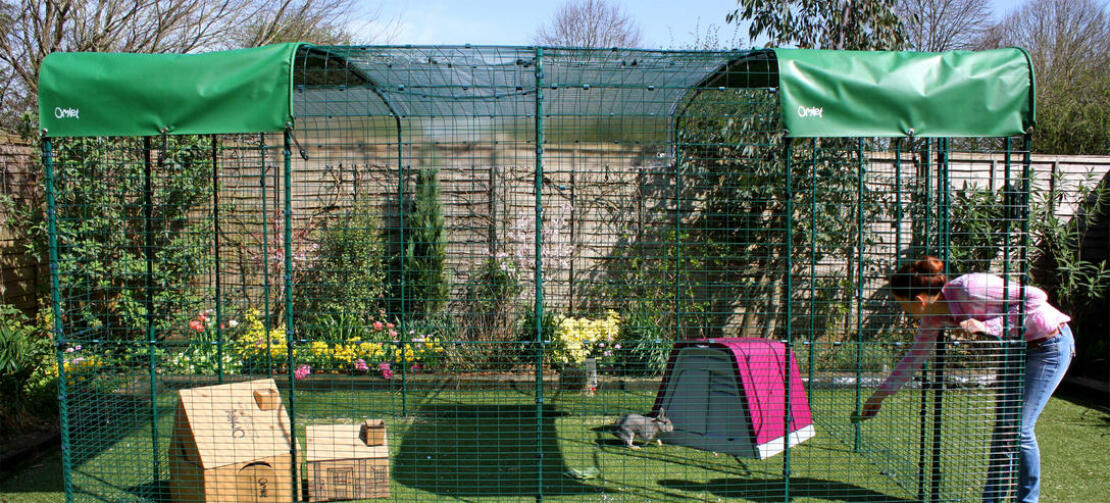 Omlet Outdoor Rabbit Run Extensions

Could not load configurator. Refresh the page to try again.
If you're extending a single height run to a double height, please get in touch so we can make sure you get the right door for your run.
If you have underfloor mesh on your current run and would like it for the new sections as well, you will find underfloor rabbit run mesh here. One underfloor panel corresponds to 1 width and 1 length section of the enclosure.
Omlet Outdoor Rabbit Run Extensions
I bought 6 extensions for my 6x6x6 run and I am so happy I did. It looks beautiful and the chickens have a wonderful space they can run, jump, and dig in!
Review for:
Outdoor Pet Run - Pack E
The reviewer has 6-8 Silkie, Orpington, J pets
Despite saying 6-8 weeks delivery i received this within a week. Very simple to construct, although a bit time consuming. Recommend using additional clips if you can just to improve the safety. Its worth checking these every few month, once they get a bit old some of them can go brittle or lose their grip/lock - theyre fairly cheap to buy additional ones from Omlet. Overall very happy with this. We wanted something to extend to our Eglu hutch so also purchased the zippi tunnel system, which is also fairly straight forward to install and another amazing product. We placed this onto a small patio area against a wall, unfortunately the space wasnt big enough to use the skirting that comes with it so have instead secured this to the floor so it cant be lifted -so worth noting the measurements are for the run only and not including the skirt
Review for:
Outdoor Rabbit Run - 9ft x 13ft x 6ft
The reviewer has 2-4 Mini Lop pets
I Made a Perfect Omlet :-)
I bought this about a month ago and was tickled when it arrived. I have to admit I was a bit overwhelmed and like others of my kind "I don't need directions, I got this" mentality I forged ahead. I unpacked everything and attempted to use the detailed 50+ page manual but I found that most challenging. It wasn't the detail drawings that were the challenge; however, the directions in several languages required in some areas more detailed explanation. I then pushed it aside and said, "not today." Later that week I decided to take it on again after going to YouTube and finding several videos. The best was from Omlet and strongly suggest its use. I finally made major progress and with an extra week I had it completed. I was successful at putting it together and have a happy, safe home that is easily accessible. I will be making another purchase in the future and I had someone come to pick up some geese I was re-homing and they inquired about Omlets and have plans to order one too.
Review for:
Outdoor Pet Run - Pack G
The reviewer has 4-6 Young geese and two pets
Solid enclosure well made.
Delivered in April and built by May due to needing ground levelling. Results turned out beautifully with two happy bunnies that can enter and exit via tunnel connection to their indoor cubby house. Enclosure requires someone with engineering or building knowledge as it was pretty comprehensive instructions.
Review for:
Outdoor Rabbit Run - 9ft x 13ft x 6ft
The reviewer has 2-4 Mini Loop bunnies pets
I bought this run for my rabbits with a cover and Zippi tunnel to attach to their hutch following a fox attack. I'm delighted at the build quality, the rabbits love the extra space and - most importantly - the fox can't get in to harass my bunnies any more.
Review for:
Outdoor Rabbit Run - 9ft x 13ft x 6ft
The reviewer has 2-4 Rabbits pets
Read more reviews