Cat Balcony Enclosure
Omlet's fully enclosed and extendable Cat Balcony Enclosure provides a simple and elegant solution to give your apartment a completely cat proof balcony.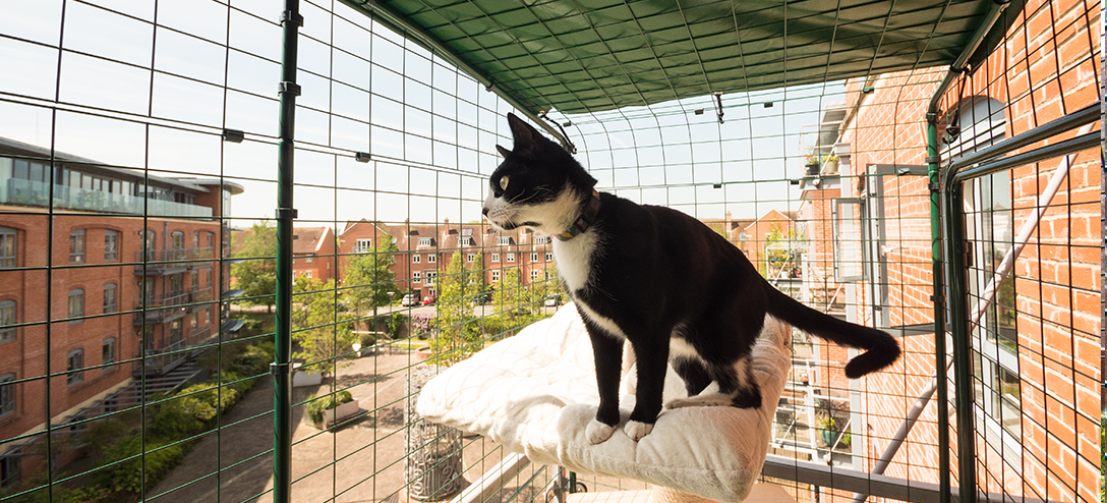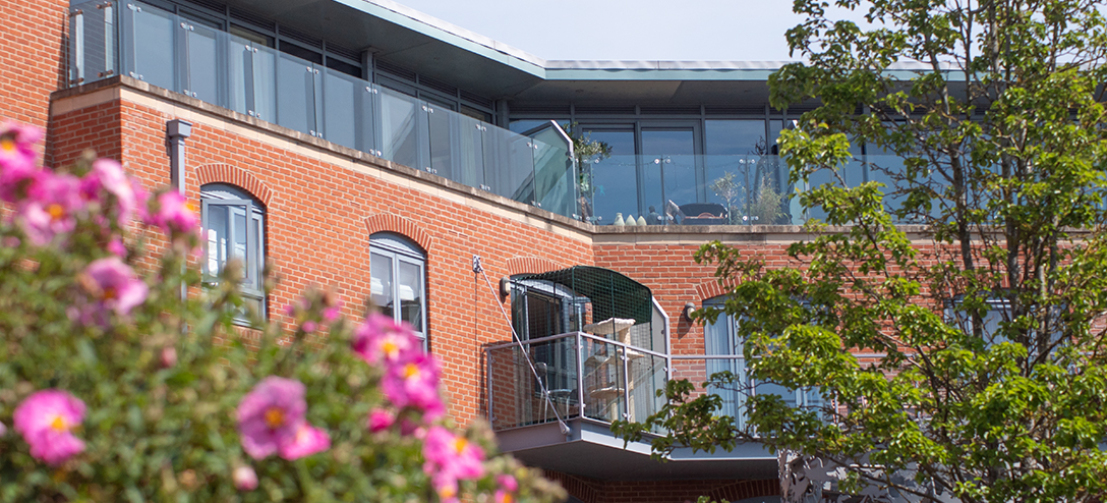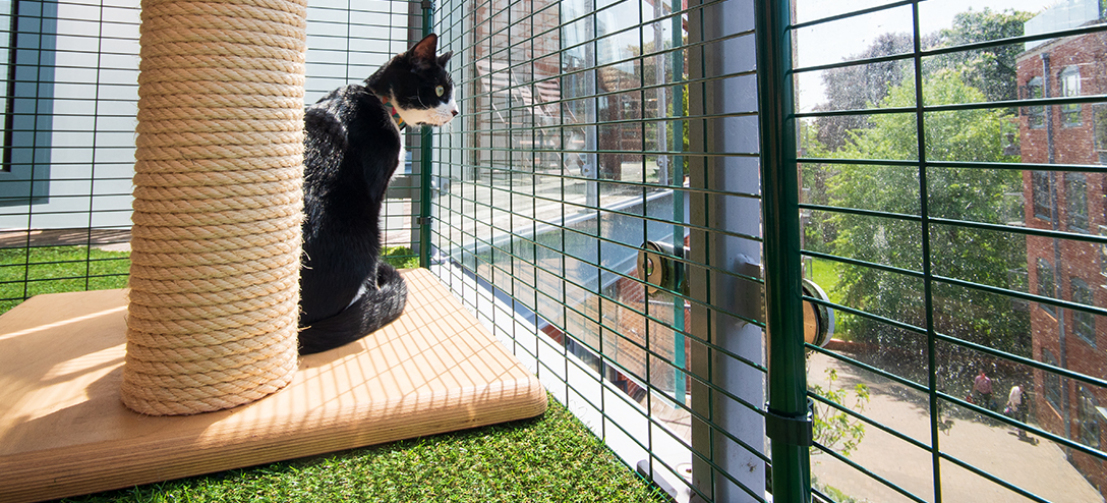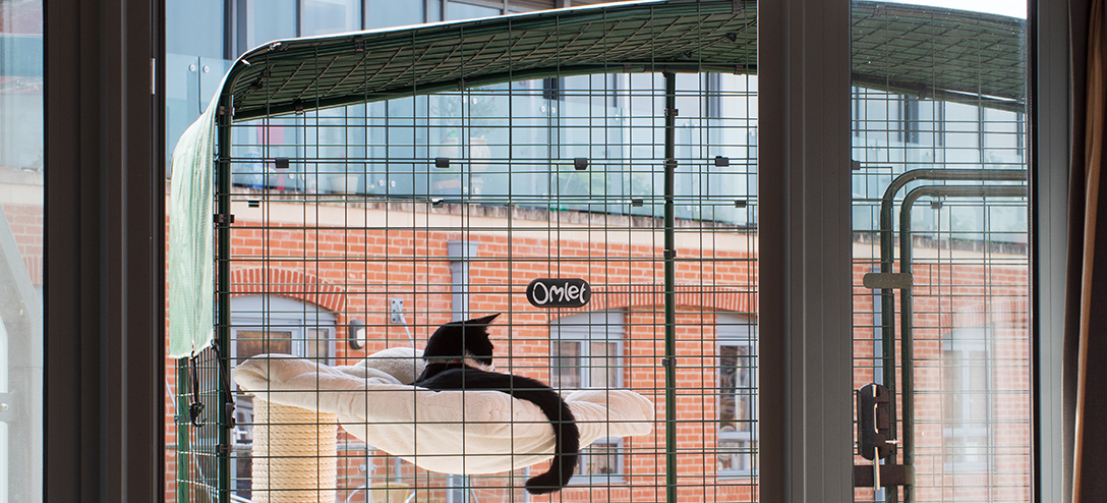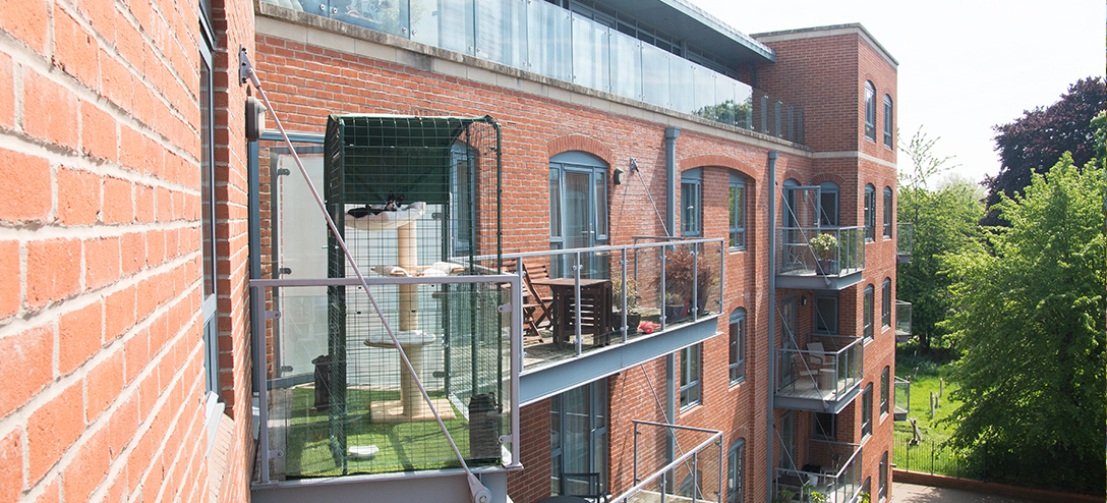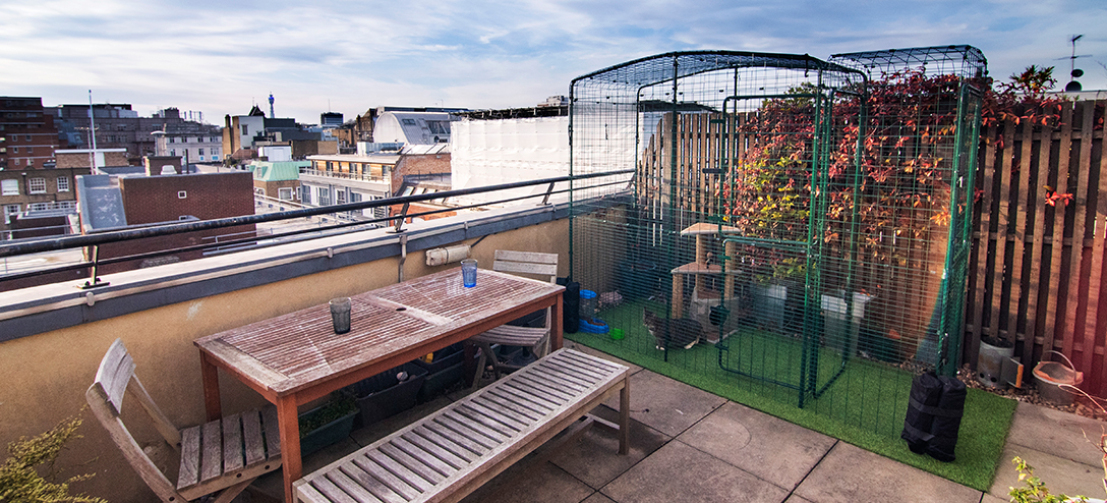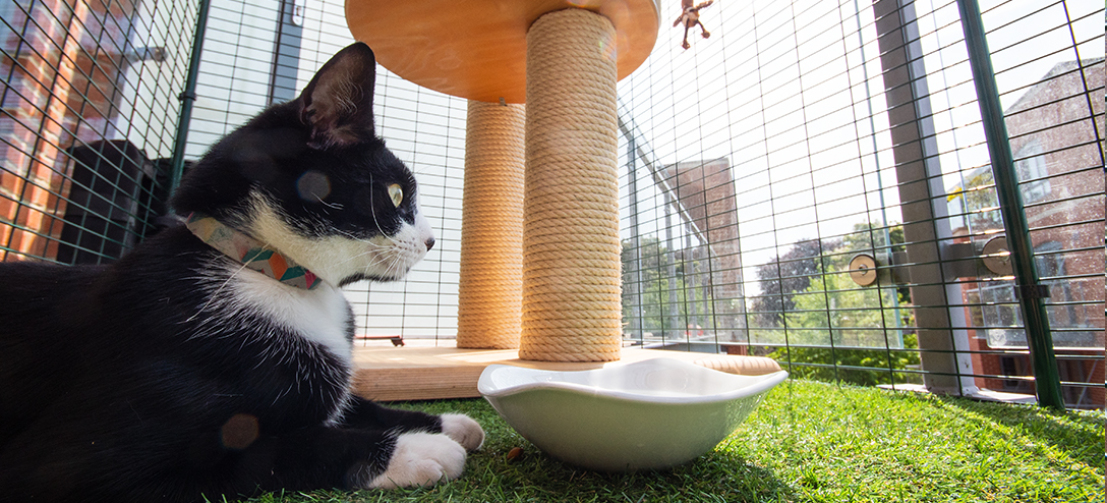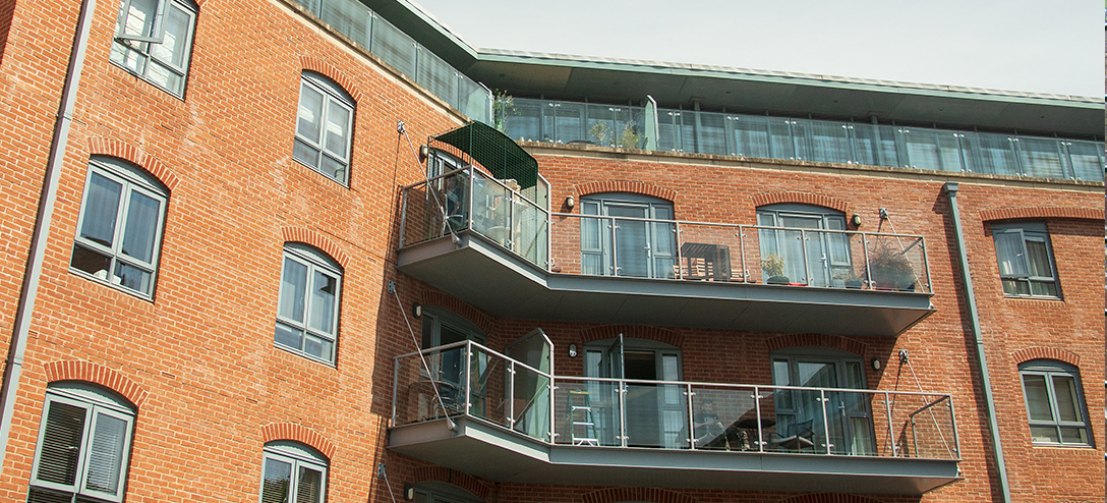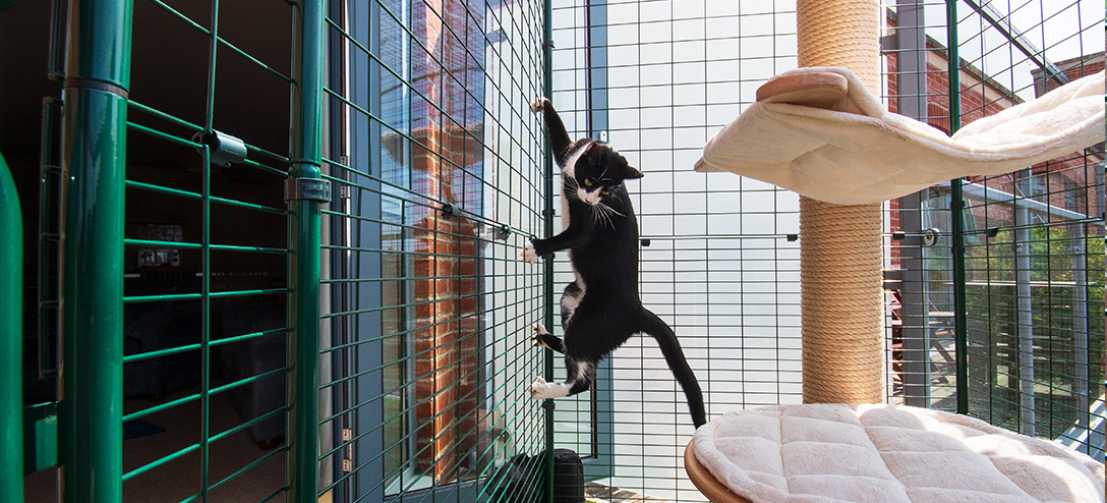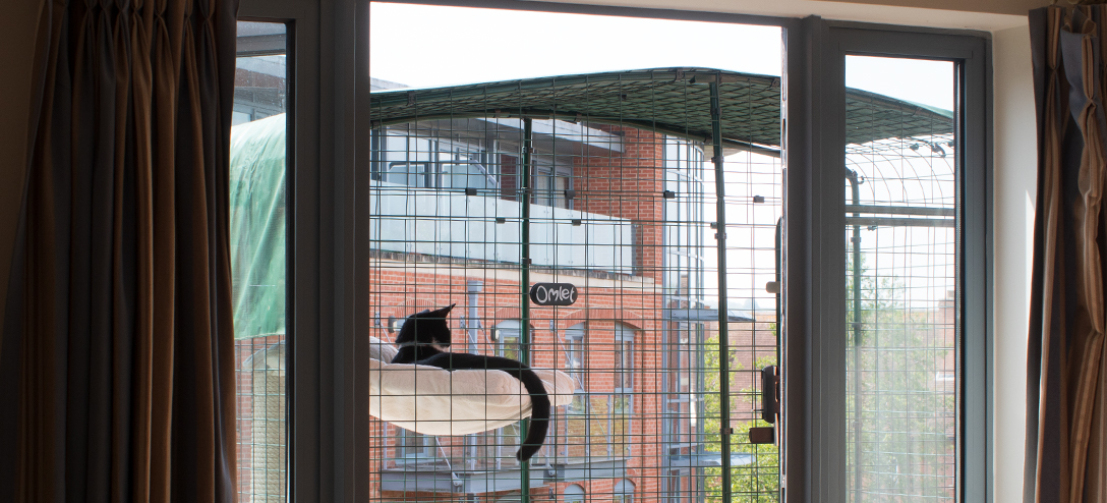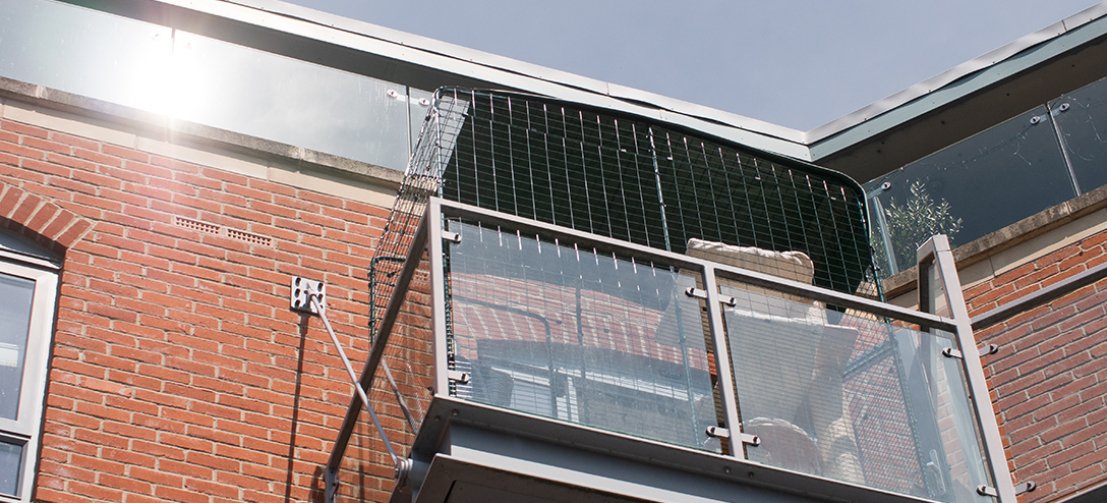 Choose Your Cat Balcony Enclosure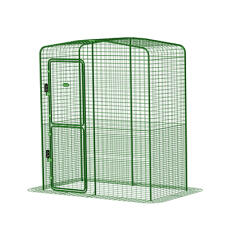 Omlet Balcony Run - Catio - 6ft
Checking stock in our warehouse...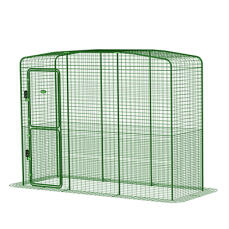 Omlet Balcony Run - Catio - 9ft
Checking stock in our warehouse...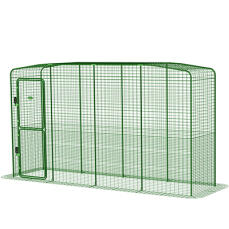 Omlet Balcony Run - Catio - 12ft
Checking stock in our warehouse...
6 Reasons To Buy From Omlet

180 Day Money Back Guarantee

Free shipping over $100

2 Year Warranty

Excellent Customer Service

Secure Payment

Over 17,000
5 Star Reviews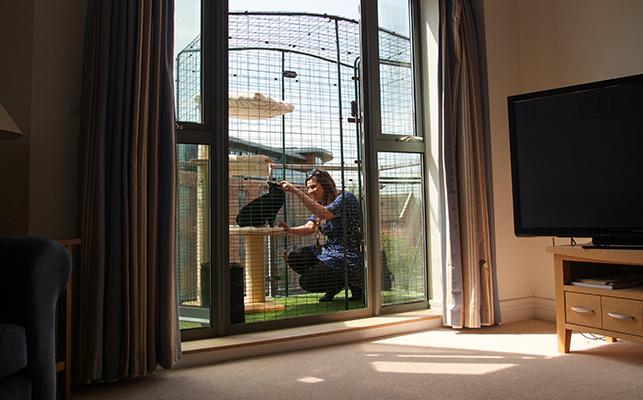 The Cat Balcony Enclosure gives your city apartment or flat a secure cat proof balcony
The Ultimate Urban Cat Enclosure
Made from strong steel mesh coated with a technically advanced dark green coating the cat run looks stylish and unobtrusive on your balcony. Cats love the sensory experience of being outside where they can feel the breeze in their fur, watch the comings and goings in their surroundings and hear the birds sing. Every size of Cat Balcony Enclosure is also large enough for you to spend time outside with your cat.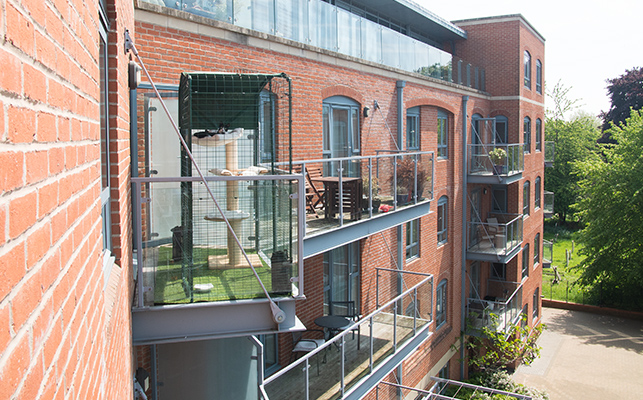 Designed to fit on any kind of balcony or roof terrace, the secure cat enclosure is extendable in width
Designed To Fit On Any Balcony
Measuring (3ft) front to back the Omlet Cat Balcony Enclosure is narrow enough to fit on almost any balcony. It's a generous (6.8ft) high in the centre and is extendable in length from (6ft) up to (12ft) as standard, please call or email us if you would like a longer run. The Cat Balcony comes with a removable run skirt that you can use to help secure the enclosure to your balcony. Please note that you will need to secure your Cat Balcony Enclosure directly to your building using appropriate metal fixings which you will be able to find in all good DIY stores.
"My cats LOVE their new balcony cat run. It's secure and allows me room to interact with them too. Now Gregory and Mitchell sit at the top of their cat tree, 4 floors up like kings of the castle!" - Lindsay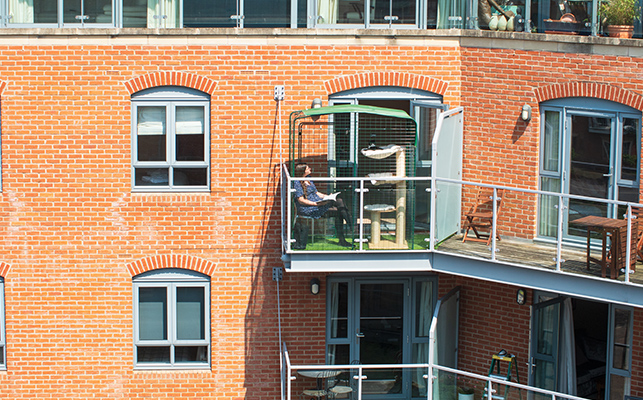 You can join your cats in the enclosure and continue to enjoy your balcony as before
Freedom Without Compromise
Allow your cat the freedom to explore a new environment without compromising your personal usable space. We understand that useable living space can be at a premium which is why the Cat Balcony is tall enough to be used by people as well as cats. This means that you can continue to enjoy your balcony as before, which means more freedom for your cats and no compromise for you. Why not place a chair or bean bag inside that you can both snuggle up on?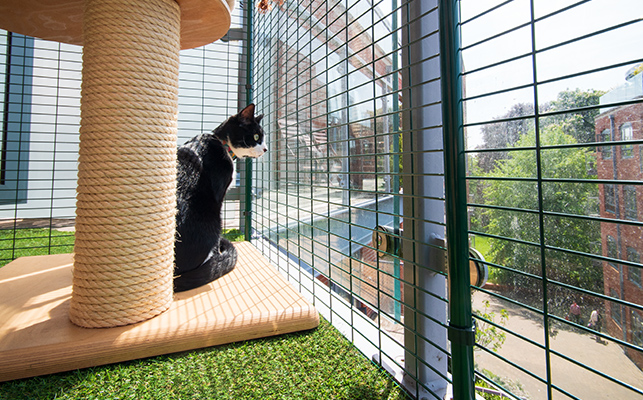 Why not furnish your Cat Balcony Enclosure with some cat toys from the
Omlet Shop
?
Furnish Your Cat Balcony Enclosure
If you want to get the most out of your Cat Balcony Enclosure you can enhance your cat's environment with scratching posts, cat trees, interactive hanging cat toys and of course some feline essentials such as a cat litter tray and comfy bed. The sky's the limit as far as accessorising the cat run is concerned and your cat will really love exploring their new territory.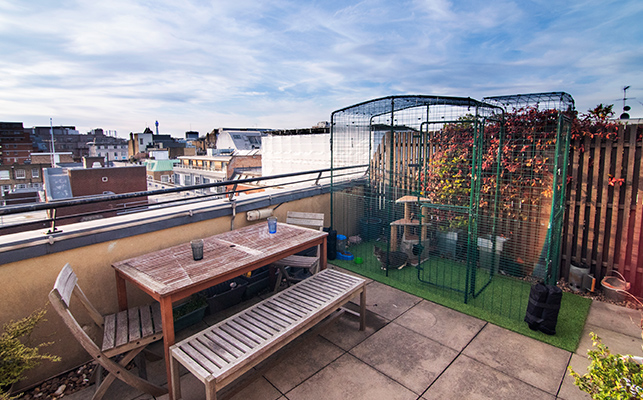 You can add a
porch
to your roof terrace cat run for an even higher level of security
Add A Porch For Easy Access
Why not upgrade your balcony cat enclosure with an optional porch to give you an "airlock" style entrance? The porch is made from the same strong steel mesh as the balcony enclosure and gives you complete peace of mind when transferring your kitty in and out of the cat run.
"I love the look of the mesh panels which also provide a really easy way for you to secure the run to your balcony. We used some metal bicycle locks but I'm sure there's lots of other options. My cat Olly loves exploring his new playpen and watching the world go by!" - Carol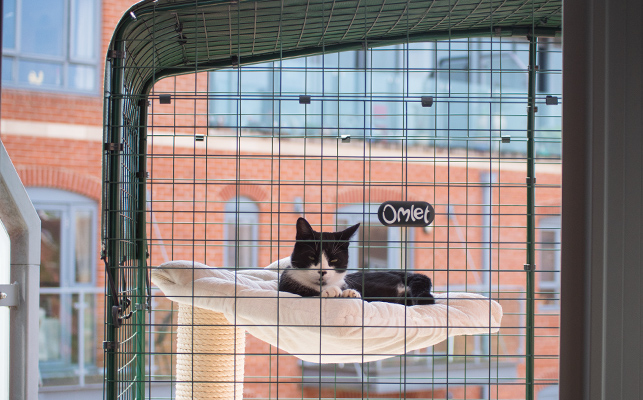 A range of
weather proof covers
are available to ensure your cat remains dry and shaded at all times
Covers For The Terrace Cat Run
You can add covers to your Cat Balcony Enclosure so that your cats are kept shaded and dry at all times. The covers are made entirely from water proof materials that are highly durable and are available in a range of different sizes and styles - discover the range of covers available for your cat run here.
Please note that when using a cover on your Cat Balcony Enclosure it is especially important to ensure the run is secured to your balcony with appropriate metal fixings to prevent gusts of wind from moving the run.
Important! Please Read Before Using Your Product
When using the Cat Balcony Enclosure on a balcony, roof terrace or other similarly elevated position, you must secure your cat balcony enclosure directly to your building to help prevent high winds from lifting it. You should always use metal fixings to either attach it to a balcony railing or to bolt it to your building. Appropriate fixings are available from all good DIY shops. If in any doubt consult a qualified installer. In windy conditions, we would always advise removing any shades, hammocks and covers as a secondary safety measure, as the weight of the enclosure itself is may not be enough to prevent a high wind from lifting it.
---
Frequently Asked Questions
Verified Reviews - Cat Balcony Enclosure
---
Customer Images - Cat Balcony Enclosure - 25 of 25
Related Products