Modern Chicken Coop - Eglu Go
The Eglu Go is the ideal hen house for keeping chickens happy and healthy. Complete with a steel run, this easy to clean plastic chicken house is ideal for beginners.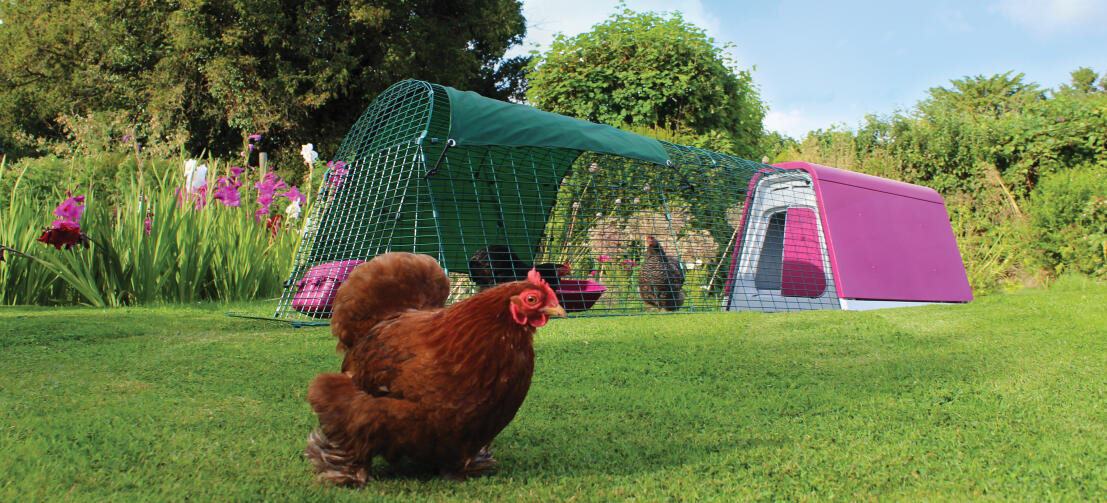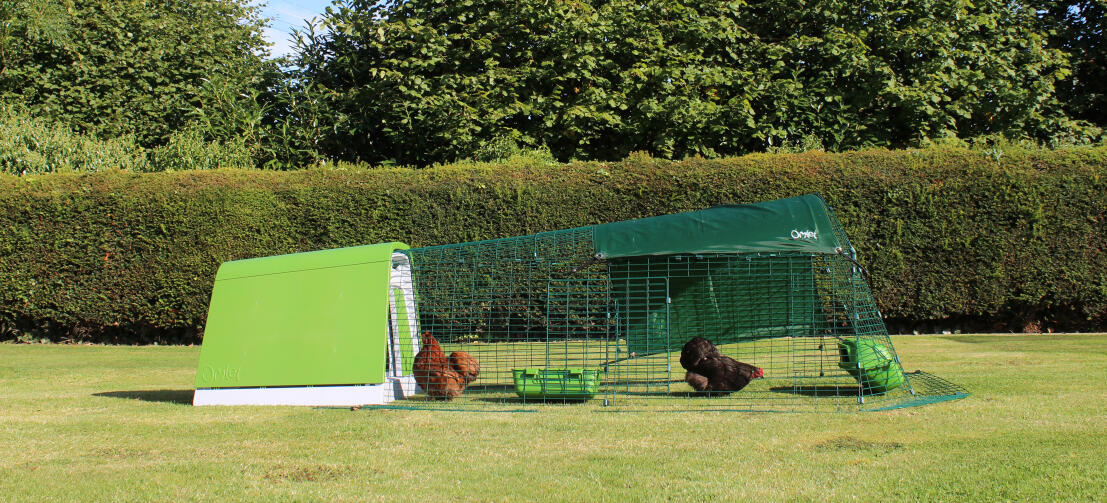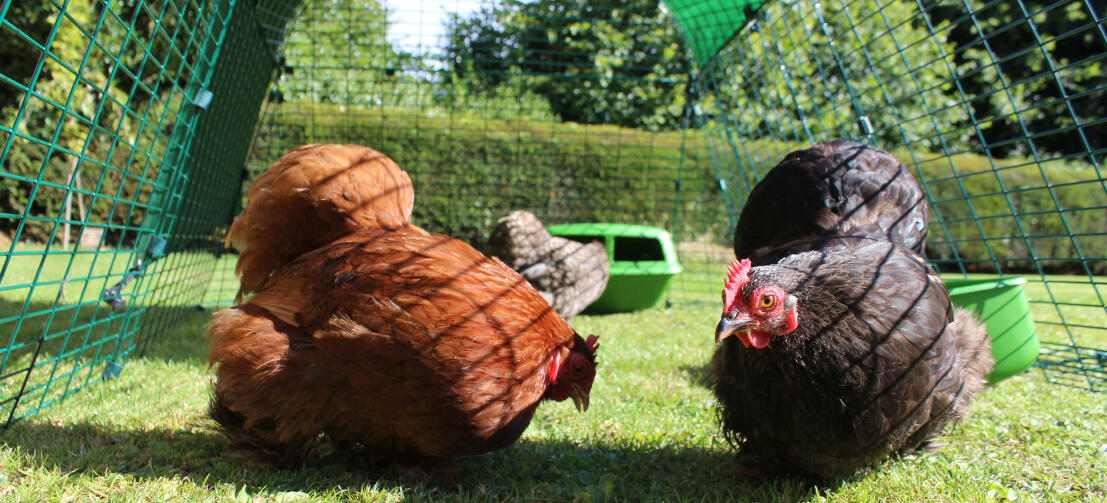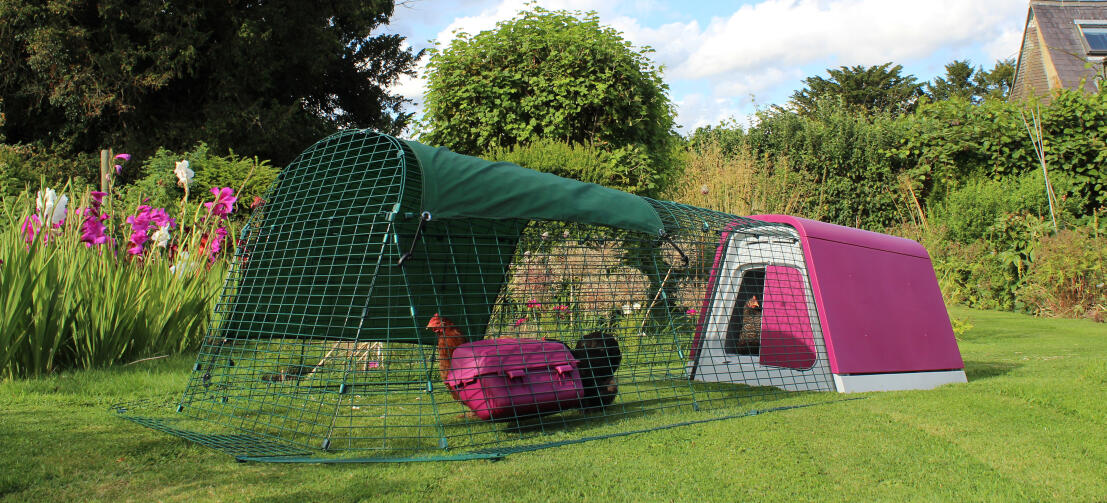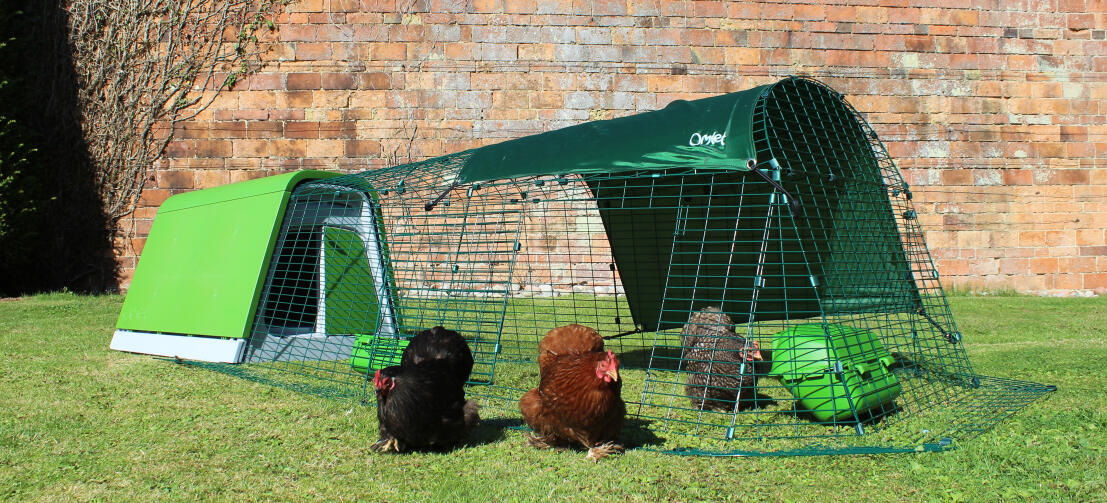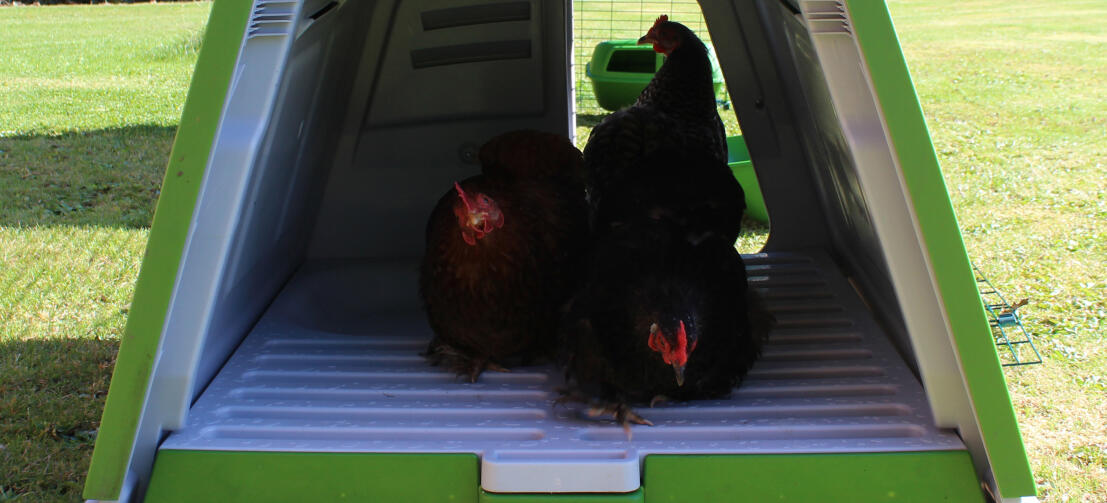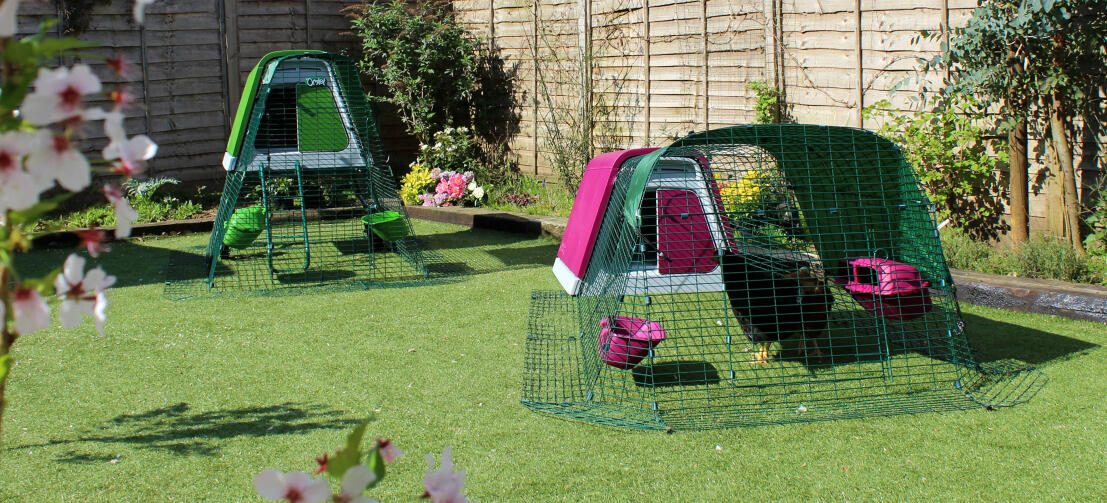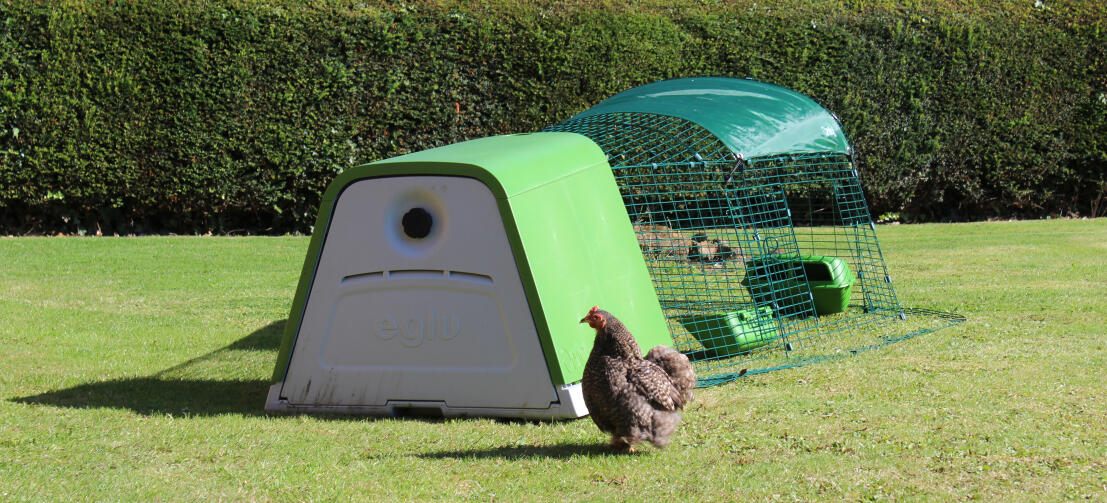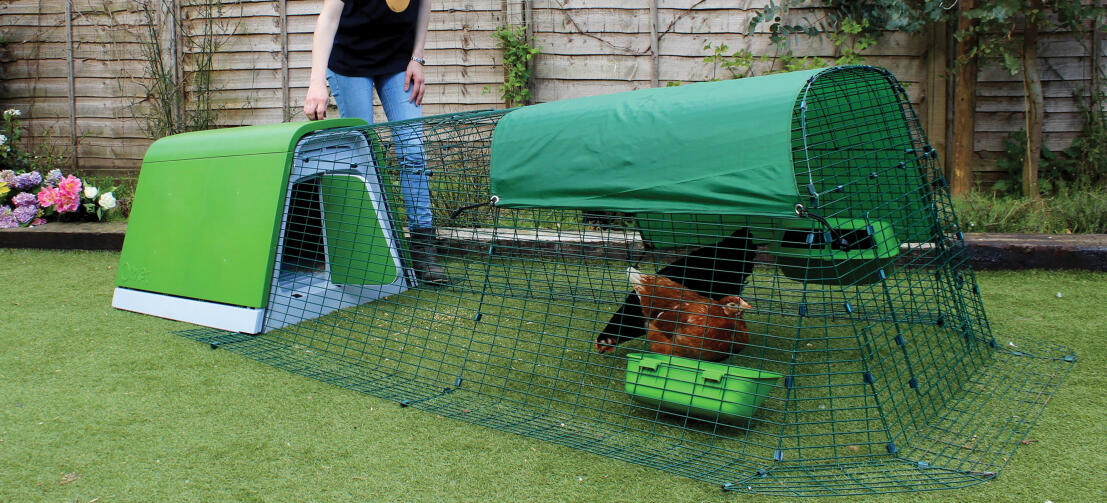 Configure Now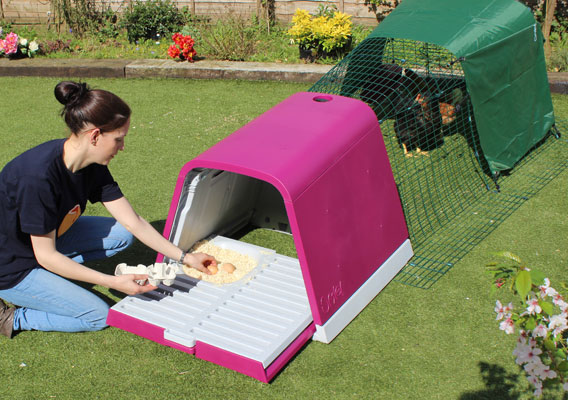 The modern Eglu Go Chicken Coop comes with everything you need to start keeping backyard chickens
The Contemporary Backyard Hen House
The Eglu Go Modern Chicken Coop is the simple and stylish way to start keeping chickens. It is designed for you to keep up to four medium hens and comes complete with everything you need for backyard chicken keeping. It has plastic roosting bars and a discreet nesting area which can be filled with straw or shredded paper to make a comfortable nest for your chickens, while the freshly laid eggs can be gathered from the nest simply by opening the convenient door at the back.
Benefits of the Eglu Go Modern Chicken Coop include:

Modern and Stylish chicken coop design
Ideal for beginners to backyard chicken keeping
Suitable for up to four medium sized hens
Quick and Easy to Clean
Predator Resistant
Extendable Run with Changeable Door Position
Durable material prevents the build up of red mite
Twin wall insulation ideal for all seasons
Add Eglu Wheels for easy movability
6 Reasons To Buy From Omlet

180 Day Money Back Guarantee

Free shipping over $100

2 Year Warranty

Excellent Customer Service

Secure Payment

Over 17,000
5 Star Reviews
Cleaning your Eglu Go Chicken Coop is simple thanks to the slide out dropping tray
Easy To Clean Plastic Chicken Coop
The modern design of the Eglu Go Chicken Coop makes it quick and easy to clean. This contemporary hen house features a slide out tray for collecting droppings and a large door at the back which allows easy access to the roosting bars and nesting area. The smooth plastic surfaces can be washed with a hose or pressure washer and there are no difficult corners or absorbent materials to worry about. Unlike wooden housing, you will not need to treat your Eglu Go.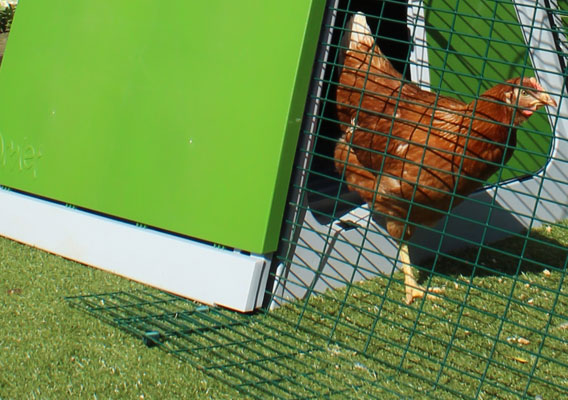 The predator resistant chicken run of the Eglu Go features a protective skirt to keep your chickens safe inside
The Predator Resistant Chicken Run
The optional chicken run for the Eglu Go is made from strong steel weld mesh which is virtually impossible for predators to break. A unique anti-tunnel skirt sits flat on the ground and prevents animals from digging in, while the run has spacious vertical sides and gives your chickens plenty of room. You can extend the run in 3ft sections if you wish. The Eglu can be positioned on grass or any other surface such as wood chippings or rough ground where the chickens can rummage. The unique tunnel-proof panels have been proven in rigorous testing to be fox and badger resistant, and the dark green coating is fused to the metal wires ensuring an extremely durable finish that looks great in any backyard.
"This is the best chicken coop I have ever seen! I purchased one years ago and it is still just like new. It also weathered 28" of snow with no problems. Very impressed!" - David, Pennsylvania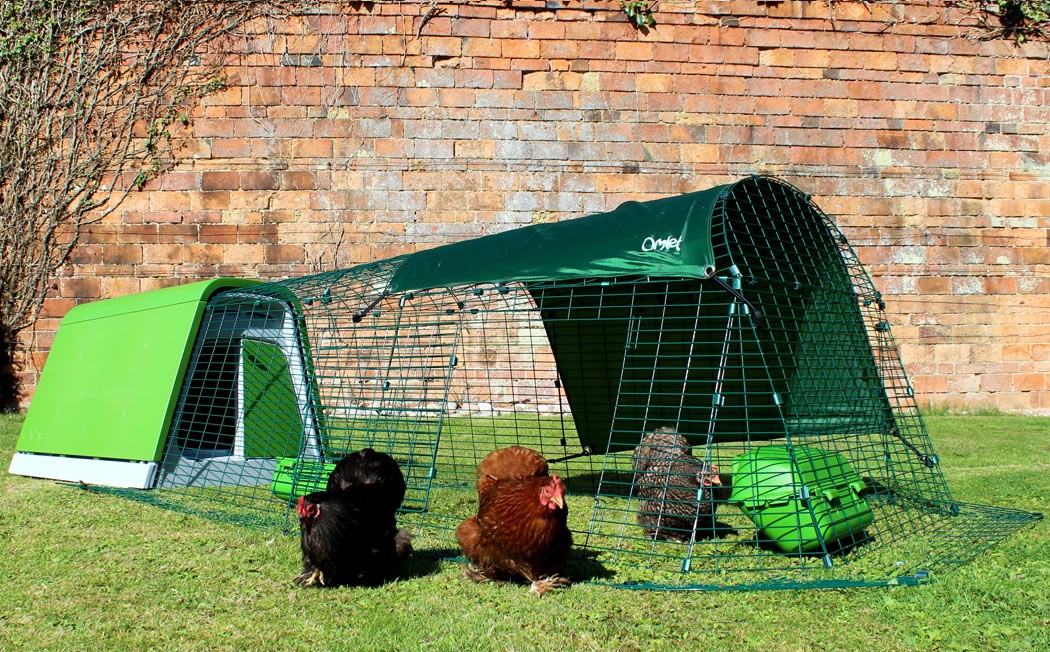 You can open the door of the Eglu Go chicken run to let your chickens roam free in the backyard
Changeable Run Door Position
The design of the run means you can position the door on either the side or the end, allowing you more flexibility while positioning the Eglu Go in your backyard. You can use the door to let your chickens out of the run to free range. A selection of All Weather Covers are available to add to the chicken run to protect your hens from the elements.
Easy Access Modern Chicken Coop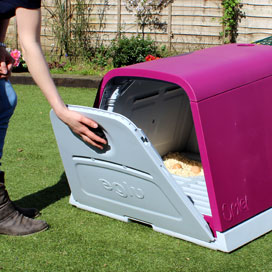 The Eglu Go Chicken Coop has a single large door at the back, which you can open to reveal the roosting bars, nesting area and dropping tray.
Comfortable Nest Box and Roosting Bars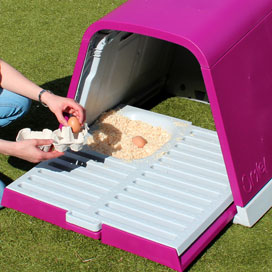 The chicken house has roosting bars for your chickens to perch at night and a discreet nesting box which can be filled with straw, shredded paper or wood shavings.
Easy To Open Chicken Coop Door
Let your chickens out in the morning using the neatly designed front door. The door is conveniently operated by a handle on top of the chicken coop.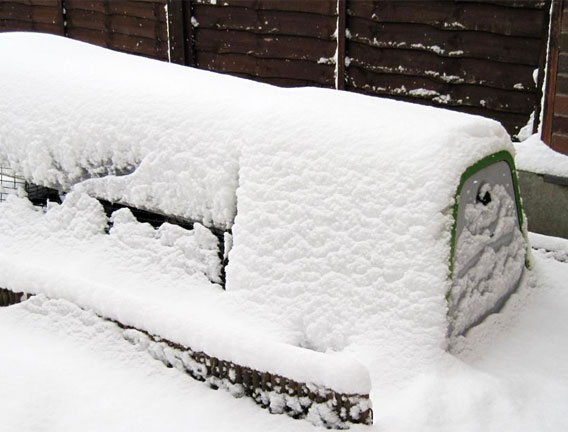 The twin wall insulation of the Eglu Go modern chicken coop keeps your chickens warm in the winter
Twin Wall Insulation For All Seasons
The Eglu is specially designed to keep your chickens warm in winter. The Eglu has a unique twin-wall insulation system which works in a similar way to double glazing trapping a pocket of air which provides a very effective means of insulating the house.
In summer your chickens will be kept cool by the Eglu's draught-free ventilation system, carefully designed to avoid air blowing directly over the roosting area whilst allowing fresh air to circulate.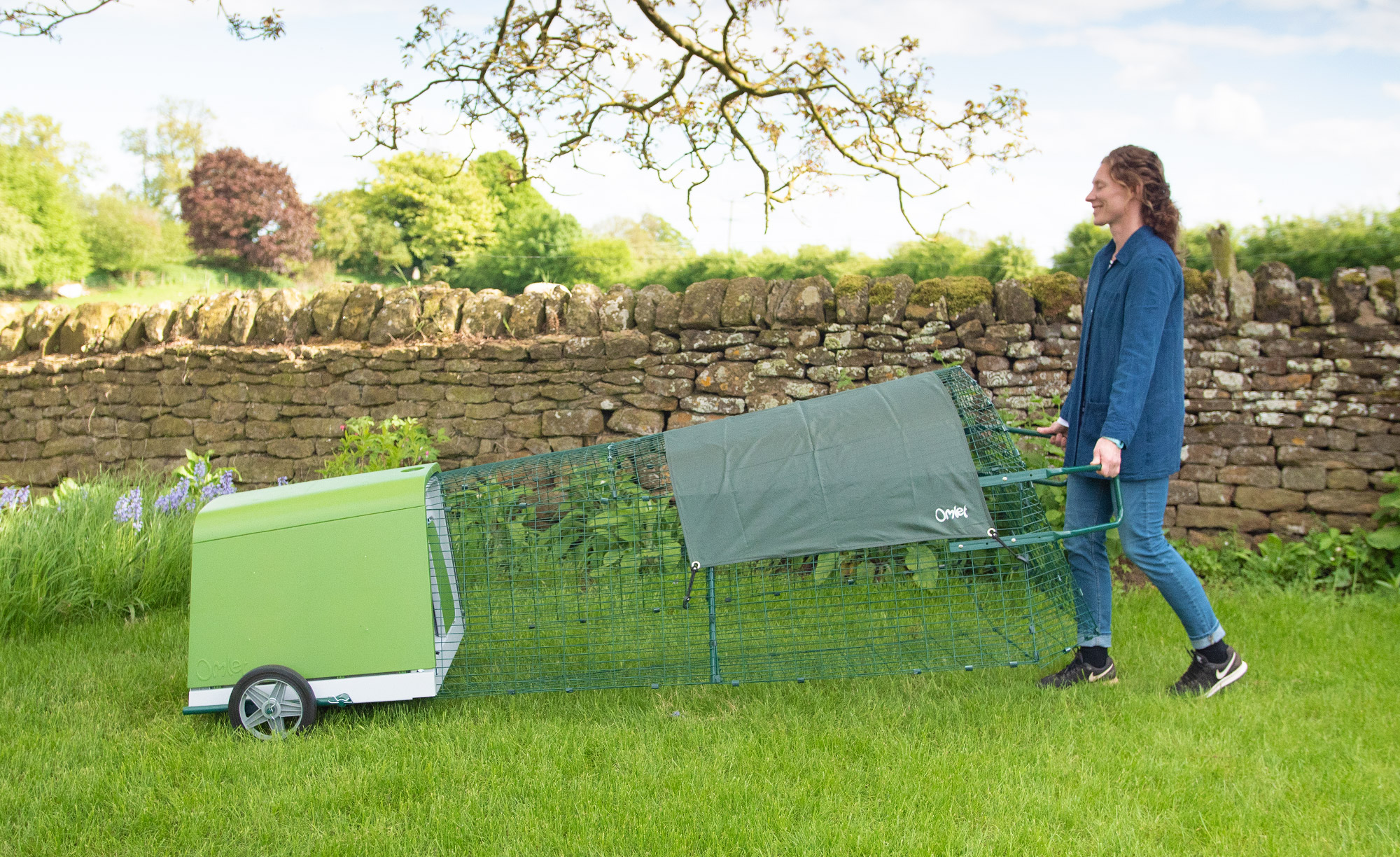 Add the new
Eglu Go Wheels
and
Eglu Run Handles
to transform your hen house into a portable chicken tractor
Eglu Wheels And Run Handles
You can add a set of the new innovative Eglu Go Wheels to your chicken coop to transform it into a chicken tractor that is really easy to move around your backyard. If you have an Eglu Go chicken coop and run you can also add some Eglu Run Handles to make the entire chicken house simple to manoeuvre.
To move your Eglu Go with wheels attached simply use the levers on each side to engage the wheels and raise the house from the ground. Once you have moved the Eglu and are happy with the positioning use the levers again to return the house firmly to the ground.
"My girls love this coop. It's cool inside even in 95°F heat. And it's fantastically easy to clean." - Suzie, California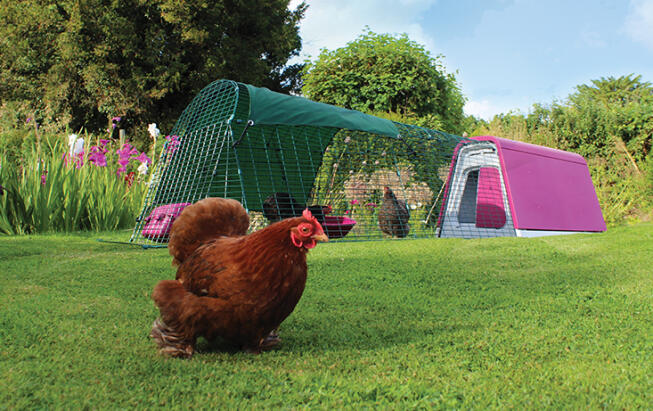 You get lots of free extras with the Eglu Go Chicken Coop including a plastic Omlet feeder and waterer
Free Chicken Feeder And Waterer
We want to make it as easy as possible for you to start keeping chickens, which is why you'll get lots of free extras with every Eglu Go chicken house. Whichever type of Eglu Go you buy, you'll get an innovative feeder and waterer. These fit neatly to the run, maximizing floor area, the covered design protects food from rain, and both are dishwasher proof, for ultra easy cleaning. You'll receive 10 Omlet Egg Boxes, suitable for giving away four eggs at a time to family and friends, and easy to follow instructions to help you build your Eglu quickly.
The biggest reward of an Eglu chicken coop, of course, is the free eggs you'll be treated to every morning. Nothing beats that! Not only that, but we're also so confident you'll love everything about the Eglu Go chicken house and your new chickens, we offer a 180-day, no explanation needed money-back guarantee.
In addition to the fantastic freebies that you receive with the Eglu Go chicken coop why not sign up to the Omlet Newsletter for regular tips and advice on caring for your flock.
You can convert your Eglu Go hen house into a raised Eglu Go Up by purchasing a frame and ladder set
Converting Your Eglu Go To A Go Up
Do you already have an Eglu Go luxury chicken house? Converting it in an Eglu Go UP Chicken Coop is simple, with our range of easy add-on accessories. Choose the Frame and Ladder to raise your existing Eglu Go off the ground, add the Wheel Set to the frame to make your house manoeuvrable, and choose the 6ft Run to give your hens a secure area to roam in. For the ultimate hen palace why not add the 3ft Extension too, to give your girls loads of eggstra space!? These parts are simple to add to your Eglu Go, and all come with the instructions and fixings that you will need.
(Please note, they are not compatible with the Eglu Go standard 6ft chicken run).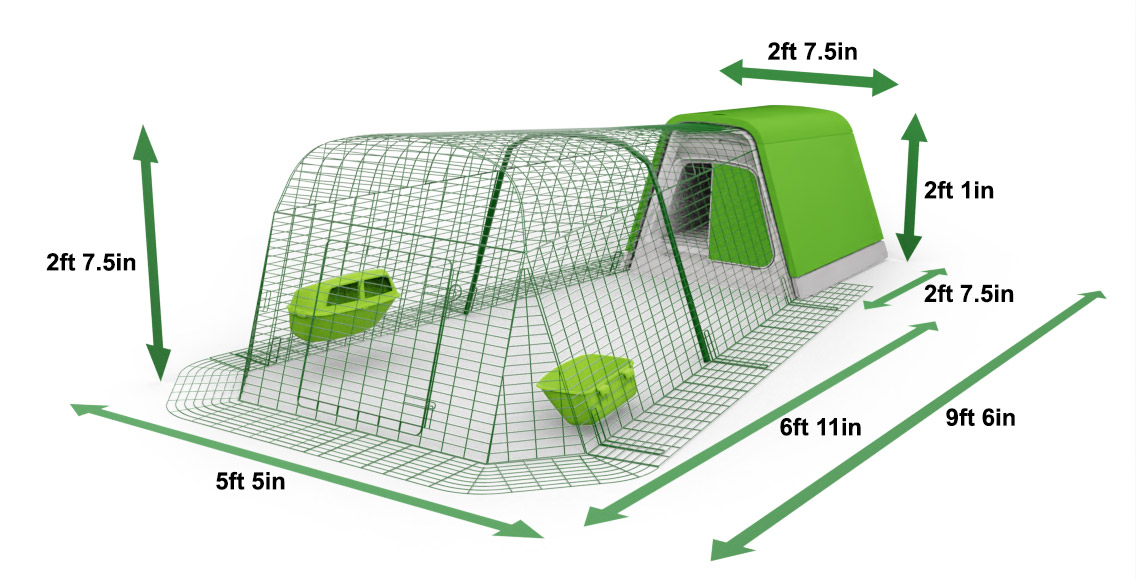 Dimensions of the Eglu Go modern chicken coop and 6ft chicken run
Eglu Go Chicken Coop Specifications
The Eglu Go Chicken Coop House is suitable for up to 4 medium sized chickens or 2-3 larger breeds such as Buff Orpingtons or Cochins. When setting up your Eglu, you should allow 23.6in of space behind the house to enable the dropping tray to slide out easily.
Materials:
House: 100% Recyclable UV Stabilised Plastic
Run: Double layer fully coated steel weld mesh
Packaging Dimensions:
House: House: 29.1in x 16.1in x 31.9in (44lbs)
Run: 27.5in x 9.4in x 37.8in (33lbsg)
Patent Pending. Design Registered.
---
Frequently Asked Questions
Verified Reviews - Modern Chicken Coop - Eglu Go
---
Customer Images - Modern Chicken Coop - Eglu Go - 29 of 54
Related Products