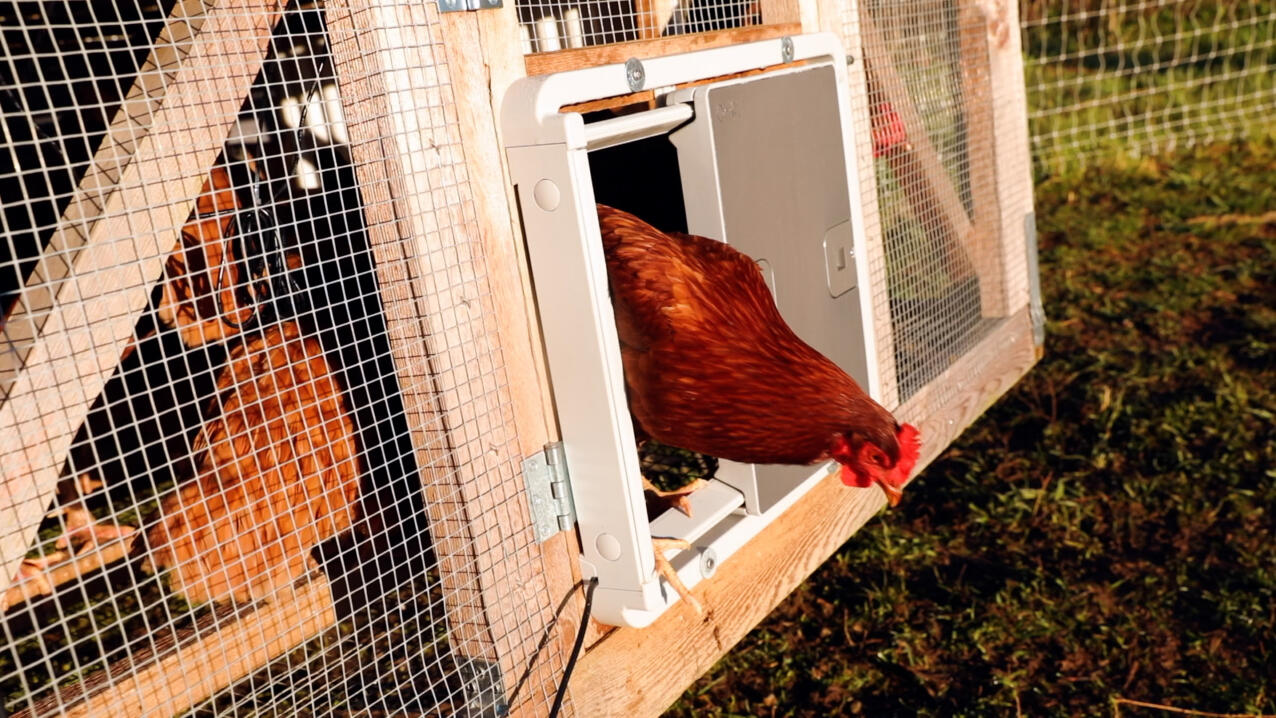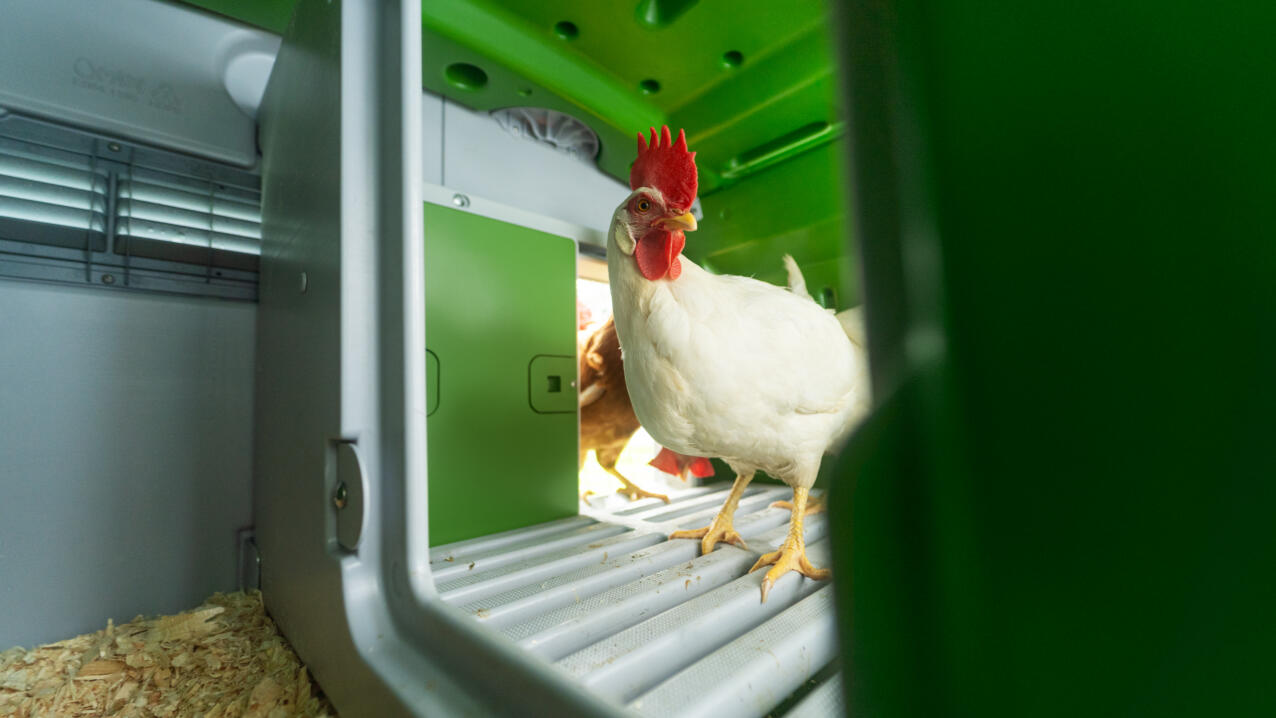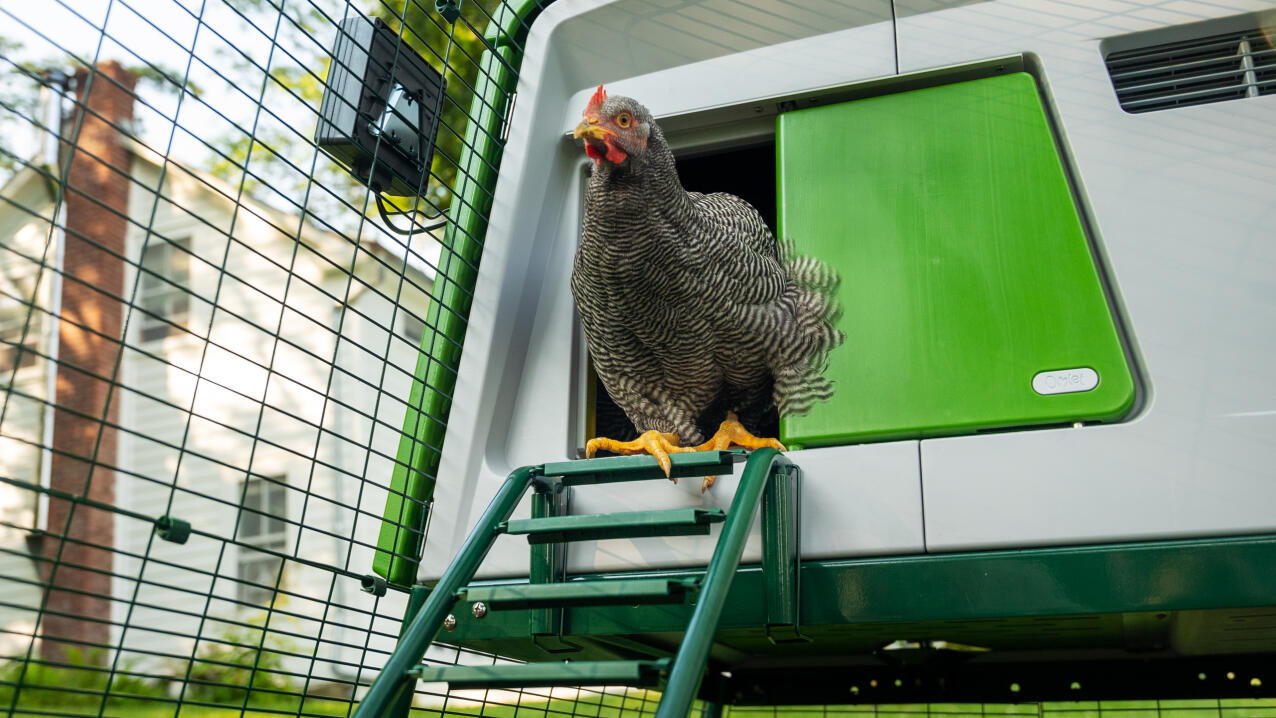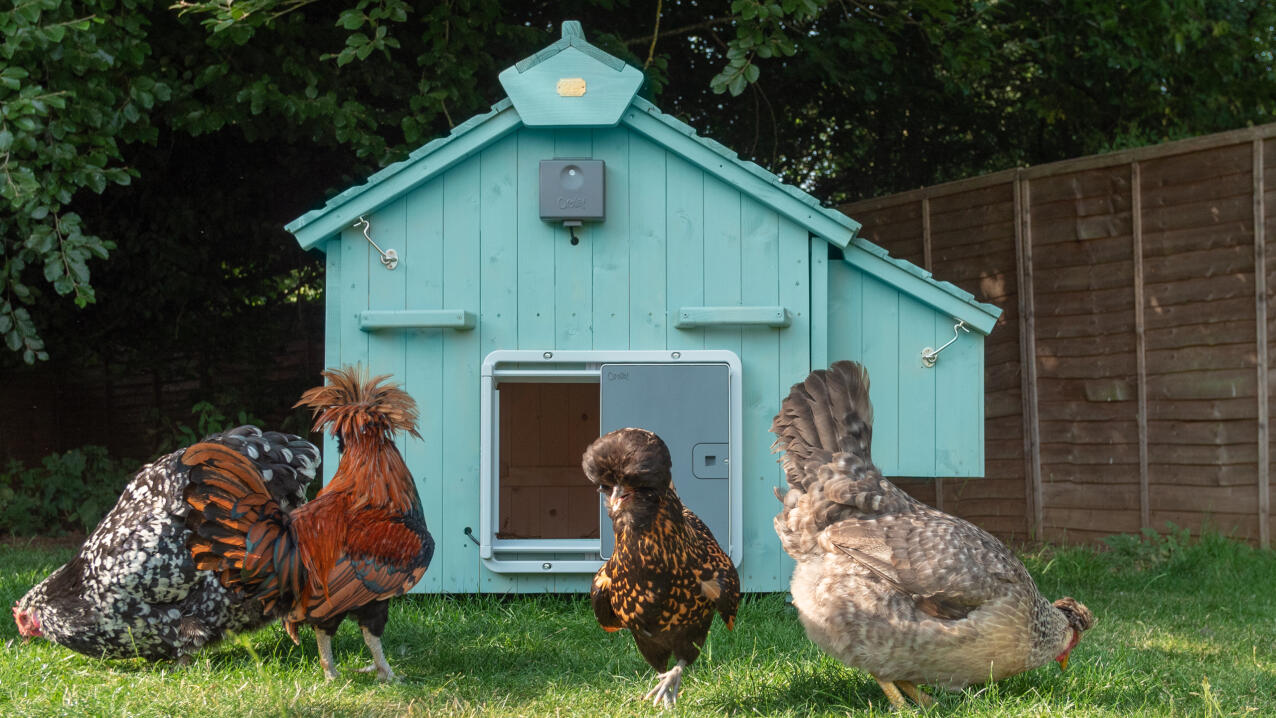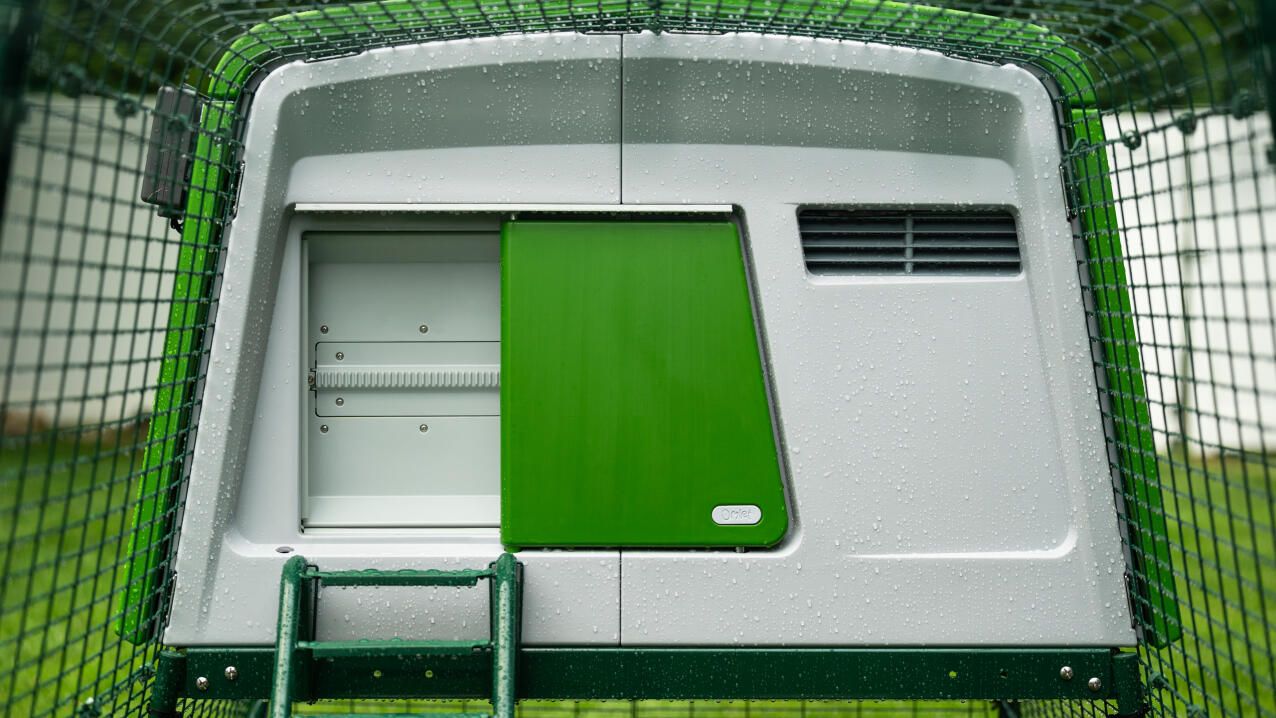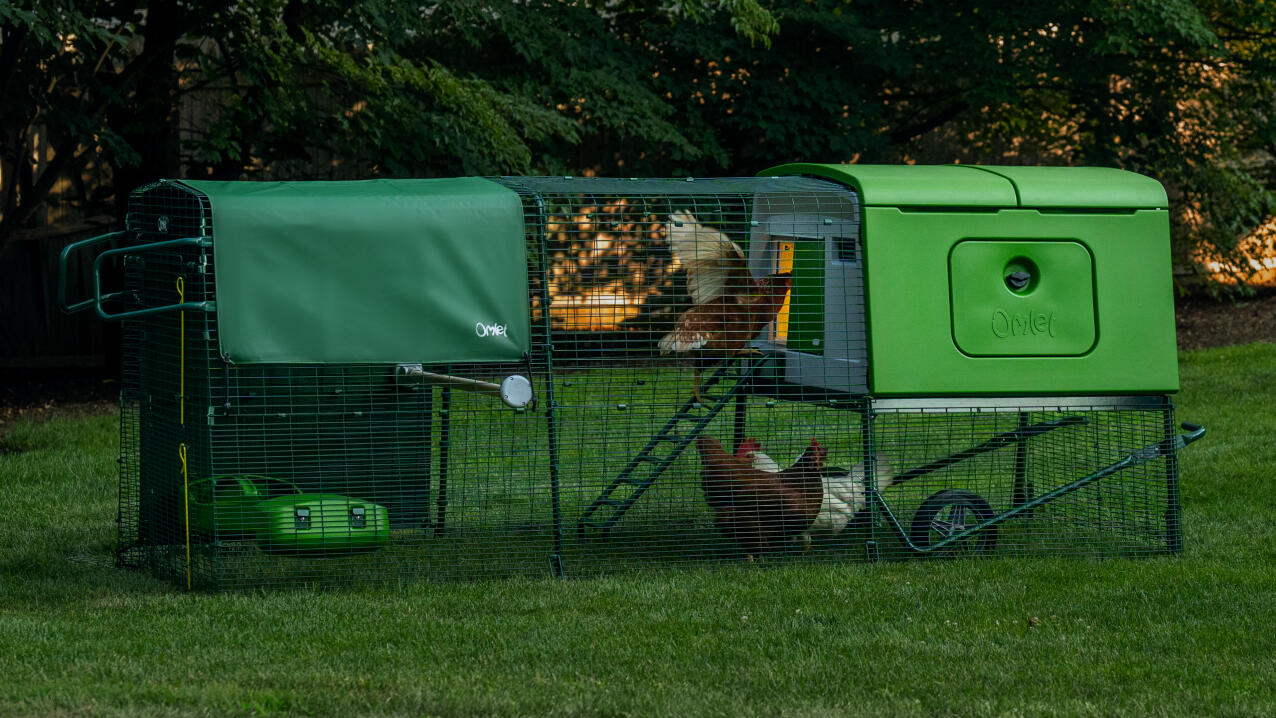 AUTOMATIC COOP DOOR
Ever wished your chickens could let themselves out? We designed the Automatic Chicken Coop Door to open your coop at dawn and close again at dusk. Reliable, safe and durable in all weather, it's an ingenious way to make your coop better and life just a little bit simpler.
We're Omlet and since 2004 we've been rethinking every aspect of keeping and caring for chickens. Inspired by the magic when humans and animals connect, we watch, learn, ask and invent. Our products will make you wonder: why hasn't it always been done this way?
sleep IN WHILE they HANG OUT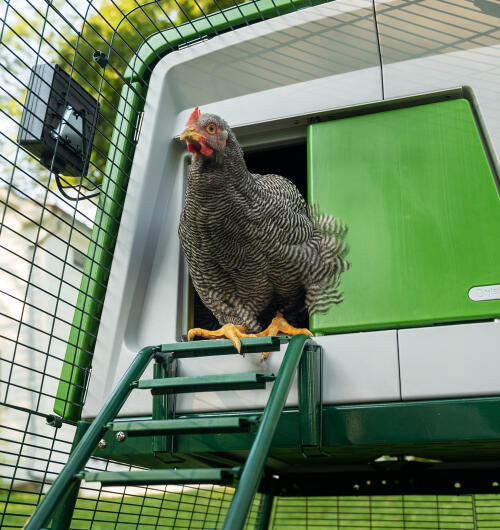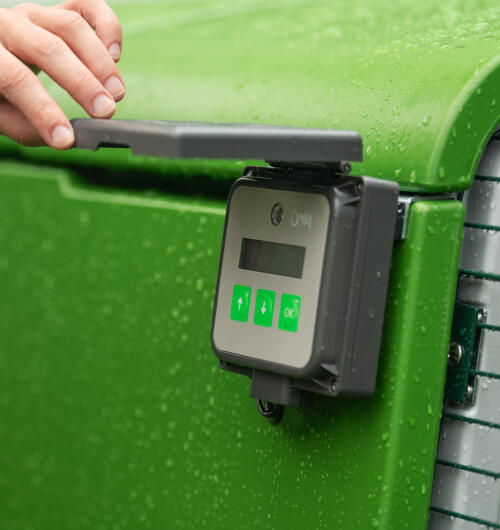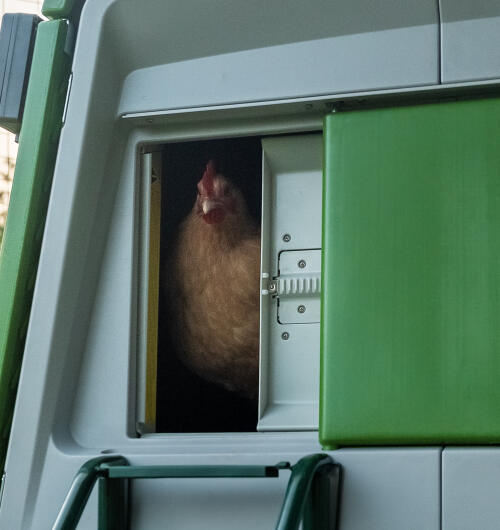 Chickens are happiest when they can start their day at dawn and be tucked up in bed by dusk. With Omlet's automatic chicken coop door you can have a lie-in or a late night without your chickens even noticing.
Automatically opens at dawn

And closes again at dusk

Or set times to suit their routine

Clever sensors ignore outside lights and torches
Make any chicken coop smart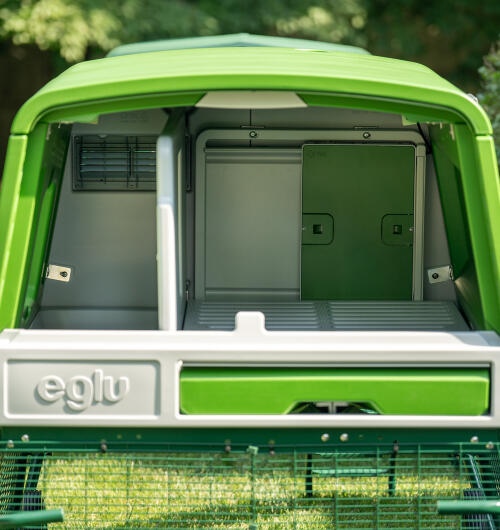 Whether your chicken coop is plastic, wooden, chicken wire or something else entirely, you don't have to go without automation. With our easy attachment kits, every chicken keeper can be a smart chicken keeper.
Install directly to the Eglu Cube chicken house

Easily screws onto any wooden coop

Attach to the Walk In Run or any type of chicken wire

Door can be fitted to open to the left or the right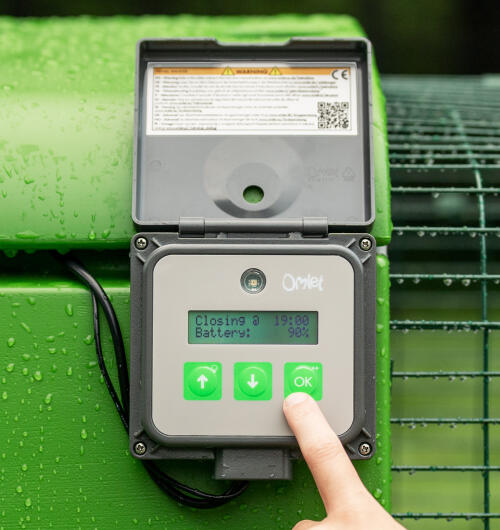 Just 4x AA batteries reliably power the Autodoor for up to 6 months. Prefer to use mains? Plug in our 12v mains converter for a constant source of power.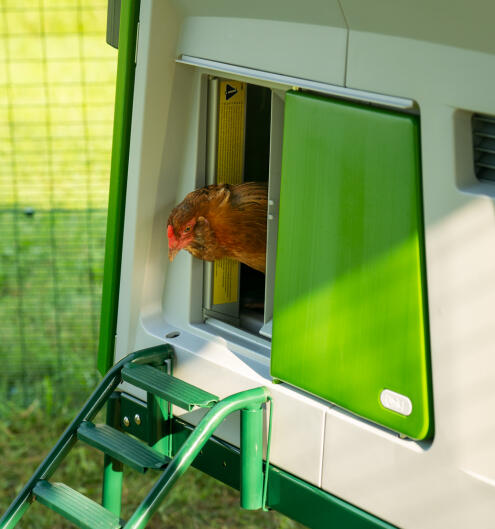 The Autodoor uses sophisticated safety sensors to protect hens that dawdle in the doorway, just like elevator doors. After gently nudging and opening again, the Autodoor will attempt to close 5 more times until the path is clear.
Does your flock stay out late?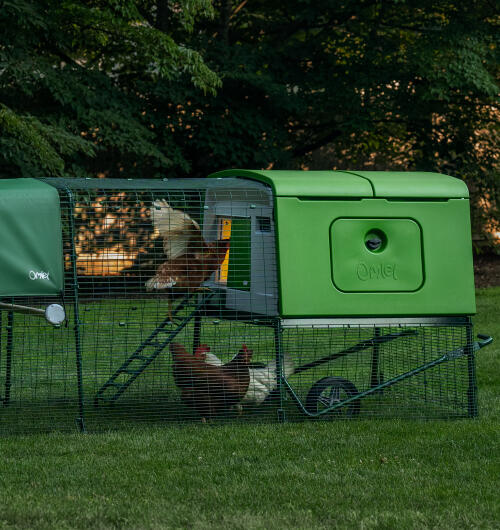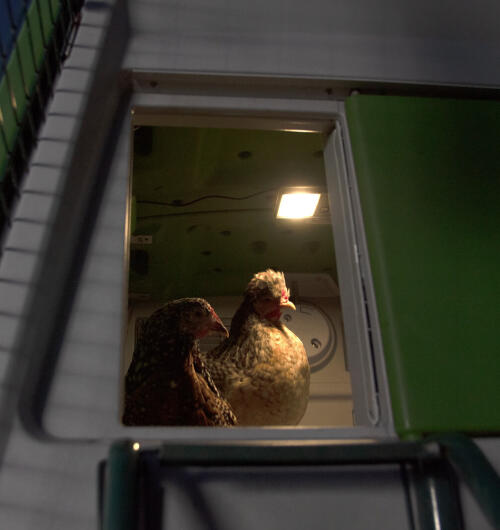 We designed the Coop Light to guide late night hens to their roost. Powered by and perfectly synced up with your Autodoor, it comes on 5 minutes before the door is scheduled to close. Once everyone is safely tucked up and the door closed, the coop light gently turns off.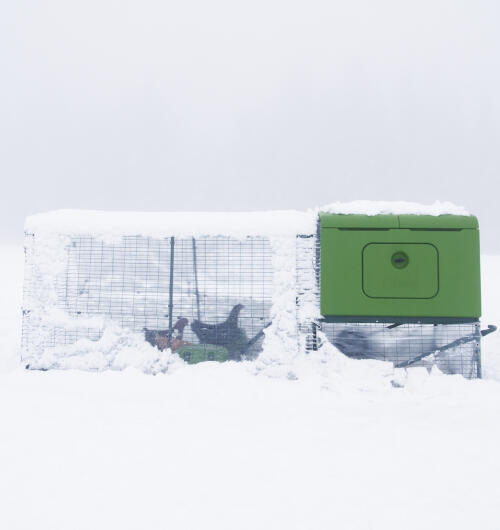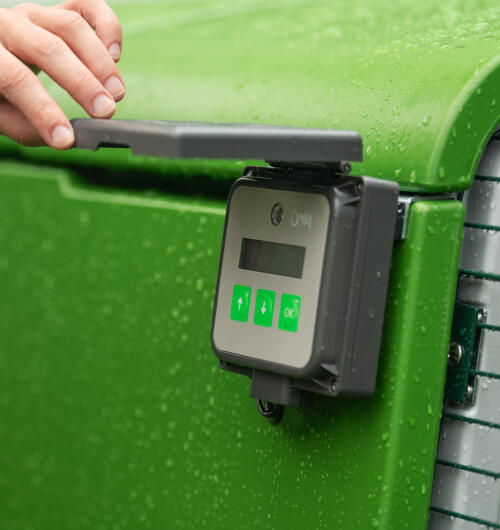 Invented. Tested. Refined. Repeated. Over 200 prototypes and 3 years of development went into designing an Autodoor that could deal with anything mother nature had to throw at it.
Tested to work to as low as -4°F and up to 150°F

Waterproof casing to IPX6 standards

Shatterproof ABS construction

Looks after your hens in severe storms
Control where you need it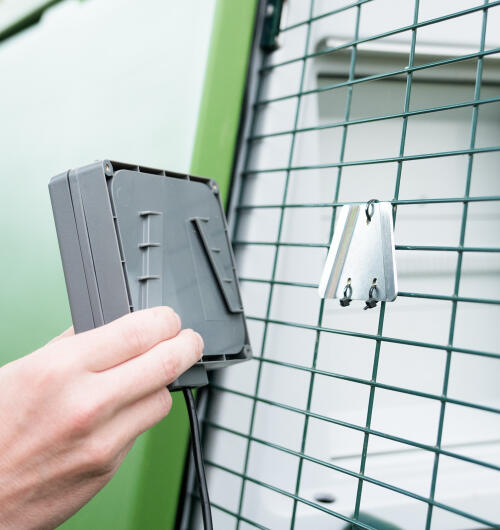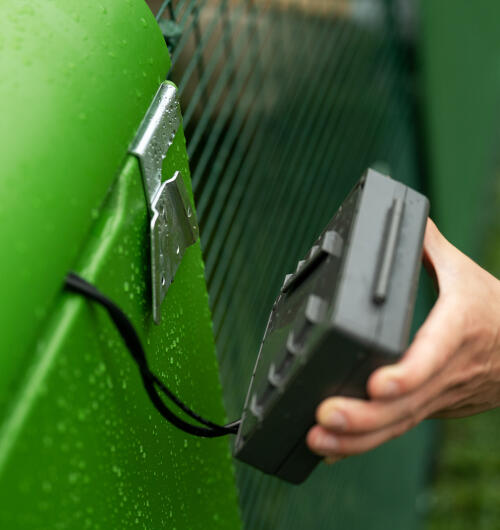 The Autodoor's control panel and light sensor comes with a 6ft cable, so you can position it where you need it. Change settings with easy to use buttons and check everything, including battery status, on the large backlit digital display.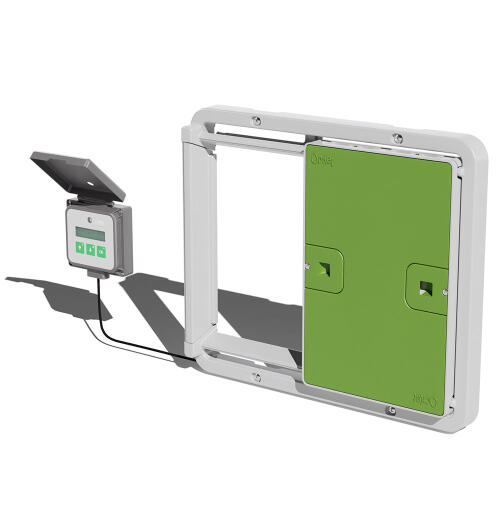 The Autodoor arrives ready to assemble. Install your Autodoor on your coop or run with our step-by-step instructions or build-along videos, insert the batteries, connect the cable, and you're on your way to easier chicken keeping.
1

/
Frequently Asked Questions
What settings can I have on my automatic door?
You can choose between the light setting, i.e. choosing at which level of daylight the coop should open and close, time setting, i.e. setting specific times when you know your flock has returned to the coop or are ready to go out for the day. There is also a manual mode where the door opens and closes only when you press the button.
For safety and peace of mind, there is also a built-in failsafe system for opening the door completely by hand. You can find out how to do this by checking the instruction manual.
You can change which setting you're using whenever you want, but it's not possible to use to different settings at the same time.
How do I know when all my chickens have gone inside for the night?
Chickens are flock animals and creatures of habit, and in most cases they will go back to the coop within half an hour of each other at around the same time every evening. Observe your hens for a few days and make a note of when they tend to go to bed, and set the door accordingly.
How can I power my Autodoor?
We only recommend using batteries, or the optional mains power supply. If you connect your Autodoor to a solar panel or any other type of power source, we will not be able to offer any warranty (expressed or implied), support or advice.
Please note that the mains power supply only works with Autodoors bought after April 2023. If you're unsure about which version of the door you have, you can check the control panel. If yours has a number (014.0130) in the top left corner of the Warning sticker, you can power your Autodoor with battery or mains. If it doesn't, you should only power your door with batteries.
Can the Autodoor be fitted to other Eglu coops apart from the Eglu Cube?
The Autodoor cannot be fitted to any other Eglus than the Eglu Cube Mk1 and Mk2. You can however, using an attachment kit, attach it to any Omlet run.
Tell me more about the coop light!
There are two main reasons to add a coop light. Firstly, having a light in the coop will encourage the chickens to return to roost when it gets dark. This is especially good if you have one or two hens that tend to stay out longer than the rest.
Secondly, it's useful to have a light in the coop if you want to check on your hens when it's dark, maybe as you come home from work or just before you go to bed. The hens won't be bothered by you turning on the light for a minute and peeking into the coop.
The coop light uses a LED light at 1.5 watt. That is the equivalent of a 15 watt light bulb.
How long do the batteries last, and when should I change them?
4 good quality AA batteries of the same brand, same type and same energy level should power the Autodoor for 6 months, or around 4 months if you're using a coop light.
If you have an Autodoor where you have the option to change the language of the control panel, you can use either alkaline or lithium batteries. If you have an older Autodoor, you should not use lithium batteries, as this may affect the function of the door. If you're unsure about which Autodoor you have, please contact our customer service team and they will be able to help.
We would suggest changing the batteries when the control panel is showing the level as 20% or lower. It's good to check the batteries at least every 3 months to make sure they are in good condition.
Can I connect a solar panel or other power supply?
You must use the Autodoor as specified in the instruction manual by using either AA batteries or our power adapter. A set of AA batteries will last a long time (between 6-12 months). We cannot offer any warranty (expressed or implied), support or advice if you connect any other forms of power supply to your AutoDoor. There is a high risk that you may damage your Autodoor, and the product may not work as intended.
Can I open the door manually?
Yes, there is a manual mode where the door opens and closes only when you press the button. For safety and peace of mind, there is also a built-in failsafe system for opening the door completely by hand. Check the
instruction manual
to find out how to do this.
Can the door be used vertically?
No, the motor in the door is designed to open the door horizontally.
Can I use it with chicks?
The Autodoor is designed to be used by adult chickens, and it's wise to only use manual mode if you have chicks in the flock.
Which coops does the Autodoor fit on?
The Autodoor fits straight on the
Eglu Cube Chicken Coop
, and on the absolute majority of wooden chicken coops or barns. If you have an older Eglu Cube (before 2016), you can fit the Autodoor by using an attachment kit. You can also fit it to mesh or chicken wire on a run.
What time system is used to program the door?
The Autodoor uses military time, with a 24h clock. So if you, for example, want to program your door to close at 6pm, you would set the control panel to 18.00.
Can the wire to the control panel be extended?
We don't provide any solution for extending the cable, but we do sell a
replacement cable
that could be used for that purpose. If you want to extend the cable we suggest you speak to an electrician to make sure it's done safely and correctly.
speak to an autodoor ambassador near you
Omlet Ambassadors are customers turned product experts.
They can answer all your questions about the Autodoor and share their experience using it with their hens.
Find an ambassador near you
AUTODOOR Size & Specs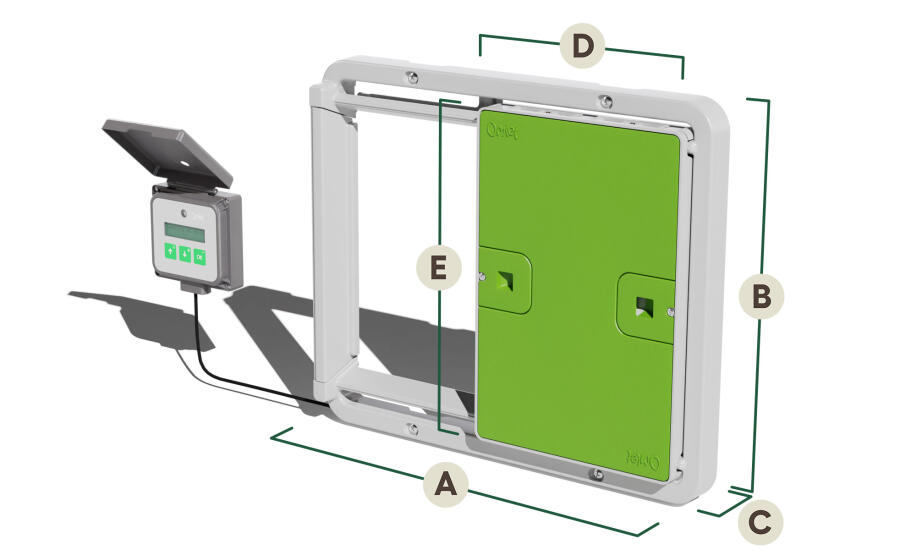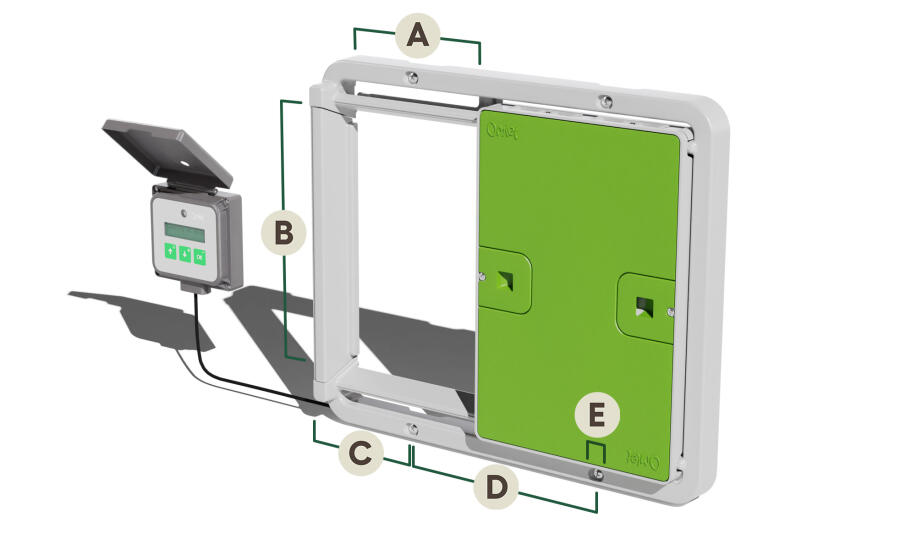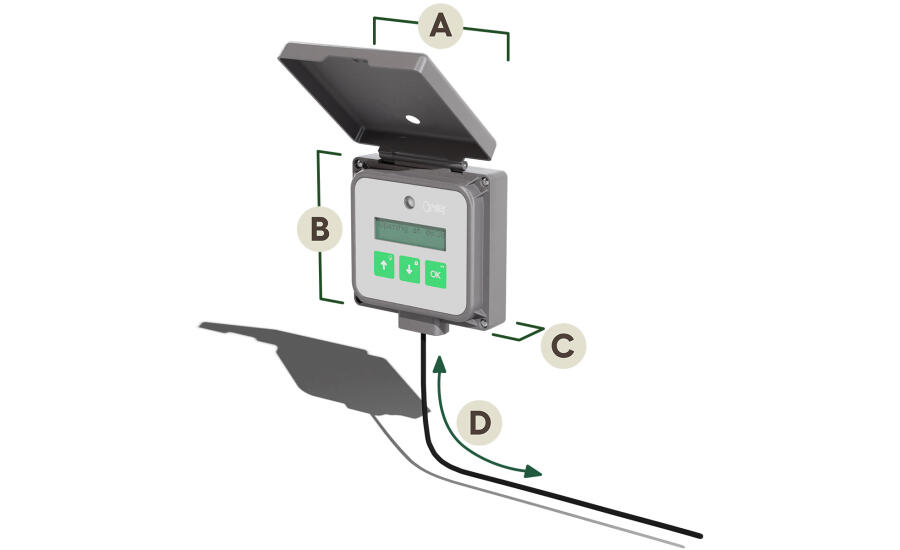 Materials:
ABS, Zinc Gearing, Steel fixings
Power Input:
4 x AA Batteries (not supplied)
Product Dimensions:
Door Frame: 19.25in x 16.5in x 2.25in Control Panel: 4.75in x 4.5in x 1.5in Cable Length: 78.74in
Packaging Dimensions:
22.04in x 18.50in x 2.87in
NOTE: Please avoid cleaning your Autodoor with industrial chemicals. We recommend cleaning only with soap and water or a pet safe disinfectant and treating red mite with powder only.
Universal Automatic Chicken Coop Door
I love it ... have just purchased my second automatic door, I bought one a couple of years ago and installed it on the wire of my chicken house, today I installed my second door, on the doorway to the chicken sleeping quarters. It is comforting to know that my girls are safe at night and I can sleep in occasionally 😴
Review for:
Automatic Chicken Coop Door with Coop Light - Green
The reviewer has 2-4 Mixed breed bantams pets
This door is amazingly simple to install and use. I have three automatic coop doors for my coops and this one was the easiest and fastest install. It was so simple and I liked it so much that when it was time to get an auto door for my Silkie Coop this was my go to door. The only thing I wish was that there could be a separate auto program for the coop light. It is set to come on 5 minutes before the door closes, but for Silkies they are so stubborn - it would be nice to be able the coop light to come on and go off on a separate schedule from the door. This way you could have the light come on independently of the door so they had plenty of time to get in and get comfy before the door closes. I use a smart coop light in my other coops and control the light with a schedule within the Phillips Hue app, but I didn't have electrical to add to my newest coop, so I chose to use the Omlet Coop light with the auto door. I really hope they take this request into consideration so that it might help other chicken owners as well. Aside from this small issue the door itself is fantastic and so easy to use!
Review for:
Coop Light - Automatic Chicken Coop Door
The reviewer has 10+ Silkies pets
I have never reviewed a purchase before. This product is outstanding. Arrived quickly, packed well, instructions very clear and easy to install. Have been using for three months without any problems. Why didn't we purchase this years ago??!!!
Review for:
Automatic Chicken Coop Door - Grey
The reviewer has 4-6 pets
Easy to install and works as promised
I didn't think I needed it, but life is so much better now. Chicks fell right into rhythm
Review for:
Automatic Chicken Coop Door with Coop Light - Green
The reviewer has 4-6 Red star pets
Love,love,love this automatic chicken door. It is well made, works as stated and gives me the pleasure of heading out to the coup a bit later in the morning. I must admit after it was installed I went to the coup at dusk for two nights to be sure the door closed and the girls were safe. It works and on a farm it is always a treat to have one less chore.
Review for:
Automatic Chicken Coop Door with Coop Light - Grey
The reviewer has 10+ pets
Read more reviews