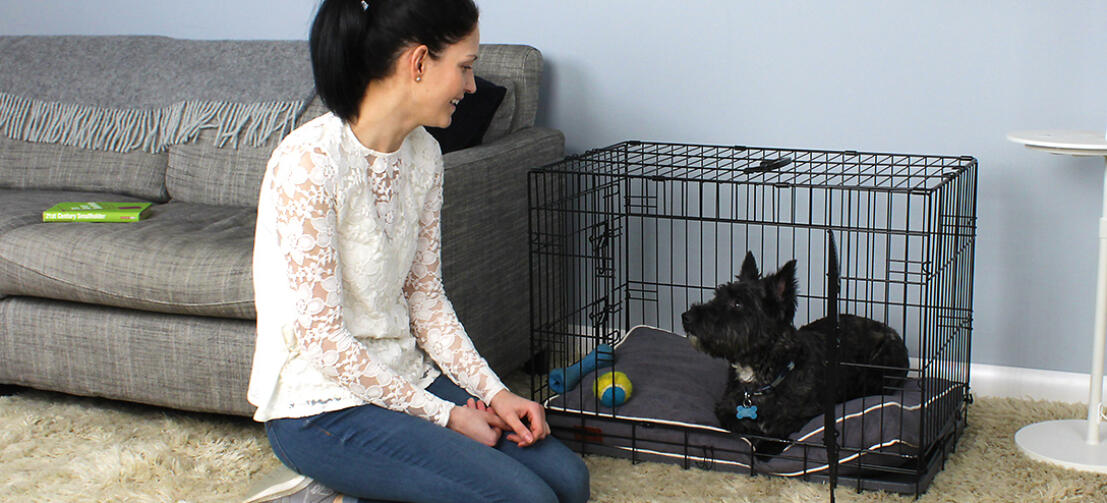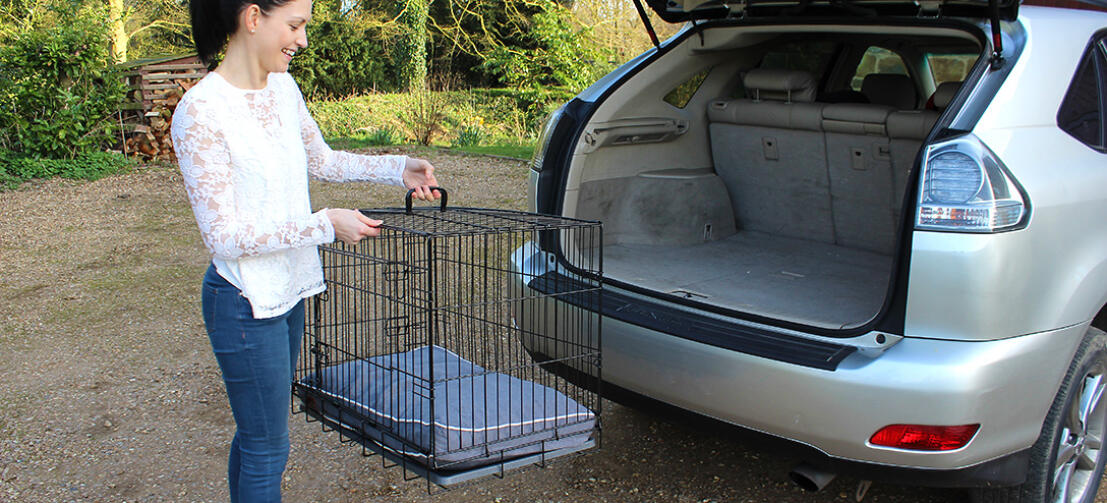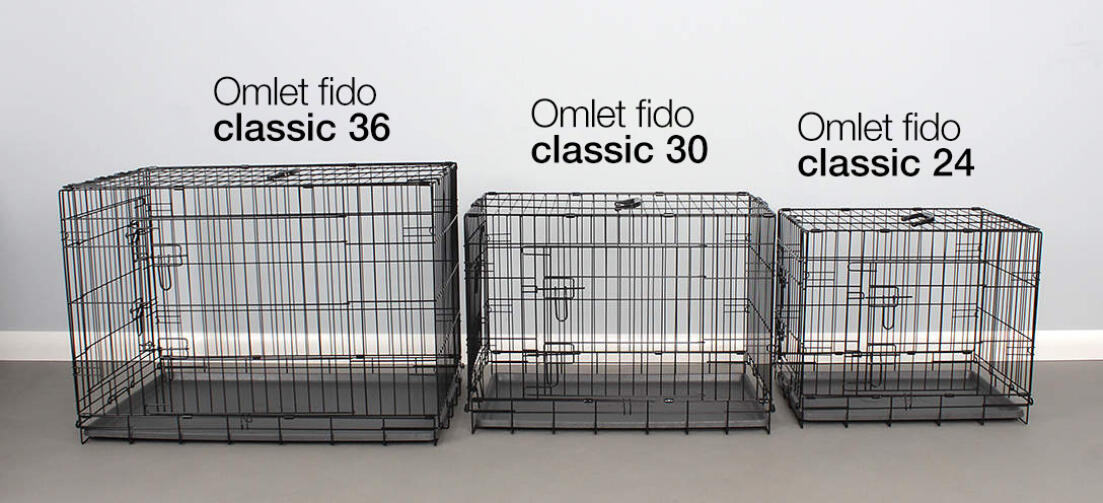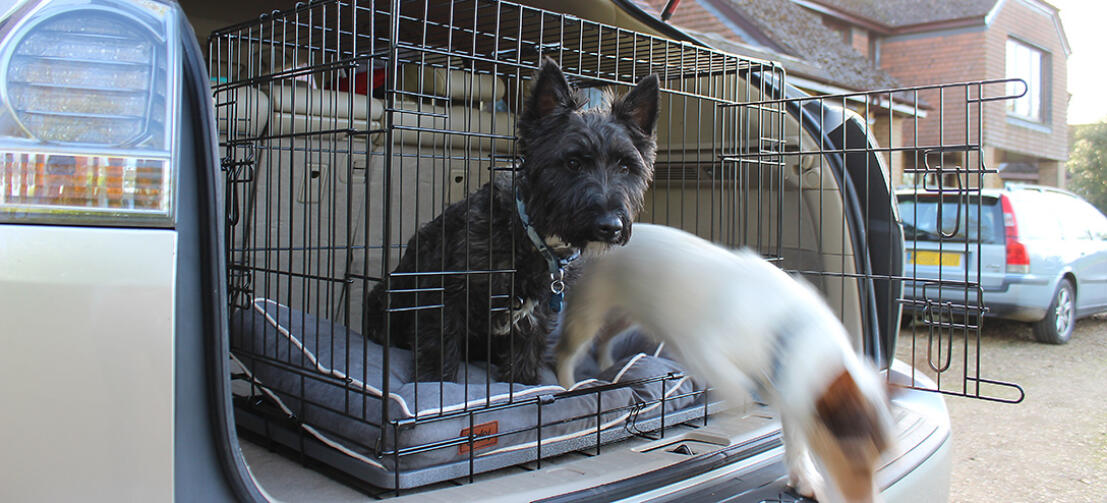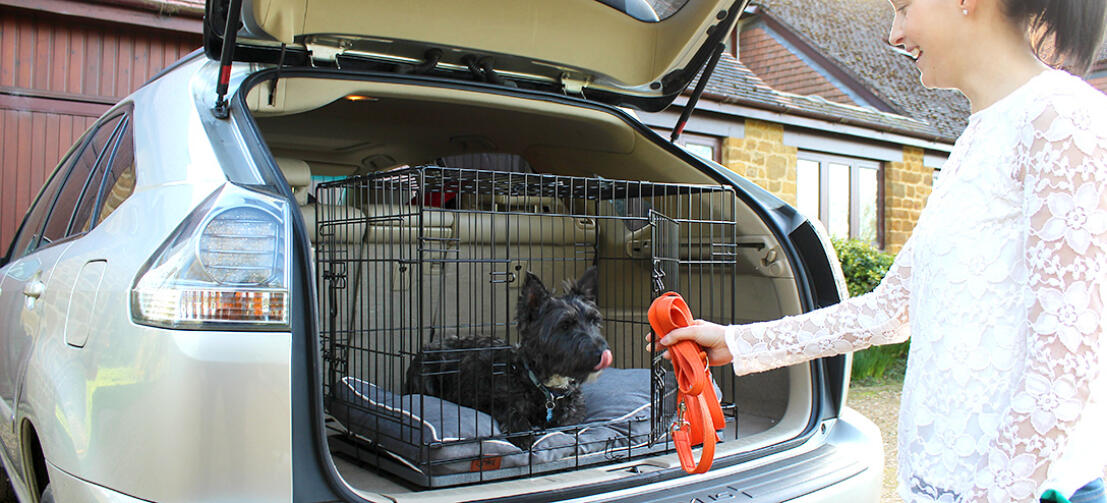 Fido Classic - Easy Folding, Twin Door Metal Dog Crate
If you want a crate that's secure, can go in the car as well as in your home and is super quick to put up then the Fido Classic is the crate for you.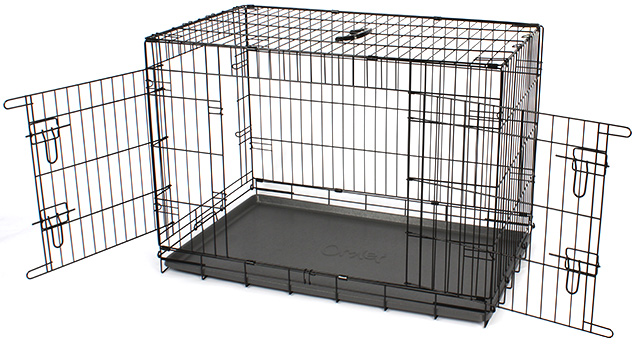 Double-door crate with secure latches
The Omlet Fido Classic dog carrier has a door on the long side and the short side. This makes accessing the crate easy and you can arrange the crate in your home so that it fits in perfectly. For instance, if you have a narrow space you can slide the crate in and use the door on the short end.
This high quality dog crate is made from heavy duty welded steel wire with a neat black epoxy coating that will look good for years to come. Each door has two slide-bolt latches that lock when you fold them all the way down. Once your puppy is completely relaxed in its crate you can leave the house for a short length of time. For example, if you are heading out to go shopping you can have peace of mind knowing that your house will not get chewed to bits! See Omlet's dog guide for more advice on using a carrier.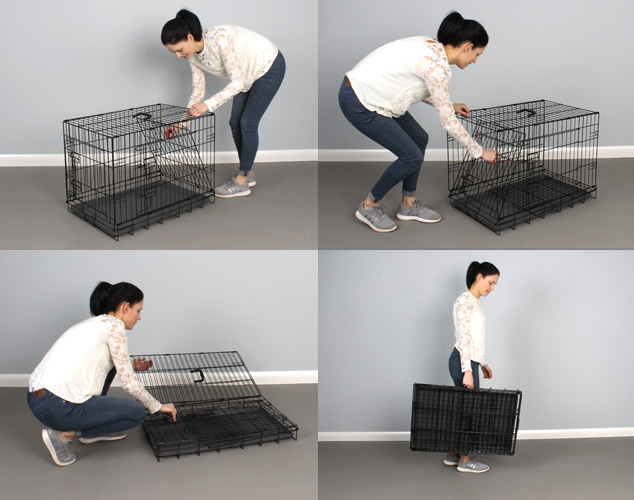 Fido Classic is easy to fold up for storage.
Easy set up & folds flat for Storage
Your Fido Classic dog carrier will arrive fully assembled. You will not need any tools to set it up. In a few simple movements, and as if by magic, the product unfolds to create a sturdy crate. If you need to move it, it has a handle on the top so lifting is easy (less easy if the dog is inside!) and if you want to store the crate, it folds down flat again in just a few seconds. When folded a metal loop clips around to secure it and the handle can be used to carry it like a suitcase.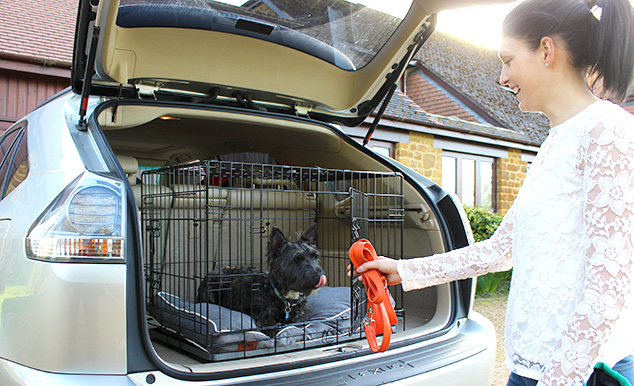 Transporting your dog
For car journeys a dog crate is essential. It secures your dog safely in the back of your car and protects them from movements on the journey, it also means they cannot change the radio station. Check the dimensions of the crate to make sure it will fit in your trunk with the door closed. You should use a dog bed and place your dogs favorite toy in the carrier.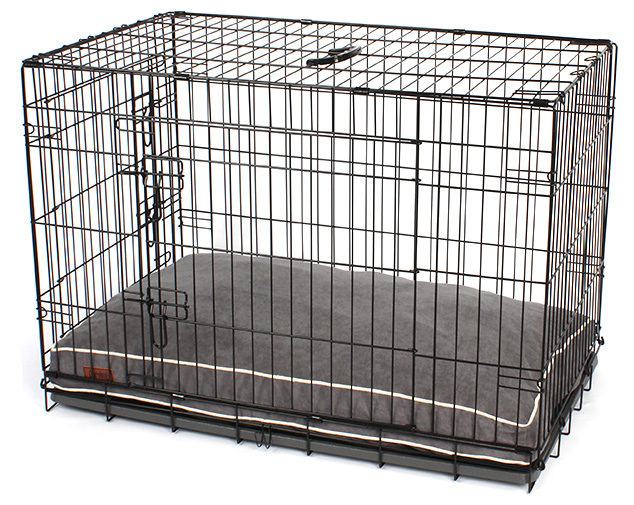 Every size of Fido Classic has an optional fitted bed.
Luxury Optional Dog Bed
An optional extra but well worth it, this excellent value bed has been tailored to fit the Fido Classic perfectly. Naturally, it has a removable cover and is machine washable for convenience. Unusually for a bed at this price it is extra deep filled and has a very smart contrasting cream piped edge, the kind of finishing touch you might find in a Rolls Royce for much more money.
Plastic Tray
The Fido Classic comes with a plastic tray that will catch little spills and accidents that can happen with excitable puppies! It is also useful for older dogs and simply slides out of the crate for easy clean-ups! The Omlet tray comes in a distinctive dark grey with a subtle non- slip textured pattern and the Omlet logo embossed in the center.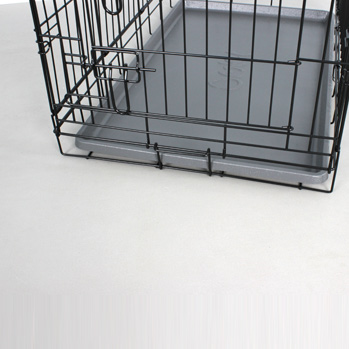 Tray locked - the tray can never accidentally be removed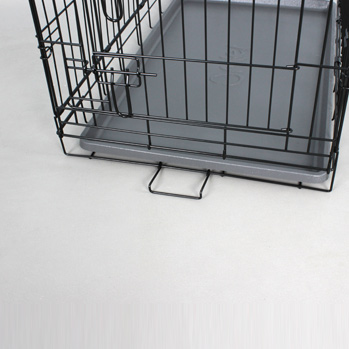 Tray unlocked - Push the lock loop in and down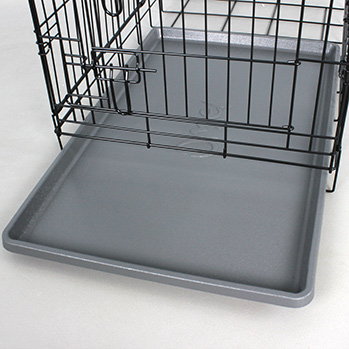 Slide out tray - Slide out tray for easy cleaning .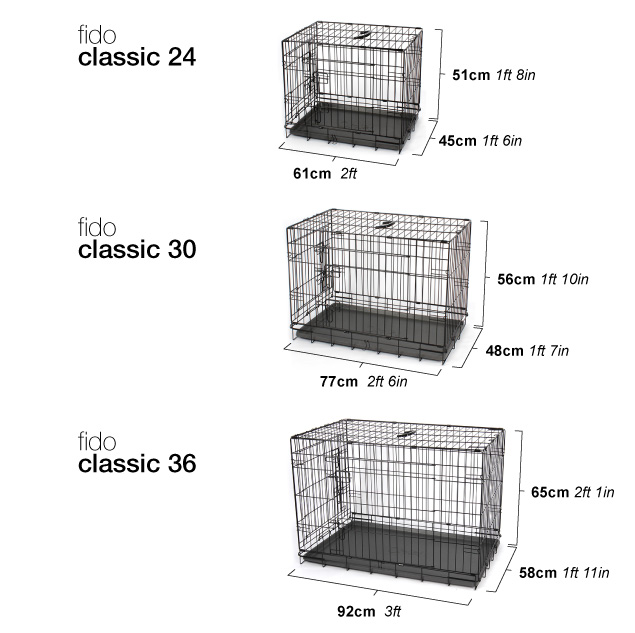 Fido Classic 24, 30, and 36 Dimensions
Fido Classic sizes and specification
The Fido Classic is currently available in a 24inch, 30inch, and 36inch size, to suit small to medium breeds. Breeds up to 25lbs such as the Lhasa Apso, Yorkshire Terrier, Chihuahua, Pug, and Pomerianian are all suitable for the Fido 24.
Breeds up to 44lbs can use the Fido Classic 30 inch crate and the Fido 36 will provide ideal accommodation for dogs up to 70lbs including, Spaniels, Whippets, and Bulldogs.

Fido Classic 24 Dog Crate Dimensions:
Length 24in Depth 19in Height 20in Front Door 13.4in x 12.2in Door lip 3.35in
Fido Classic 24 Dog Crate Packaging Dimensions: 24.8in x 18.7in x 3.9in (13.4lbs)
Fido Classic 30 Dog Crate Dimensions:
Length
30in Depth 19in Height 22in Front Door 15.3in x 16.1in Door lip 3.66in
Fido Classic 30 Dog Crate Packaging Dimensions: 31.3in x 20.1in x 4.1in (16.65lbs)
Fido Classic 36 Dog Crate Dimensions:
Length
36in Depth 23in Height 25in Front Door 19.2in x 18.9in Door lip 3.07in
Fido Classic 36 Dog Crate Packaging Dimensions: 37.4in x 24in x 3.5in (22.7lbs)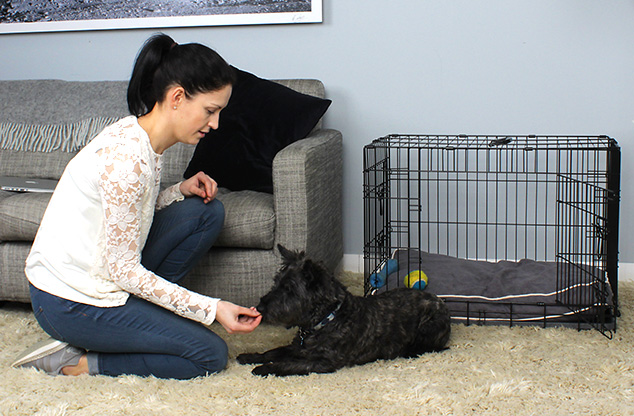 House training a puppy with a Fido Classic
Crate training a puppy
Breeders and dog professionals agree that crate training is the quickest and most effective method of house training a puppy. Using a carrier gives your dog its own home within your home and as such you can quickly teach it where to go to the toilet. Once trained, your puppy or adult dog will simply see the Fido Classic dog crate as their space that they can go to when they want to get some rest and relaxation.
Fido Classic - Easy Folding, Twin Door Metal Dog Crate
We bought the crate for our new puppy's arrival. It is well made and was easy to assemble. We're just awaiting it's true test when puppy tries it out. It was a good price too, when we compared it with other makes.
Review for:
Fido Classic Dog Crate 36"
Perfect description
Review for:
Fido Classic Dog Bed 30" - Grey
Since we bought the puppy home a week ago she has slept in the crate every night.
Review for:
Fido Classic Dog Crate 24"
The reviewer has 1 Cavoodle pets
Exactly as advertised. Simple and effective. Strong and good quality.
Review for:
Fido Classic Dog Crate 24"
The reviewer has 1 Poodle pets
I'm very impressed with the quality of the bed, very quick delivery service too! I'm sure my puppy ???? will find the bed super cosy once he arrives!
Review for:
Fido Classic Dog Bed 30" - Grey
The reviewer has 1 Cavapoo pets
Read more reviews