Qute Hamster & Gerbil Cage
The Qute Hamster and Gerbil Cage is a modern, secure, easy to clean hamster house that will bring you and your children closer to your pets!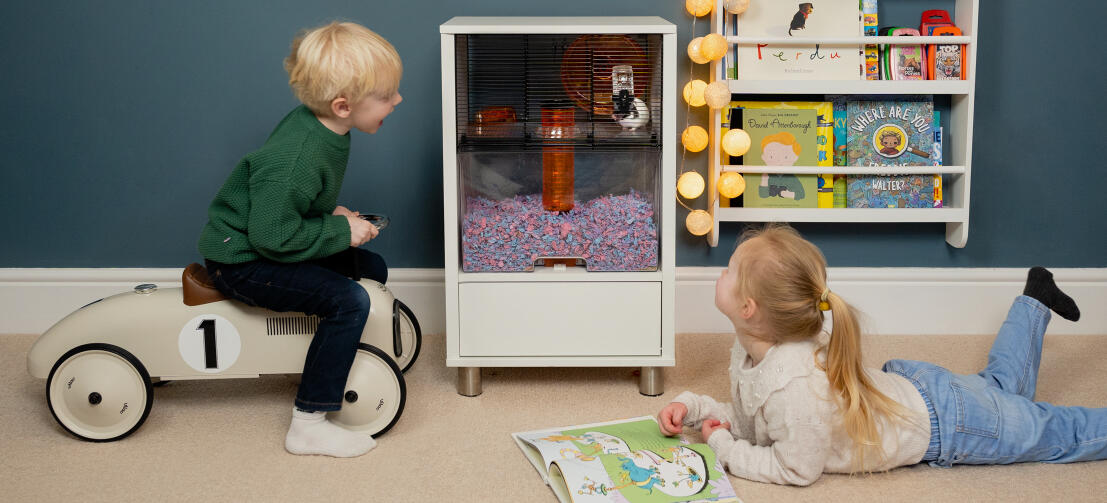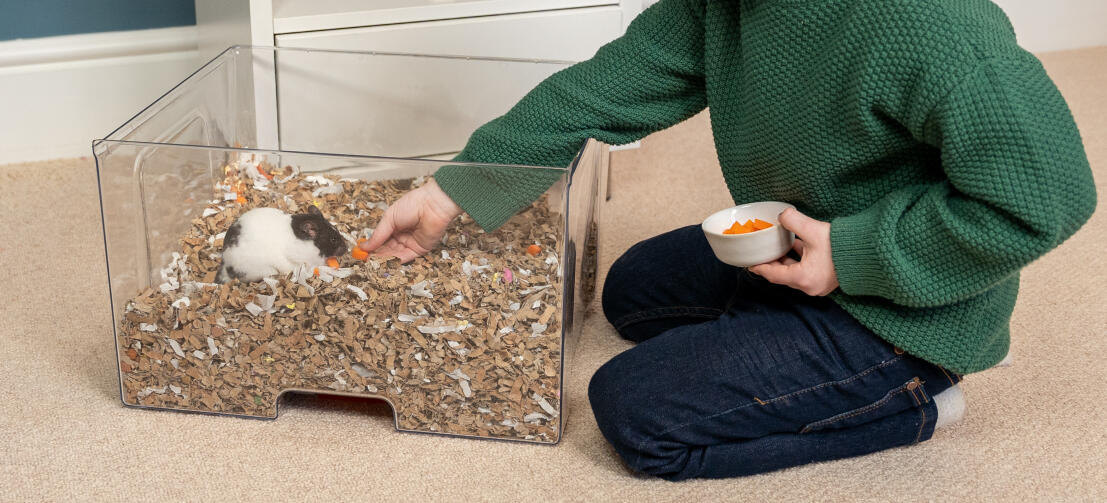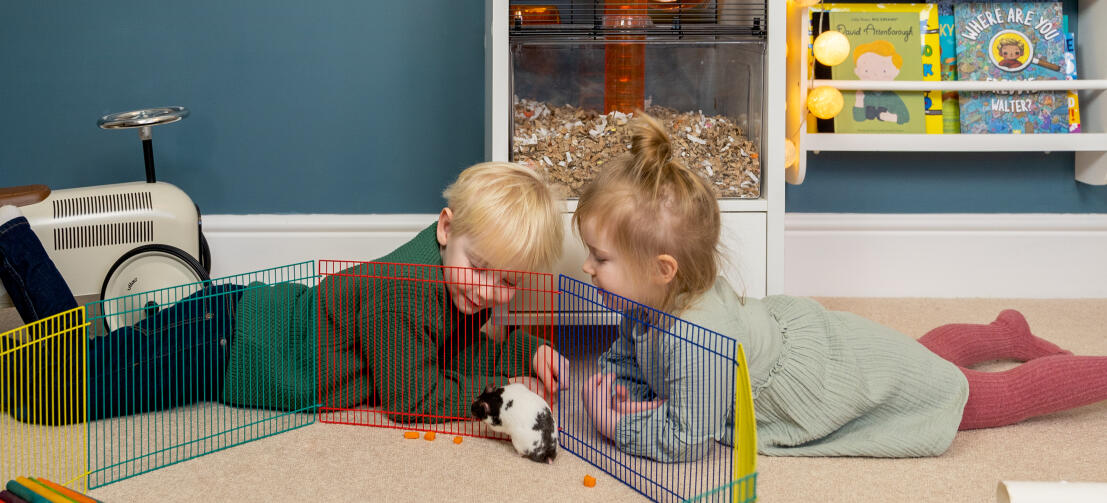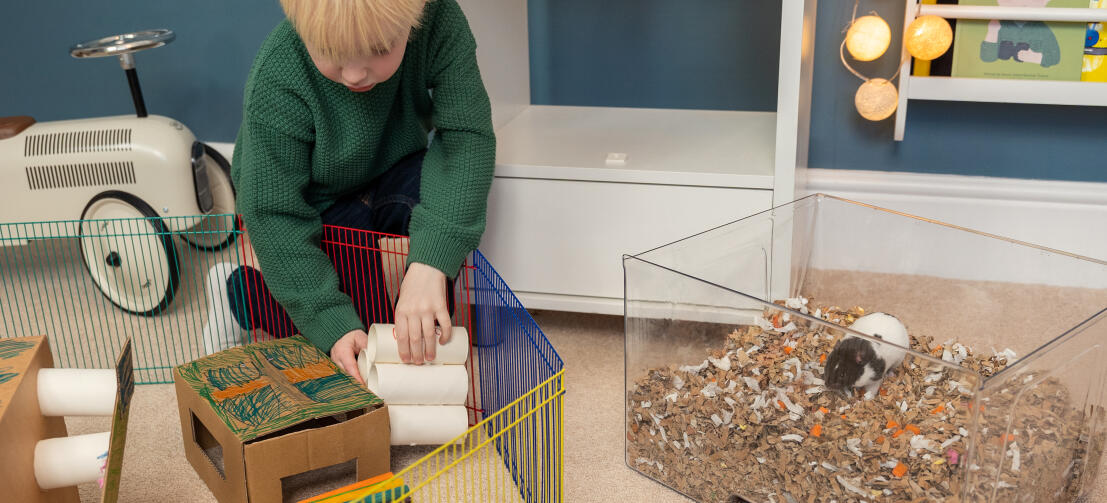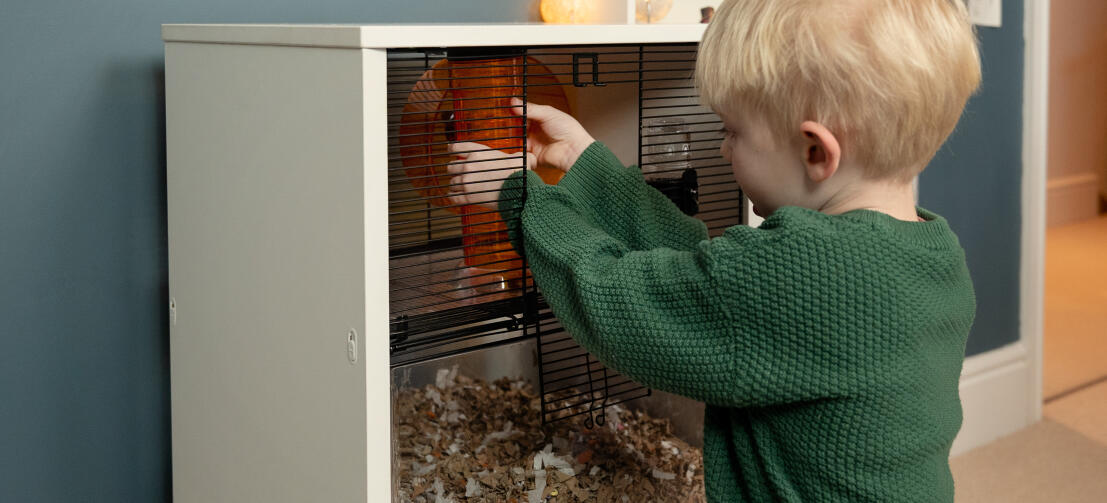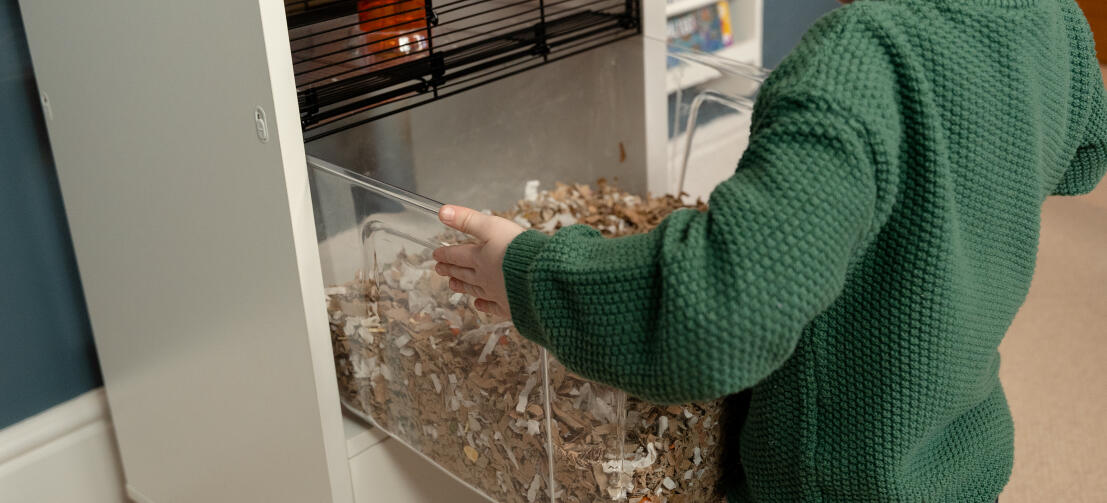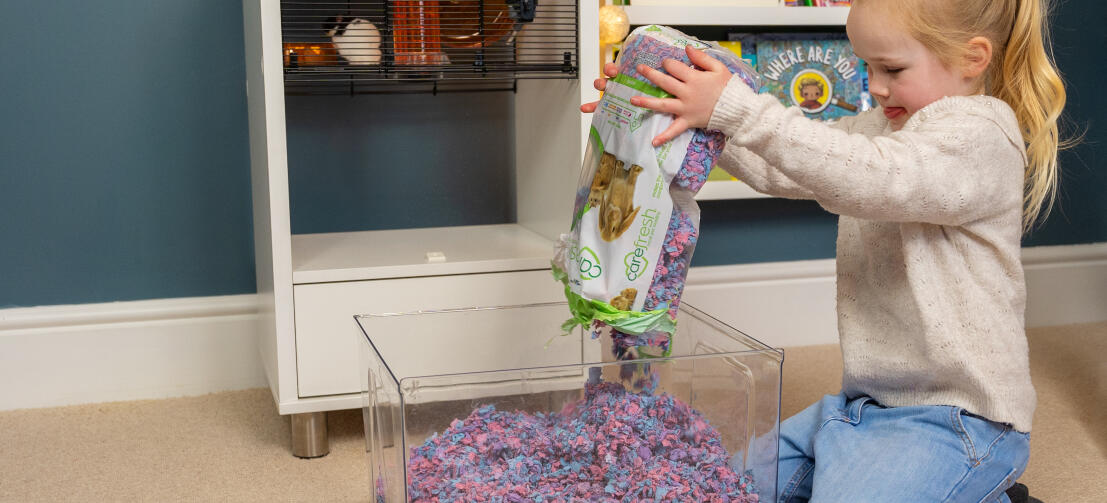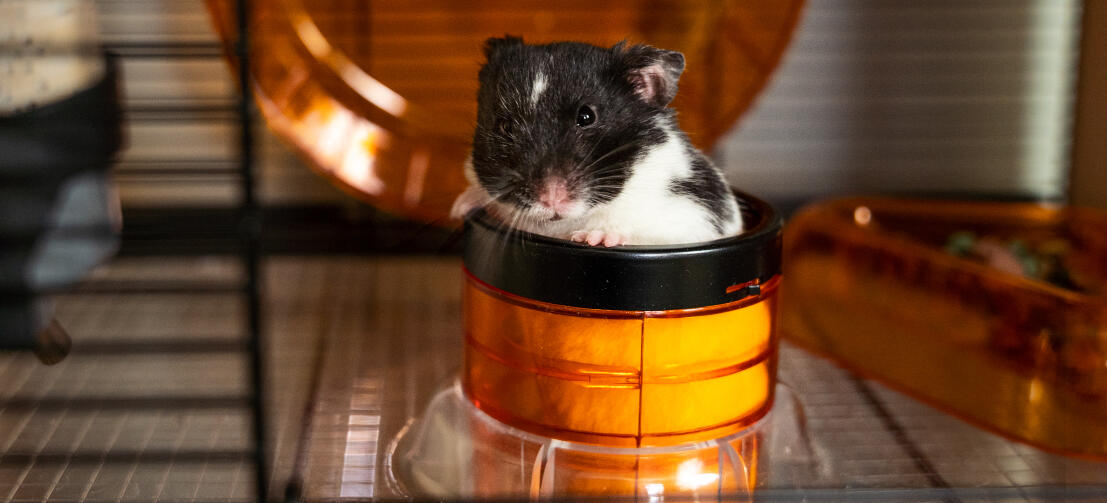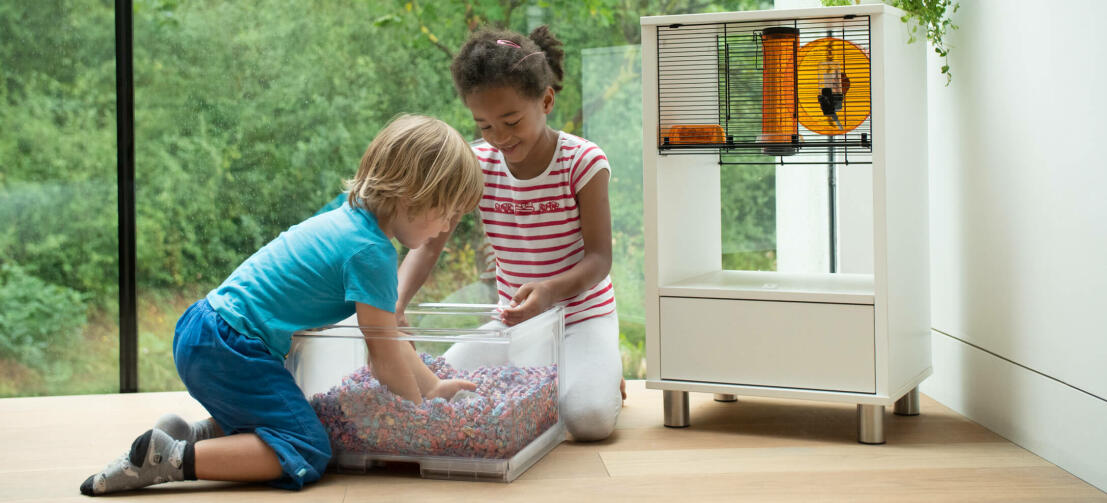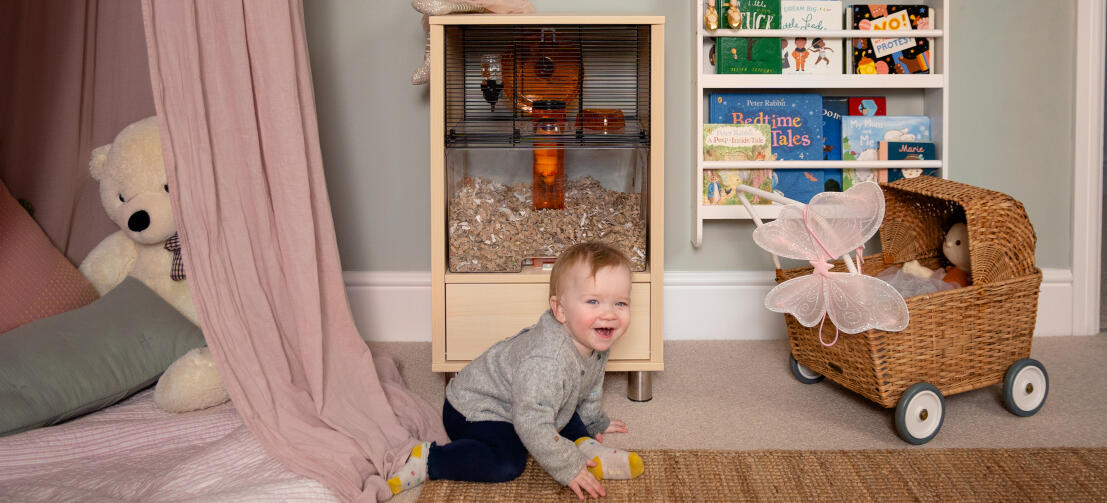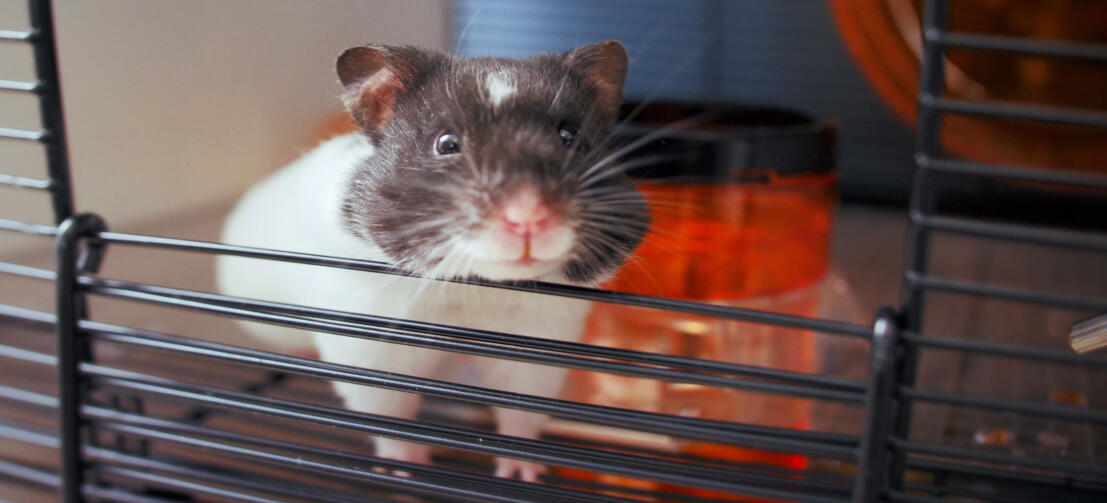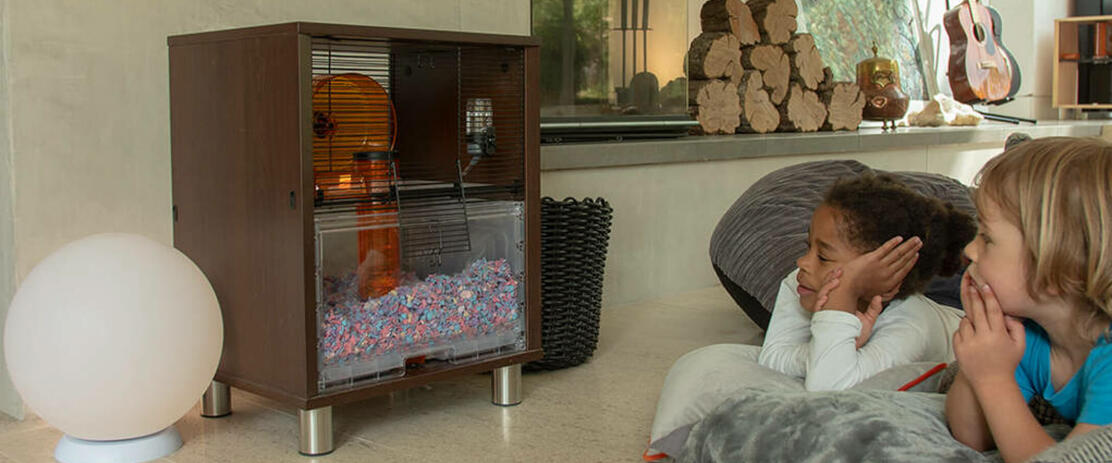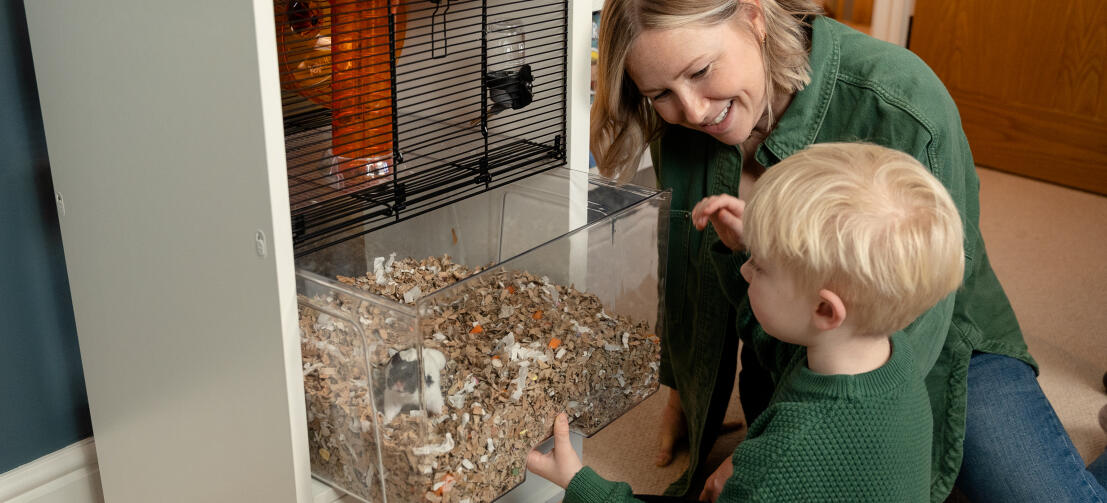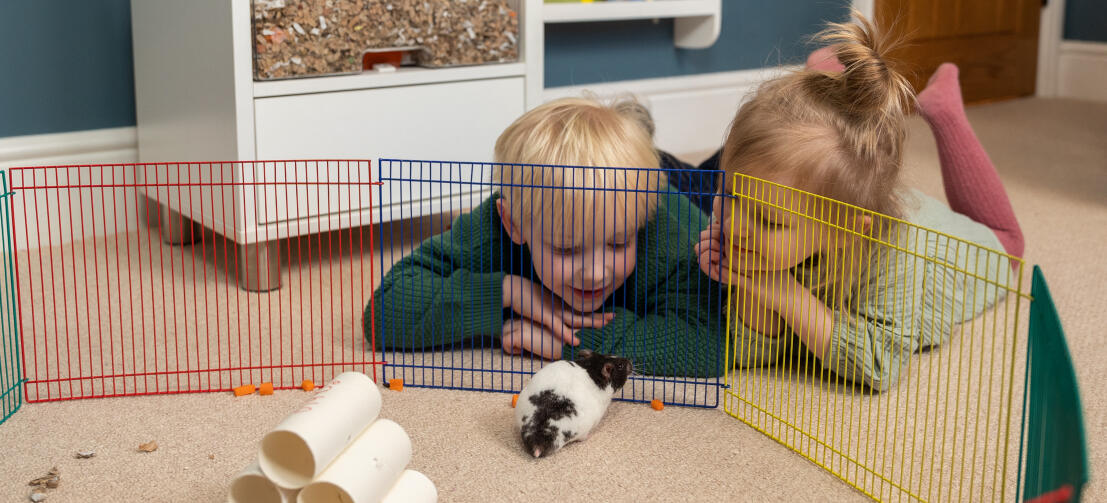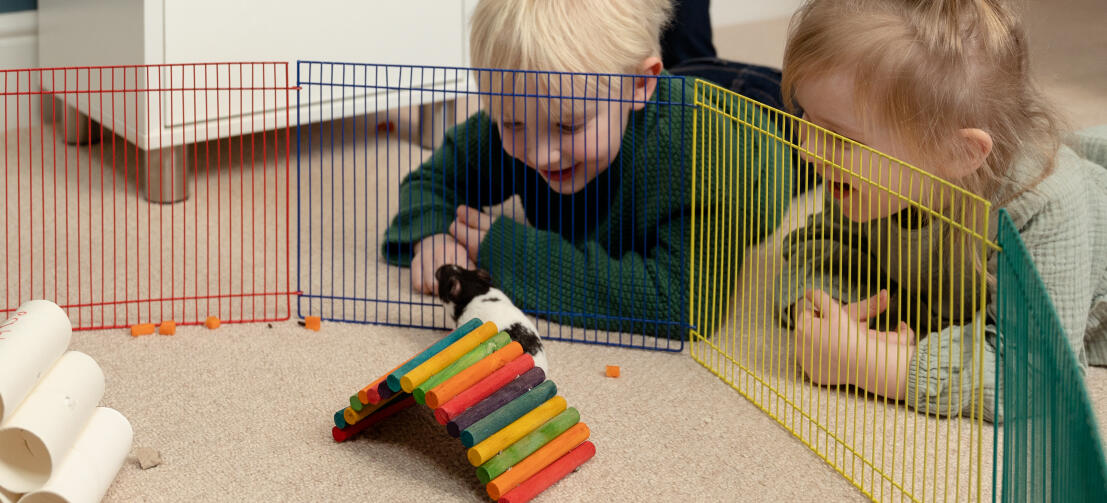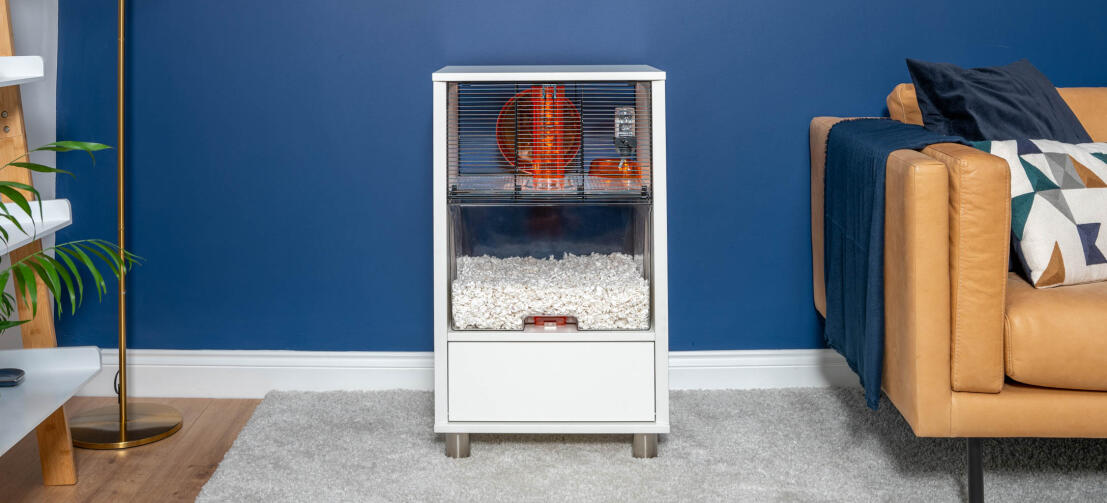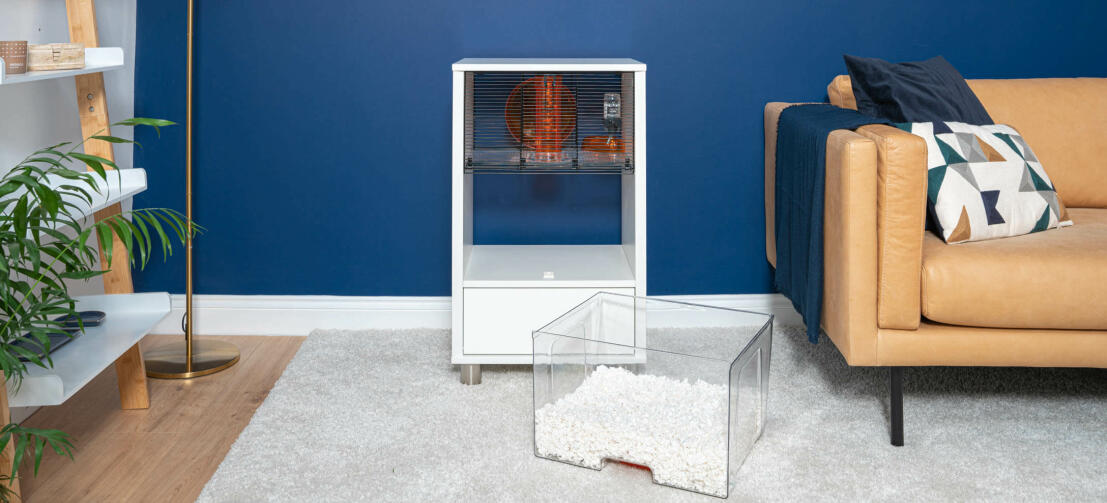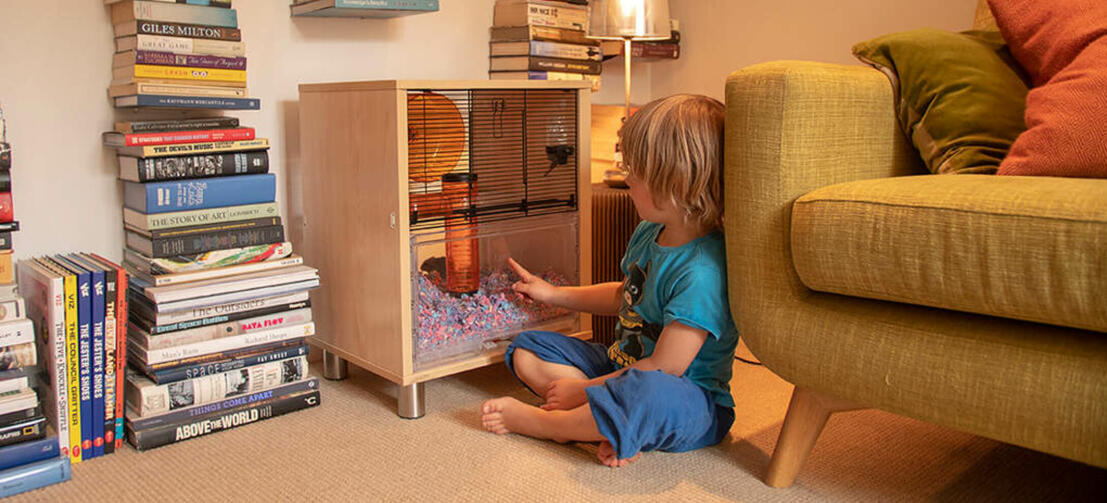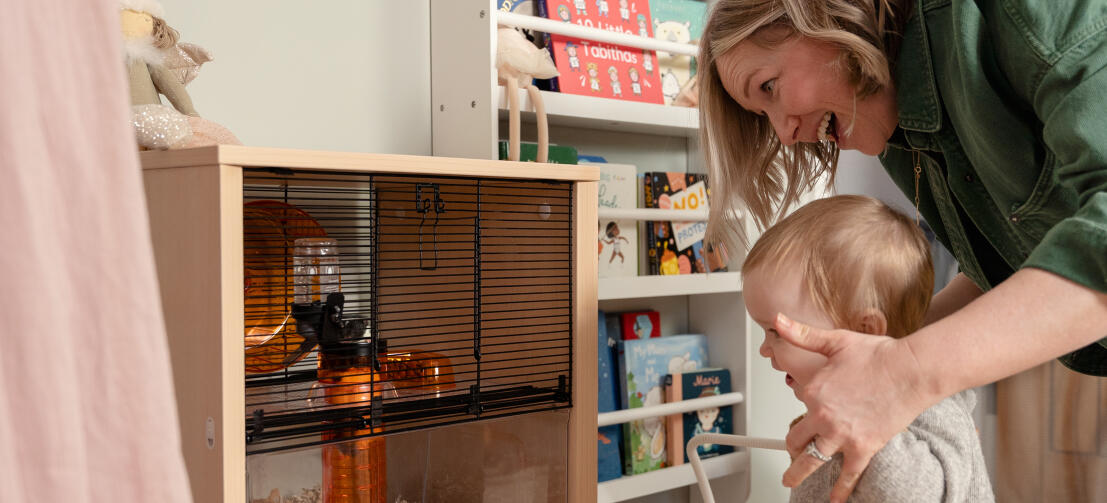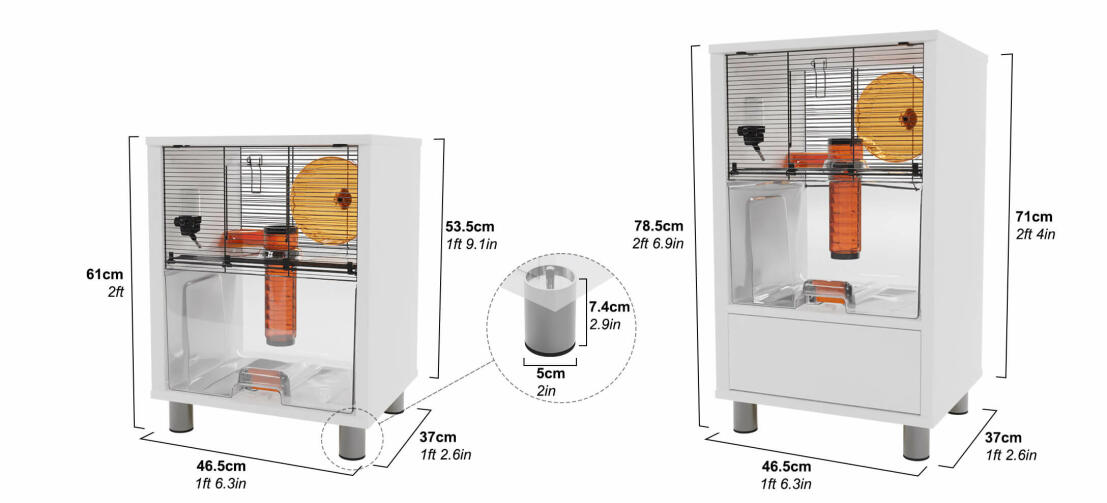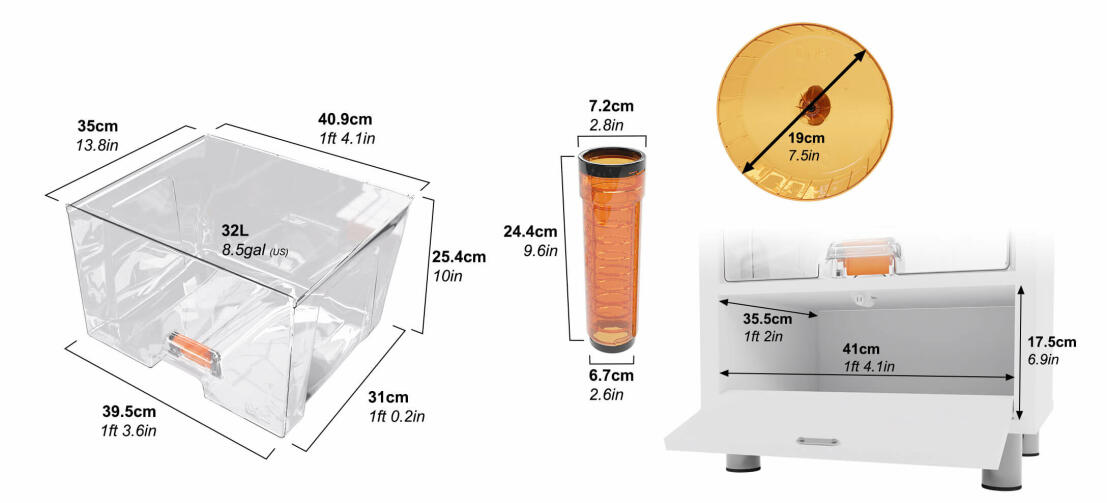 Configure Now
Get even closer to your pets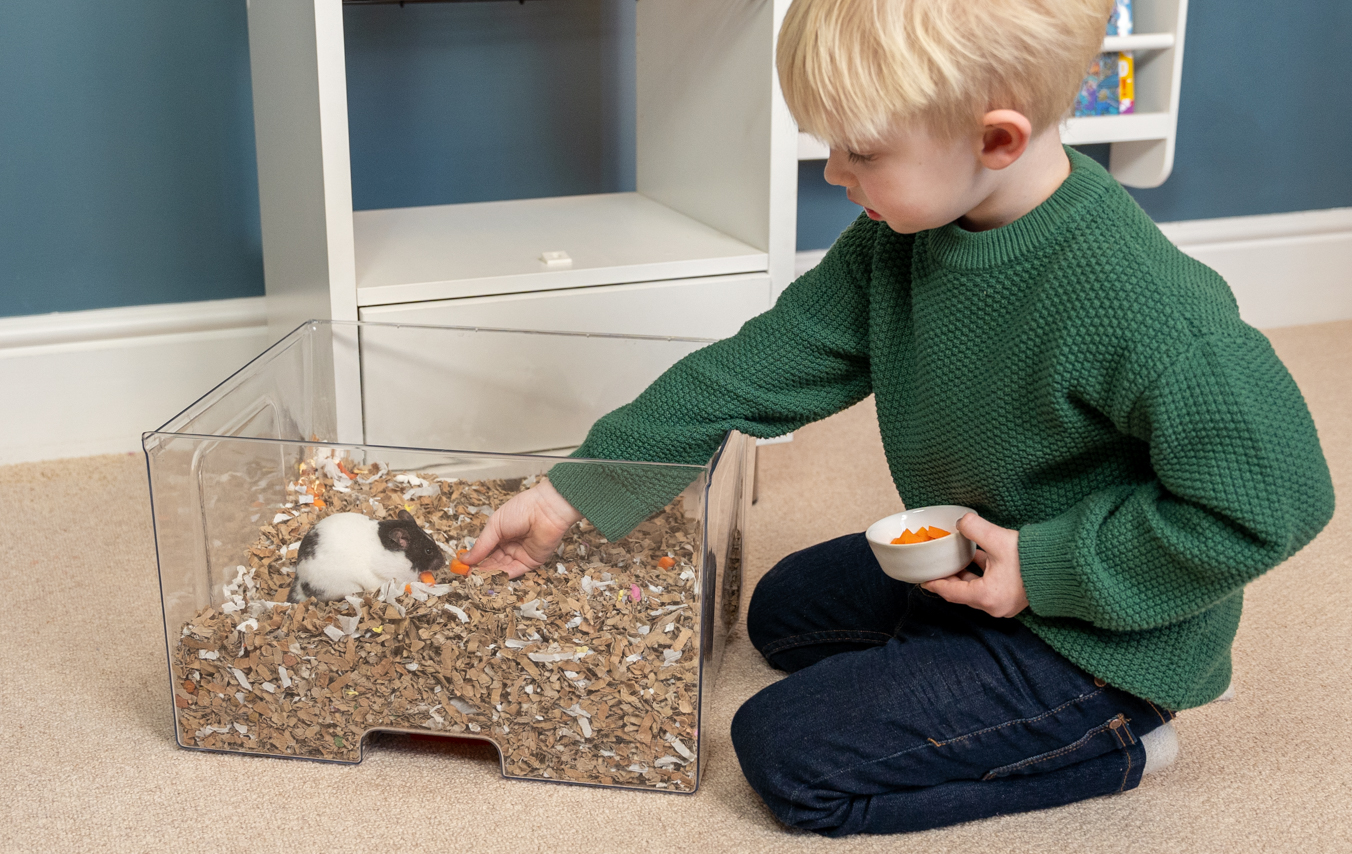 The clear bedding tray makes it easy for everyone in the family to interact with your pets.
The Qute's large bedding tray is completely see-through on all four sides, perfect for curious minds who want to learn about their pets while watching them dig tunnels and nest in the bedding.
It can also easily be pulled out and carried away for cleaning, or for when you want to bring your pet to a different room for their daily play and exercise.
Super easy to clean in minutes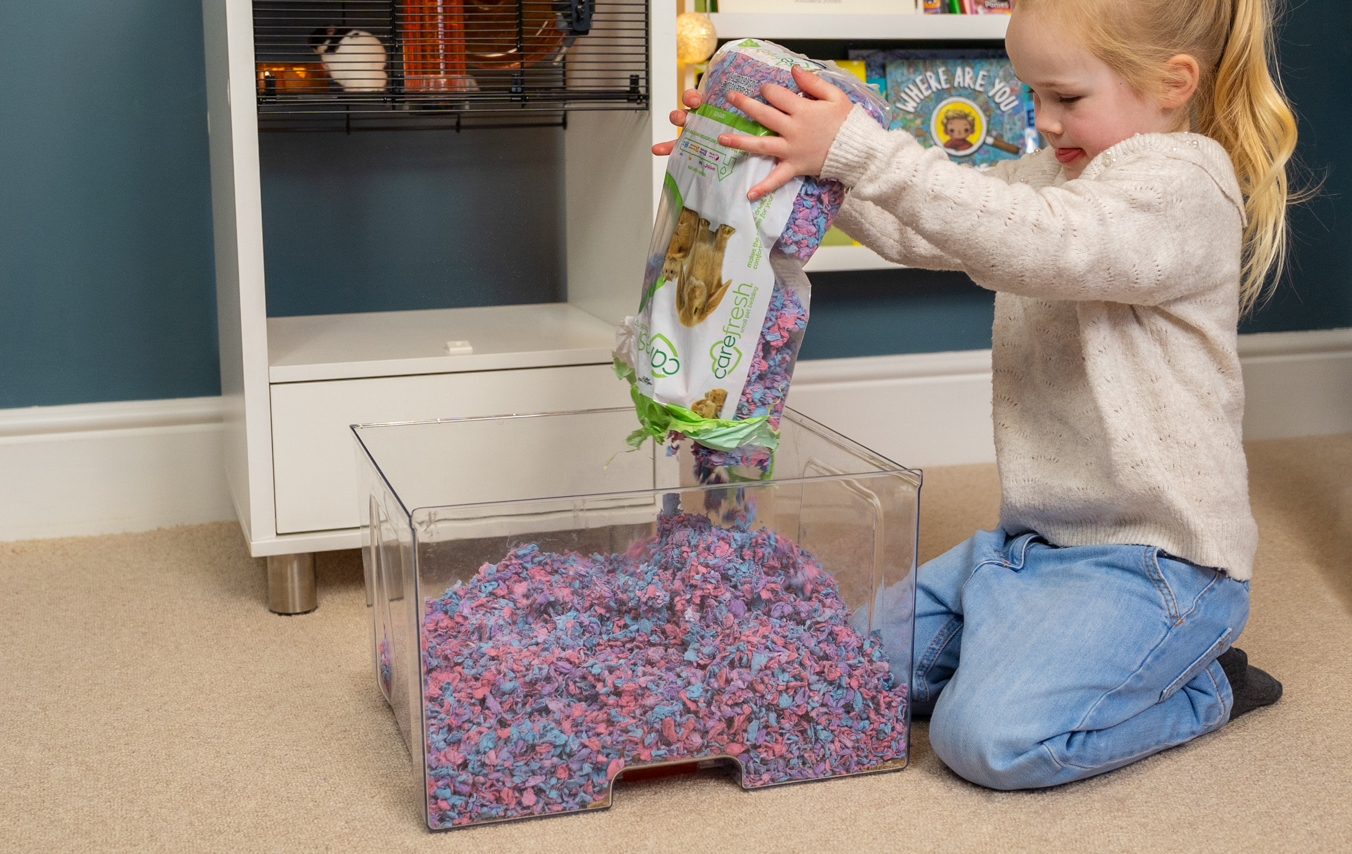 Slide, empty, wipe, refill – done! A sparkling clean cage in minutes.
One of the best features of the Qute cage is how incredibly easy it is to clean.
While your pet is on the top level, simply lift and twist the tube to lock it into place. You can then safely pull the tray out, remove dirty bedding, and clean it with a pet-safe disinfectant. Refill the tray with fresh bedding, wipe down the top level with a cloth, and you're all done!
Super quick, easy, and no stress for you or your pet!
Ingenious features to keep pets happy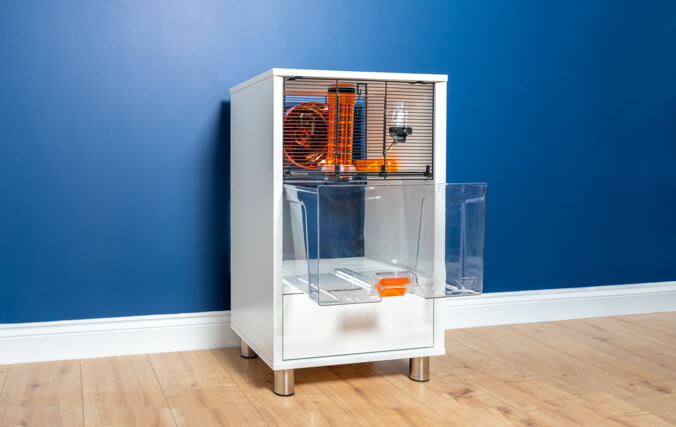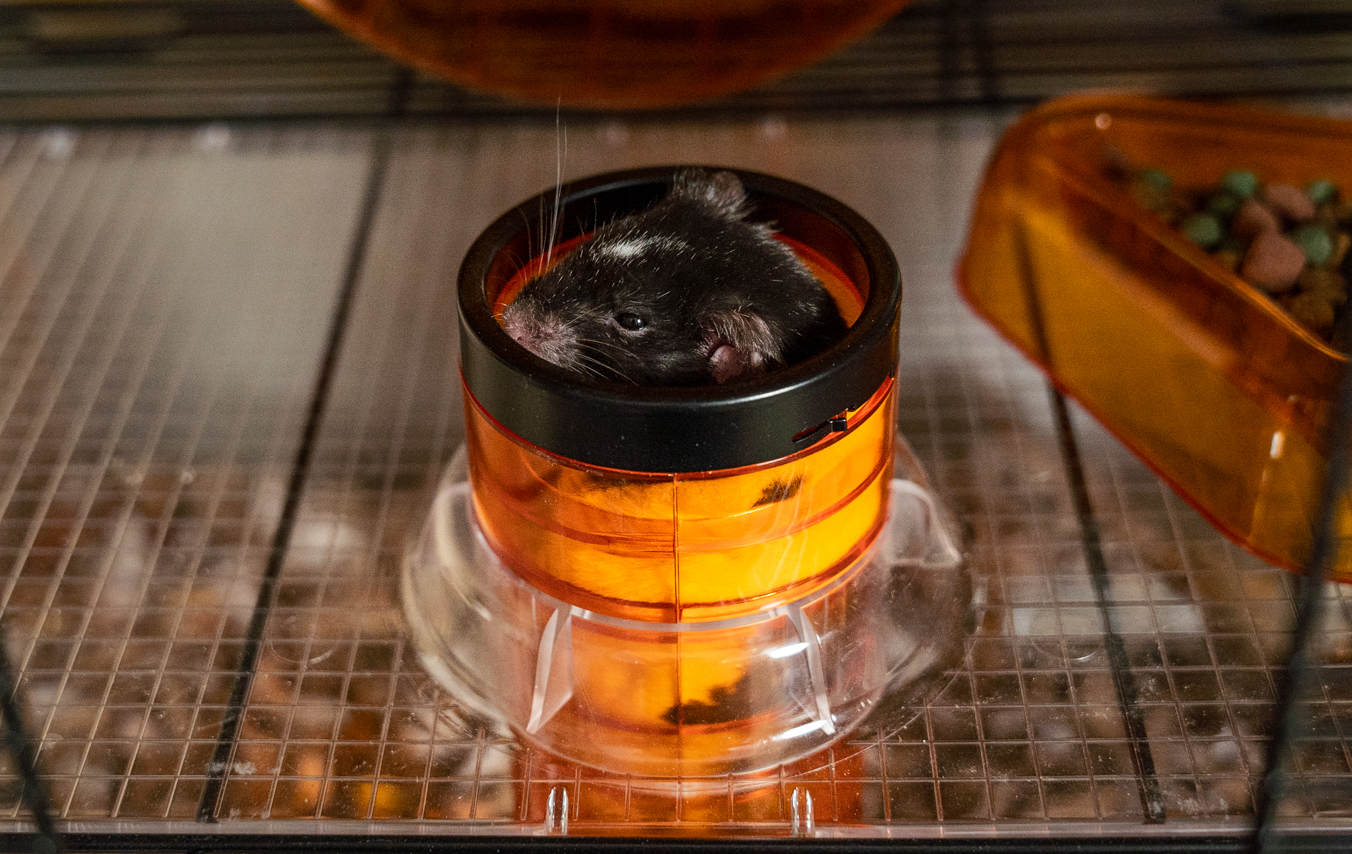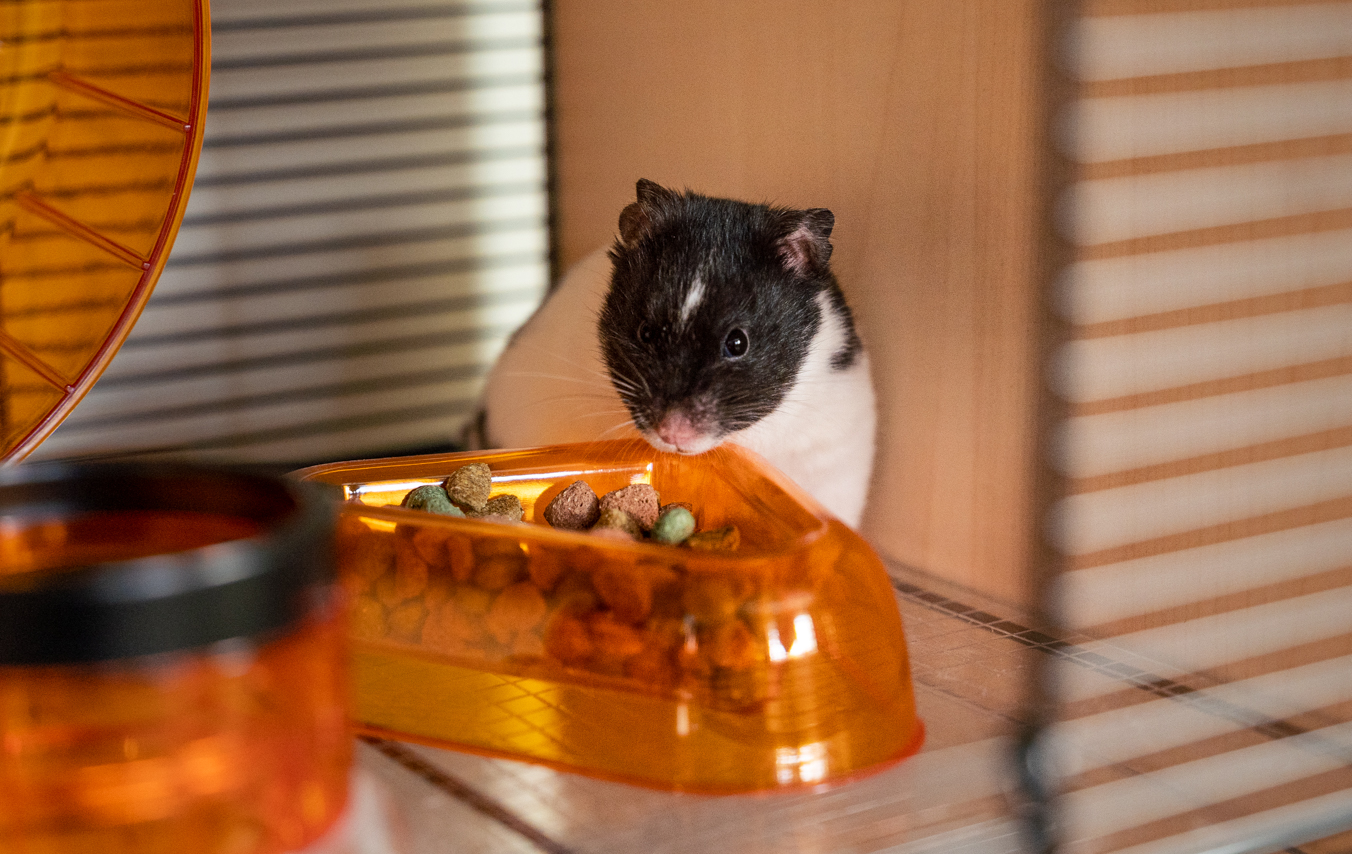 The Qute has plenty of clever design features that will help keep your pet happy and healthy:
Draft-free ventilation throughout the cage
Lift 'n' Twist Tube for safe and easy cleaning
Sturdy floor with raised grid surface for extra grip
Upper-level mesh section to allow dirt and debris to fall into the bedding tray
Included water bottle, food bowl, and silent wheel that are a perfect fit for the cage
Optional wheels to easily move the cage
Qute Hamster and Gerbil Cage dimensions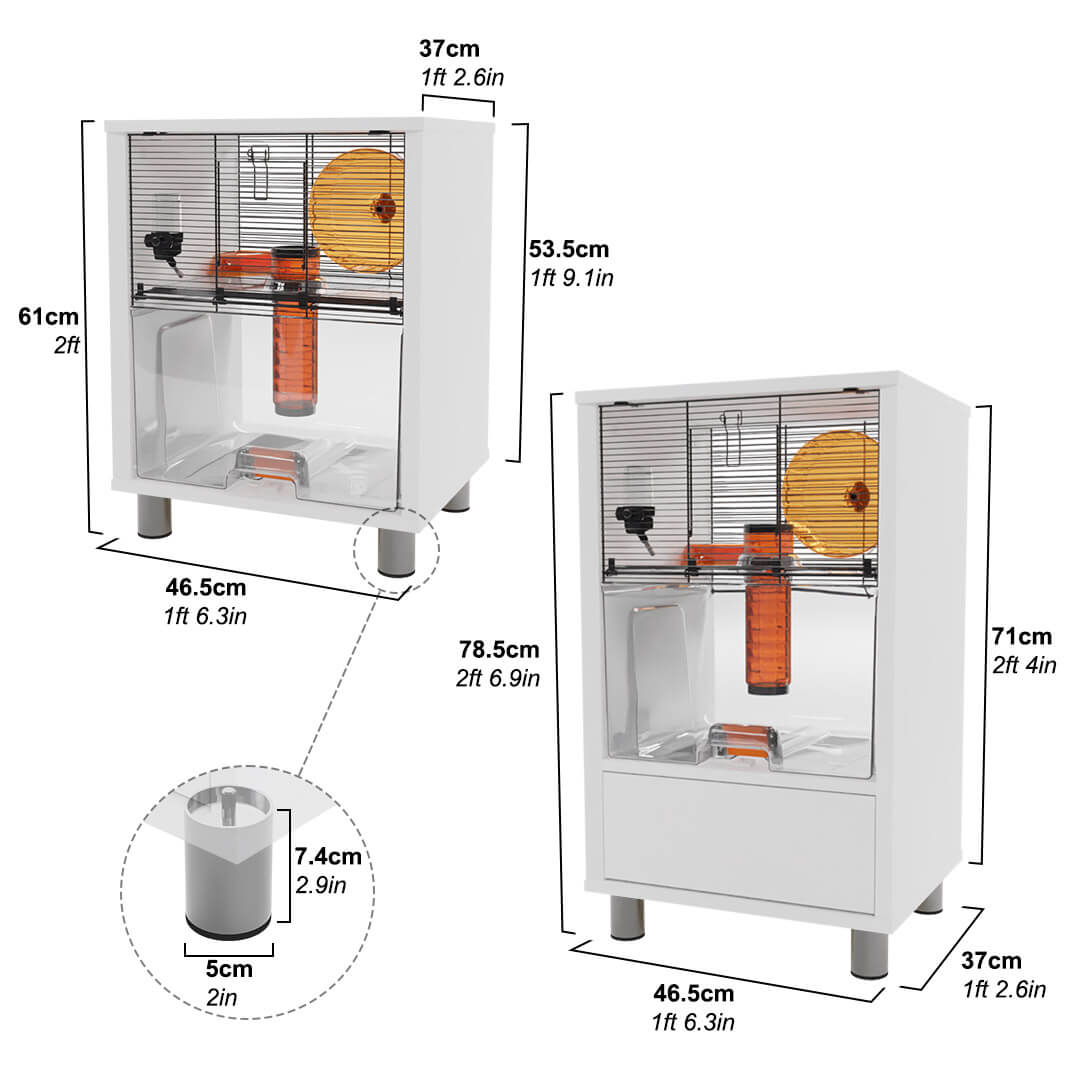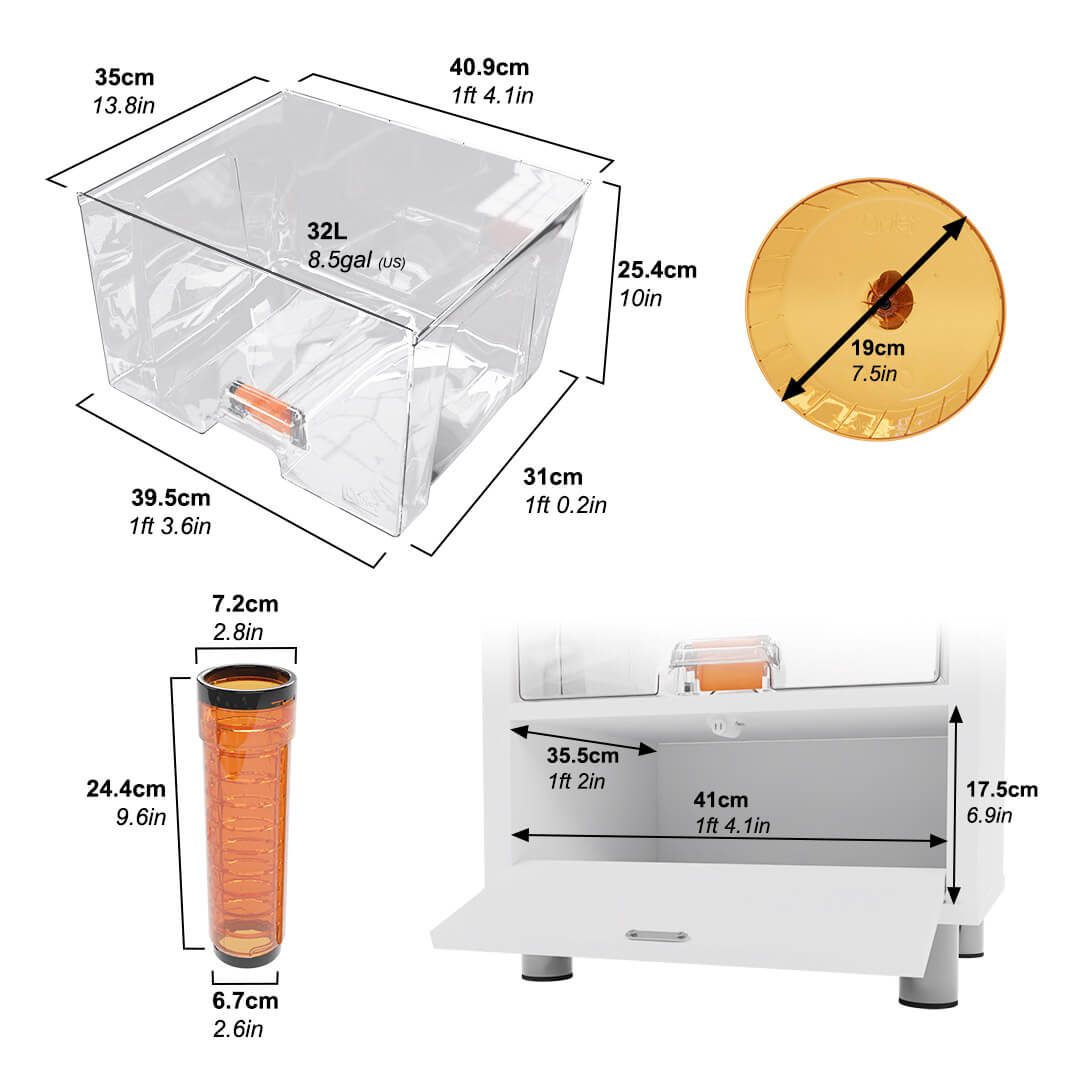 Making it easier to give your pet everything they need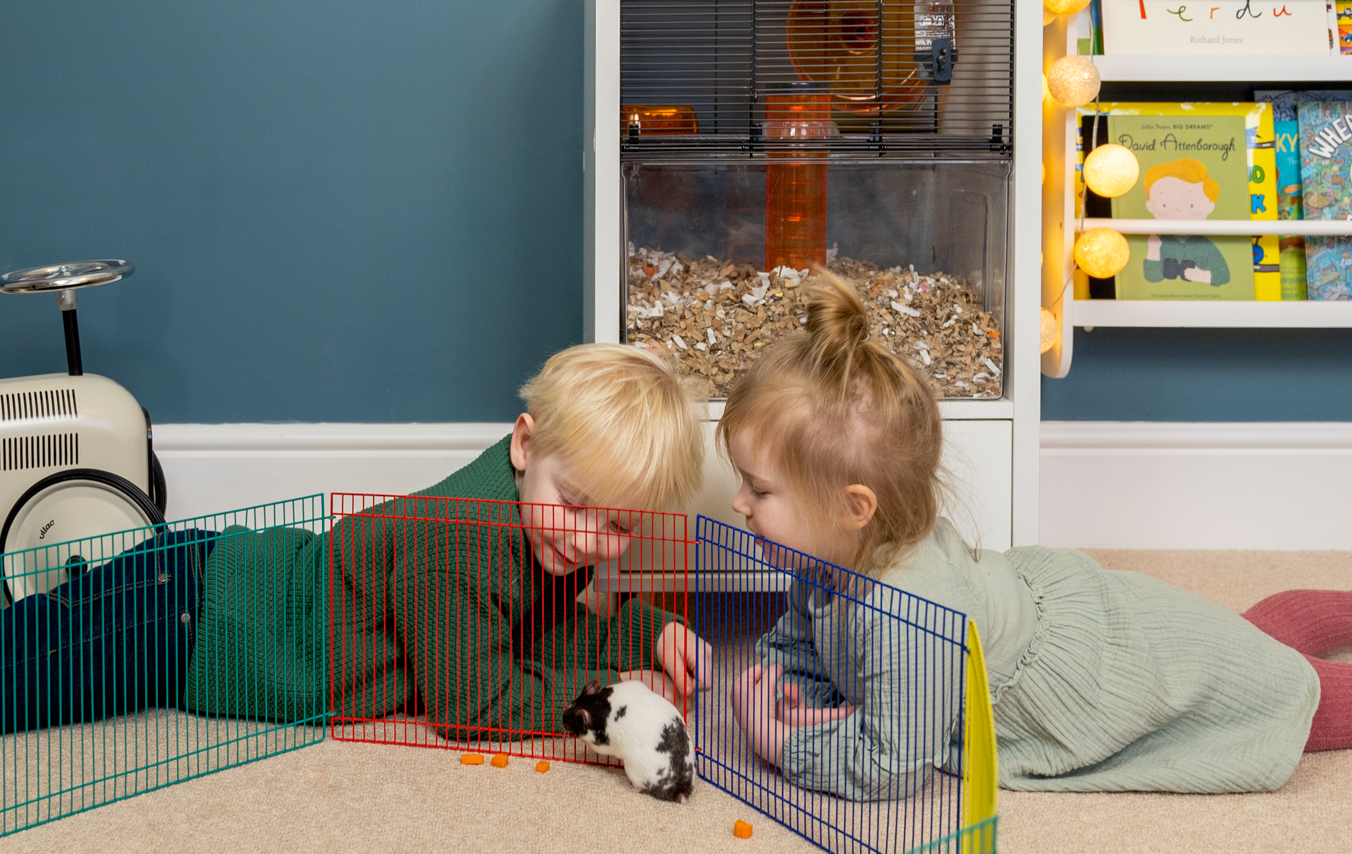 A cage like the Qute makes it easy and enjoyable to care for your pets
The Qute gives hamsters and gerbils the opportunity to live out their natural instincts. The top level is a safe space to eat, drink, play, and exercise, and the deep bedding tray allows them to tunnel and burrow – just like they would in the wild.
The unique design makes it easy to take your pet out to play, encouraging more interaction between you and your pet.
6 Reasons To Buy From Omlet

180 Day Money Back Guarantee

Free shipping over $100

2 Year Warranty

Excellent Customer Service

Secure Payment

Over 17,000
5 Star Reviews
Peace of mind for both pets and owners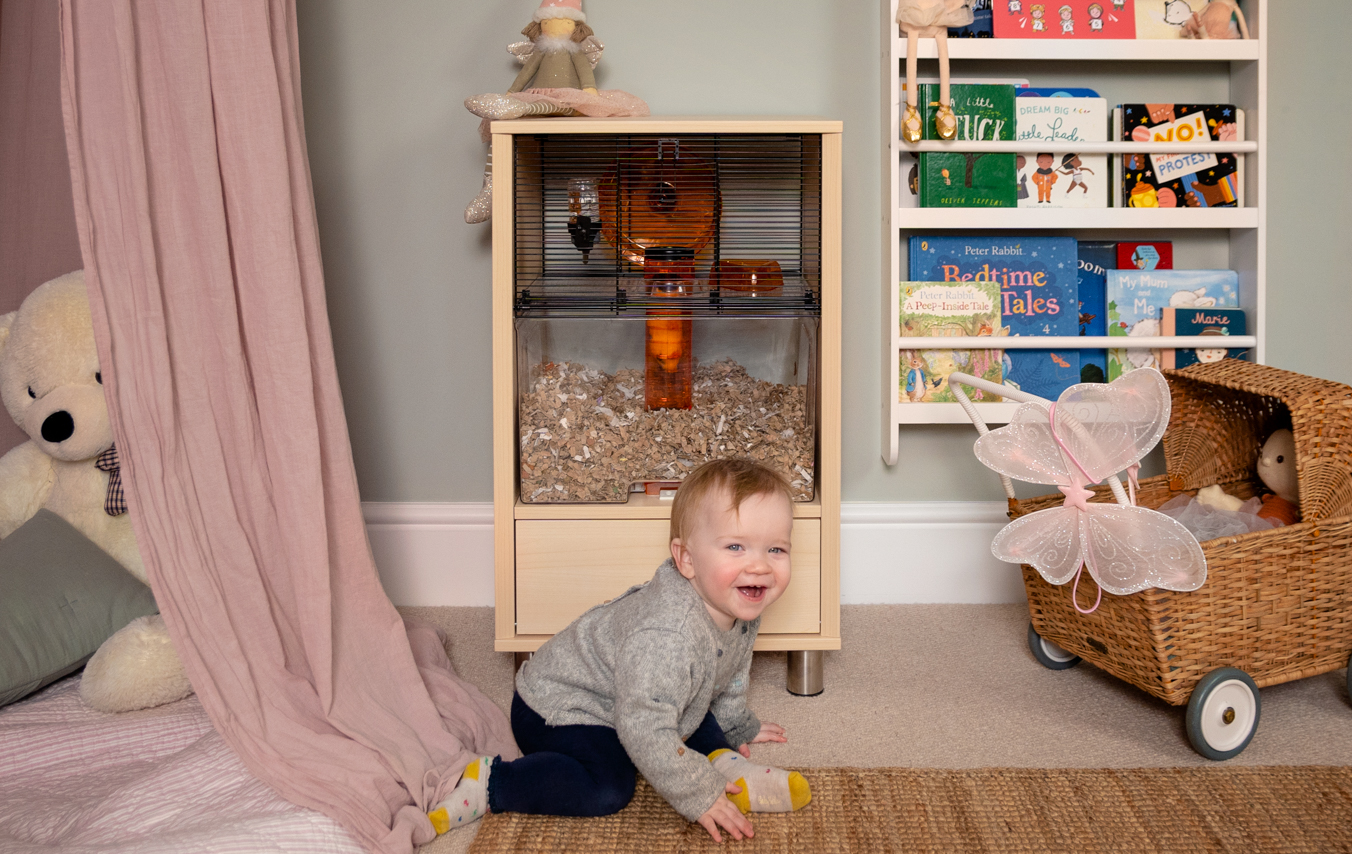 Even the most trained escape artists won't make it out of the Qute!
The built-in safety features of the Qute make it so you don't have to worry about escapes or break ins, and create a safe space for your pets to rest, eat, and play.
The bedding tray has a lock at the bottom that secures it in place. This is easy for both adults and children to use, but prevents the tray from being accidentally moved or pushed out of place.
Modern cage to fit in the heart of the home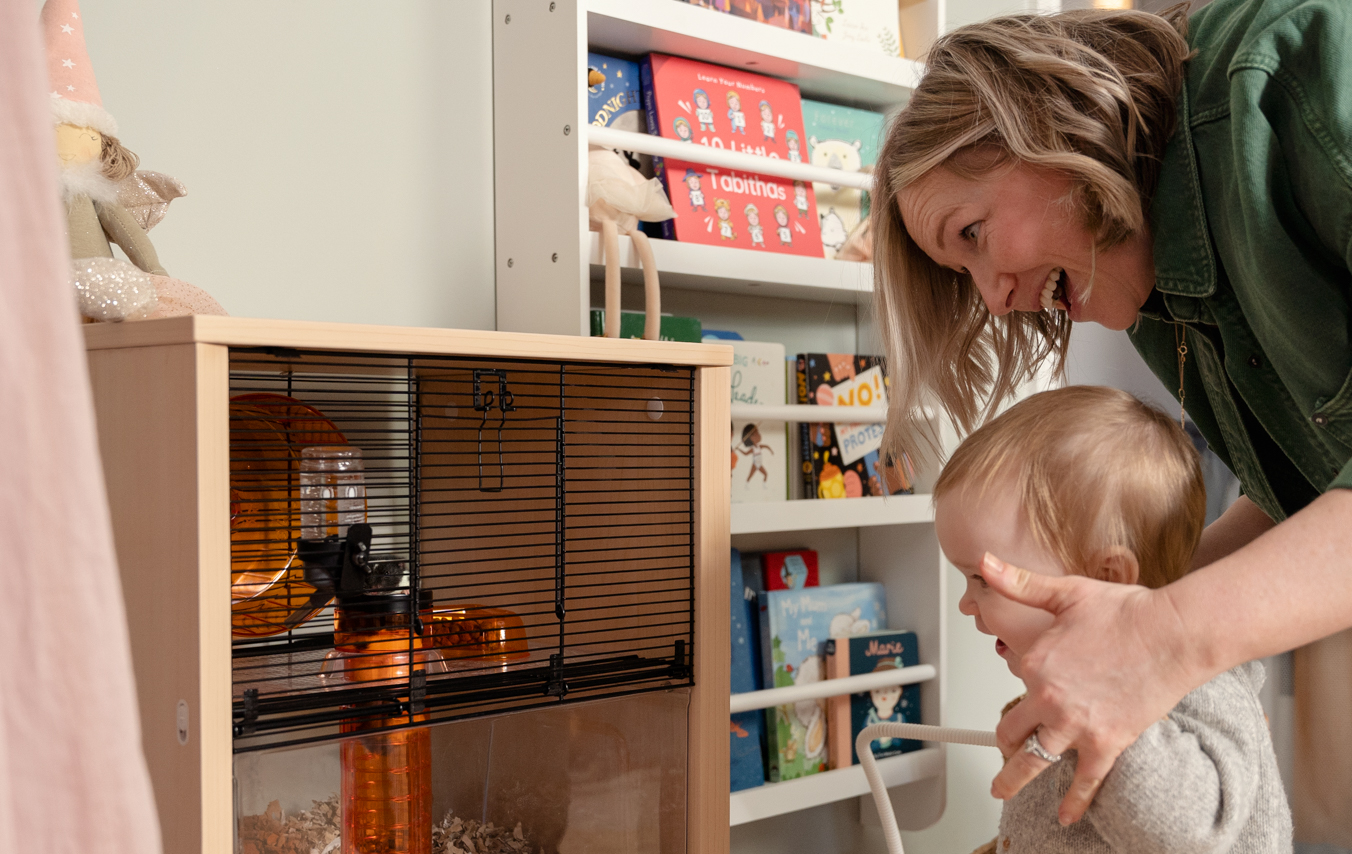 Unlike traditional hamster cages, the Qute is a true display piece.
The contemporary design of the Qute set it apart from awkwardly shaped or colored hamster cages. You'll want to proudly display your Qute and its inhabitant! That way your pet won't be forgotten in a secluded corner of the house, but can be placed in a calm and warm space and become a natural part of your everyday life as a true part of the family!
Provide entertainment and stimulation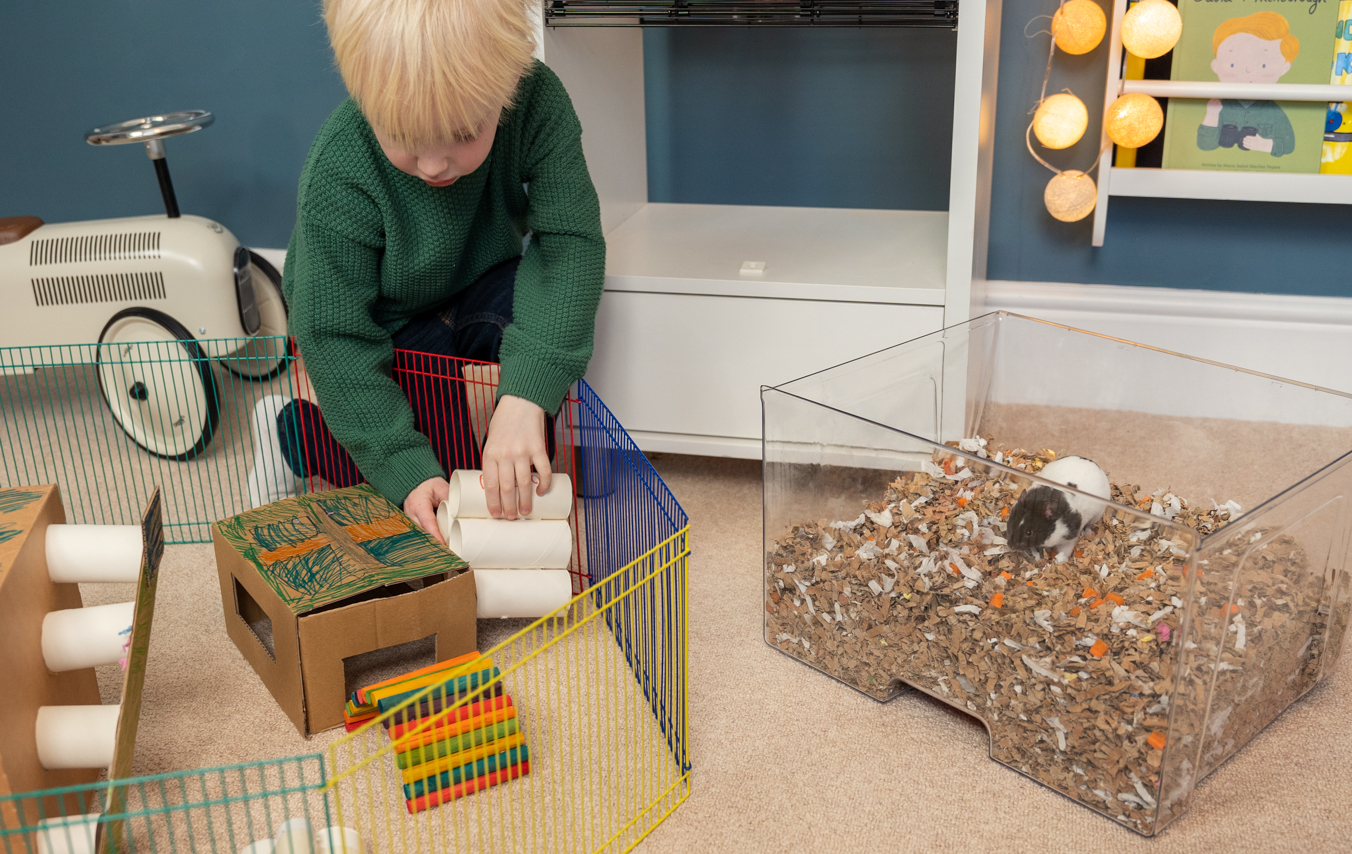 Letting your pets out of the cage helps them get the exercise they need, and strengthens your bond.
Hamsters are nocturnal animals that sleep most of the day – which means the best time to interact with them is at dusk and dawn. With the Qute bedding tray, it's easy to transfer your pet to another room or playpen while they're awake and active for you to play and explore.
Set up a play area (or even an obstacle course!) to enjoy quality time with your pet. Running through tunnels, climbing ladders, and nibbling on toys and treats are all great activities for your hamster!
Practical storage solution for all your pets' things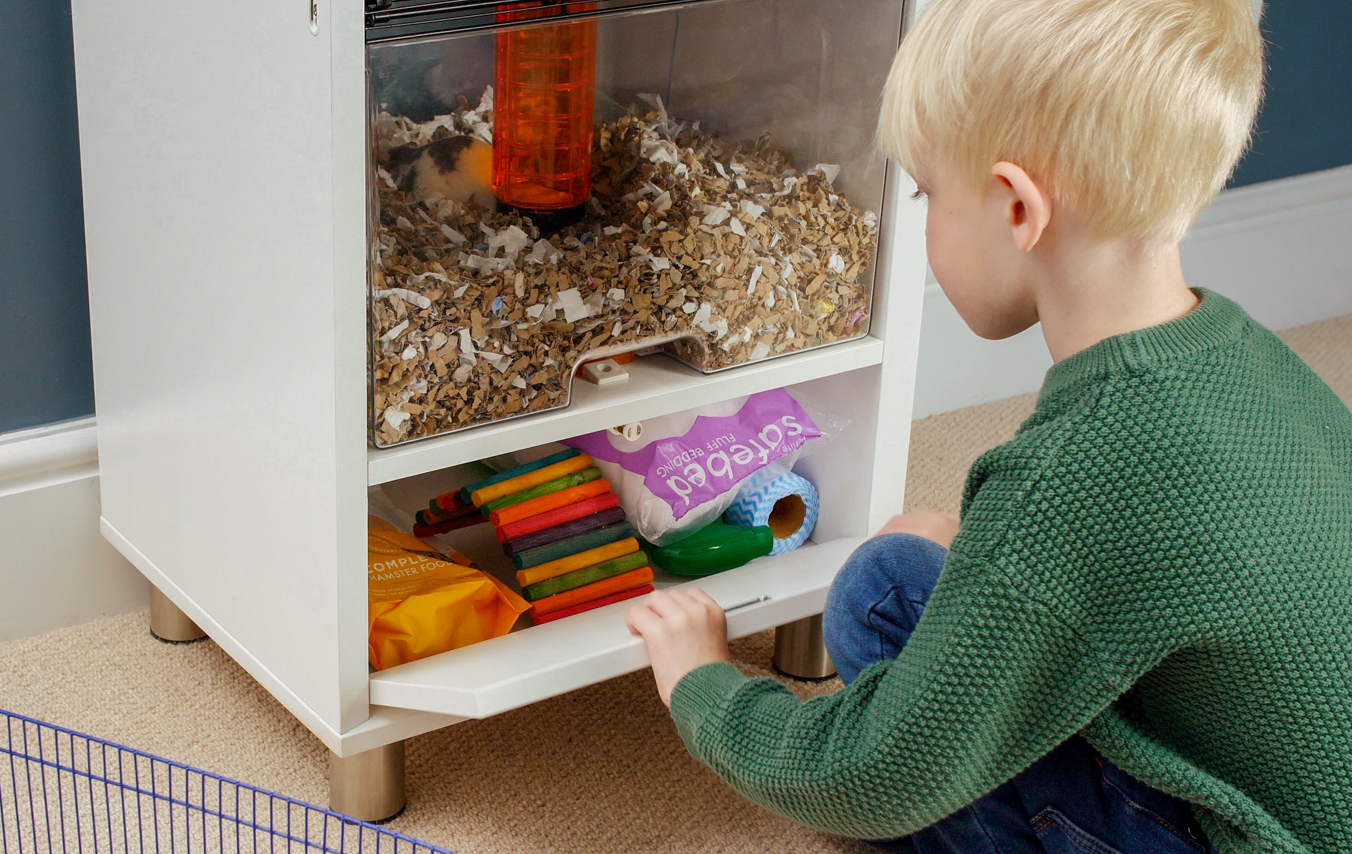 Keep all your pets' things in one place: the seemlessly integrated storage compartment.
You can choose to get your Qute with a handy storage compartment under the cage. Here you can store all your pet's bedding, food, toys and grooming products in one convenient place, which makes caring for your little critter even easier.
---
Frequently Asked Questions
Verified Reviews - Qute Hamster & Gerbil Cage
---
Customer Images - Qute Hamster & Gerbil Cage - 29 of 82
Related Products