Eglu Cube® - Large Chicken Coops with Runs
The Eglu Cube large chicken coop with runs make keeping chickens easy and fun! Quick to clean, smooth hygienic surfaces, anti-predator design features and wheels that allows you to move the coop in a breeze, this is the perfect new home for your flock!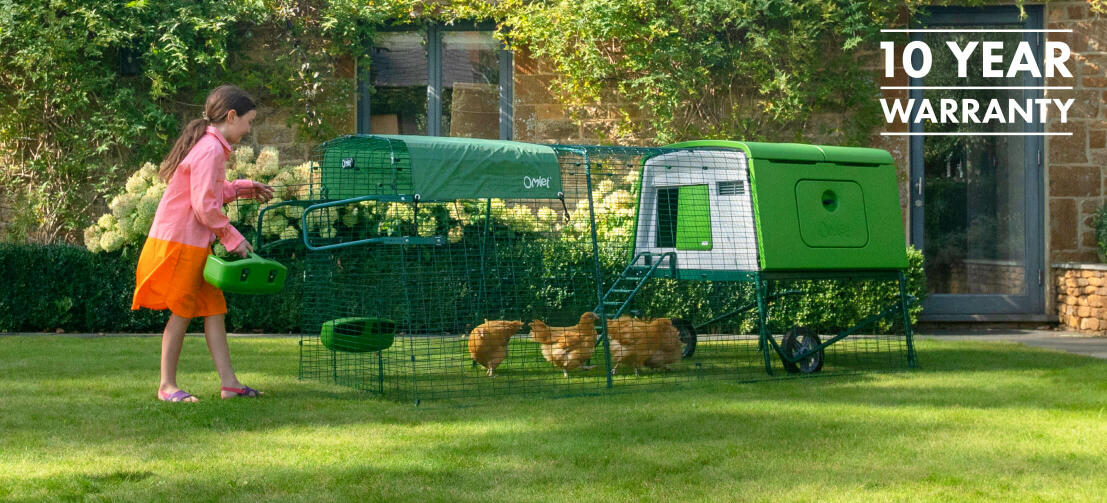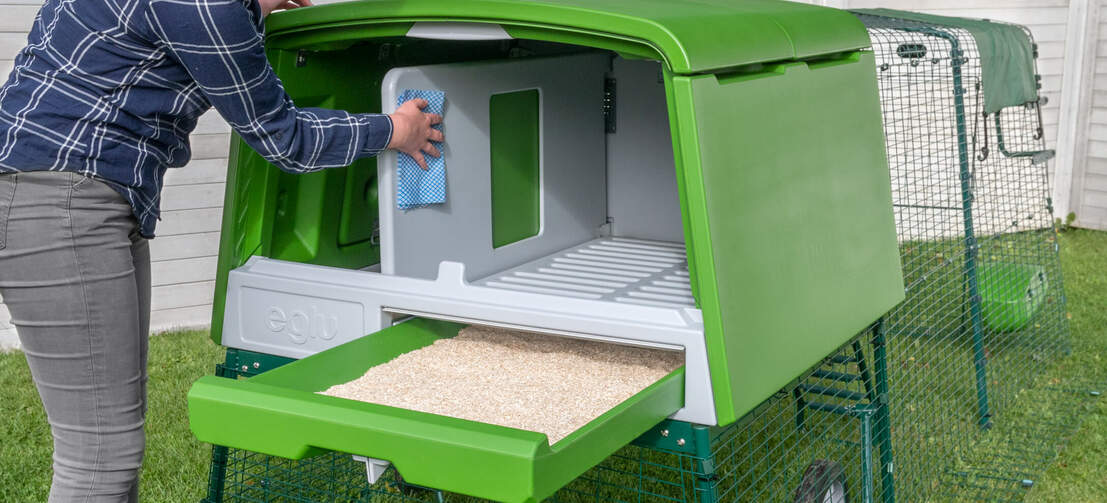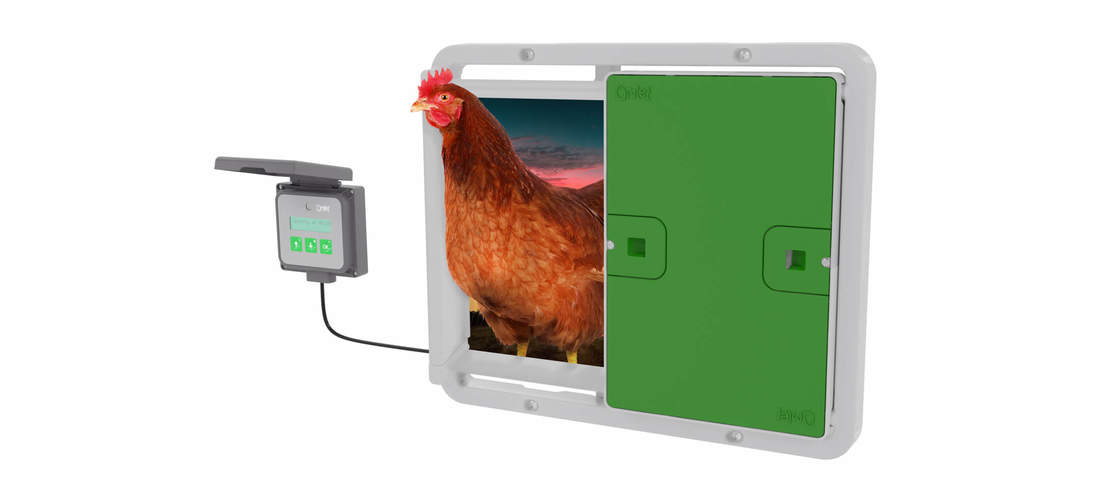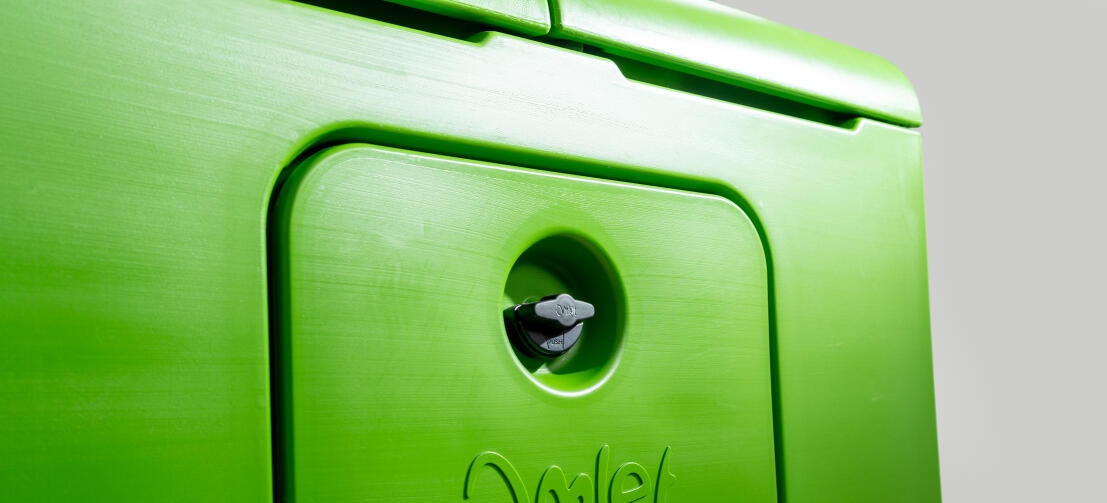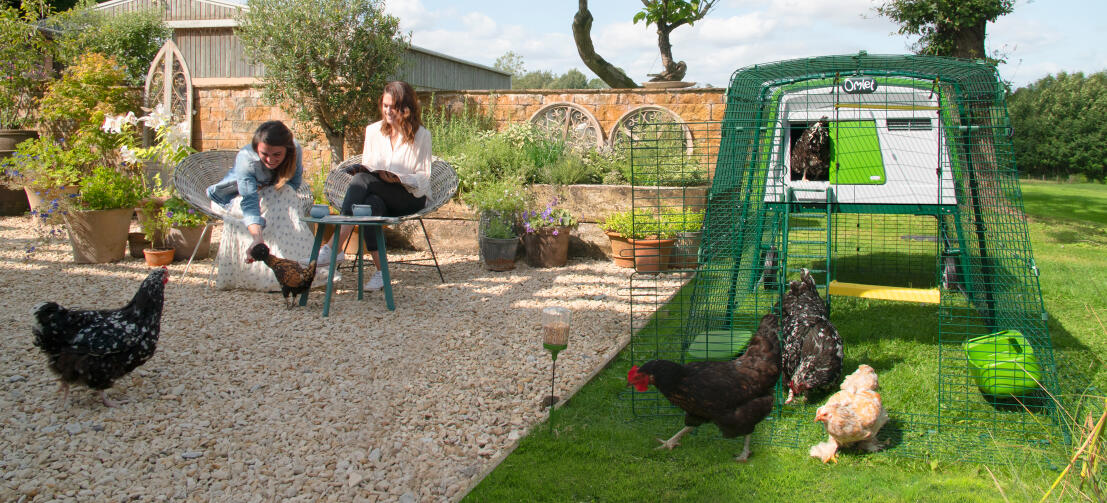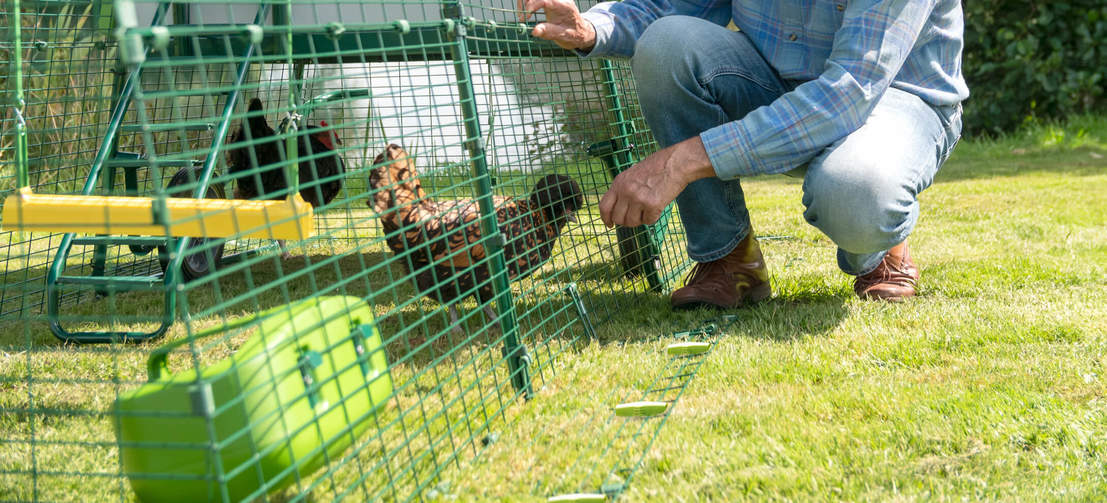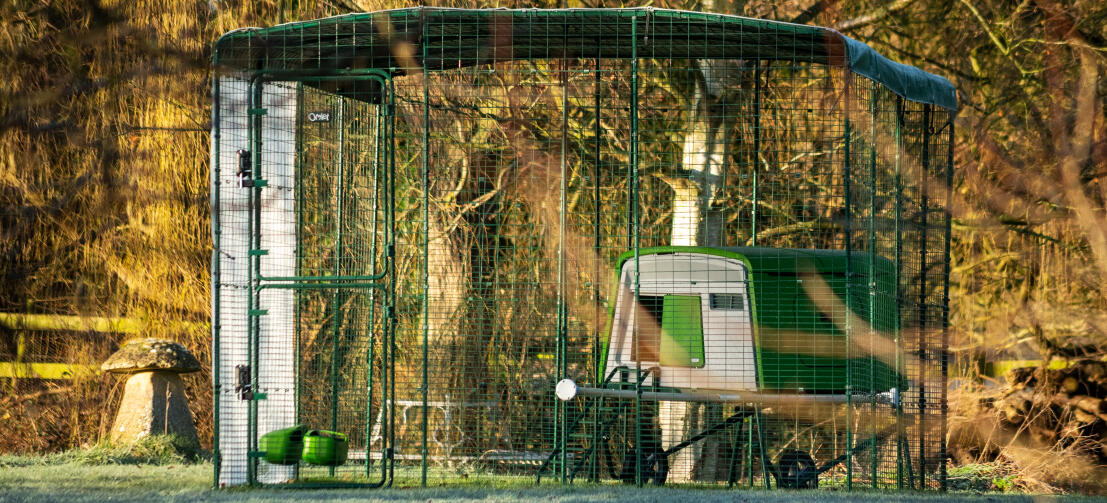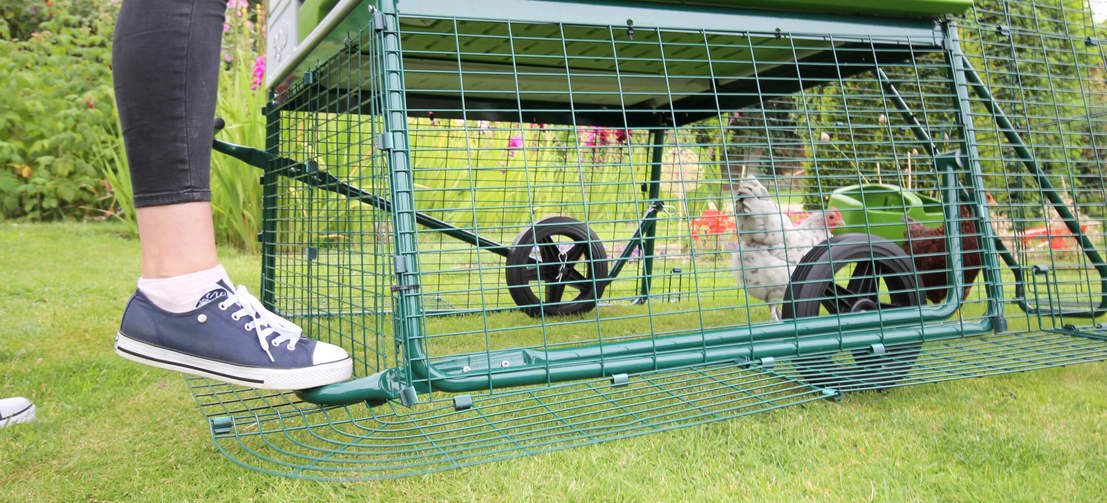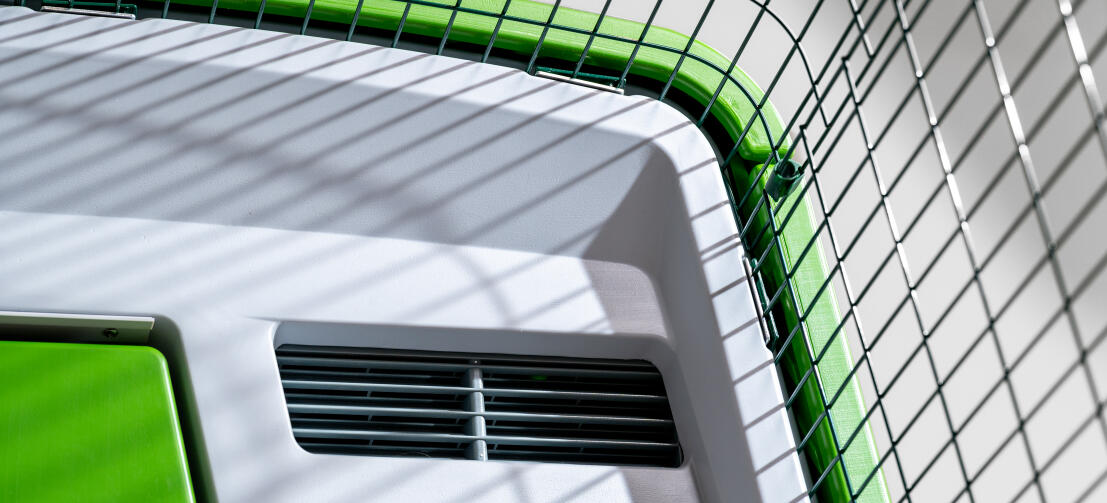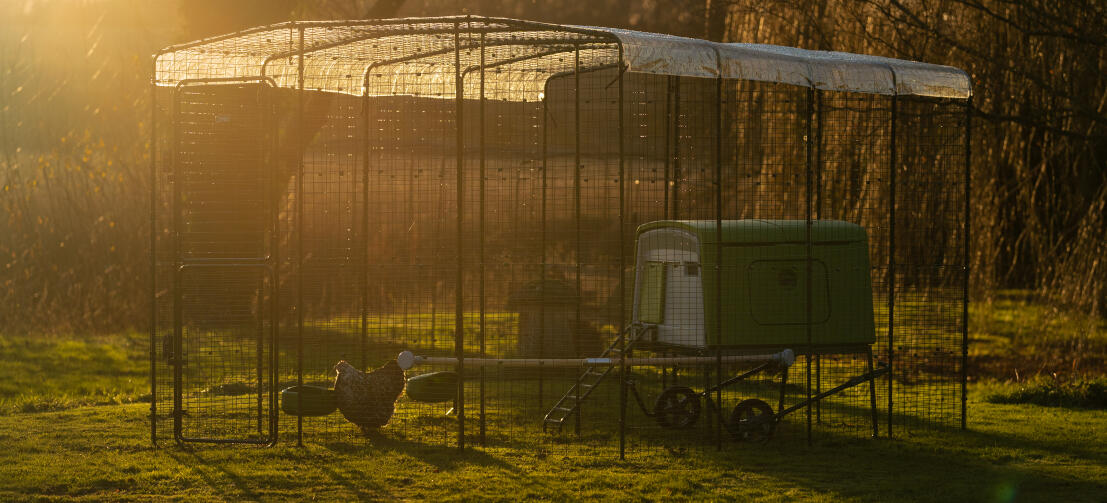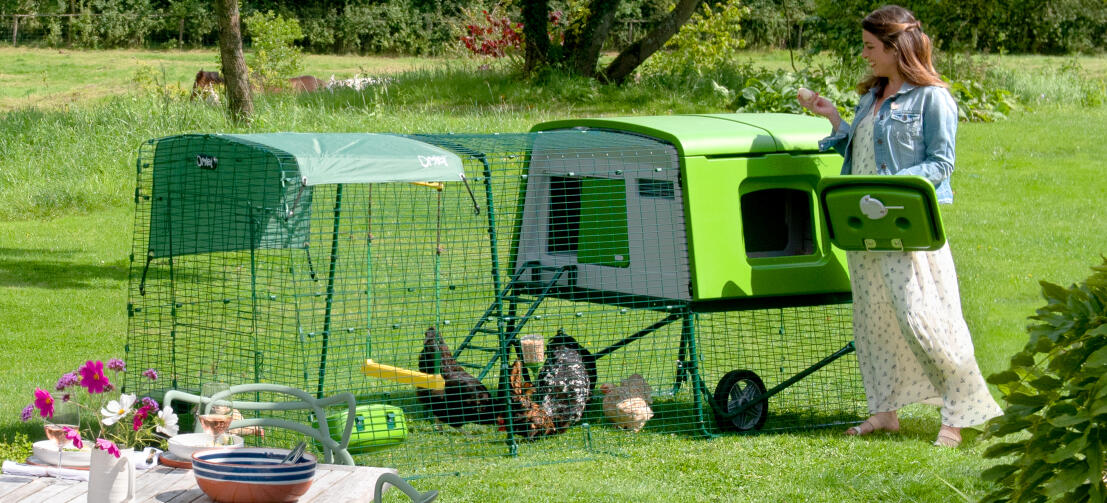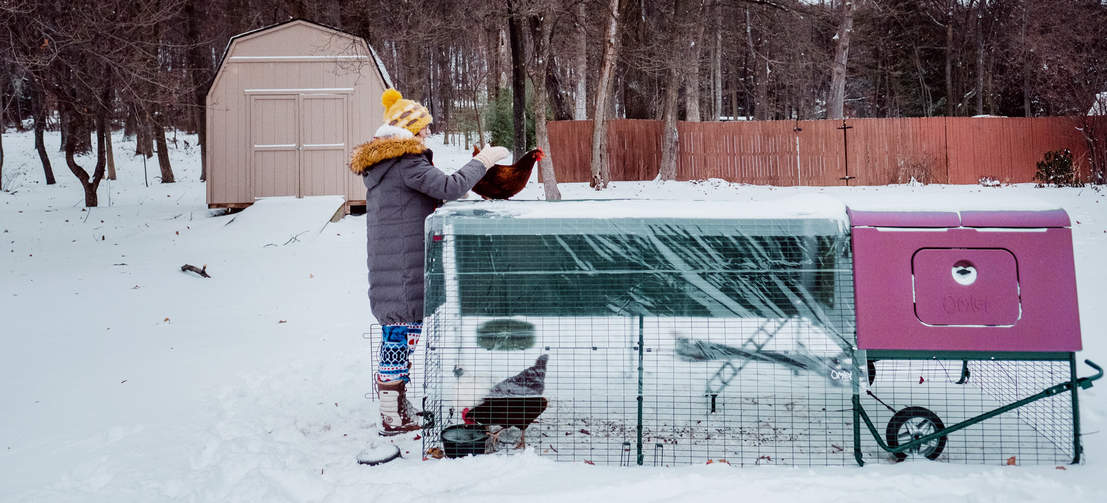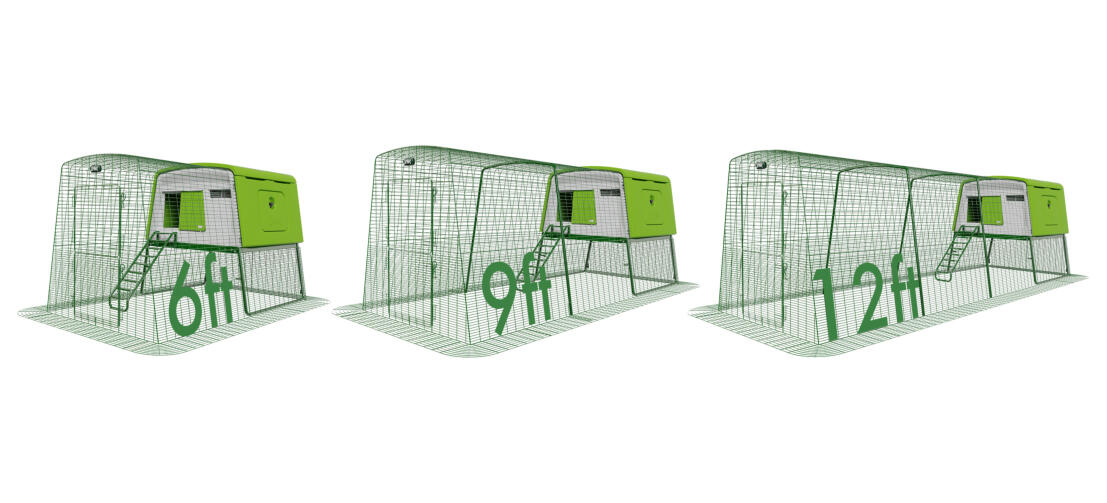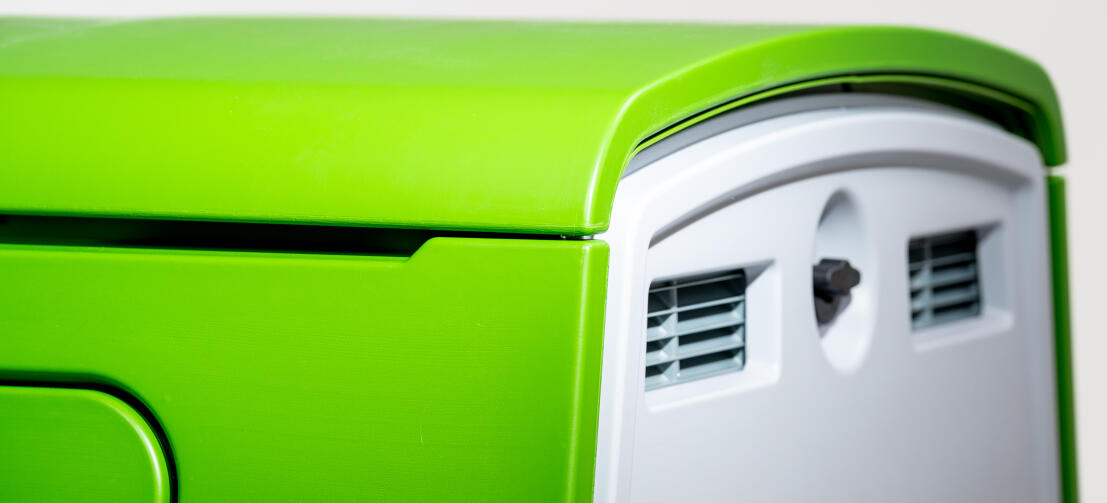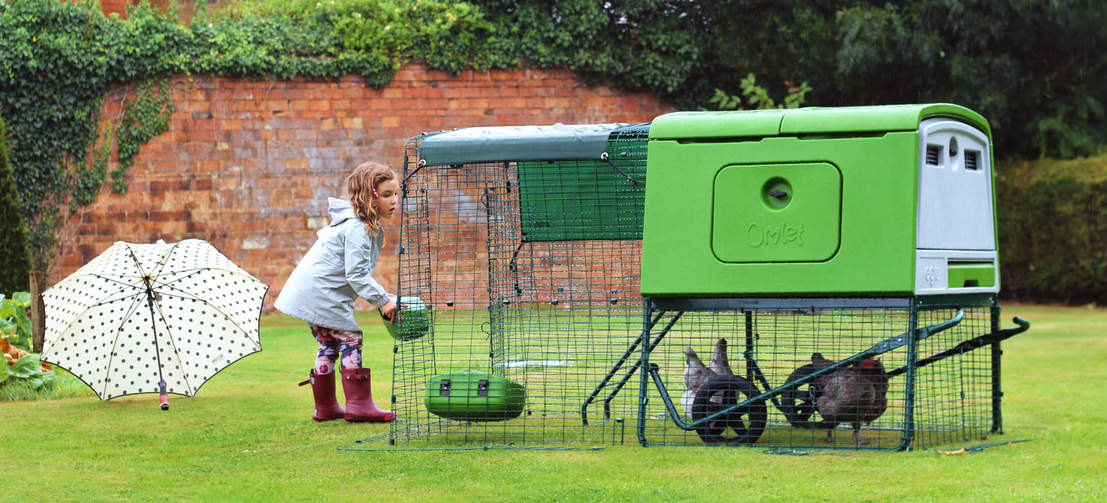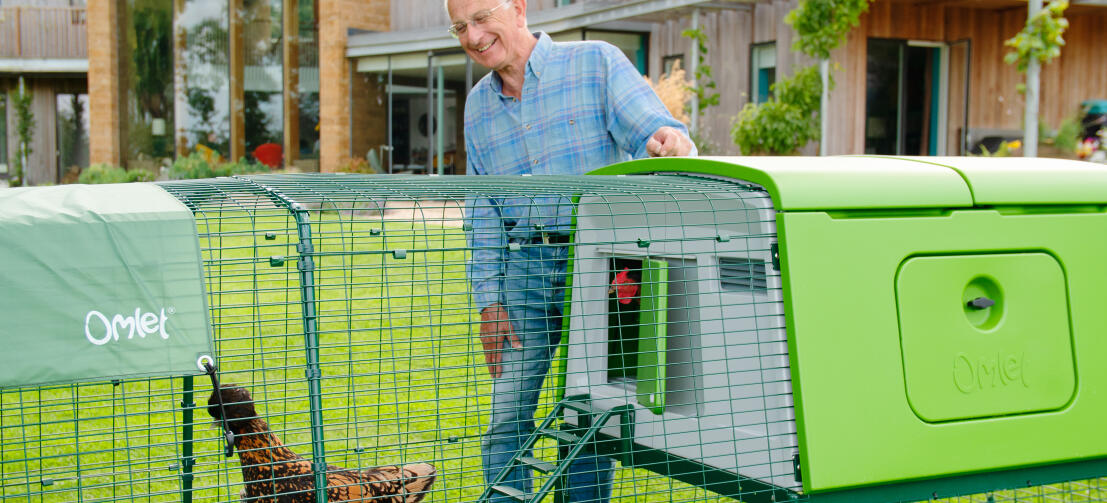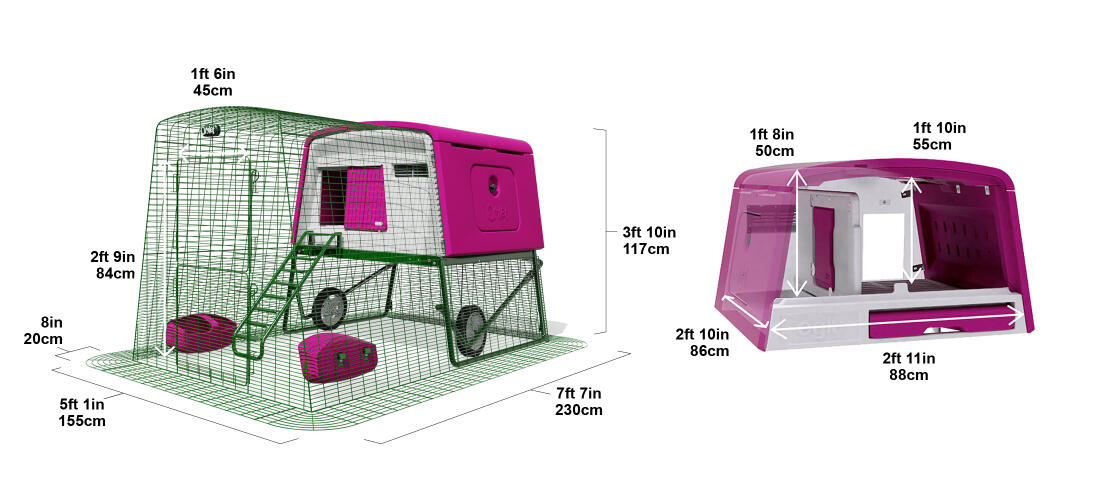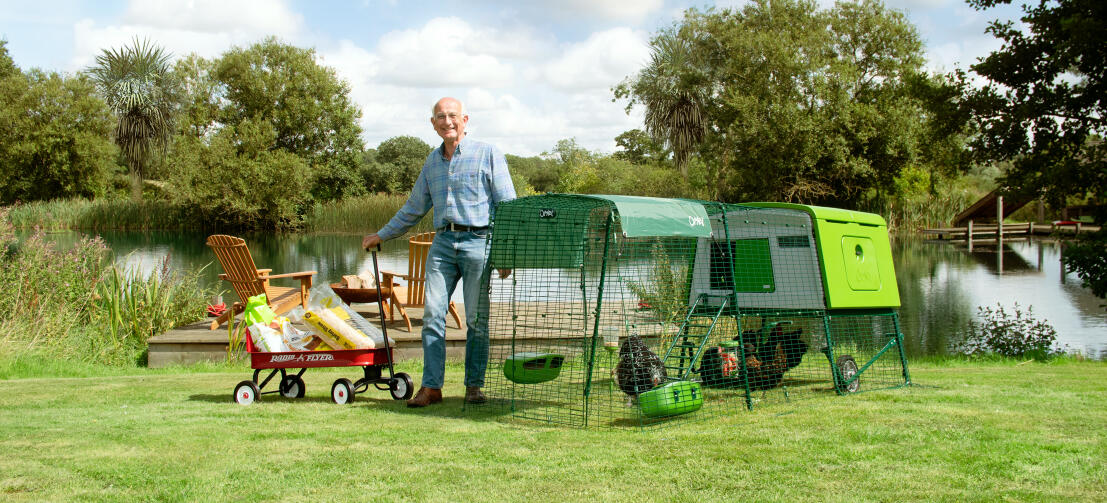 Configure Now
5 Things You'll Love About the Eglu Cube
Sparkling Clean and Fresh in Minutes!
The smooth surfaces of the Eglu Cube large chicken coop can be cleaned in just minutes, watch the video to see how!
Forget smelly chicken coops and discover the easy way of keeping your chickens' home sparkly clean and hygienically healthy! Here's why the Eglu Cube is so easy to keep spotlessly fresh, pest and mite free:
Smooth, wipe-clean surfaces
Clean with just a pet-safe disinfectant and your garden hose
Can be pressure washed and dries quickly
Slide out droppings tray - just empty into your compost bin
Removable parts for easy cleaning
Move to a fresh patch of grass with the smooth wheels
"I love it and so do my hens, it's easy to clean and keep clean"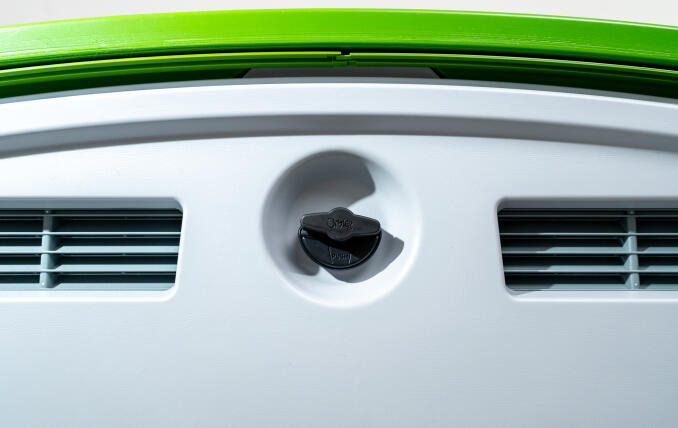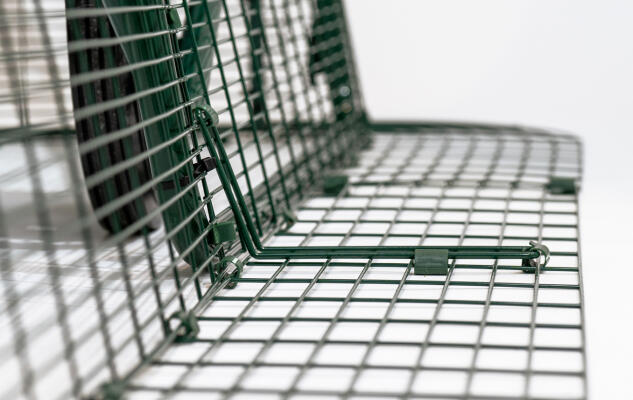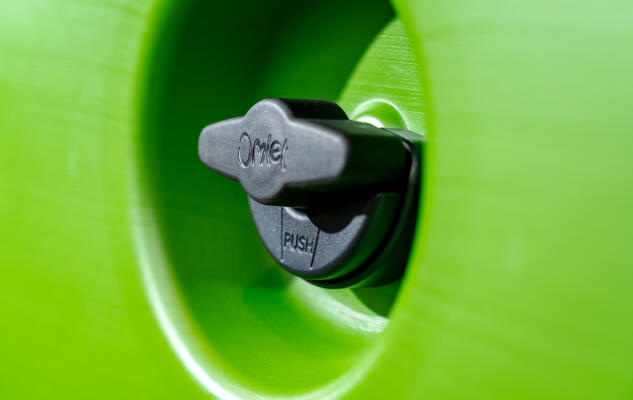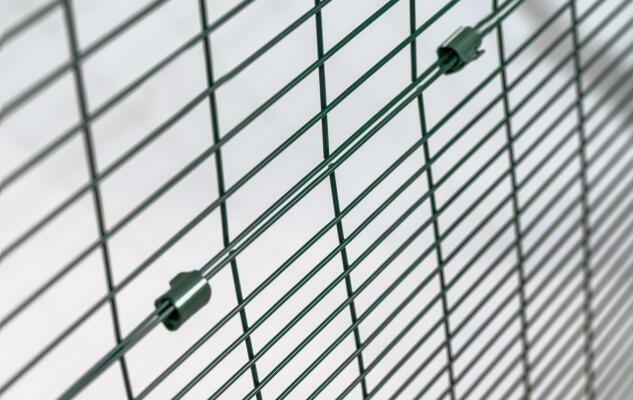 At Omlet, we understand the importance of knowing your chickens are safe in their home. That's why the Eglu is not just an incredibly strong chicken house, but it also has a spacious, secure run made from heavy duty steel weld mesh with a unique anti-tunnel skirt to prevent digging. The small mesh pitch along the lower panels stops raccoon paws without needing hardware cloth and the two-step push and twist door locks stop nifty fingers opening the coop.
Eglu coops and runs have been keeping hens all across the globe safe for over 15 years, and no other chicken coop offers such an impressive level of protection.
Create the Perfect Chicken Coop for Your Backyard
The smooth wheel mechanism makes moving the sturdy chicken coop a breeze!
The Eglu Cube gives you the power to make a chicken home that is truly efficient and practical for you and your hens, now and for years to come.
Create more safe space with our Omlet run extensions.
Add wheels to make it easy for one person to move the Cube.
Optional run handles for easy manuevering.
Design a Hentertaining Playground for Your Hens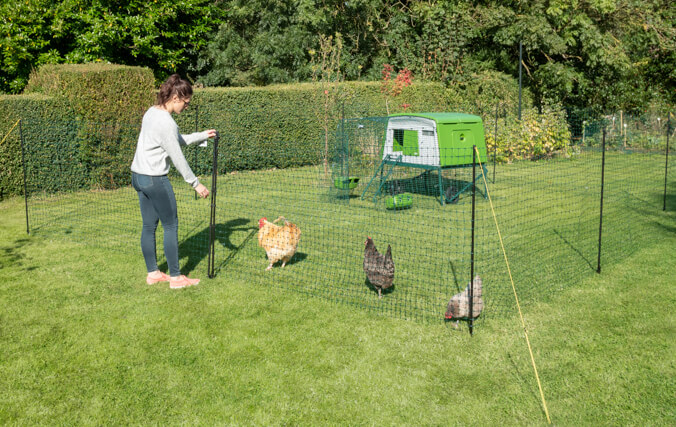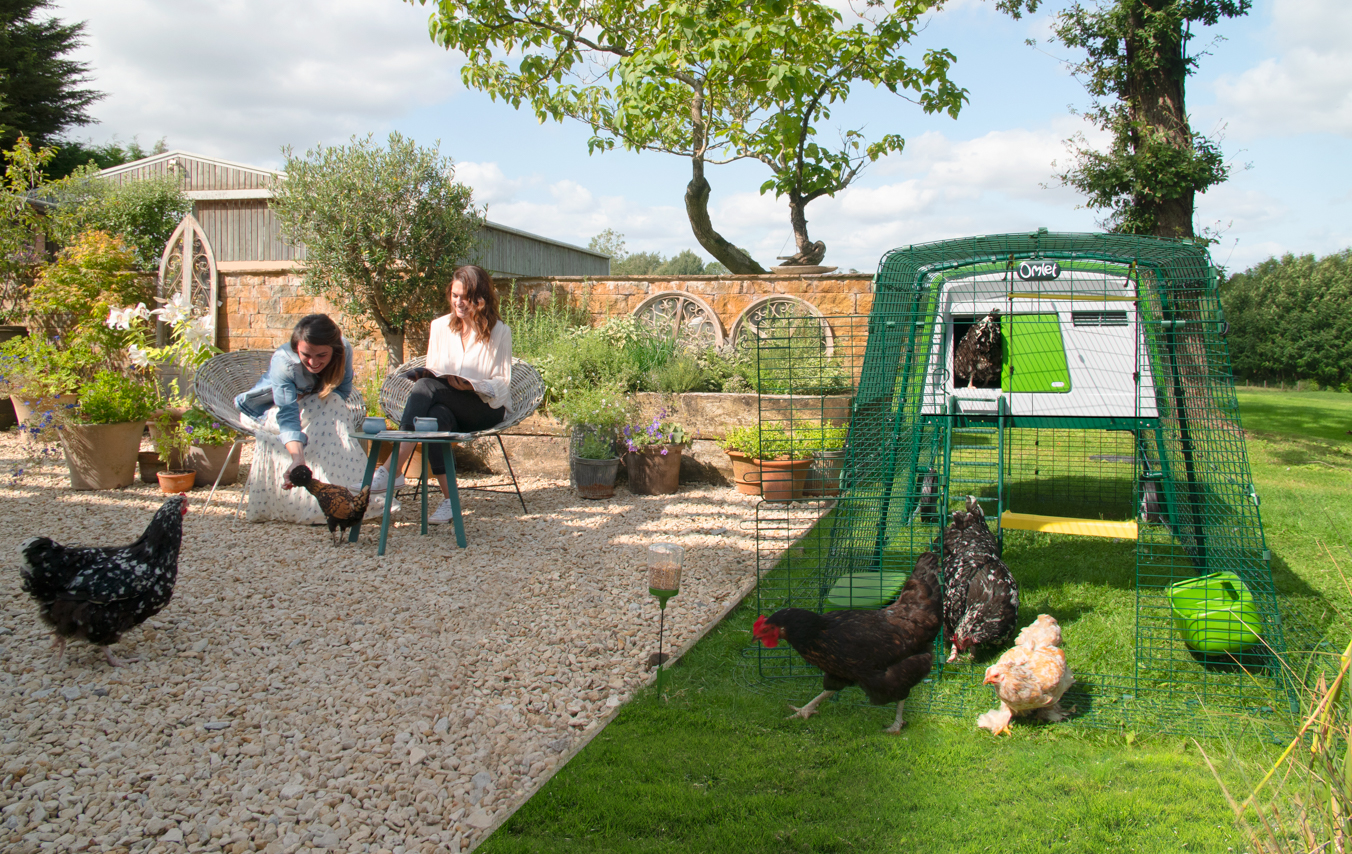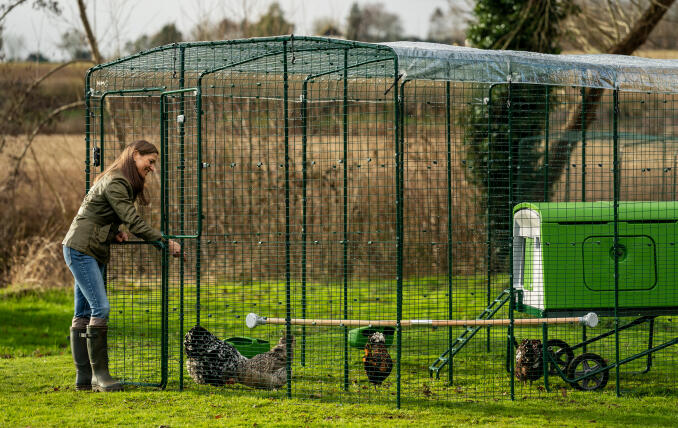 Combine your Eglu Cube with other popular poultry products to give your hens more space and add Omlet's expertly designed chicken accessories to enrich your chooks' henvironment.
Connect your coop run to a larger Walk In Chicken Run
Place the Cube inside a run
Give your hens free range space with Chicken Fencing
Provide hentertainment with perches and chicken swings
Encourage foraging with Caddi treat dispensers and peck toys
6 Reasons To Buy From Omlet

180 Day Money Back Guarantee

Free shipping over $100

10 Year Warranty

Brilliant Customer Service

Secure Payment

Over 17,000
5 Star Reviews
Add an Autodoor for Flexibility and Less Stress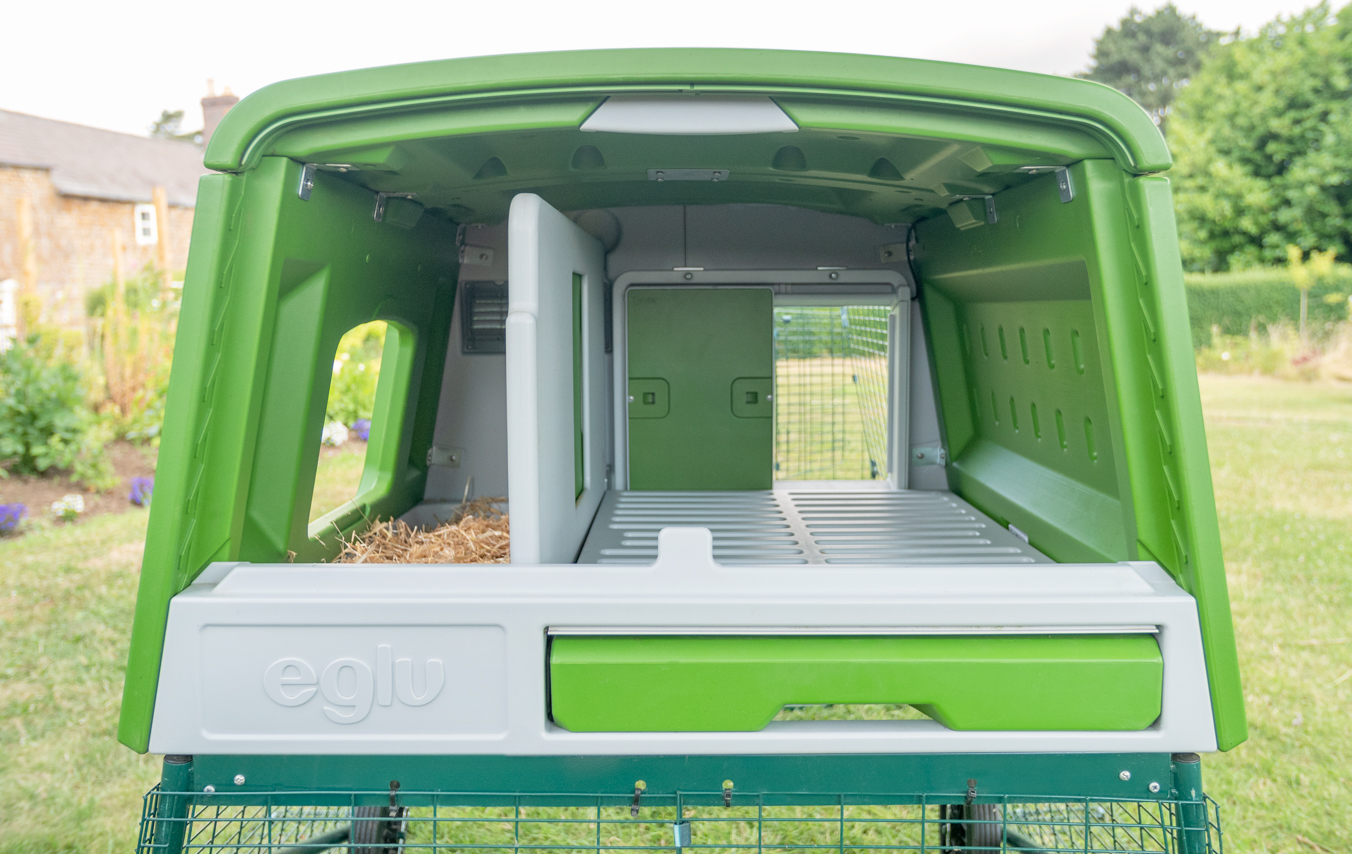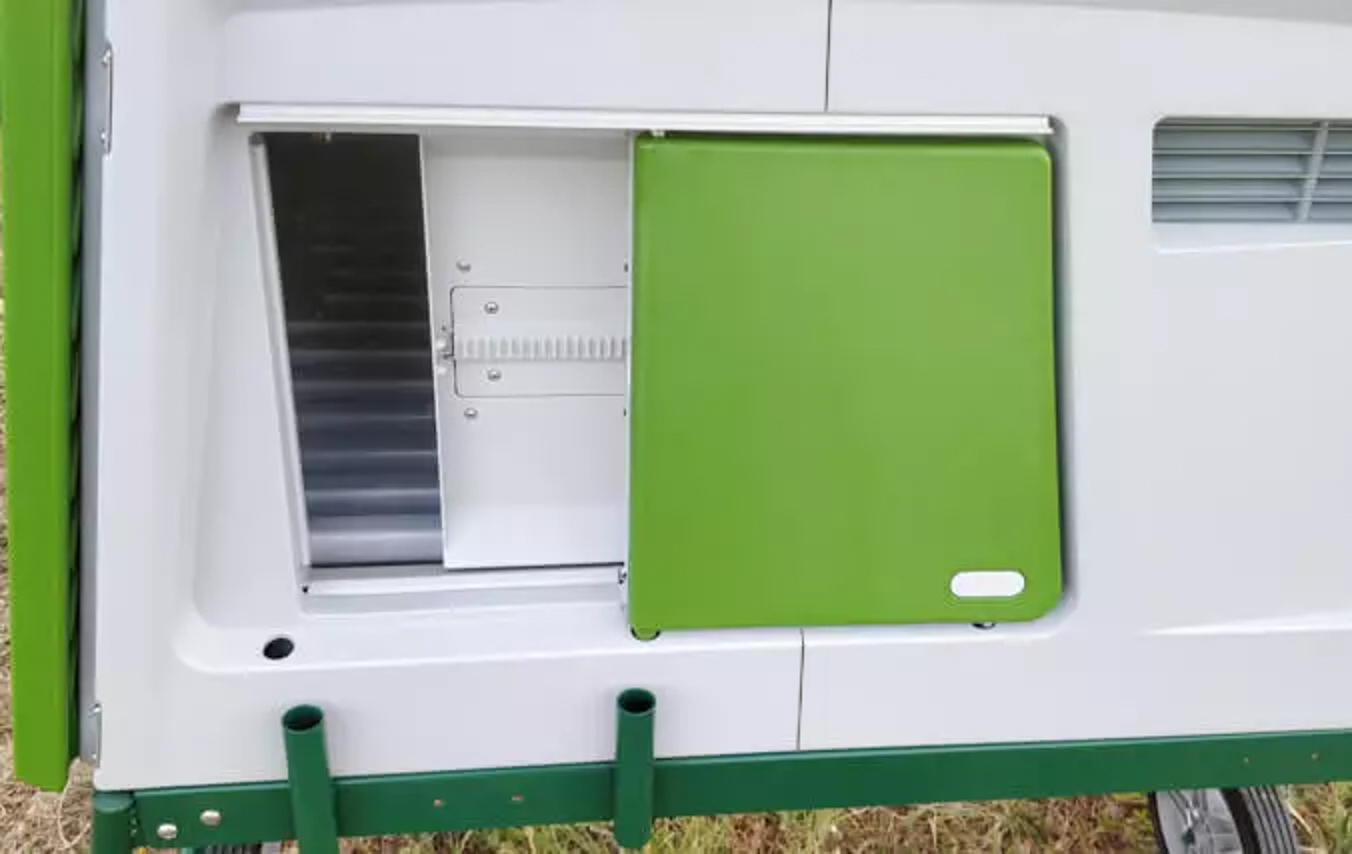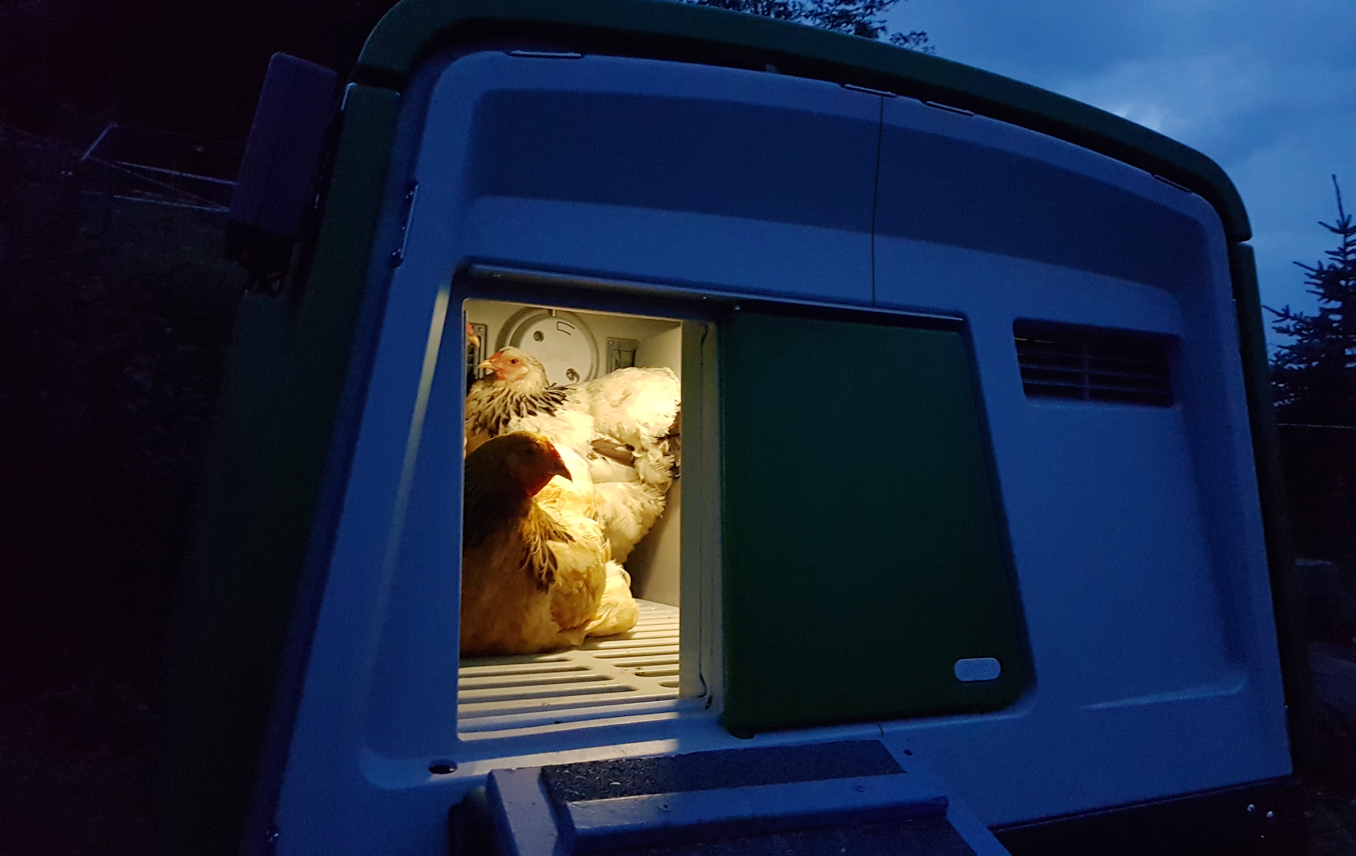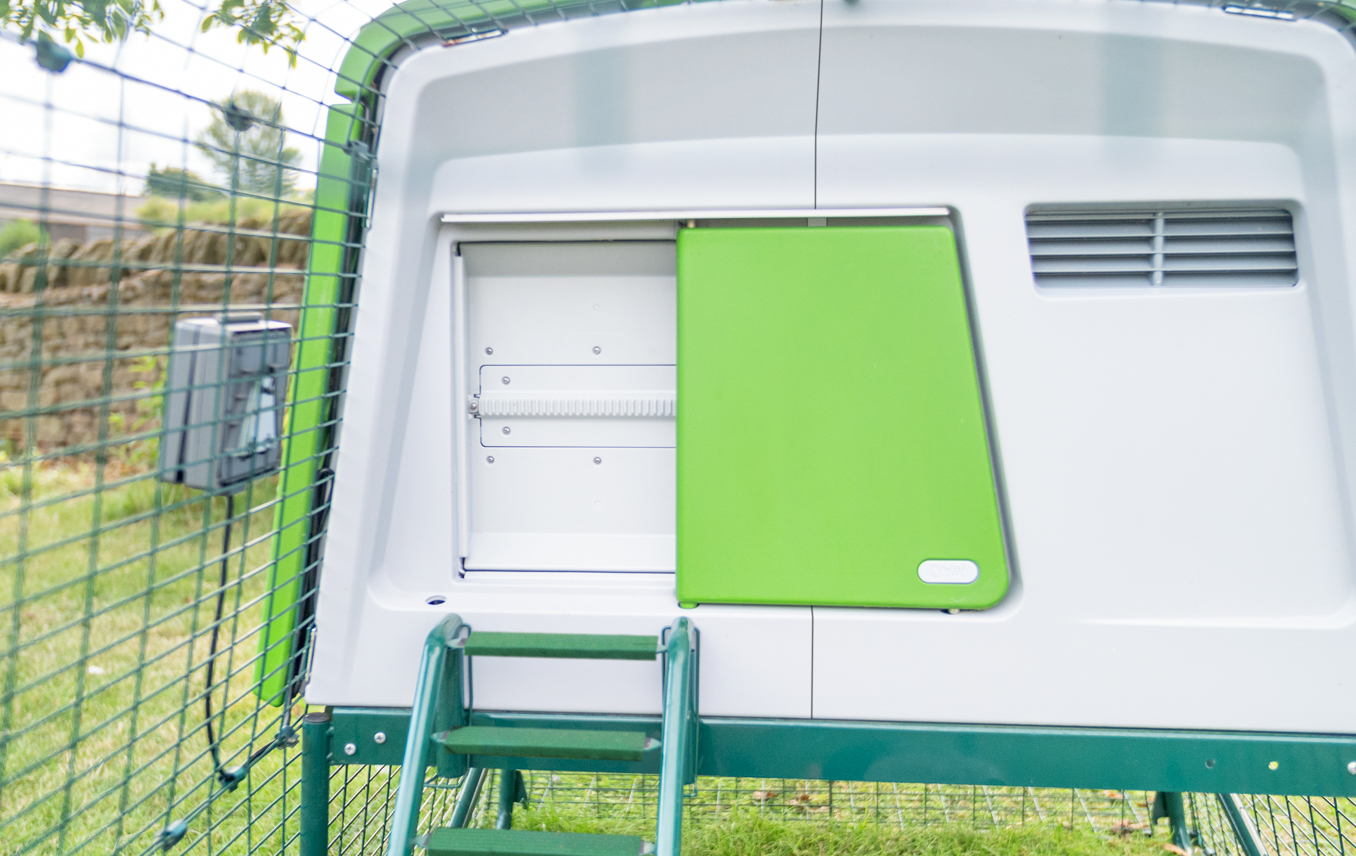 Omlet's revolutionary Automatic Chicken Coop Door fits seamlessly onto the inside of the Eglu Cube with ready prepared fixing points. The Autodoor can be set to open and close at specific times or when the sun rises or sets, and is reliable in all weather conditions. The horizontal opening mechanism prevents predators from lifting the door, and the clever safety sensors detect obstructions, keeping your hens safe and happy.
"This product is one of those quality of life bumps... We don't have to rush out to the coop to open it up each morning and no more forgetting to close it up at night, leaving the girls vulnerable."
Keeping Hens Comfortable Every Day of the Year
An insulated chicken coop like the Cube keeps your hens warm in winter and cool in summer.
Chicken keepers from Australia to Canada and everywhere in between swear by the Eglu Cube. Why? Because it provides protection from all types of weather extremes.
The Eglu has a unique double-wall insulation system that works in a similar way to double glazing, trapping your hens body heat inside, while ensuring cold air on the outside doesn't penetrate the sides of the coop.
In summer the same system, in combination with the draft-free ventilation, will keep your hens cool by letting fresh air flow through the chicken house, without blowing straight over the roosting area.
Stress Free and Built to Last
Watch a preview of the helpful how to build video that will make assembling your Eglu Cube a breeze!
The Eglu Cube chicken house and run is designed for zero maintenance. Unlike wooden houses, you'll never need to paint, treat or reroof your Eglu Cube, which will save you plenty of time and money over the years.
The Eglu Cube comes with everything you need to get your chickens moved in straight away. The step-by-step instruction manual and helpful how to build videos ensure building the coop is easy for one or two people.
Reviews from Chicken Keeping Experts
---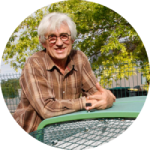 Made with recyclable plastic, the Eglu Cube is handy, durable, can keep parasites at bay, and easy to clean. It is also one of the best looking coops out there, In short, the best chicken coop currently available on the market.
The Eglu Cube is easy to maintain, handy and just the right height. My chickens can enjoy it all year round thanks to its brilliant insulation system. The autodoor is a big plus safety-wise and allows me to leave on short trips without worry. I highly recommend it.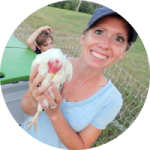 We are using the Eglu Cube and have been delightfully surprised with all of the automation and simplicity that it offers. Thanks Omlet for a great coop that was easy to put together in a couple hours that is maintenance-free!
Fit for All Flocks - Houses up to 10 Hens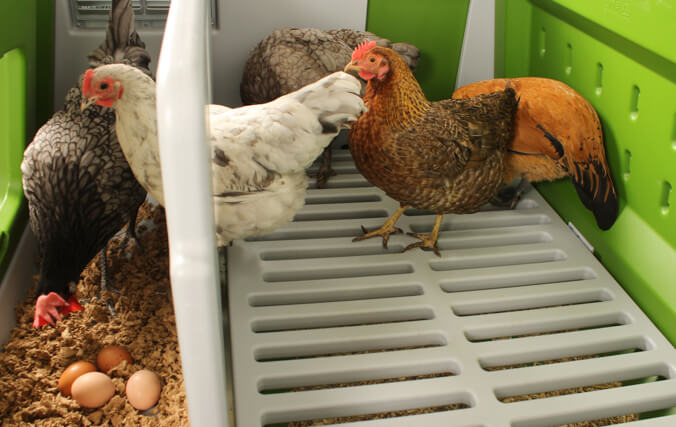 The spacious chicken coop will be the perfect home for up to 10 chickens.
The Eglu Cube is the perfect hen house for all types of chicken keepers, whether you've got a large existing flock or have just started with a few hens but are already planning to expand.
The coop is perfect for the following flock sizes:
Up to 10 bantams or
Up to 8 medium size hens or
Up to 6 large breed hens
The rear door panel easily lifts off to give your full access to the inside, where you'll find everything you and your chickens need. Draft free ventilation, a separate deep nesting box, perfectly rounded roosting bars, a handy egg port and a safe, lockable door.
Fresh Eggs Every Day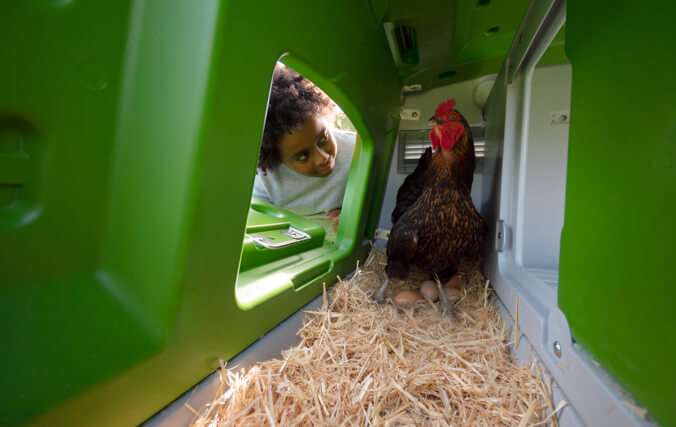 Collecting fresh eggs from the coop is one of the great joys of being a chicken keeper.
The Eggport on the side of the Eglu Cube gives you direct access to the nest box, so that you, or your children, can run out in the morning and collect those still warm eggs for breakfast!
The Eglu Cube has a spacious yet private nesting box where up to 3 chickens at a time can lay in comfort. The central divider has a sliding door that you can use to close the nest at night to stop hens who might be tempted to roost in there.
Everything You Need To Get Started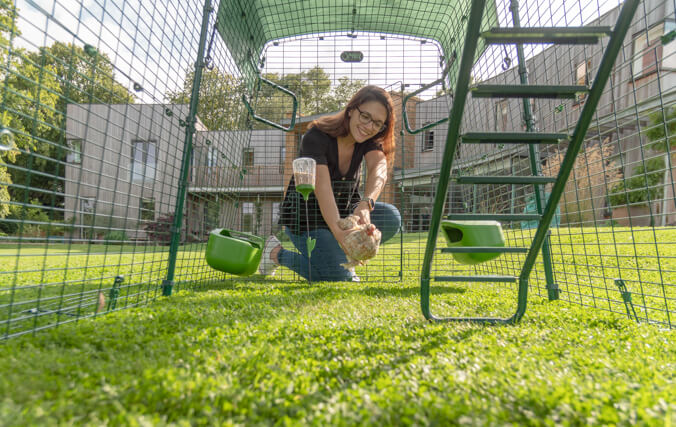 This chicken coop comes with everything you need, so your chickens can move in straight away.
We want to make it as easy as possible for you to start keeping chickens, so whichever type of Eglu Cube you buy, you'll get an innovative, dishwasher-proof feeder and drinker in the matching Eglu color. These fit neatly to the run or can be hung on an optional Feeder Drinker Stand.
You will also receive 10 Omlet Egg Boxes, convenient for storing or giving away four fresh eggs at a time to family and friends.
Eglu Cube Specifications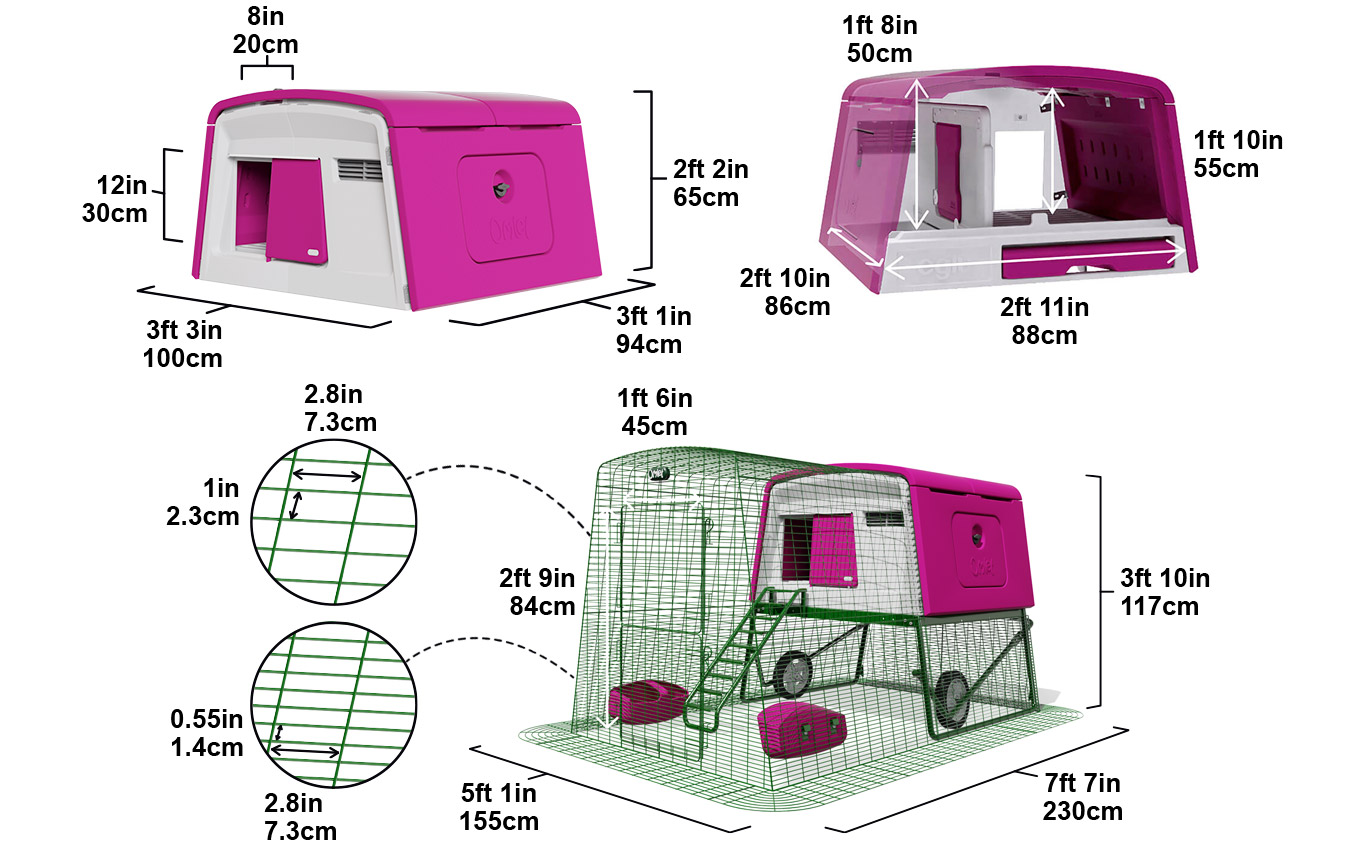 The Eglu Cube Chicken Coop is perfect for up to 10 smaller chickens. See the dimensions above.
When setting up your Eglu, you should allow 2 feet 11 inches of space at the back of the house to allow the droppings tray to slide out easily and 1 foot 11.6 inches at the front to allow you to open the run door.
Note: 3 feet of the run sits below the Eglu Cube house.
Materials:
House: 100% Recyclable UV Stabilized Polyethylene, Powder-Coated Steel
Run: Double layer fully coated steel weld mesh
Bolts, Screws and Molded Inserts: Stainless Steel


Packaging Dimensions:
Box A House 1of2: 2'11'' x 1' x 2'1'' (41.2 lbs)
Box B House 2of2: 3'3'' x 1' x 2'1'' (53.3 lbs)
Box C Frame and Ladder: 3'2'' x 1'10'' x 4'' (28.4 lbs)
Box D Run: 3'2'' x 1'10'' x 3'' (39 lbs)
Box E Wheels: 3'1'' x 10'' x 4'' (11 lbs)
Box F Run Extension: 3'3'' x 1'9'' x 3.1'' (22.7 lbs)
Patent Pending. Design Registered.
Ready to create your own ...

---
Frequently asked questions
Verified Reviews - Eglu Cube® - Large Chicken Coops with Runs
---
Customer Images - Eglu Cube® - Large Chicken Coops with Runs - 29 of 555
Related Products