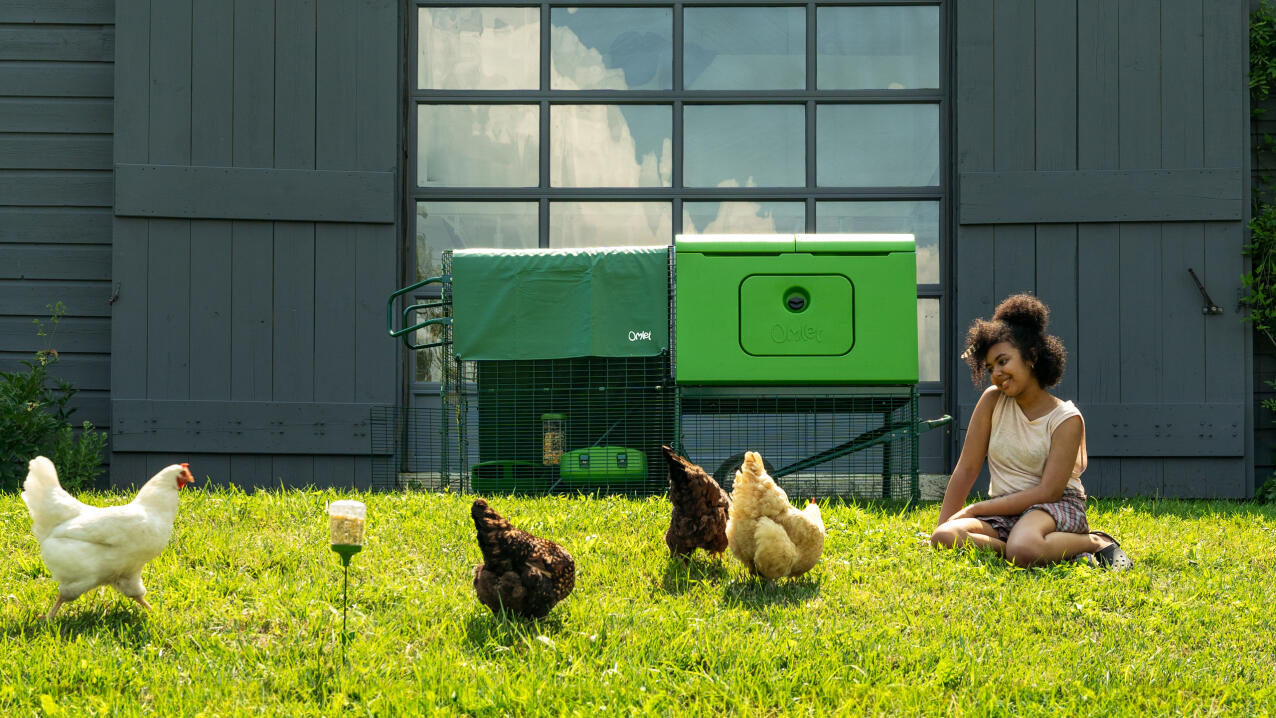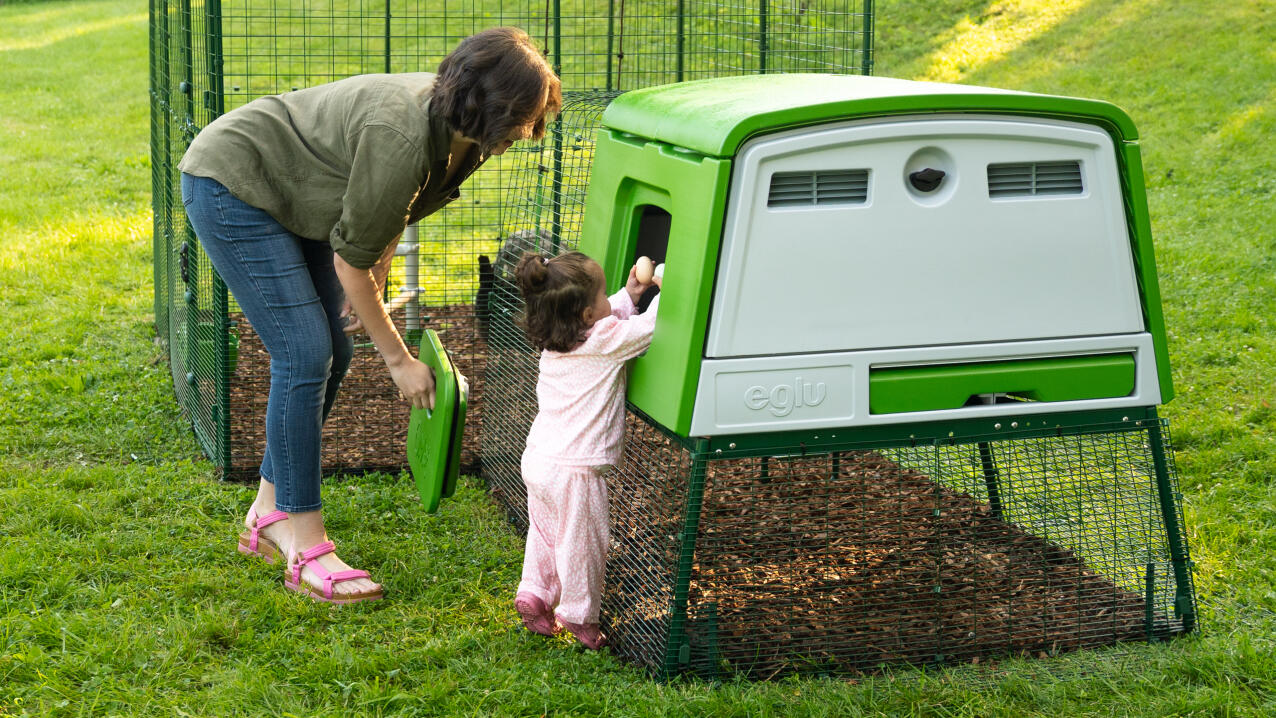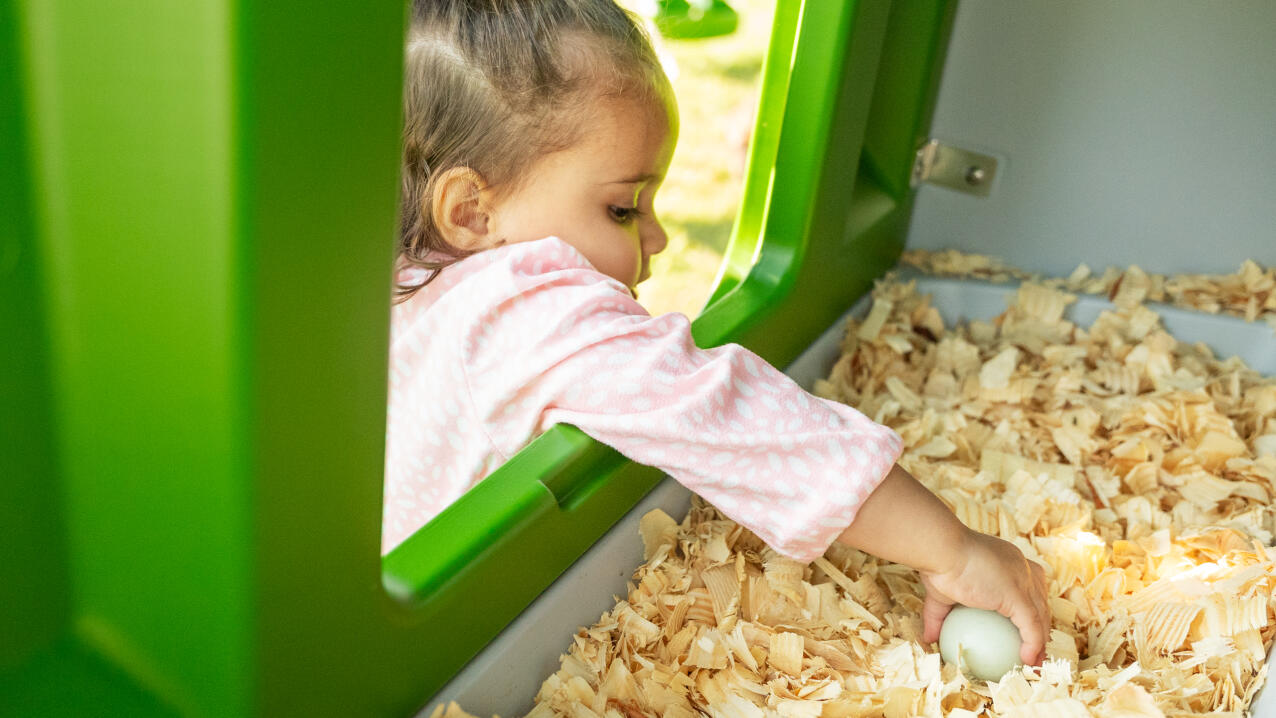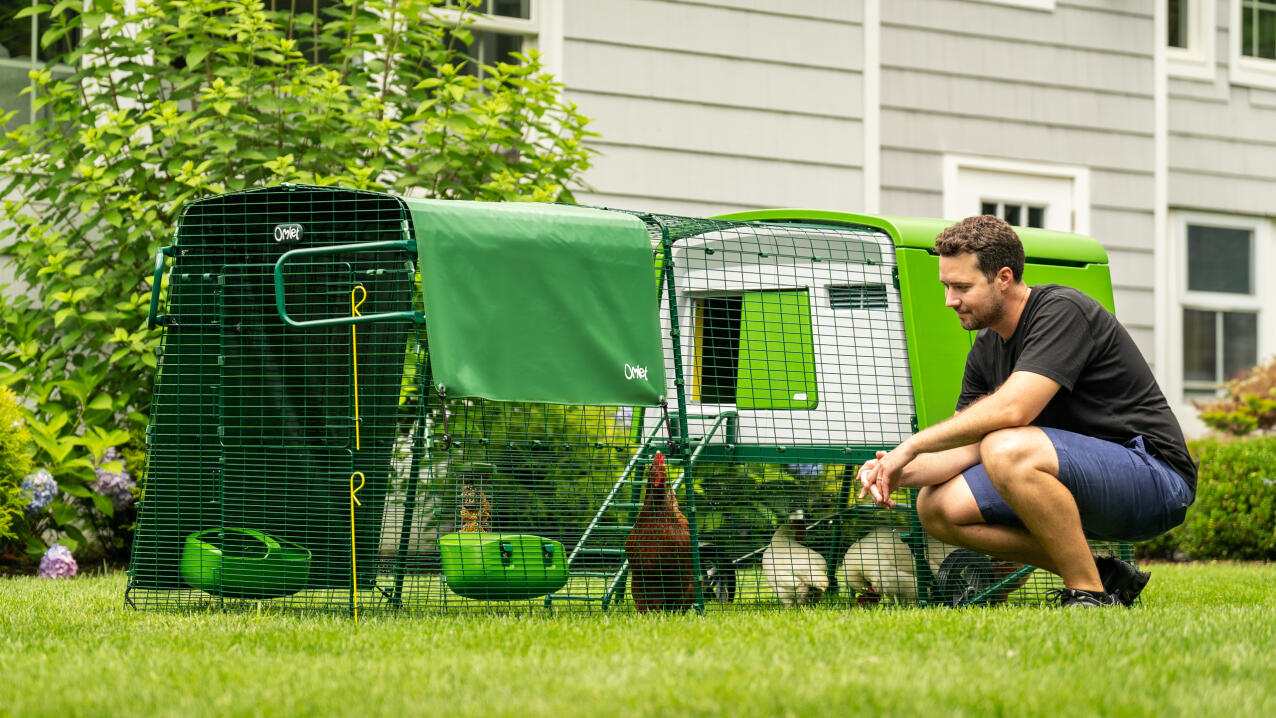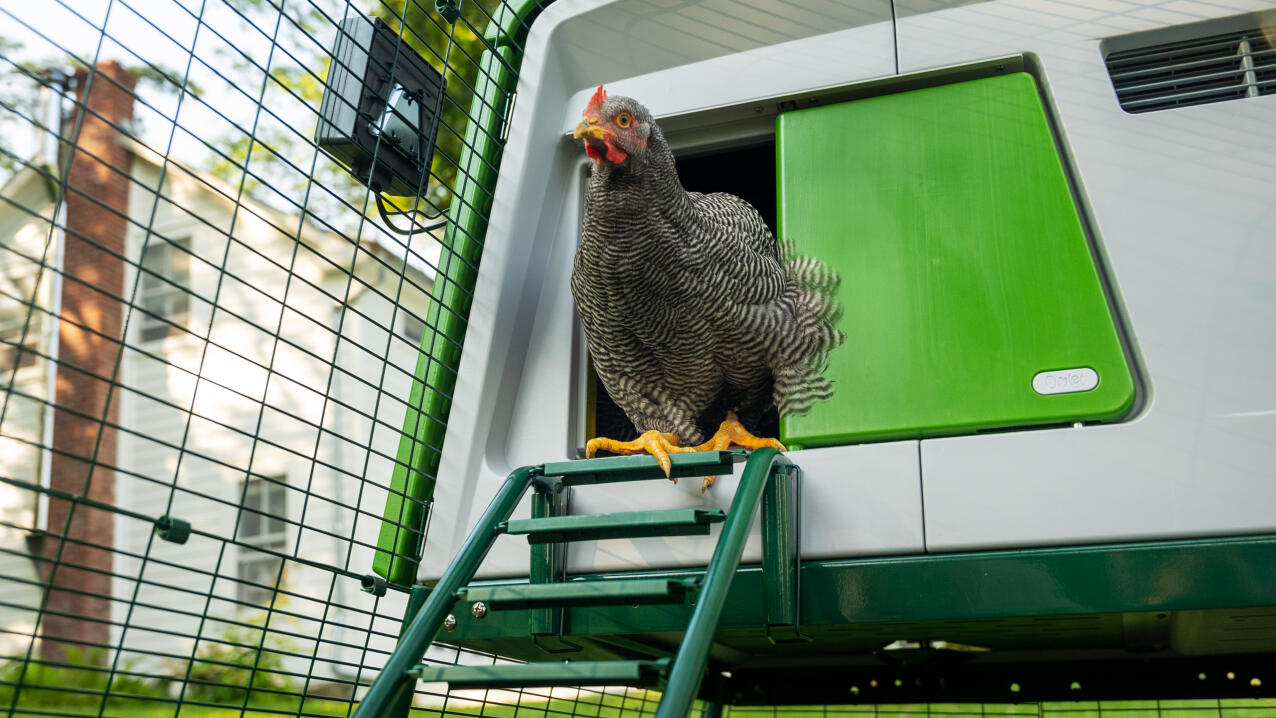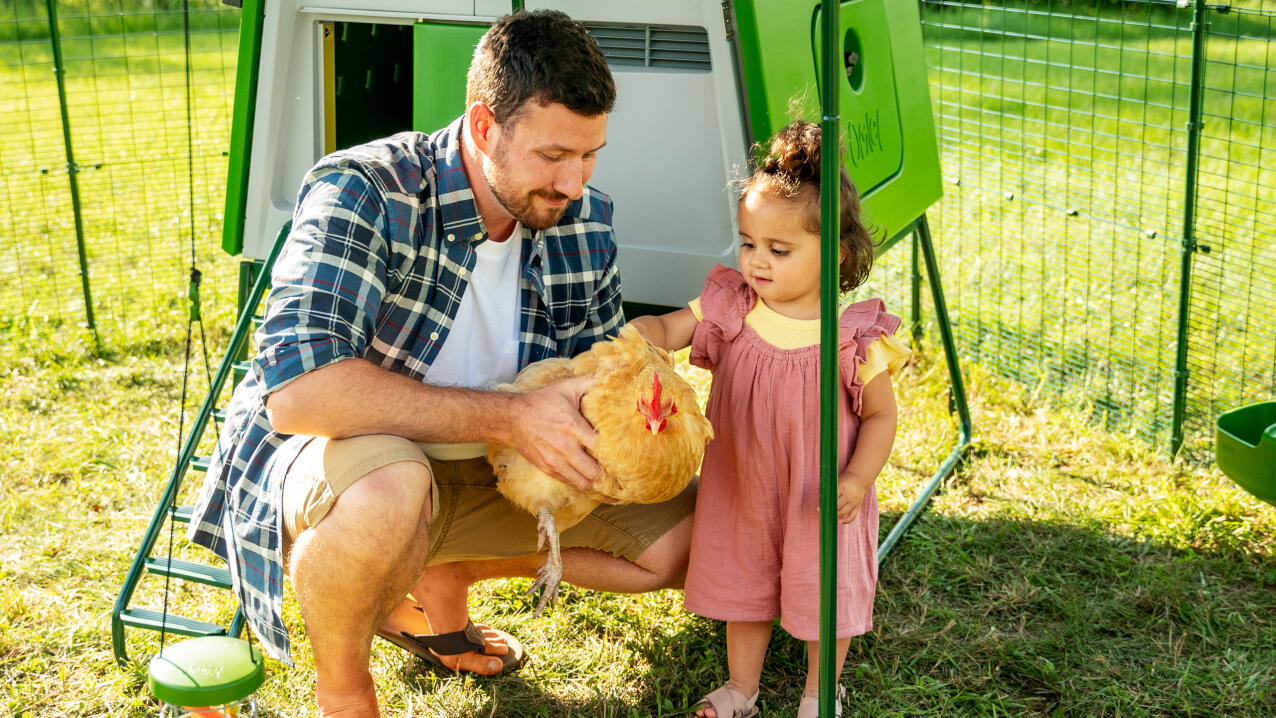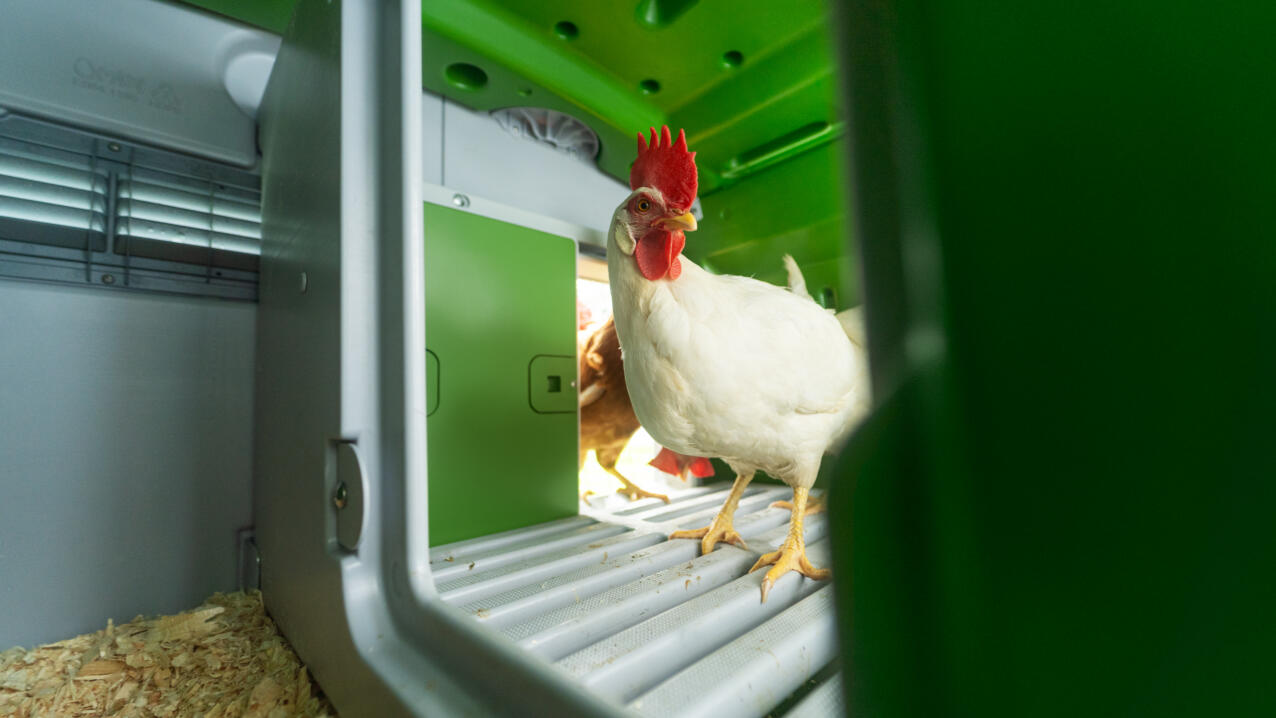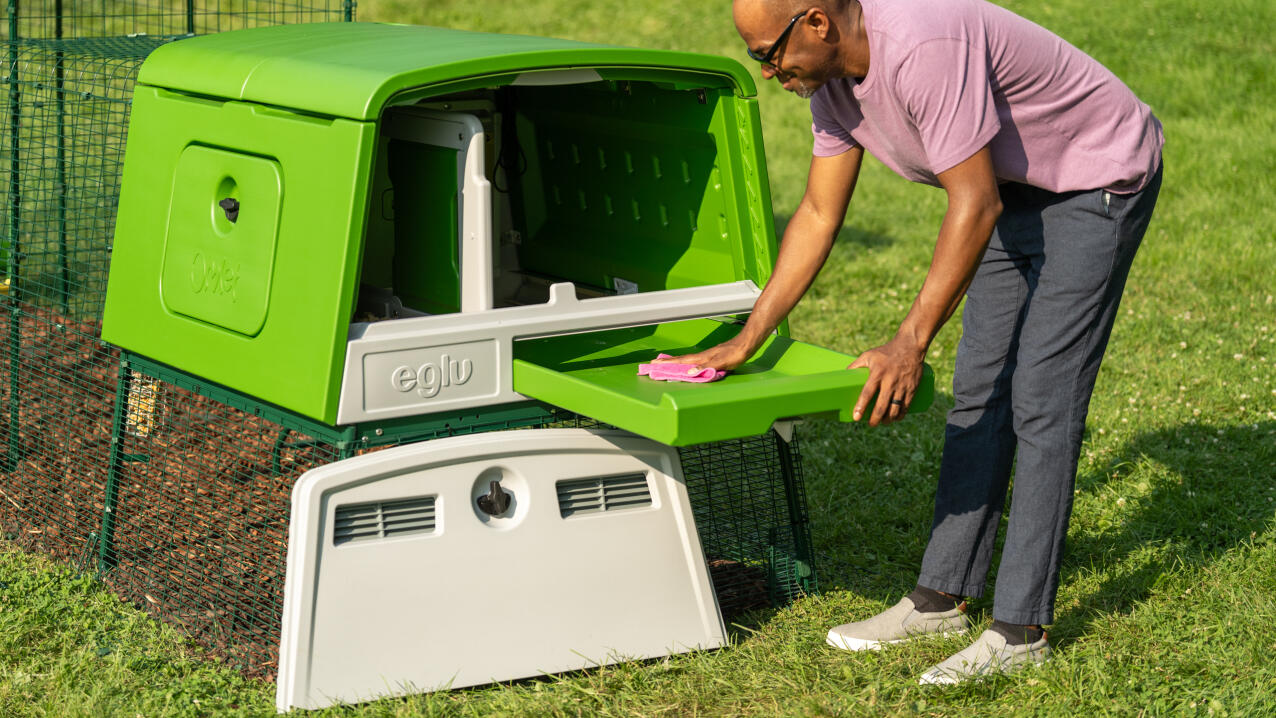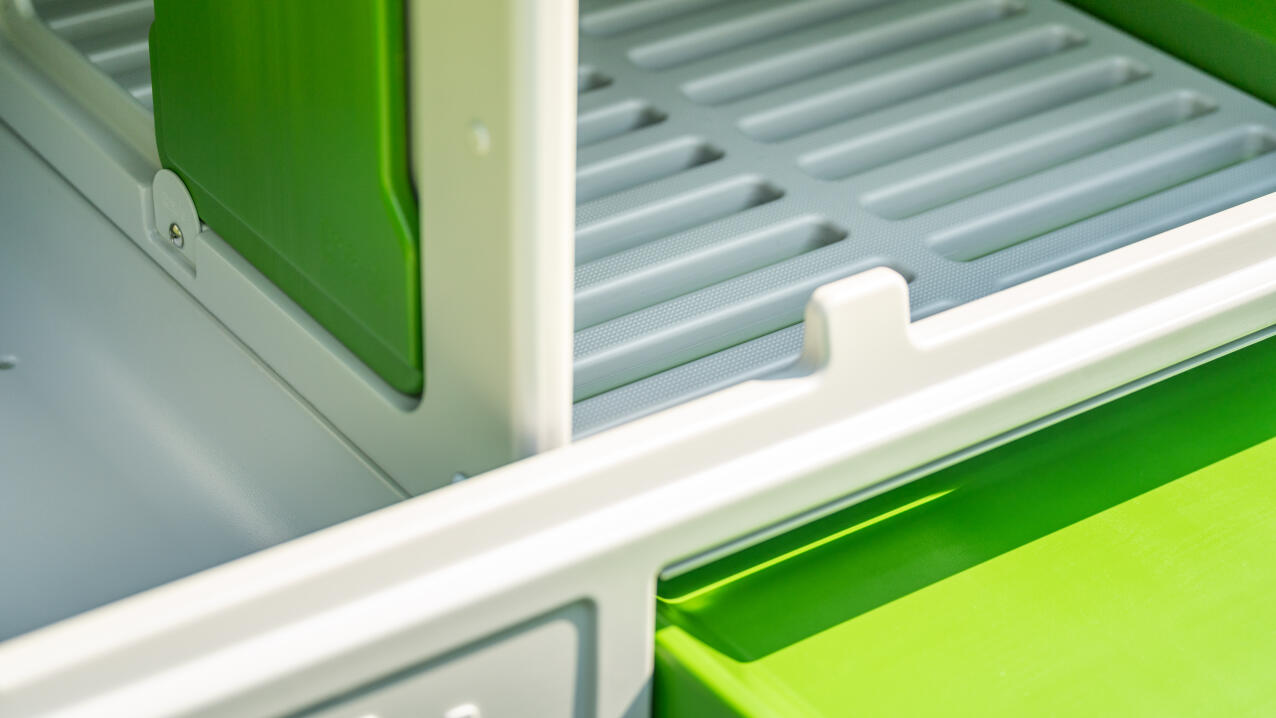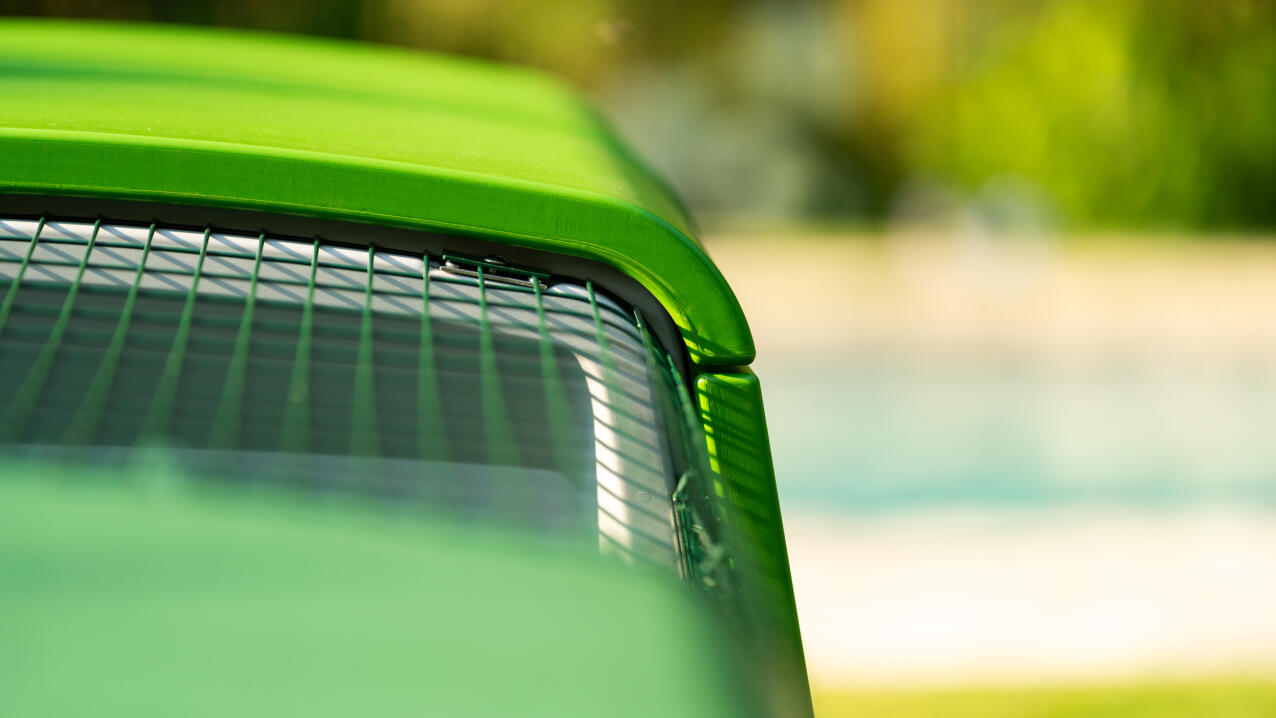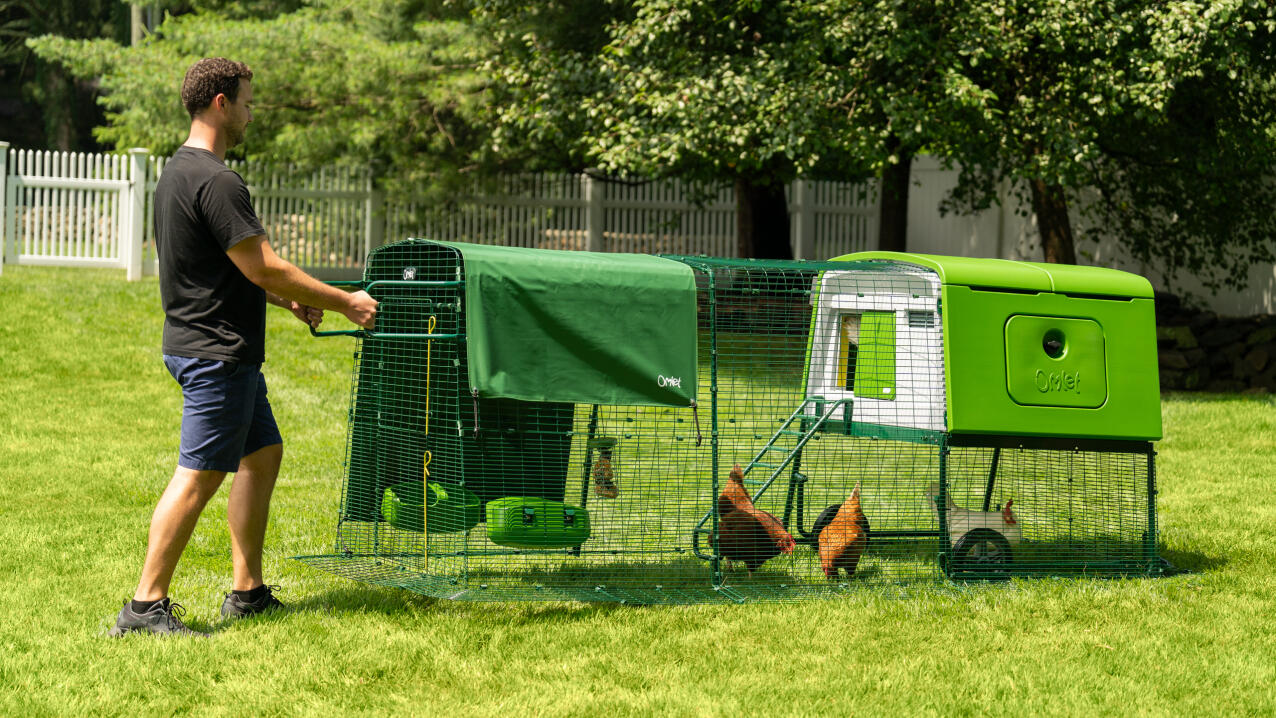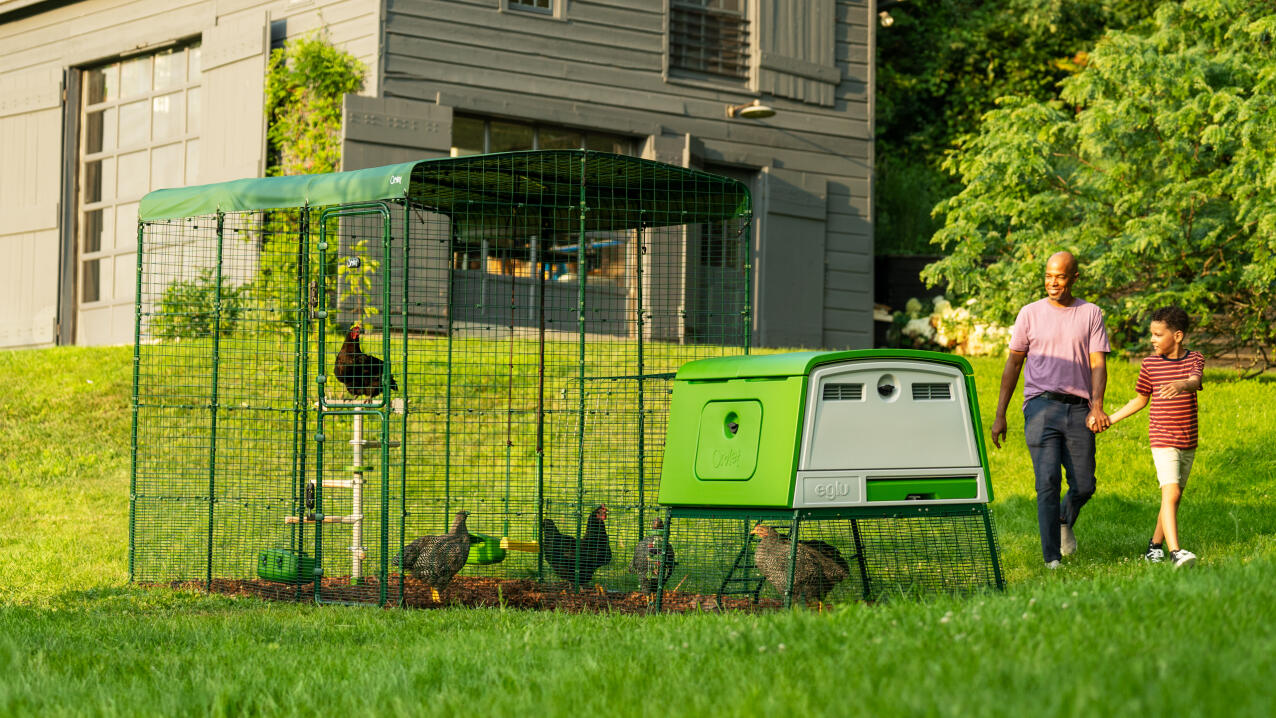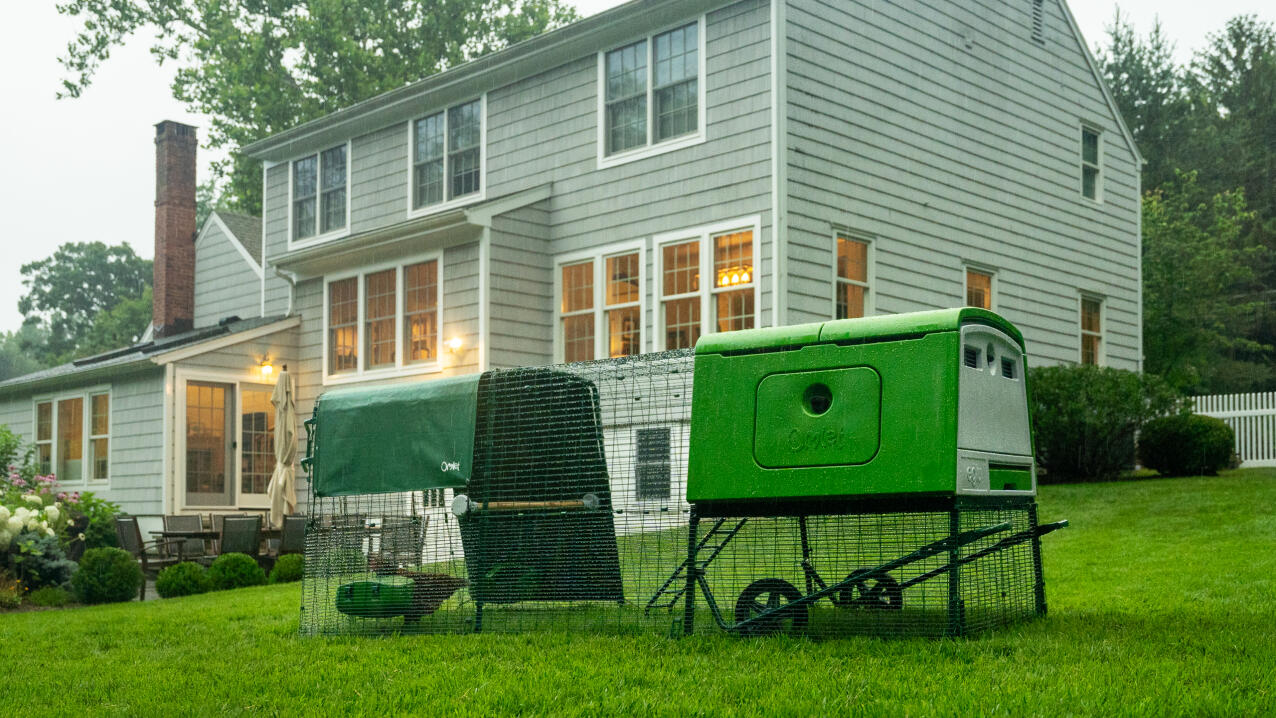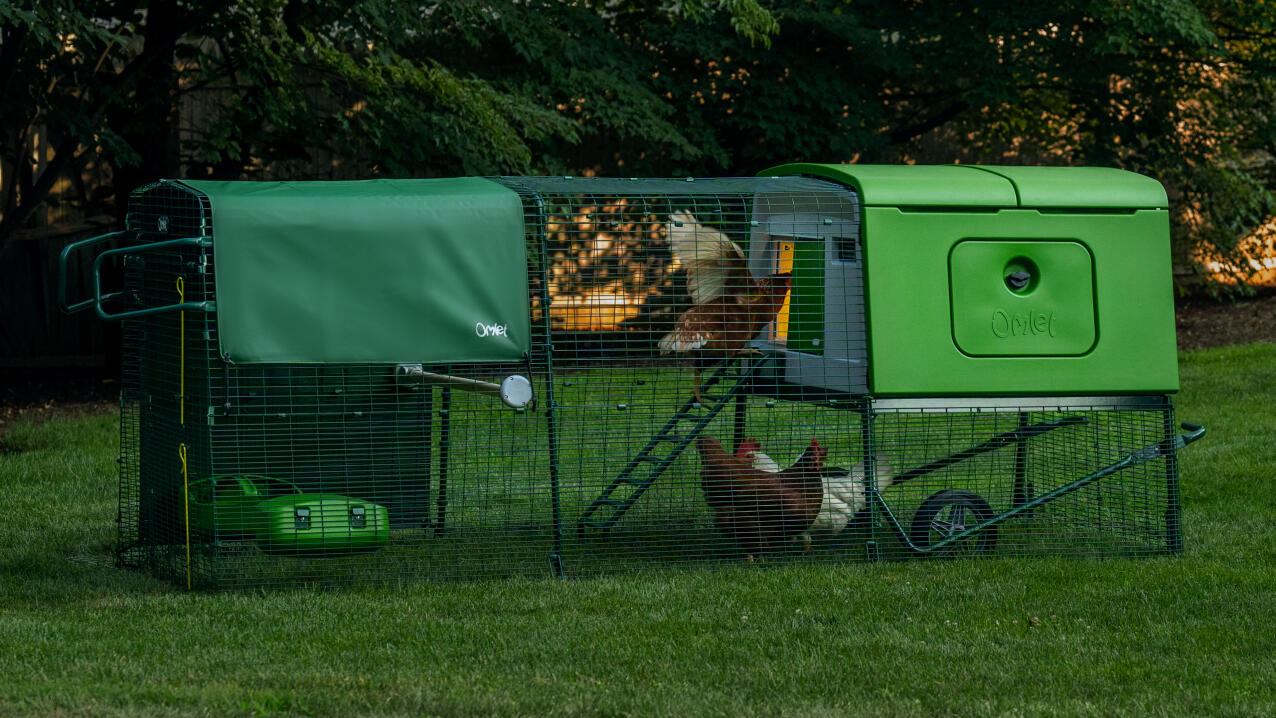 EGLU CUBE
What comes before the chicken and the egg? Our answer - a better coop. We designed the Eglu Cube with ingenious solutions like smooth surfaces for quick and easy cleaning, raccoon proof mesh and a 10 year worry free warranty.
We're Omlet and since 2004 we've been rethinking every aspect of keeping and caring for chickens. Inspired by the magic when humans and animals connect, we watch, learn, ask and invent. Our products will make you wonder: why hasn't it always been done this way?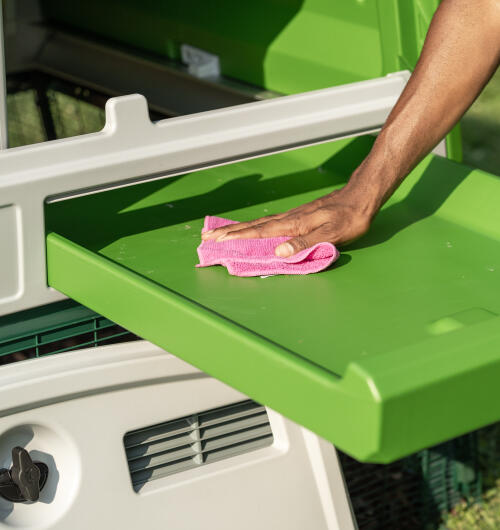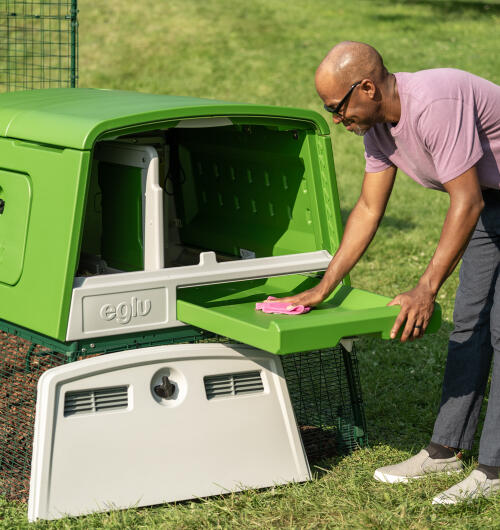 The secret's out. Cleaning your coop can actually be easy. With the Eglu Cube there's no bending down, no relentless scrubbing or nasty chemicals. Just the satisfying feeling of a job well done.
A slide out droppings tray

Smooth surfaces that wipe clean

A seriously fast 5 min jet wash

No wood grain for mites to hide in
FORT KNOX FOR YOUR FLOCKs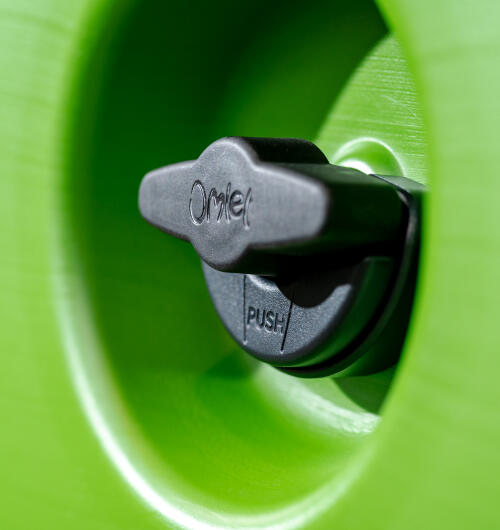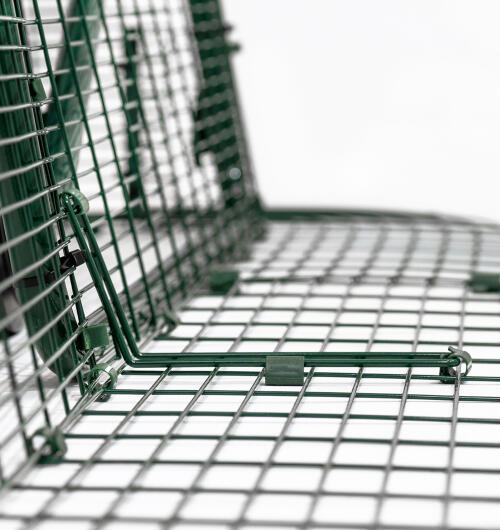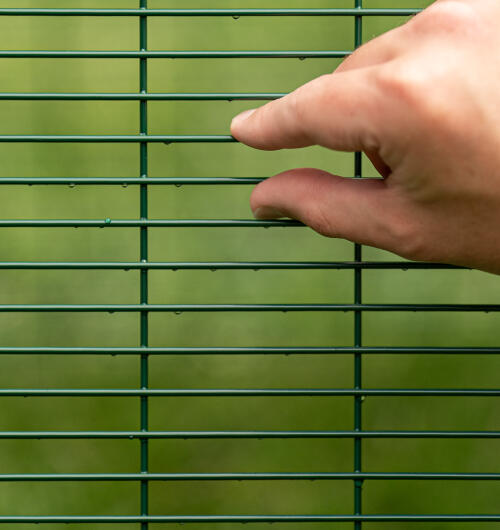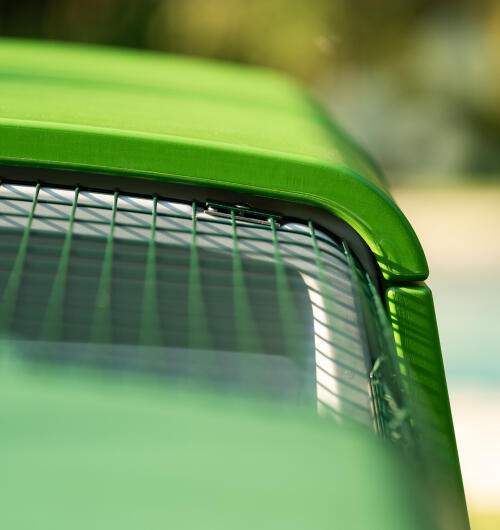 For over 15 years, our chicken coops have safeguarded America's backyard flocks with unmatched protection against predators like hawks, raccoons, coyotes, bobcats and bears.
Heavy duty steel weld mesh run

Unique anti-tunnel skirt prevents digging

Two-step locks stops raccoon's pesky paws

World renowned Eglu toughness
Overengineered? Your chickens won't think so.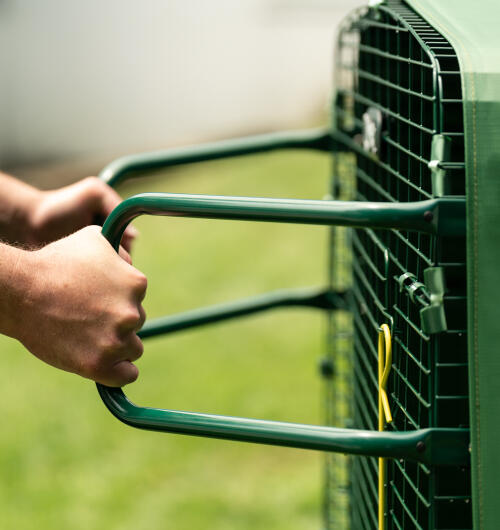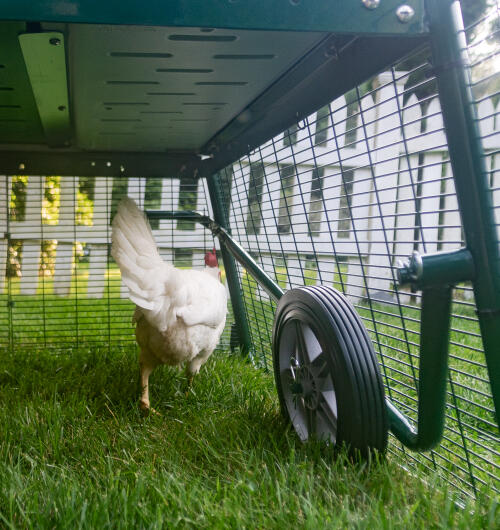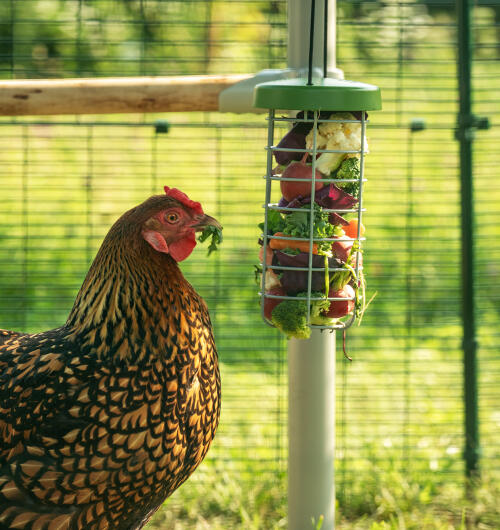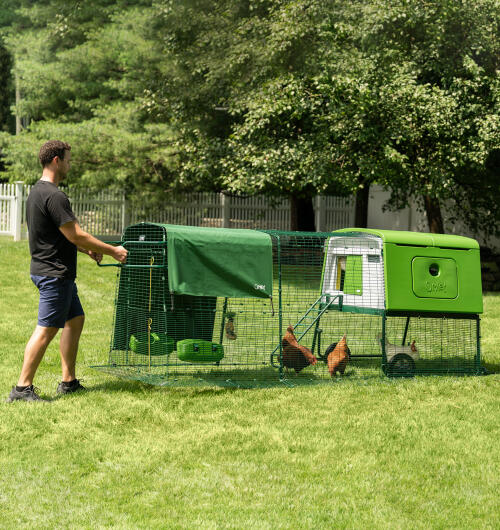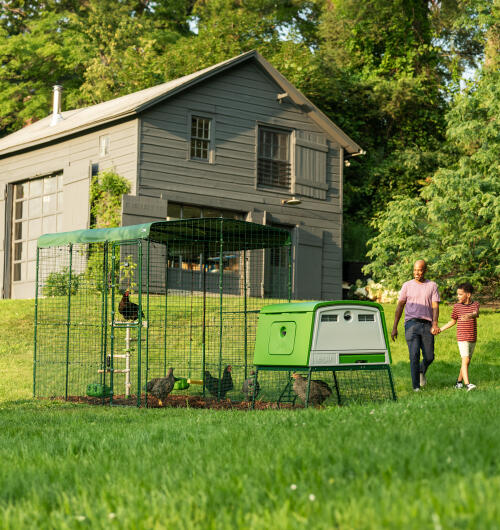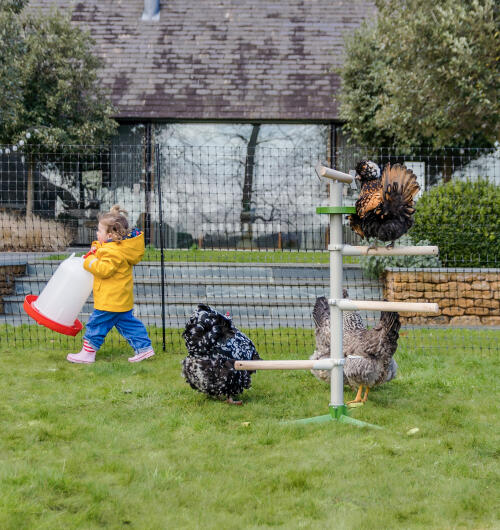 Make their home your own with countless ways to customize your coop: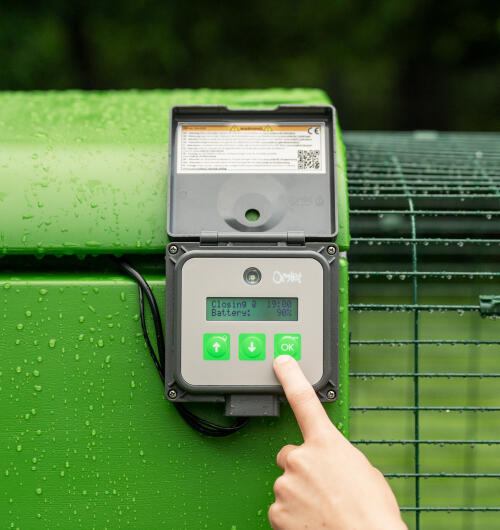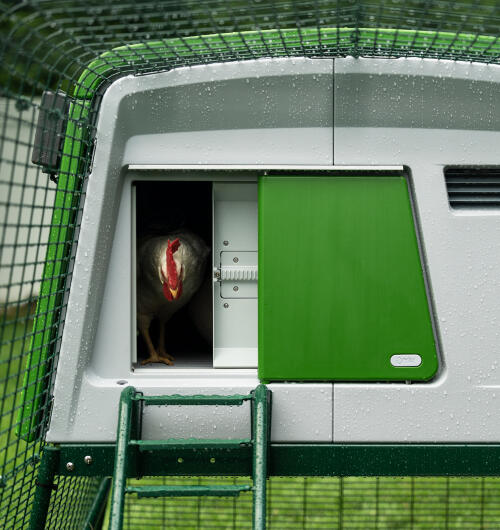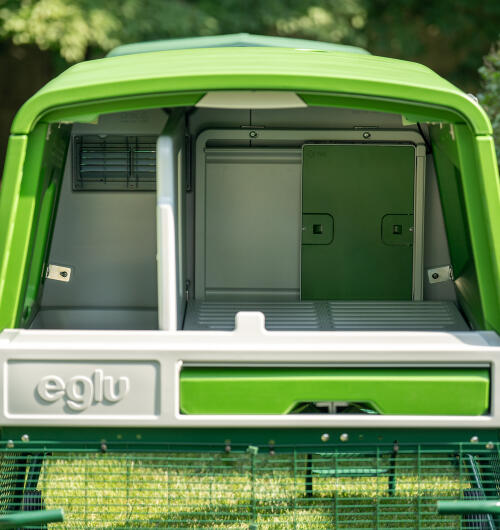 Ever wished your chickens could let themselves out? We designed our automatic chicken coop door to open your coop at dawn and close again at dusk. Reliable, safe and durable in all weather, it's an ingenious way to make your coop better and life just a little bit simpler.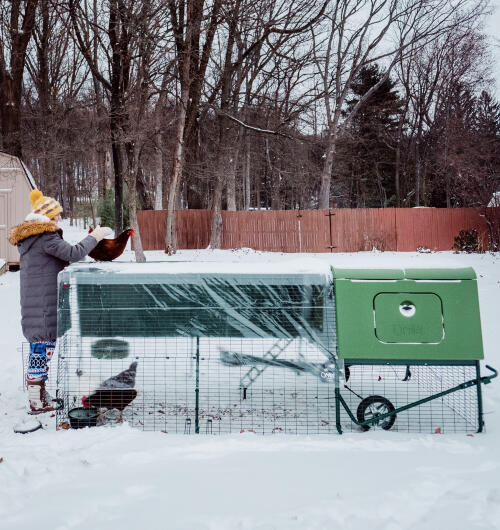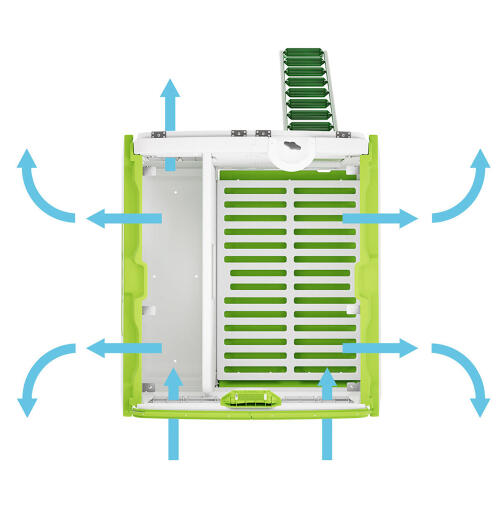 The Eglu Cube is expertly designed to keep your hens comfortable in all kinds of weather.
Optimized ventilation stops drafts and damp air in the coop

Twin-wall insulation keeps it cool in summer, and warm in winter

Solid panels don't soak up moisture

Easy to anchor or move before hurricanes and tornadoes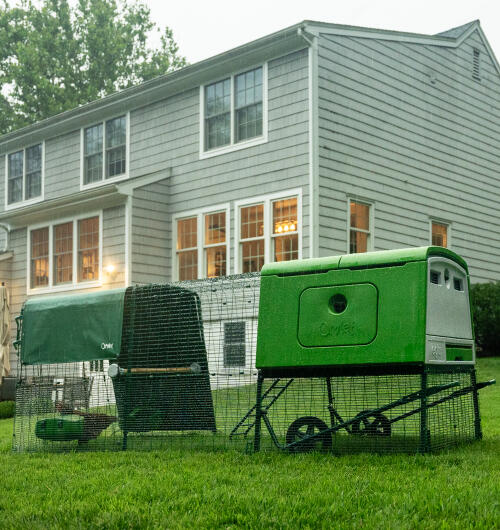 Wind, rain, sun and snow shouldn't stop play. That's why we've created the perfect set of tailor made run covers. Protect from chills in fall and winter with clear covers. Dark green shades will keep your flock cool in spring and summer. Whatever the weather, we've got you covered.
Can a coop last a lifetime?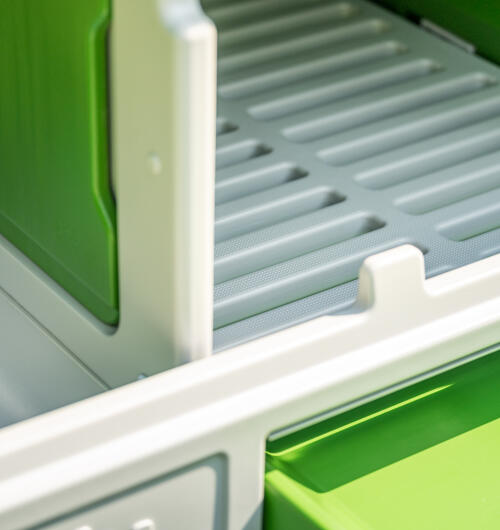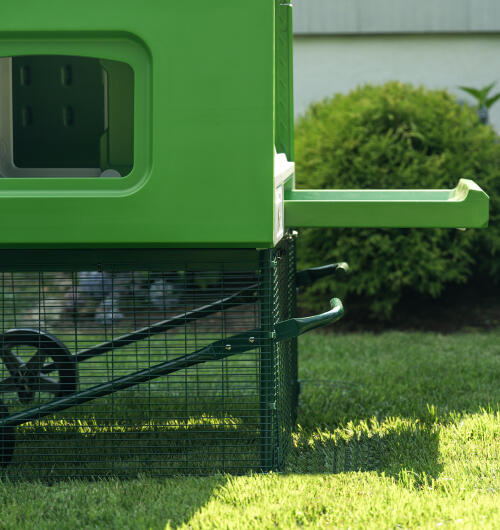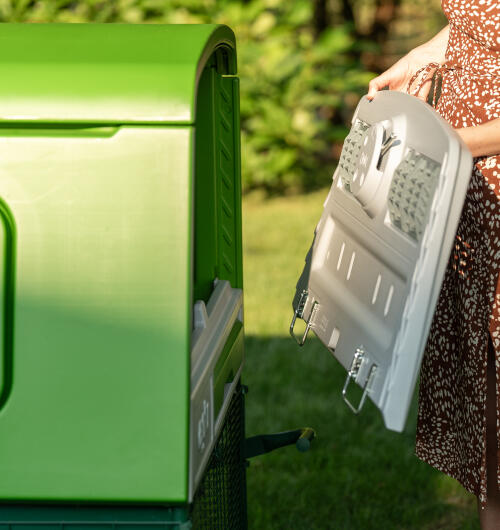 We're dedicated to making the most durable coops on the planet. If there's an issue with your Cube our 10 year warranty covers you for the unexpected. Unlike a wooden house, the Eglu Cube will never rot, need painting or get attacked by termites. And the modular design means any part can be replaced.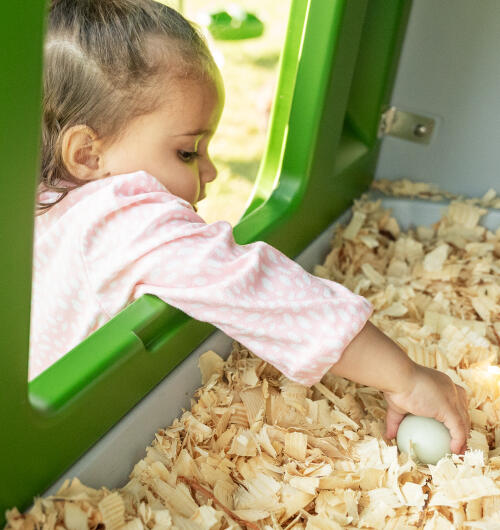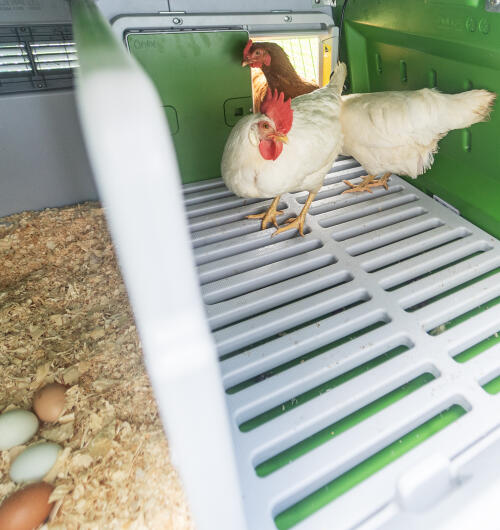 The Eglu Cube is perfect for flocks of up to 10 bantams, 8 medium breeds, or 6 large hens to enjoy.
Removable rear door for full-flock access

Deep nesting box for up to 3 hens to lay at a time

Eggport door for easy egg collection

Sliding nest box divider separates roosting and laying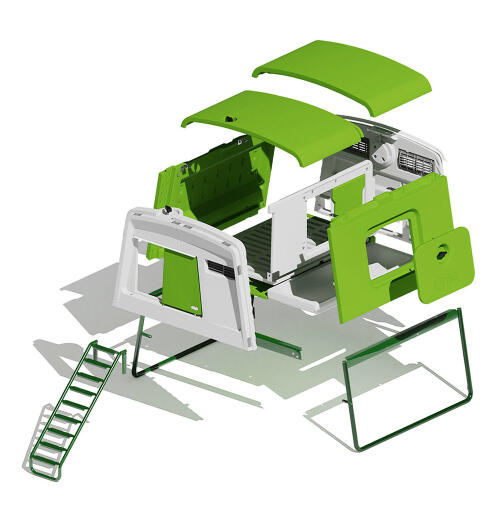 Step-by-step instructions and build-along videos will have you building like an engineer – no degree required.
Every Eglu Cube comes with a dishwasher-safe, color-coordinated feeder and drinker, and 10 specially designed Omlet egg cartons for sharing and storing.
All that's left to do is choose your chickens.
1

/
Frequently Asked Questions
How long will it take for my Eglu to arrive, and how long will it take me to build it?
Depending on what you have ordered and where you live, your Eglu Cube is normally with you within 3-4 working days of your estimated dispatch date. You will receive an email with tracking links once the order has been dispatched from our warehouse, and you can always track the order using the link in the confirmation email.
Once the coop has arrived, the house will take a couple of hours to assemble, and the run an additional hour or so, depending on which size run you have chosen. Your Eglu Cube comes with a comprehensive instruction manual that takes you through the assembly process, and you can also watch this step-by-step How to build video.
Is the Eglu predator proof?
The strong materials and thought out design of the Eglu Cube makes it extremely hard for predators to get to your pets.
From April 2023, the Eglu Cube has been updated and improved to be even more resistant to persistent predators like raccoons. The lower half of the run has a smaller mesh pitch, perfectly gauged to prevent raccoon hands from reaching in. All Eglu Cubes now also come with two-step push and twist door locks on the back door and egg port to stop nifty fingers opening the coop.
That being said, no coop is 100% predator proof. Check the coop and run regularly to make sure all features are working as intended, including latches, doors and run clips. If you live in an area with lots of predators, including wild cats, bears, coyotes and possums, as well as smaller animals like minks, weasels, snakes and rats, you might want to consider adding additional protection to the run.
Can I keep chickens in the Eglu Cube all year round?
The Eglu Cube has twin wall insulation that works in a similar way to a flask. The coop retains the heat produced by your chickens to keep them warm in winter, and stops the cold air from penetrating the walls. How warm it will be inside depends on how many chickens you have in the coop, and whether or not you have left the door open.
Similarly, the insulation will keep the coop cool in the heat. This, in combination with excellent draft-free ventilation that circulates fresh air throughout the house and the possibility to move the coop into a shaded spot in your backyard means the Cube will be a relaxing, cool space for your flock to return to on hot days.
If you live somewhere very cold, an Extreme Weather Cover is a great addition to add extra protection to your setup. The cover keeps the coop warmer for longer, and is especially useful if you're only keeping a few chickens in your Cube, as the body heat from huddling together in a larger group will help your hens stay warm during cold winter nights.
The metal chicken runs are designed to be used outdoors for years to come. However, we recommend that you check the run regularly for signs of corrosion, especially if you live somewhere with extreme weather conditions or close to the sea. Corrosion will occur if the coating has been scratched or scraped for example. If you do see some, remove any loose rust and touch up with a weather resistant paint. If you have covers on your run and experience heavy snowfall it's advised you clear the snow off the roof to avoid the panels being damaged from the weight.
Does the Eglu Cube have perches?
While the Eglu Cube doesn't have traditional wooden perches, it has specially designed roosting bars with a structured surface and rounded corners where the chickens will sleep comfortably at night.
Roosting bars allow the chickens to grip onto something while they sleep, which makes them feel safe and comfortable. As they climb up into the Cube to roost, they also get the reinforced feeling of being off the ground. Although they don't look like traditional wooden perches, roosting bars are great for larger breeds who find it tricky to jump up to a raised perch, or recently rescued hens who don't have the strength to flap, and the shape of the bars makes sure most of the droppings fall straight onto the removable tray underneath.
What size run should I get?
The size of run you need depends on how many chickens you have, what chickens you have (breed/size/personality), and how much they are allowed to roam free outside the run. Always aim to give your chickens as much space as you can, either by letting them free range in the garden or backyard or by getting a bigger Walk in run attached to the run of your coop. If you're not able to extend further, try moving the coop and run as often as possible or changing the soil or wood chips regularly. If you're having difficulty deciding what run size to get, feel free to contact our customer service team who will be happy to help!
Is the Eglu Cube suitable for chicks?
The Eglu Cube house is suitable for chicks over the age of 12 weeks. We recommend you remove the roosting bars from inside the coop until the chicks are big enough to perch and walk across the bars safely. The Eglu run is not suitable for chicks under the age of 12 weeks without supervision due to risk of escape and predators. Chicks may struggle with the ladder to begin with while they are small, so you may wish to lift them in and out of the coop yourself, or convert the ladder to a ramp. You should use plenty of bedding in the coop to keep the chicks warm, and change the bedding every few days.
What is the return policy and warranty for the Eglu Cube?
If for any reason you're unhappy with your Eglu Cube, you can return it to us for a full refund within 180 days if it's dismantled and packed up in boxes for a courier to collect.
Our worry-free warranty covers free repairs and replacement parts for up to 10 years of your Eglu's long life, should you experience any defects in the materials or workmanship.
Can I keep my run outside all year round?
The metal chicken runs are designed to be used outdoors for years to come. However, we recommend that you check the run regularly for signs of corrosion, especially if you live somewhere with extreme weather conditions or close to the sea. Corrosion will occur if the coating has been scratched or scraped for example. If you do see some, remove any loose rust and touch up with a weather resistant paint. If you have covers on your run and experience heavy snowfall it's advised you clear the snow off the roof to avoid the panels being damaged from the weight.
Where on the Eglu Cube can I place the Autodoor control panel?
If you buy your Eglu Cube with a run, the Autodoor comes with an integrated mounting bracket to fit the control panel on the mesh of the run. If you buy an Eglu Cube without a run, you will receive a different bracket, so that you can fit the control panel to the side of the Cube house. This bracket can be bought separately
here
.
Do chickens find it hard to climb the ladder?
Although it might take chickens a few days to get the hang of the ladder, the new and improved ladder grips make sure all chickens will soon have no trouble walking up and down it. If your chickens are having difficulties, or show no interest in using the ladder, place treats on the rungs to encourage them up into the coop.
Do I have to close the partition door at night?
The partition door can be closed at night if you have a hen who likes to frequent the nest box and make its messy. However, if this is not a problem for you and your hens stay on the roosting bars, the partition door can be kept open.
Do I need to add hay on the roosting bars or droppings tray?
You don't need to add hay to the roosting bars or droppings tray as they are super easy to wash clean without. However, you should place bedding in the nest box.
Can I place my Eglu Cube on uneven ground?
Yes, that won't be a problem. If you want to keep your chicken coop on a slope or in a particularly bumpy area of your garden, we would recommend fastening the run with the Omlet Screw Pegs. These are super easy to just twist into the lawn, thus removing any gaps under the skirt where chickens could possibly escape or predators could get in.
Can I use the Cube for my cats/rabbits?
We have not tested the Cube with cats or rabbits so cannot recommend how safe it will be for these pets. Certain features, such as the ladder for rabbits, won't be suitable.
Can I place the eggport door on the other side of the Cube?
The Eggport door is placed on the left side (when looking at the Cube from the rear door) and cannot be moved.
Do I need the handles to move my Eglu Cube?
No, you can move your Eglu Cube without the handles. However, if you have a run that is longer than 3 metres, or if you intend to move it by yourself most of the time, the handles will make it noticeably easier. Please note that the
Eglu Run Handles
don't come as standard and will have to be purchased separately.
Can I attach the Eglu Cube to a non-Omlet run?
That will be possible, but we do not provide any connection kits for this. If you want to connect your Eglu Cube (with or without run) to your chicken enclosure, we recommend speaking to a DIY specialist to make sure it's done safely.
Can you choose to put the run door in a different position?
The stable style run door will need to be placed at the end of the run. If you want easier access to other parts of the run, you can add a
Run Door Self Fit Kit
at various places on the run.
What is the Wheel Arm Track Guard?
The Wheel Arm Track Guard fits in the space where the wheel arm moves across to lock when you lift the coop to move it. The wheel arm goes through the comb-like guard, but it prevents any overly curious chickens to put their head through this space. The Wheel Arm Track Guard is included in all Eglu Cube and Eglu Go UP run boxes as standard from July 2021, and if you have an older coop you can buy it
here
.
Reviews from Chicken keepers

"The Eglu Cube chicken coop has revolutionized my chicken-keeping experience. Its durability, ease of cleaning, and the way it keeps my chickens safe is simply unbeatable. I can't imagine raising chickens without it!"

"Our Eglu survived Hurricane Ian. Our entire back yard was destroyed. The fence is a complete loss. Several large (30+ foot) pine trees fell down. But the Eglu did not have a single scratch."

"We are using the Eglu Cube and have been delightfully surprised with all of the automation and simplicity that it offers. Thanks Omlet for a great coop that was easy to put together in a couple hours that is maintenance-free!"
1

/
speak to an eglu cube ambassador near you
Omlet Ambassadors are customers turned product experts.
They can answer all your questions about the Eglu Cube chicken coop, and share their experience using it with their hens.
Find an ambassador near you
EGLU CUBE Size & Specs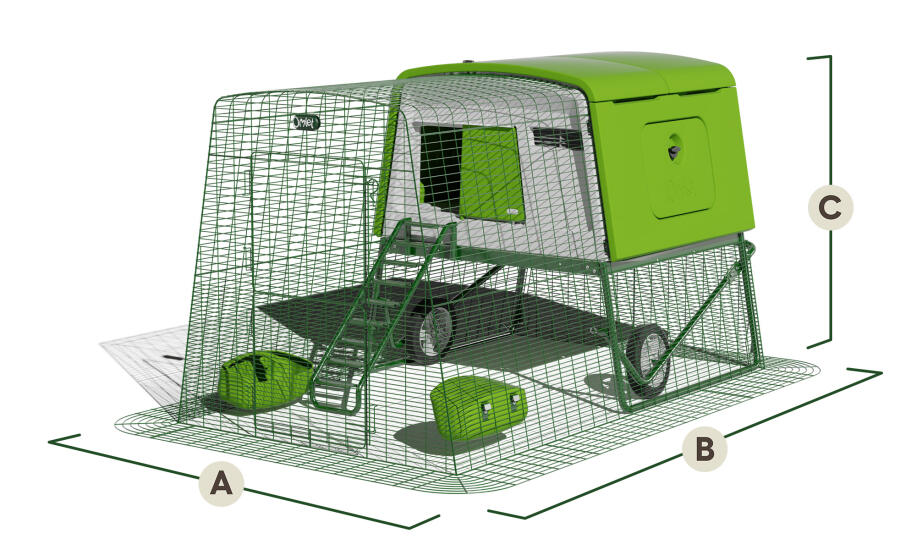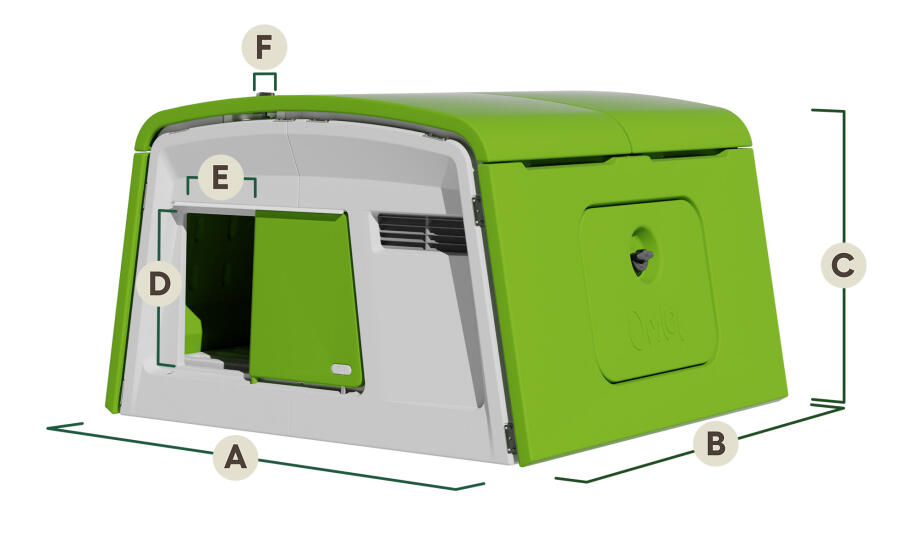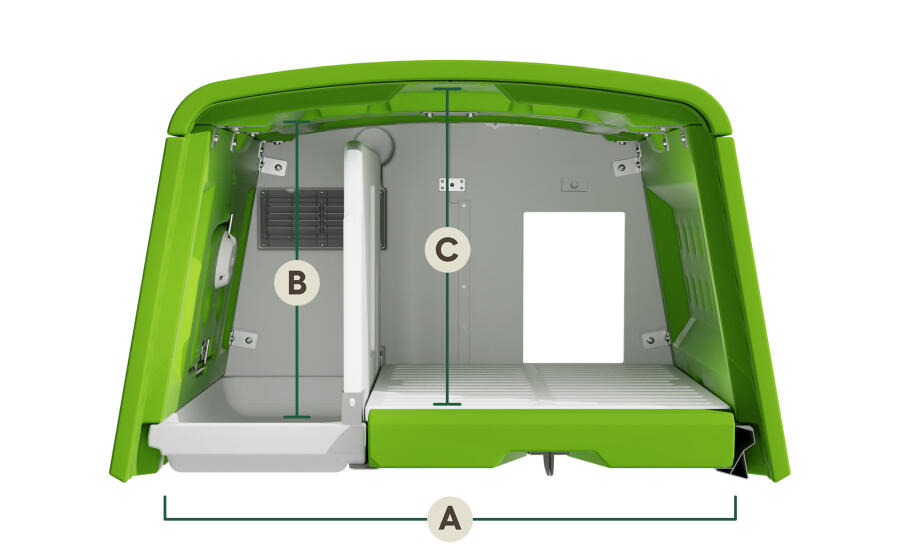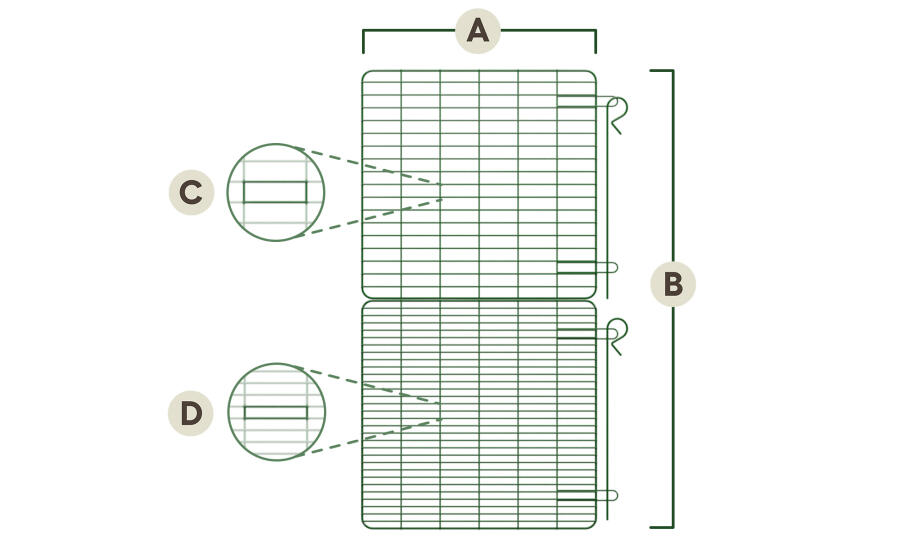 GOOD TO KNOW
When setting up your Eglu, you should allow 2 feet 11 inches of space at the back of the house to allow the droppings tray to slide out easily and 1 foot 11.6 inches at the front to allow you to open the run door.
Note: 3 feet of the run sits below the Eglu Cube house.
materials:
House: 100% Recyclable UV Stabilized Polyethylene, Powder-Coated Steel
Run: Double layer fully coated steel weld mesh
Bolts, Screws and Molded Inserts: Stainless Steel
Packaging Dimensions:
Box A House 1of2: 2'11'' x 1' x 2'1'' (41.2 lbs)
Box B House 2of2: 3'3'' x 1' x 2'1'' (53.3 lbs)
Box C Frame and Ladder: 3'2'' x 1'10'' x 4'' (28.4 lbs)
Box D Run: 3'2'' x 1'10'' x 3'' (39 lbs)
Box E Wheels: 3'1'' x 10'' x 4'' (11 lbs)
Box F Run Extension: 3'3'' x 1'9'' x 3.1'' (22.7 lbs)
Eglu Cube® - Large Chicken Coops with Runs
We moved our 6 Chantecler chicks into the large coop and 12 ft run. I'd say 4-5 chickens would probably fit more comfortably. If I could improve it I would make the wheels larger- our yard is bumpy and it can be difficult to move. I'd like the option to have an electric water bowl that attaches to the side for the winter months. Overall I'm happy with it and would purchase it again.
Review for:
Eglu Cube Chicken Coop with Run (12ft) and Wheels - Purple
After 9 months...Eglu Cube + 9' Run + 9'x12' Walk-in + Auto-door + Roosting Bars & Perches
Yes, I went all out. Solid products. Quality materials. Easy-to-clean coop. Reliable auto-door. Creative and adjustable perch/roosting bar kits. I doubted that 8 hens could sleep in the coop...and while it seems cramped and bedtime can get noisy, they make it work. Happy hens. Cons: 1. Complicated assembly. Be sure to follow instructions or you will be disassembling to hit a missed step. 2. Pricey!
Review for:
Eglu Cube Chicken Coop with Run (12ft) and Wheels - Purple
The reviewer has 6-8 Welsummer and Welsu pets
I did my research and I am very happy top of the line product
It came very quickly to my surprise it was exactly what they advertise I am very happy I had to do some adjustments due to the fact that the openings is a little bit wider for my territory now it's very heavy I can't move it as easy but I definitely recommend this
Review for:
Eglu Cube Chicken Coop with Run (12ft) and Wheels - Purple
The reviewer has 2-4 pets
Review after 9 months, Flock of 8 mid-sized hens: Eglu Cube + 6' Tractor Run + 9'x12' Walk-in Run
I know, I know - I went all in! But it doesn't stop there - The birds also enjoy a roosting complex of perches, we all like the reliable auto-door, the feeding/watering troughs that keep food/water mostly contained and clean easily, and the 3'x9' dark green tarp that provides shade and shelter. What can I say? We are fans. Impressed even. I have not had a hard attempt at encroachment on the enclosure, but a soft one or three have occurred; Raccoons, possums, cats, and multiple rat snakes. Nobody sweats the snakes though as they are welcome to the field mice! In fact, one juvenile snake currently lives under my house (on stilts) where the bird enclosure is. The last attempted incursion, a huge wild-looking cat, scared my 3-5 mutineers that had been sleeping out in the enclosure up on the perches for 2-3 months at that time. My set-up: Walk-in+Tractor Run+Coop (All attached, mostly under my house on stilts, rural setting, thick bayou forestland). Auto door between tractor run and walk-in enclosure. Full-time open door on the actual Cube coop. Roosting bar in the tractor run and roosting complex in the walk-in. Anyway, after the cat incident, all 8 are now in the Cube coop at night - Even through the worst of the heat wave we had this summer. They were and are comfortable and safe - 8 medium-sized hens (4 Welsummers and 4 Welsummer/Cream Leg Bar hybrids). IMO, the walk-in enclosure likely would NOT withstand a hard attack (as designed), but with some added/custom framing it would. However, the tractor run and coop are stout, which is the birds' secured area. All components are holding up well and performing perfectly, as advertised. Quality materials and manufacturing. My own custom connection between walk-in run+tractor run. Custom connection of auto-door to tractor run, lower, wire door space. Using hardware cloth & zip ties mostly. Top wire door to tractor run is still usable and accessible. Advice: Take your time with assembly and follow the instructions step by step. I will include pics when we can figure out why the ones just taken with my phone will not upload at the moment.
Review for:
Eglu Cube Chicken Coop with Run (12ft) and Wheels - Purple
The reviewer has 6-8 4 -Welsummer, 4- Wel pets
I bought this coop, because I already had the walk-in chicken run, but I had an old wooden bunnings coop that was just a pain to clean and was getting too small for my needs. This coop took all of 5-mins to clean and fits all my chooks. Took them a bit of time to get use to going up steps instead of a ramp though.
Review for:
Eglu Cube Chicken Coop - Green
Read more reviews