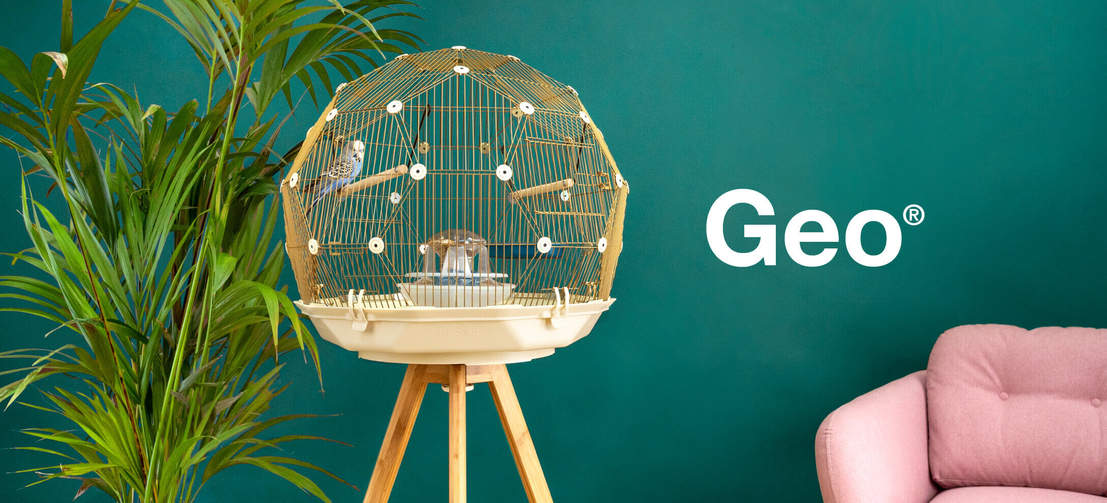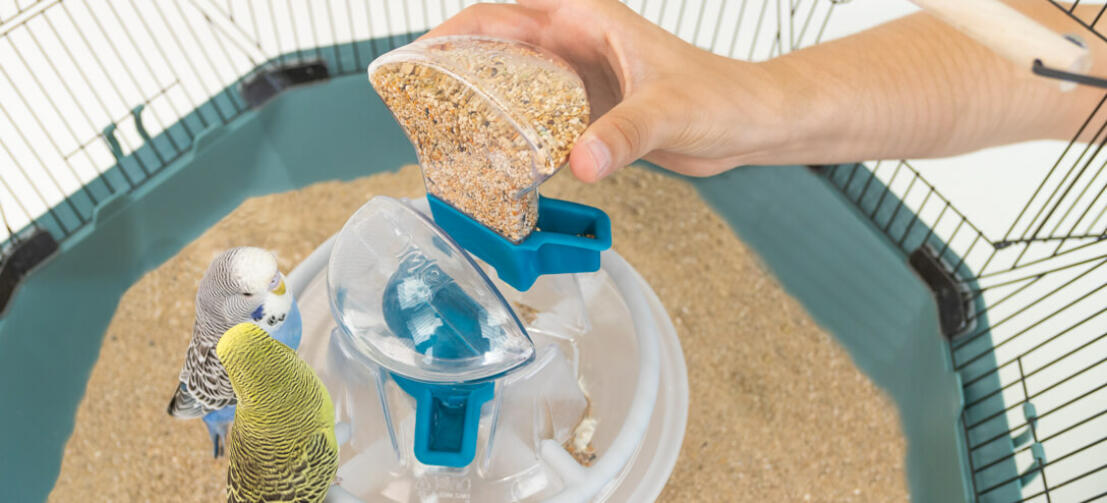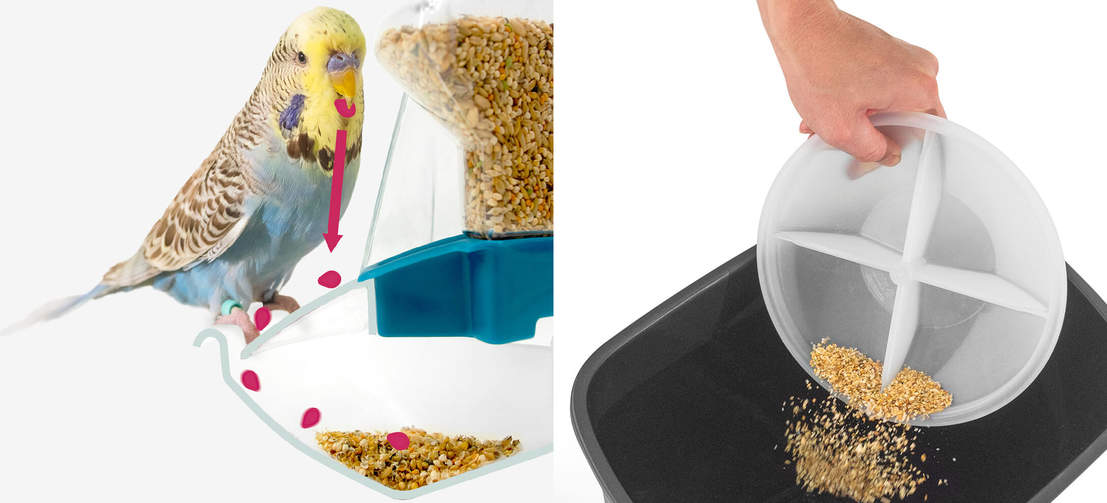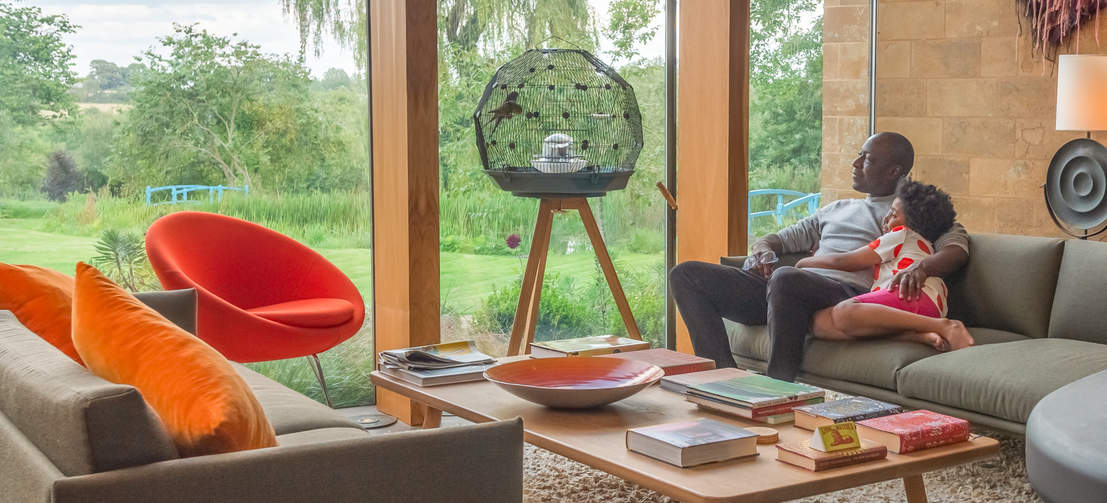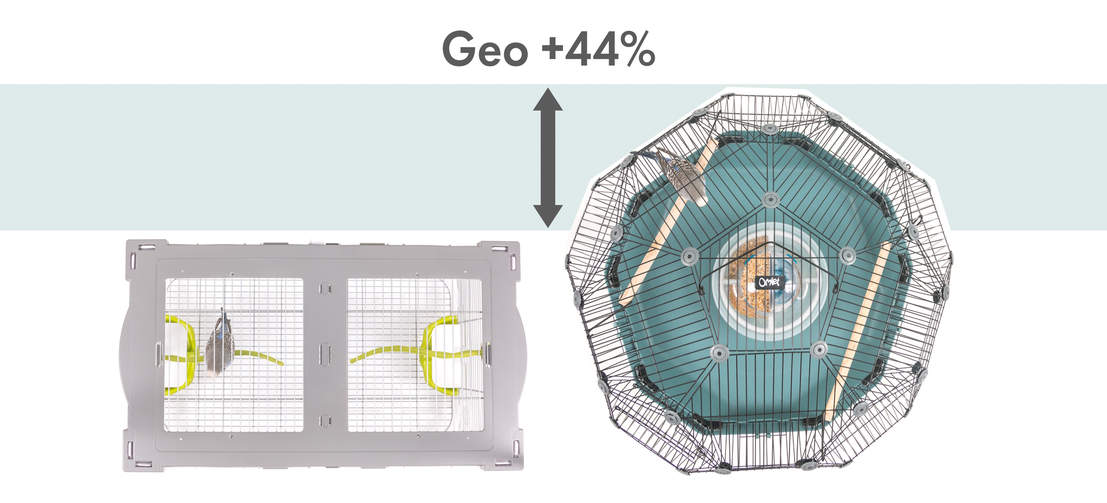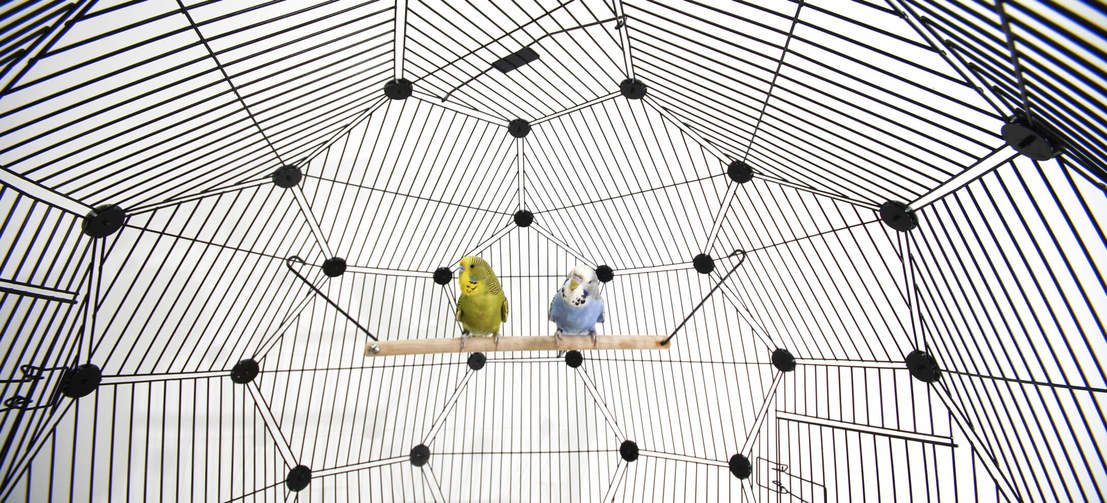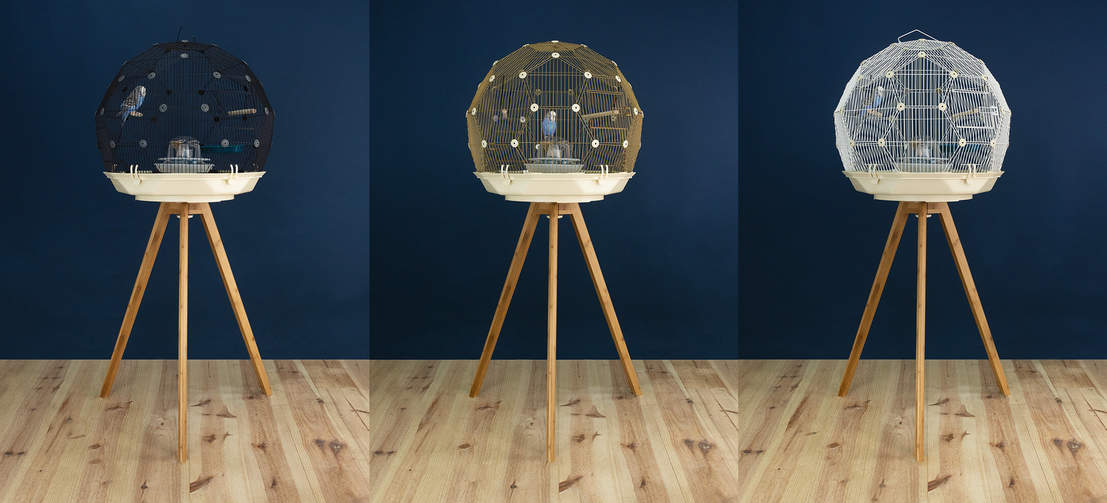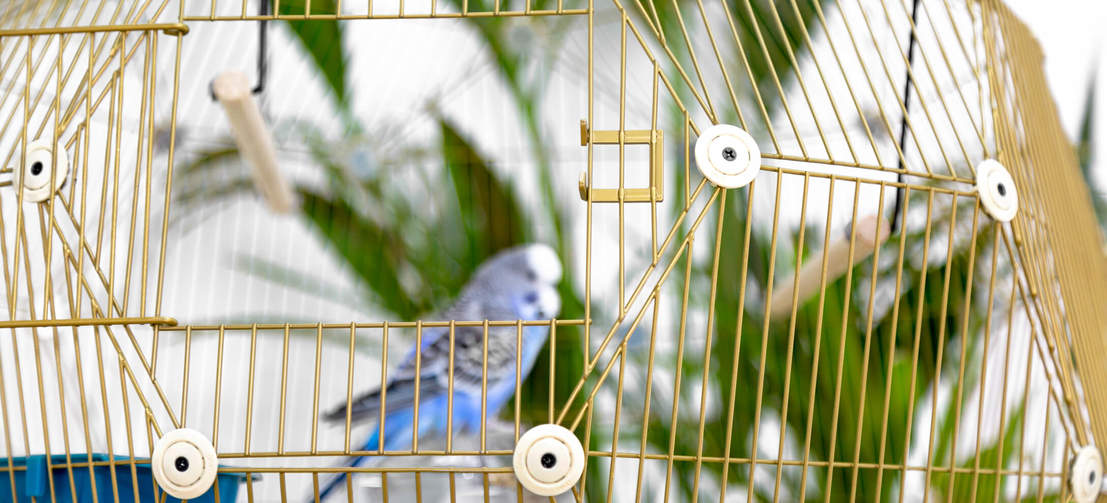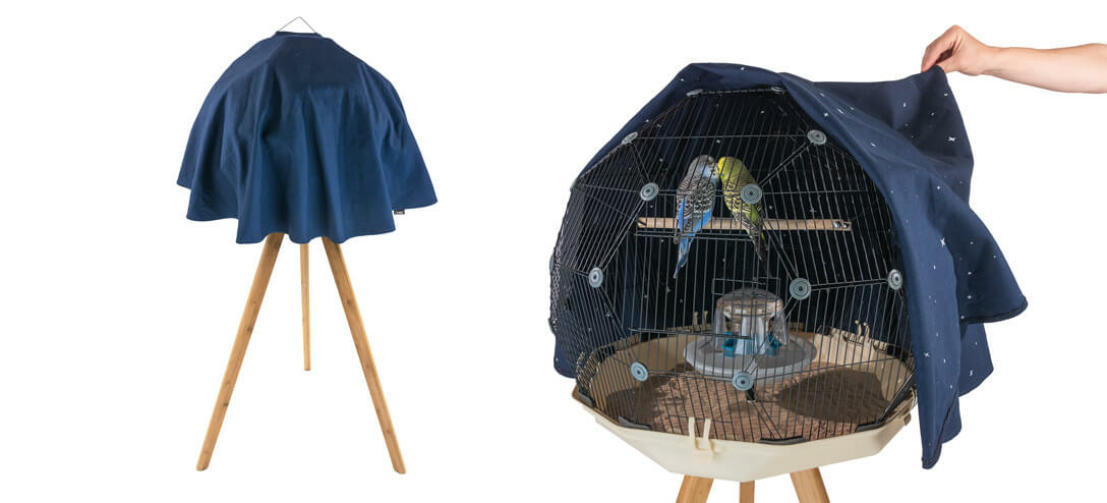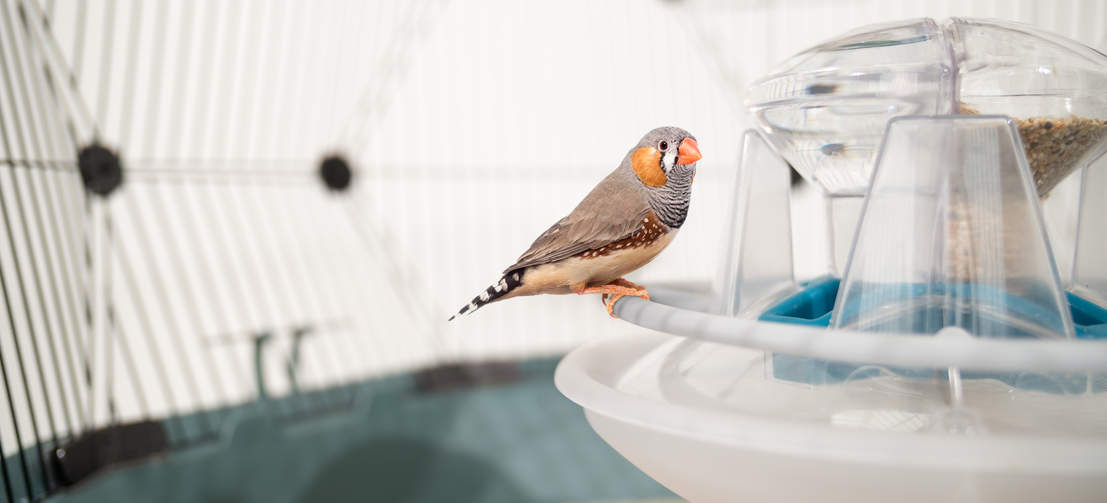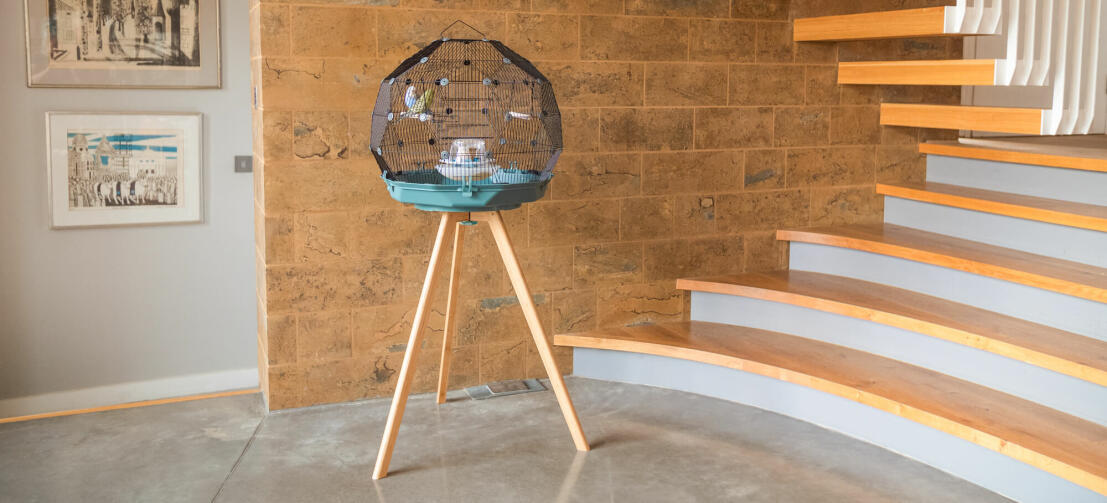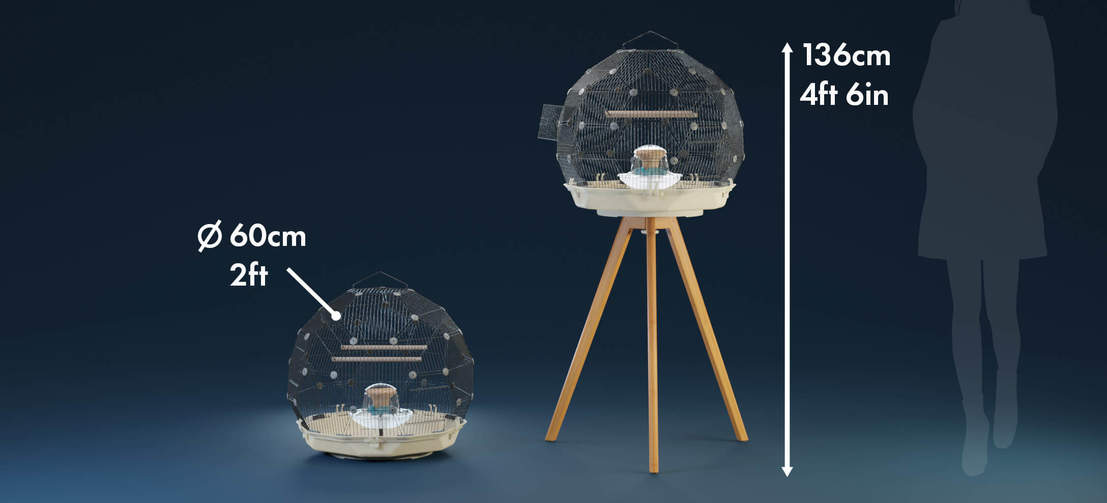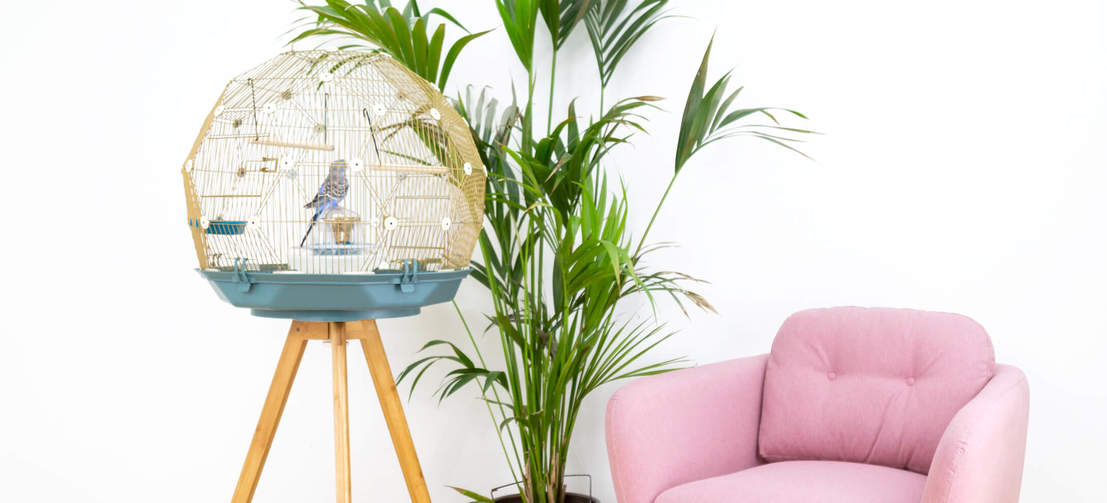 Geo Bird Cage for Parakeets, Finches and Canaries
The revolutionary Geo Bird Cage is a breathtaking, contemporary design that redefines what a pet bird's habitat can and should be!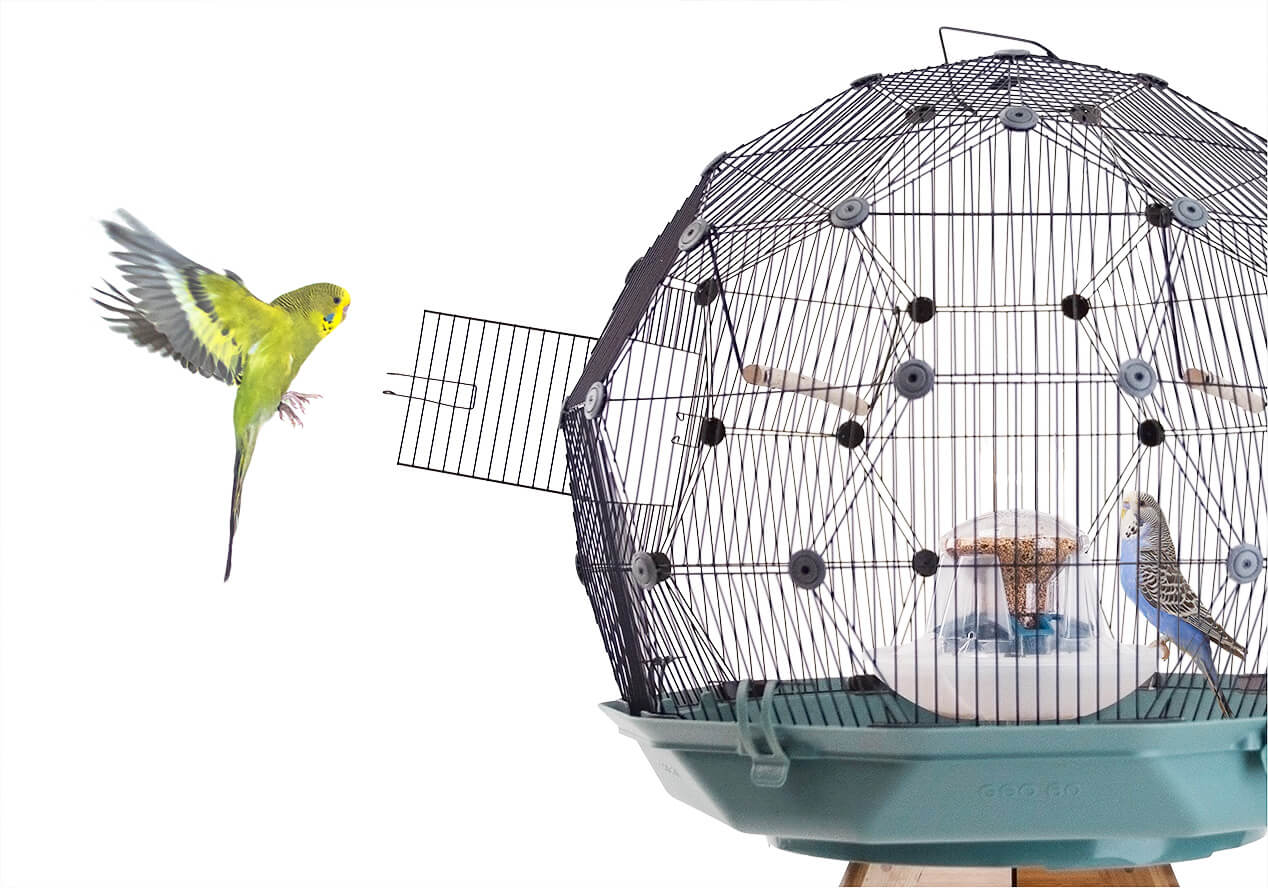 The Geo Bird Cage is a fascinating piece of design that redefines what a bird cage can be
Be Fascinated By The Geometric Bird Cage
The Geo bird cage is characterized by its striking geodesic design. Modern, mathematical and minimalist it creates a fascinating talking point in your home. It looks great in any setting: living room or conservatory is brought to life by the Geometric Bird Cage.
Benefits of the Geo Bird Cage:
Unique shape offers more flight space than traditional parakeet cages.
Suitable for all small birds: including parakeets, finches, and canaries.
Timeless design complements any interior.
'No-Spill' feeder and drinker keep the cage clean and organized.
Customizable with a choice of base and mesh colors, as well as beautifully designed stands.
Two perches, feeder, and drinker included as standard.
Beautifully designed constellation night cover also available.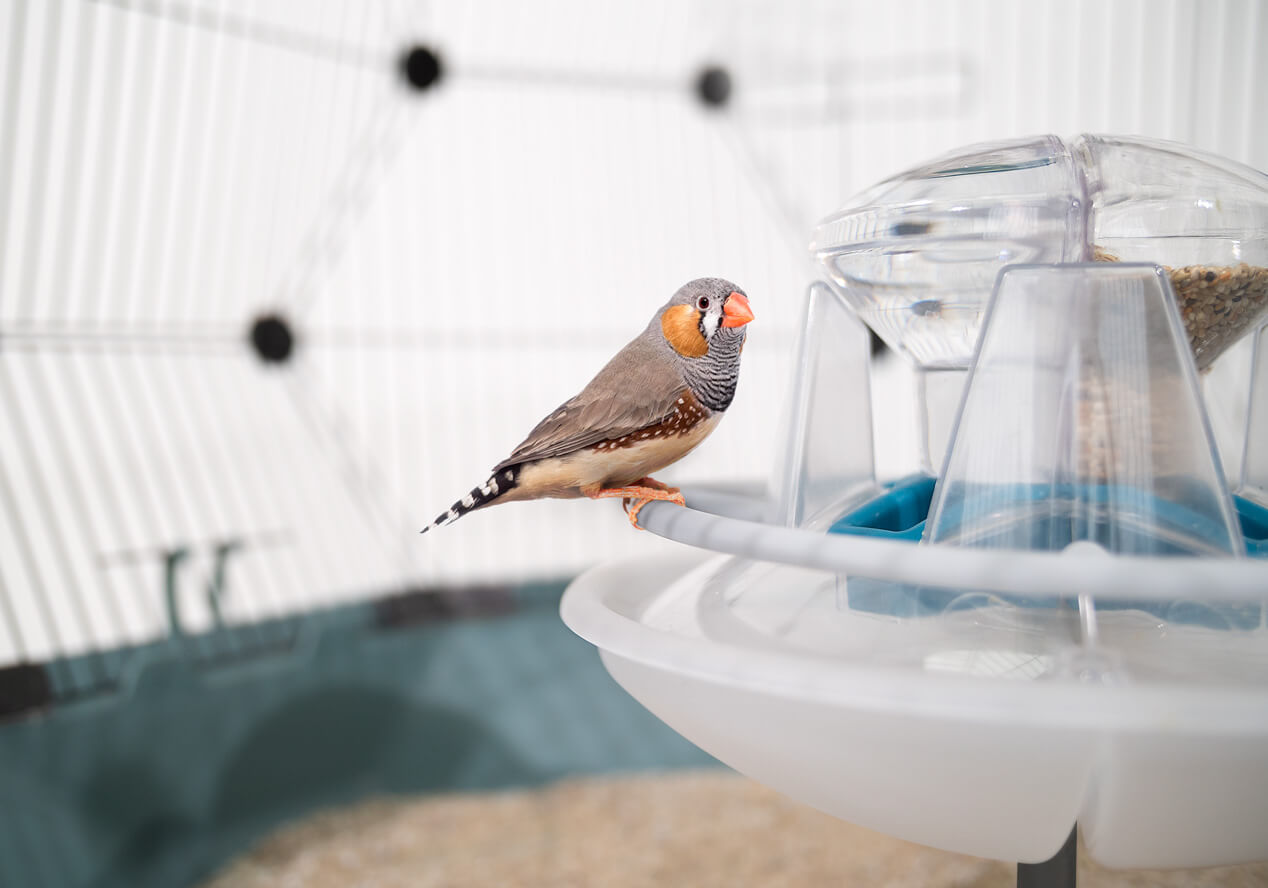 The central food and water station features a removable perching ring for smaller birds such as finches
Beautifully Integrated Feeder And Drinker
Birds like parakeets, finches, and canaries like to feed and drink throughout the day. In the Geo Bird Cage the generous food and water containers are placed centrally. A sculptural object in its own right, watching your birds feeding and drinking becomes a real joy. Refilling your birds' food and water is quick and easy; simply lift the compartments out of the cage. In addition, the Geo comes with a finch ring which can be removed if using with larger birds, like parakeets.
"Bird cages are usually dull but the Geo is so different! The tripod stand is elegant and has the advantage of a small footprint and my birds have settled in immediately!"
Innovative 'No Spill' Bird Feeder
When parakeets and other birds eat they cleverly peel the husk away from seeds with their beaks. The husk is then discarded by the birds and in a normal cage it will be blown out when the birds fly and land on the floor. The Geo Bird Cage solves this problem with a clever feeder that securely catches husks and seeds as they fall, meaning your bird cage stays clean and organized and your home does too! It is very satisfying to empty the collected husks when you give your Geo Bird Cage its weekly clean.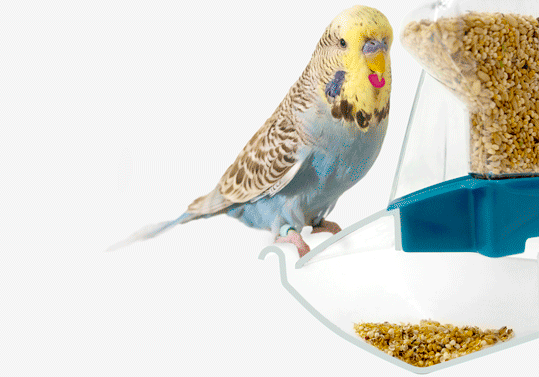 Spillages that occur during feeding are contained within the lower compartment of the feeder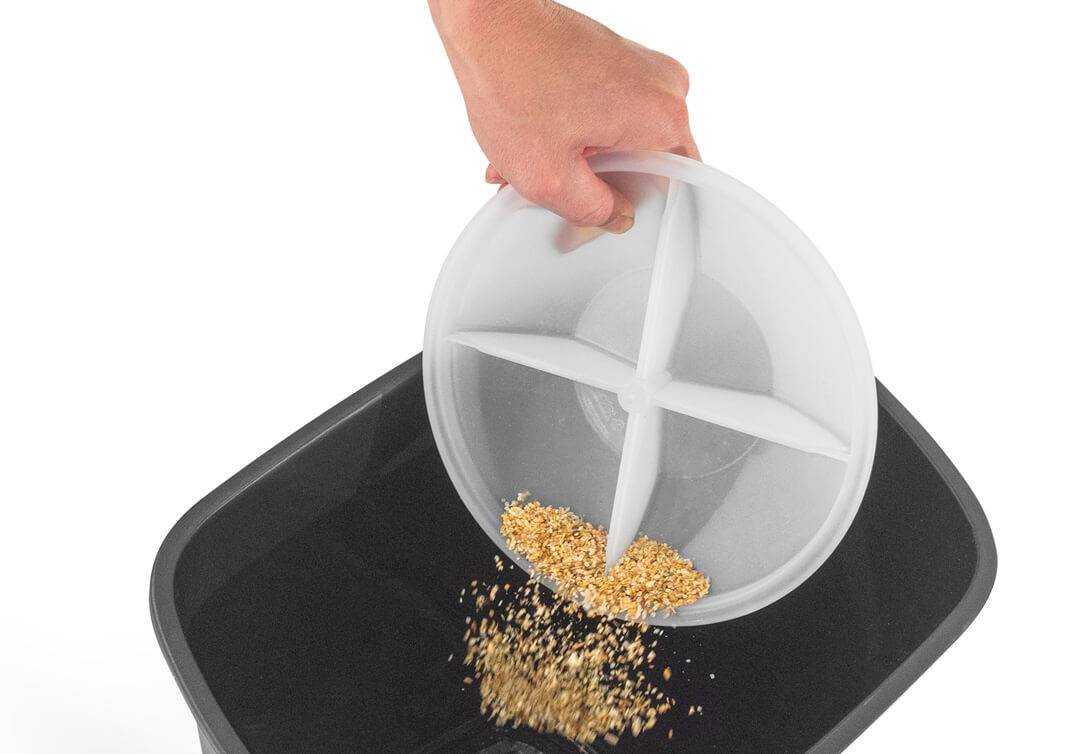 The husks can neatly be disposed of while the bird cage remains clean and organized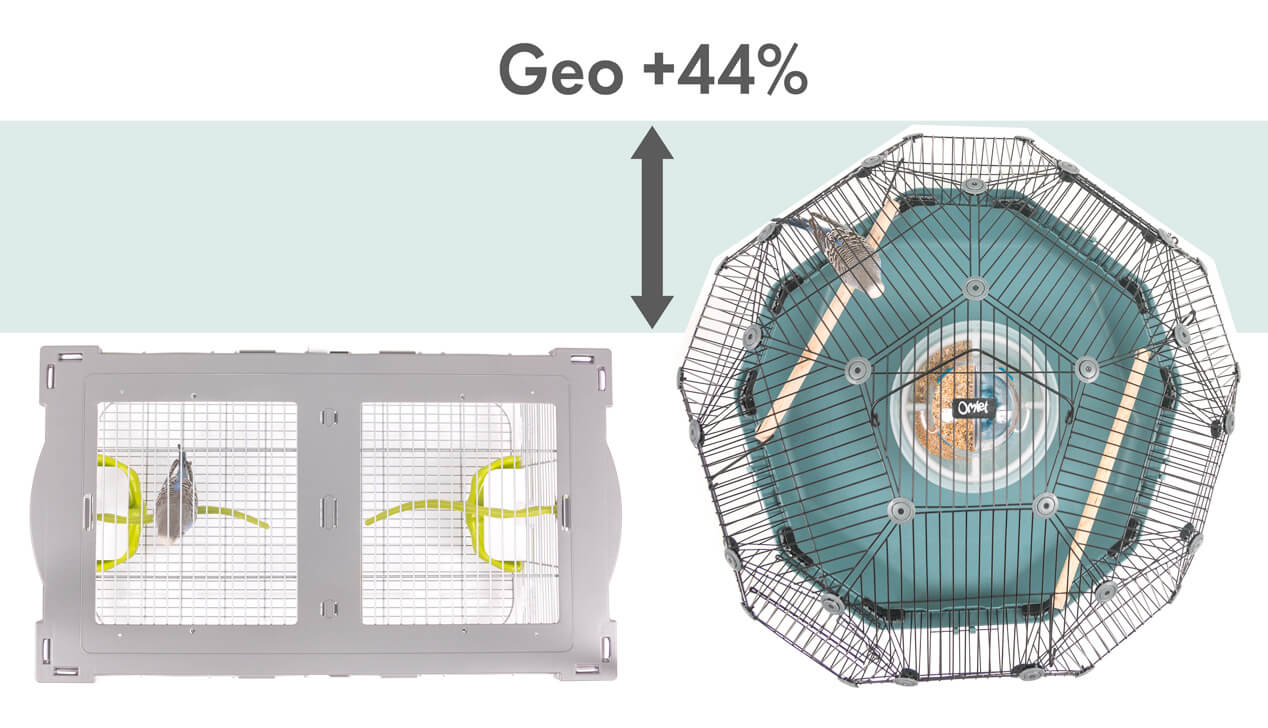 The geodesic cage offers more space than a traditional bird cage of comparable width
More Spacious Than Other Bird Cages
The Geo gives your pet parakeets, canaries, and finches space to fly in all directions. Many traditional cages are shallow front-to-back giving birds only one direction in which to fly. In contrast, the geodesic shape has no such limiting dimension, which means your birds can exercise in any direction. The Geo Bird Cage is comfortably large enough for two birds and the wire spacing is suitable for all kinds of small birds so it can be enjoyed by parakeets, finches, and canaries.
"The geodesic shape is not just beautiful to look at - it provides your birds with space to exercise in all directions."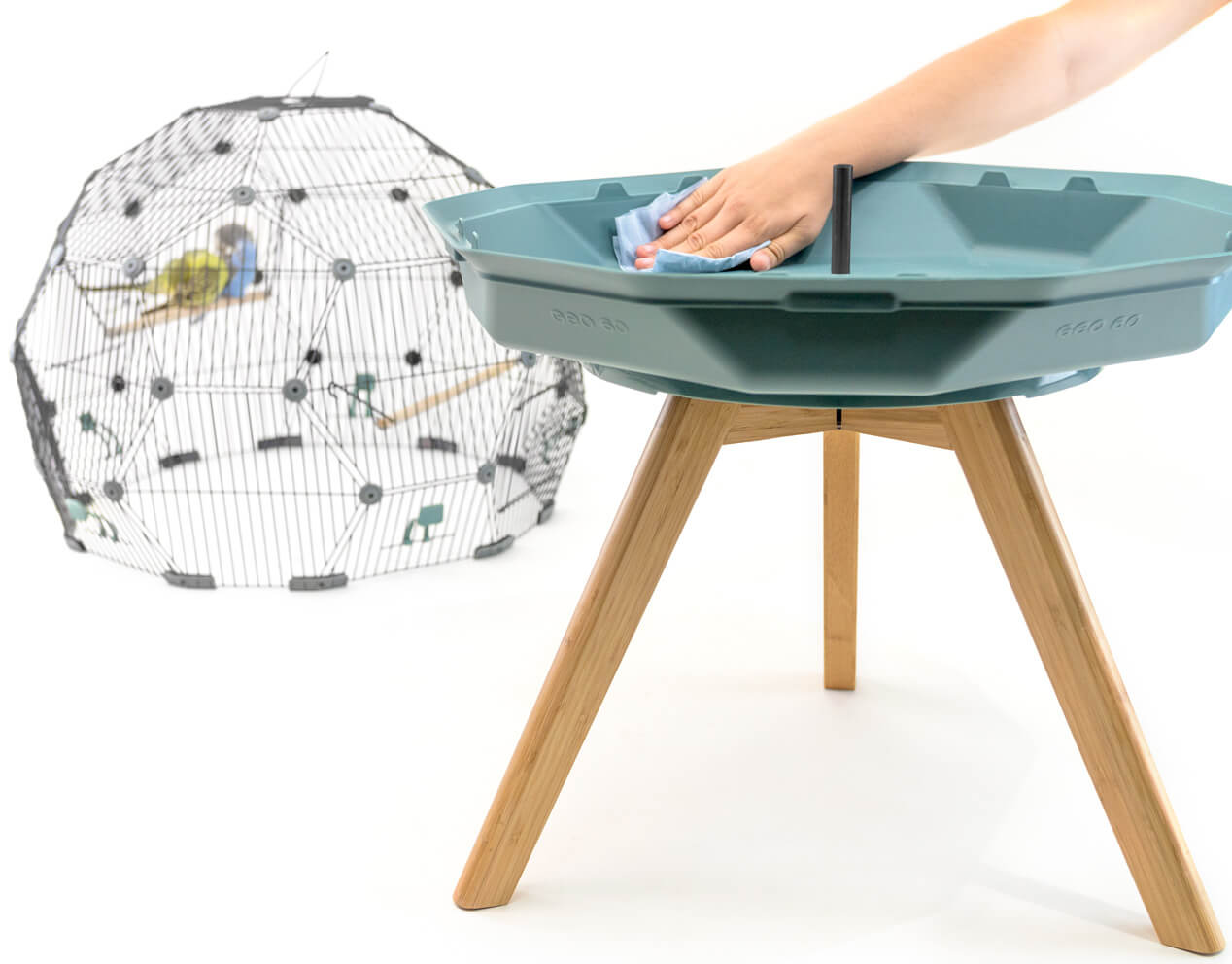 The Geo Parakeet Cage is incredibly practical and only takes a moment to clean
Low Maintenance And Easy To Clean
Due to its practical design features, including the no-spill feeder and paper liners, the Geo is an incredibly low maintenance bird cage. When it is time for a clean you can simply detach the whole cage from the base using the five clips, which conveniently stay in the open position on the cage.
You can use paper liners, sand, or both in the base of the Geo. The base is made of hard wearing, wipe clean plastic. The Geo Bird Cage comes with a complimentary pack of 10 paper liners. After refreshing the cage you simply reattach the cage to the base, and in just a few minutes your Geo is now clean, fresh, and ready to go!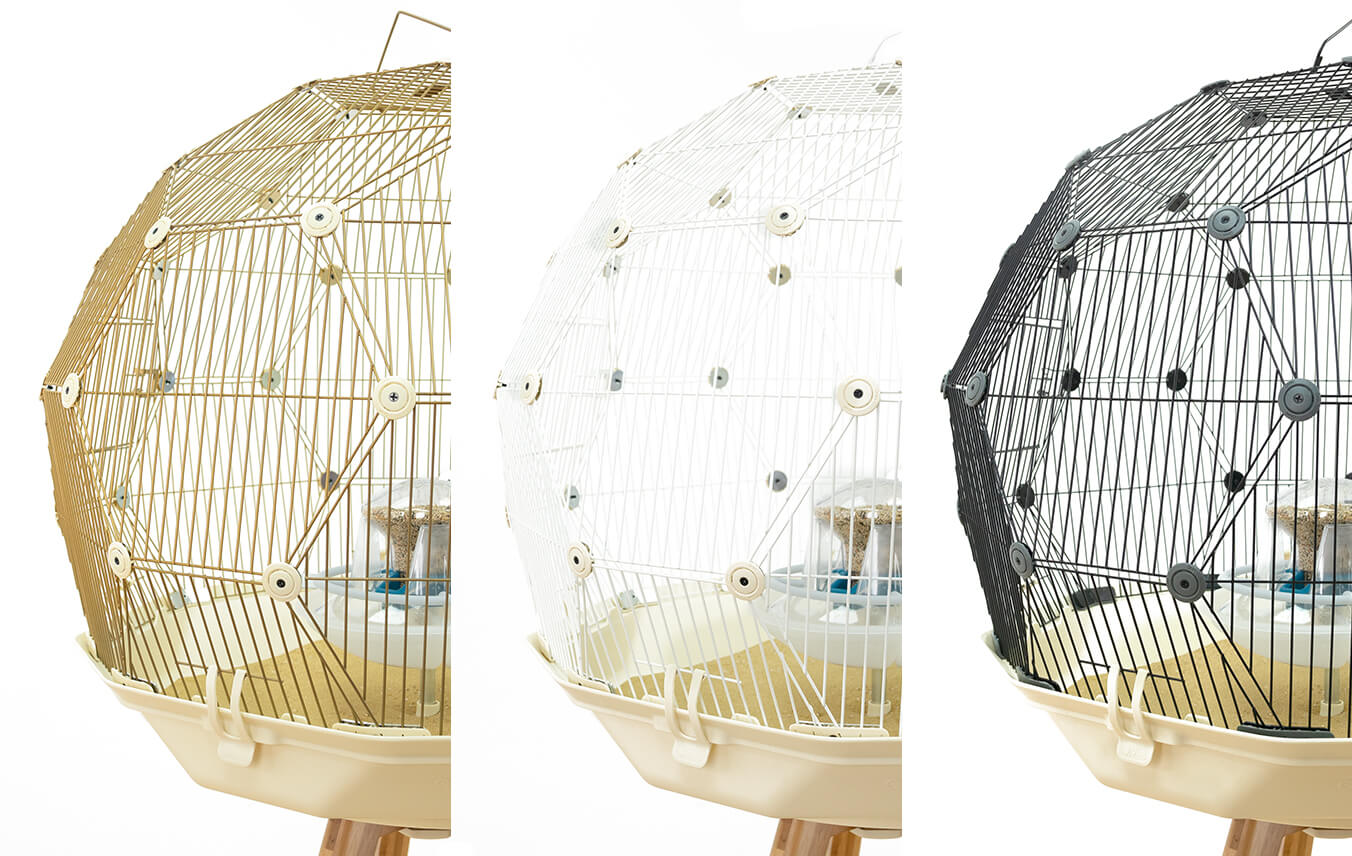 Available in gold, white, or black mesh
Available In Gold, White, Or Black Mesh
For the mesh you can choose between classic, smooth black, a subtle white that will blend into your home interior, or a stylish and modern gold color that will compliment the beauty of your birds perfectly.
A Choice Of Fantastic Colors
The Geo Parakeet Cage base is available in two sophisticated colors chosen to complement your home. The cream base will suit any interior color scheme and seamlessly blend into your home, while the teal base offers a pop of color, to match your birds, which is perfect for a fun family room or kids bedroom.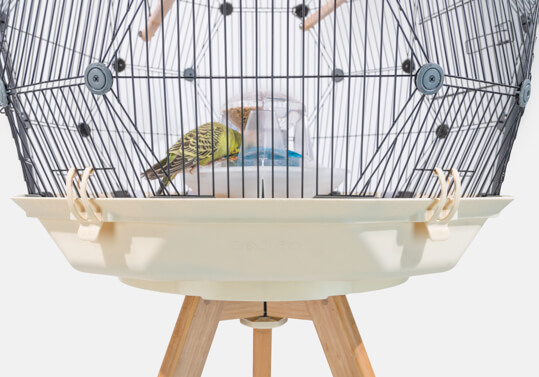 The Geo Bird Cage with a
cream
base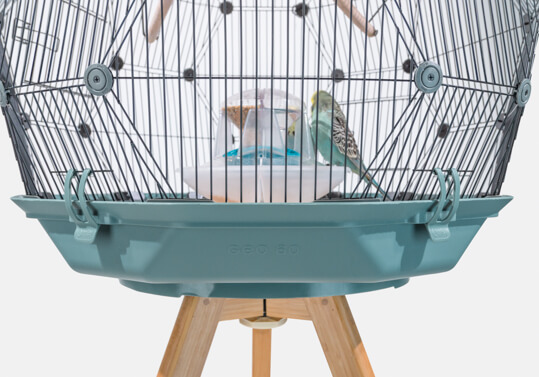 The Geo Bird Cage with a
teal
base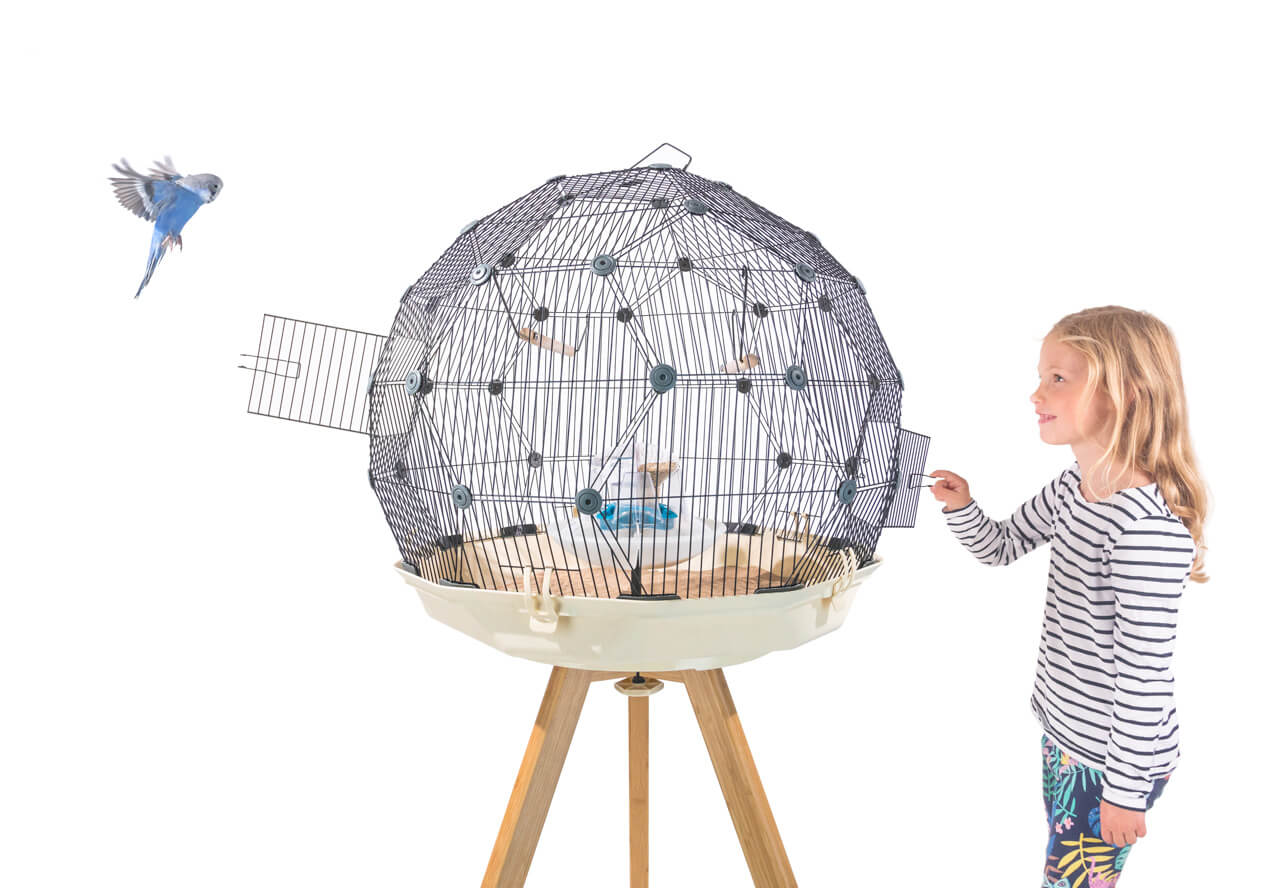 You can position the two doors of the Geo Parakeet Cage to suit your requirements
Two Doors For All Around Access
While most bird cages feature a single door, with the Geo Bird Cage you get two doors for better access to your birds. Thanks to the geodesic design, you can position the doors in multiple positions to suit your requirements.
Once your parakeet have had time to get used to their new home, you can of course also let them out for flying time outside the Geo. Removing the cage top and waiting for them to return to the feeder is an easy way of rehousing them.
"The base tray and feeder are all so easy to clean which makes it much easier for my grandmother to maintain. She really is loving having the parakeet , whistling and singing along with it!"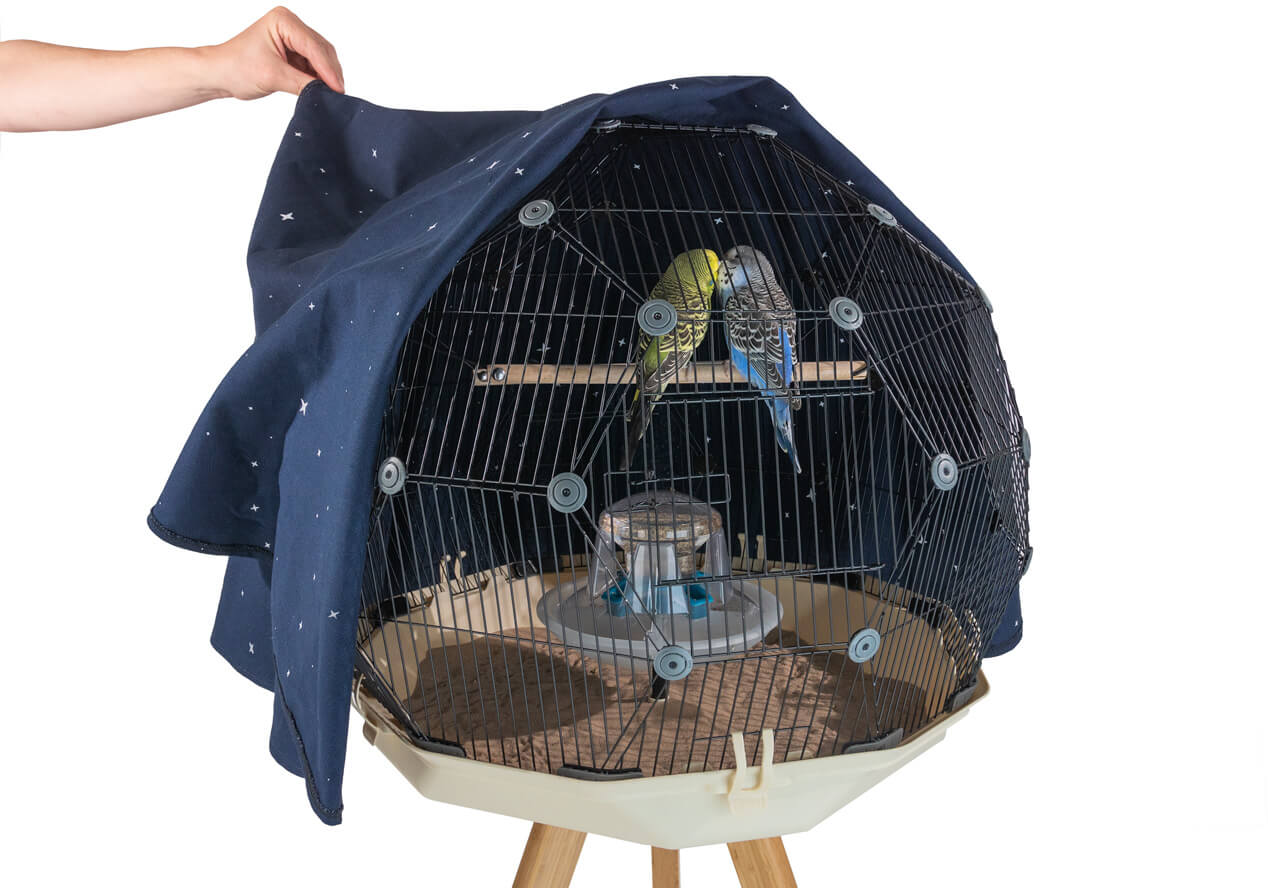 Your birds will sleep under a blanket of stars with the Geo Constellation Cover
Beautifully Designed Night Cover
A bird cage cover with a difference. The Constellation Geo Cover is decorated on the inside with a map of the stars so your parakeet can enjoy the wonder of the night sky from the tranquility of their perch. Simply place the cover over the Geo when it is bedtime for your parakeet and they can try to spot Orion, Ursa Major, and maybe even a shooting star before they nod off to sleep!
Easy To Fill Feeder And Drinker
The food and water containers locate into the central unit without any clips making removing them as simple as can be. Each container has two cups so that your birds can eat at the same time. The circular design of the food and water station is ideal for parakeets, finches, and canaries to fly to and perch on from anywhere in the cage. The feeder holds approximately 4.2 ounces of bird seed while the water compartment has a capacity of 5.9 fluid ounces.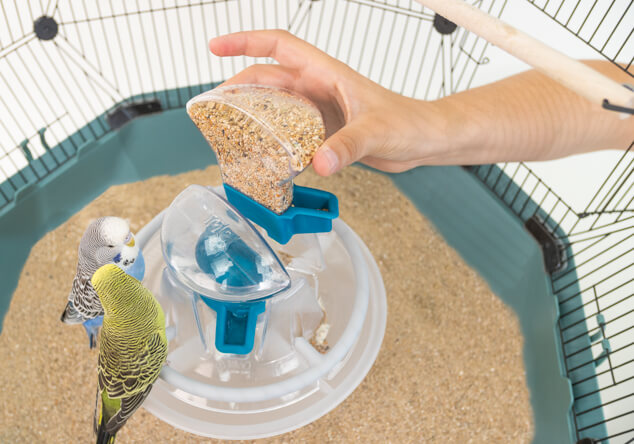 Simply lift the food and water compartments out of the cage for easy refilling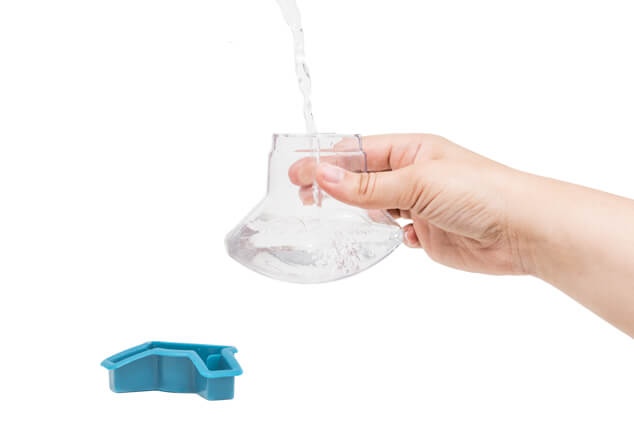 The water compartment is completely enclosed to ensure that your bird's water stays clean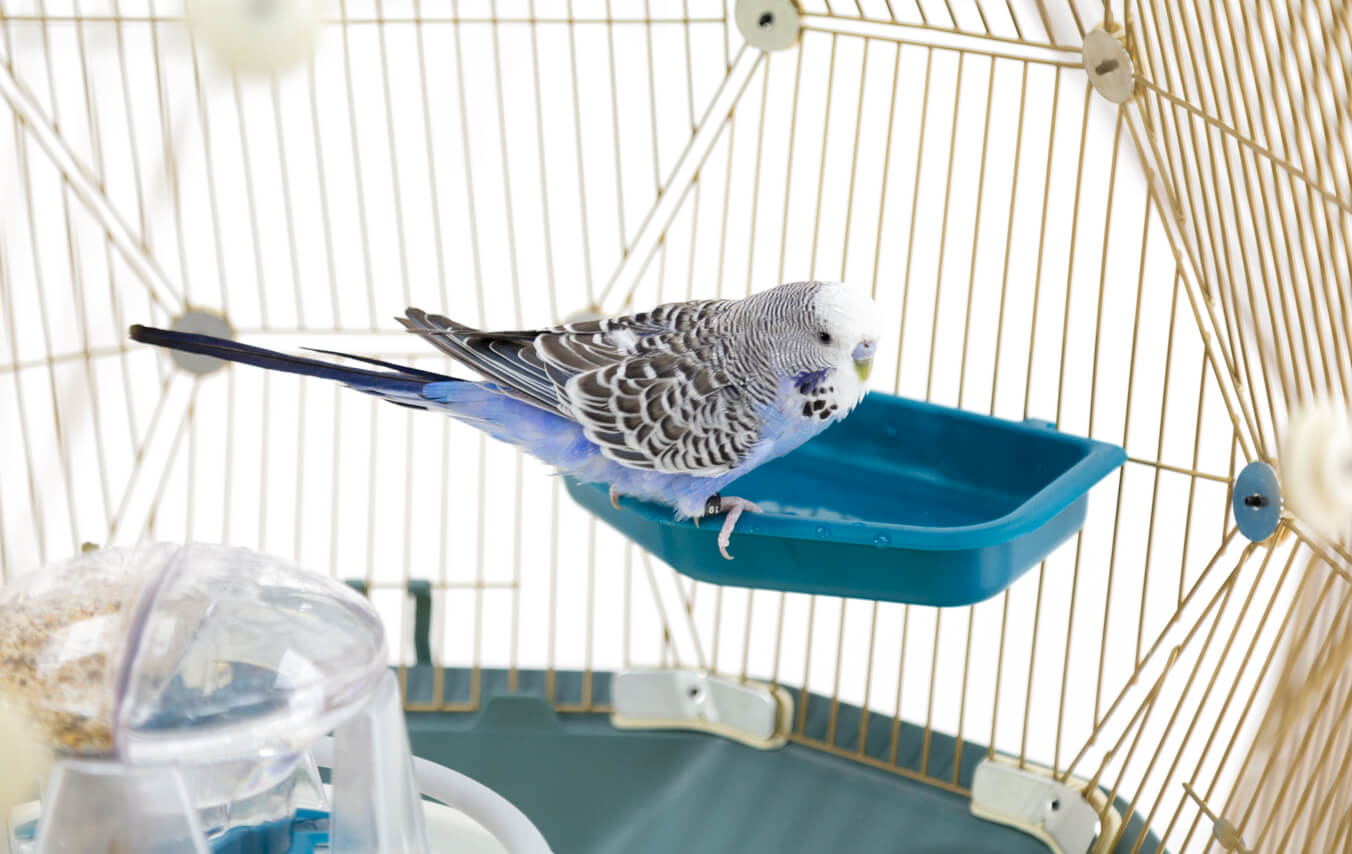 Bathing is an essential part of plumage maintenance for birds
New Geo Bird bath
The Geo bird bath has been custom designed for the angled sides of the Geo Bird Cage. Two hooks secure it in place and it is super quick and easy to install and remove so you can keep the bath fresh and clean for your pets.
You can keep the bird bath on the inside of the cage at all times, or remove it once the birds have finished their washing routine for the day.
You can also use the container as a practical drinker or feeder, ideal for yummy greens or other larger treats.
The bath comes in a striking blue color, perfectly matching the central feeder and drinker station of the Geo Bird Cage.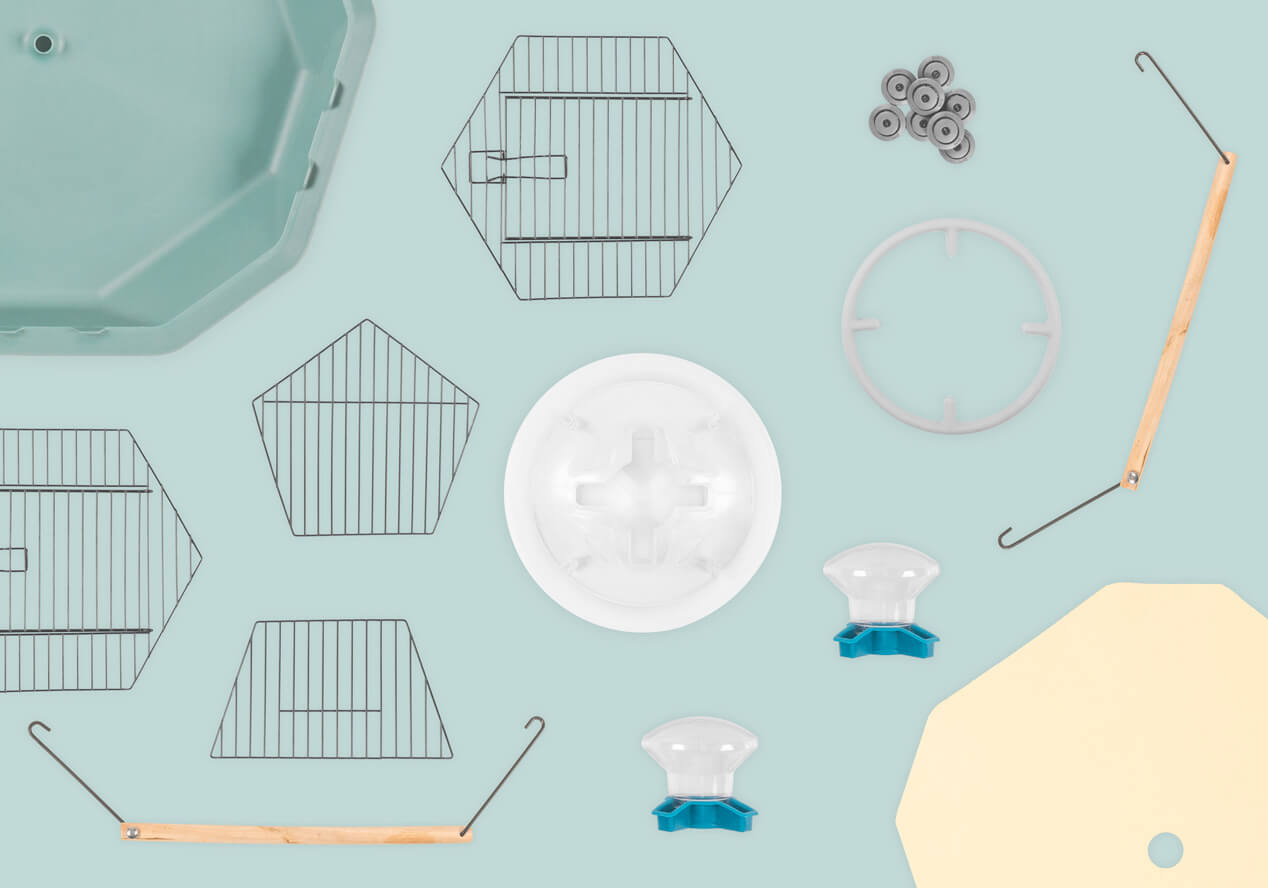 The Geo comes complete with accessories including two perches and a pack of disposable bird cage liners
Free Bird Cage Accessories
The Geo comes complete with two perches for your birds to enjoy, the innovative feeder and drinker assembly and finch ring as standard. The perches simply hook to the mesh of the cage and can be positioned (and re-positioned) to your choosing. You will also receive a free pack of 10 paper liners to make cleaning quick and easy.
Geo Maximum Product Dimensions:
Geo Bird Cage: 24.4in (H) x 23in (W) x 23in (D)
Geo Bird Cage with High Stand: 53.5in (H) x 28.3in (W) x 28.3in (D)
Geo Packaging Dimensions:
Boxed Geo Bird Cage: 25.6in x 24.2in x 7.9in / 13.2lbs
Boxed Geo Bird Cage Stand High: 38.2in x 8.1in x 2.5in / 4.3lbs
Geo Product Materials:
Bird Cage Mesh: Coated Mild Steel Wire
Perches: Pine, Mild Steel Wire
Disposable Cage Liners: Paper
Bird Cage Stand: Bamboo
Bird Cage Cover: 100% Cotton
Geo Bird Cage for Parakeets, Finches and Canaries
This my second bird cage from Omlet. I liked the first one so much I replaced my birds second cage with another Omlet cage. They are easy to clean
Review for:
Geo Bird Cage - Cream and Black
The reviewer has 1 Indian Ringneck Bird pets
Wow love this cage. It's roomy, design of cage a conversation piece and our bird loves flying in it. Easy to clean & so fun to see Bud enjoying it
Review for:
Geo Bird Cage - Cream and Black
The reviewer has 1 Parakeet pets
I definitely recommend this cage with stand. Good quality, easy assembly and modern style. We are happy bought this product.
Review for:
Geo Bird Cage Stand - Full Height
The reviewer has 2-4 pets
Well worth buying the stand as well
Review for:
Geo Bird Cage Stand - Full Height
The reviewer has 1 Budgie pets
I bought the geo cage without the stand and then decided I needed the stand. This stand make the puts the cage at the perfect level to see my bird. Easy to assemble I get so many compliments on the cage and stand. If you are going to buy the cage then get the stand at the same time to avoid shipping charges. I love it
Review for:
Geo Bird Cage Stand - Full Height
The reviewer has 1 Budgie pets
Read more reviews