Omlet Chicken Fencing
The Omlet Chicken Fencing is a simple and practical way of giving your chickens more space. Adjustable and tangle-free with added height it keeps your chickens within a designated area of your garden.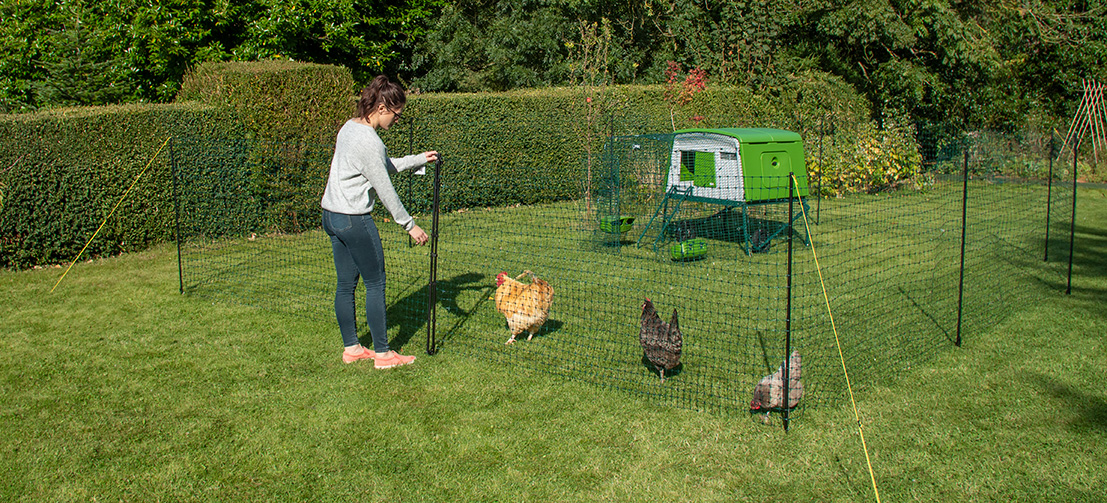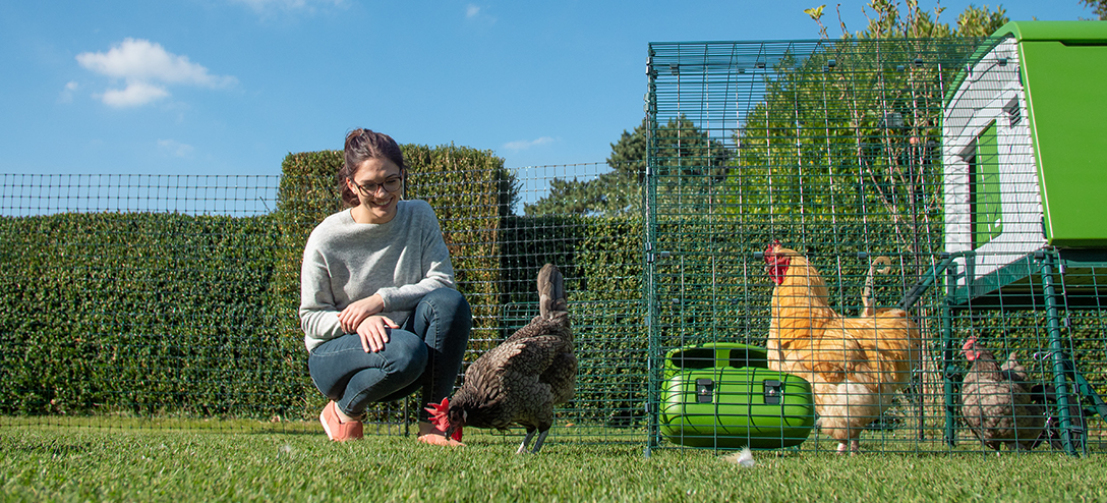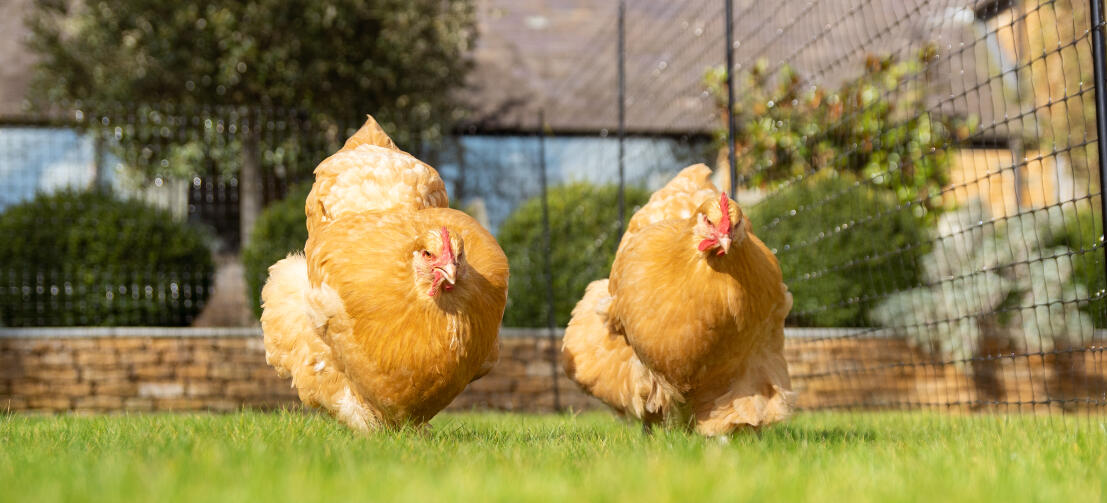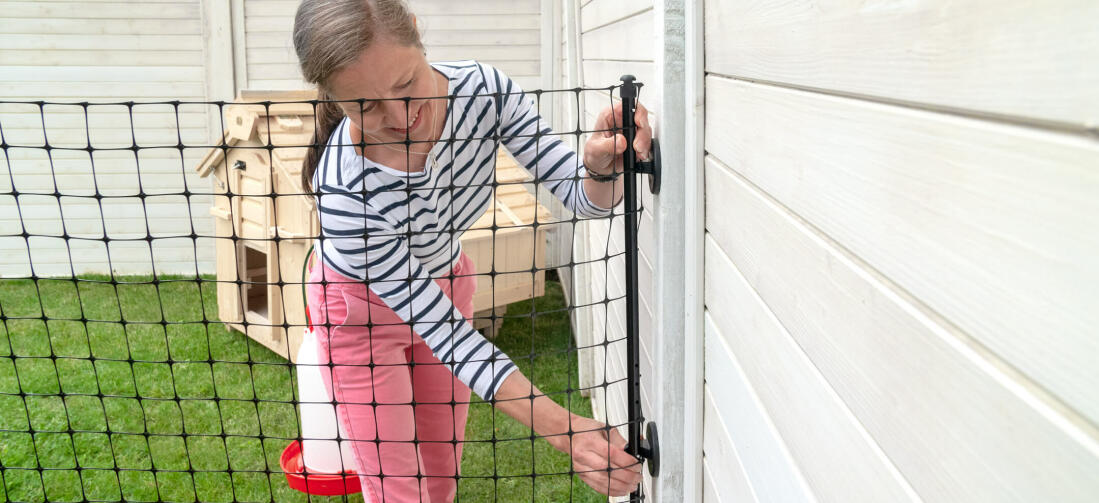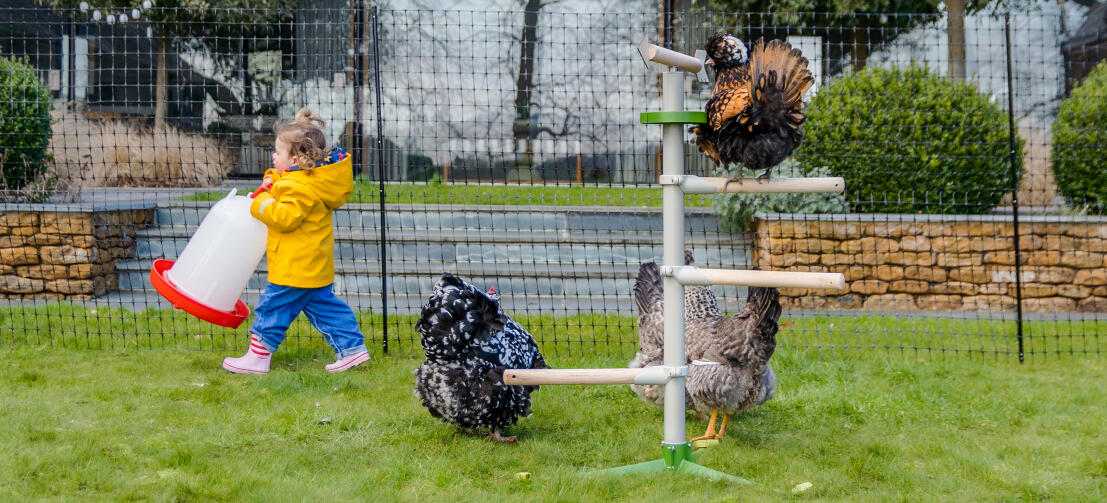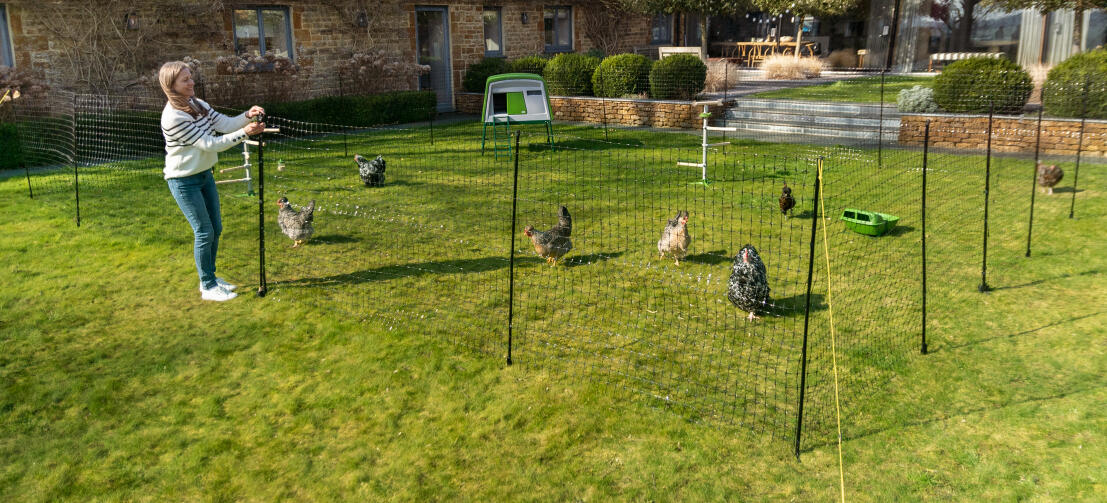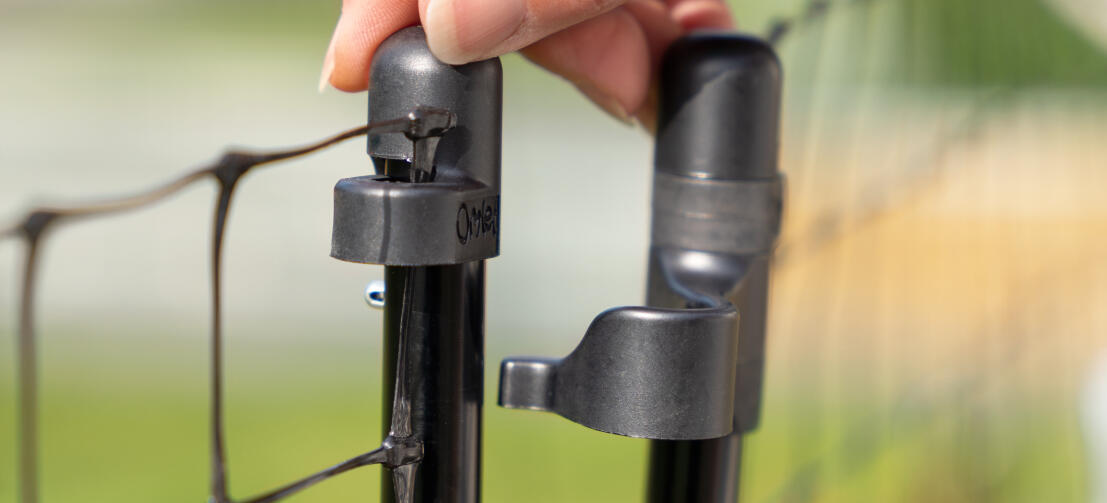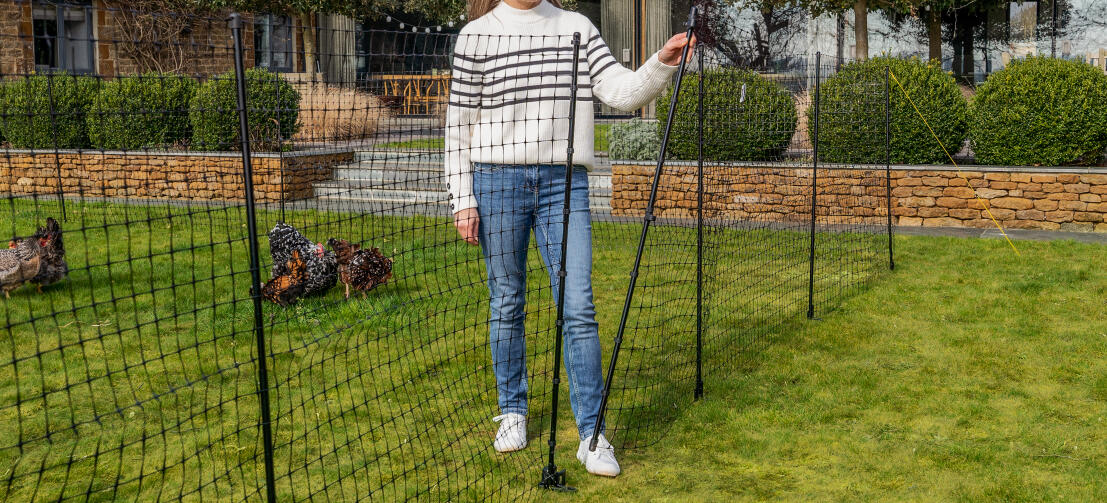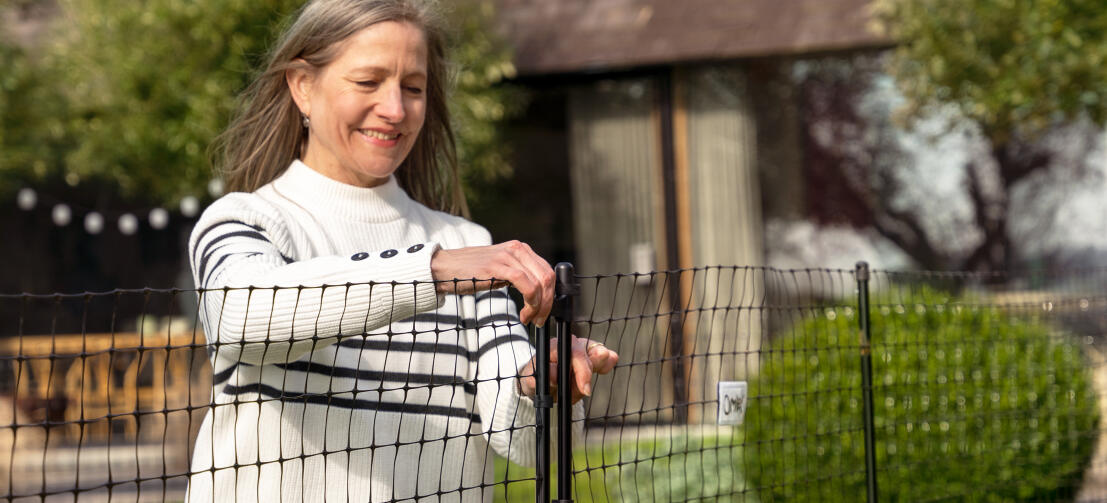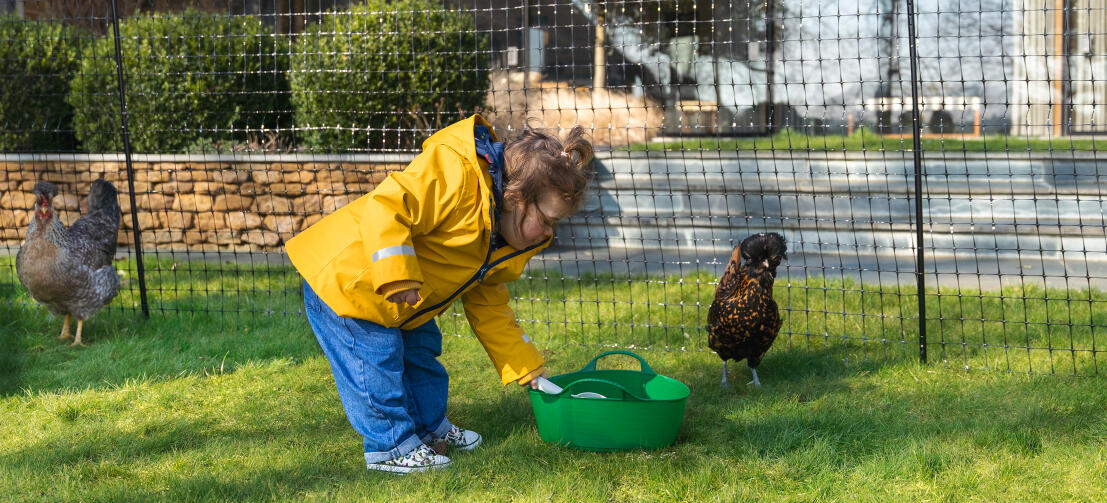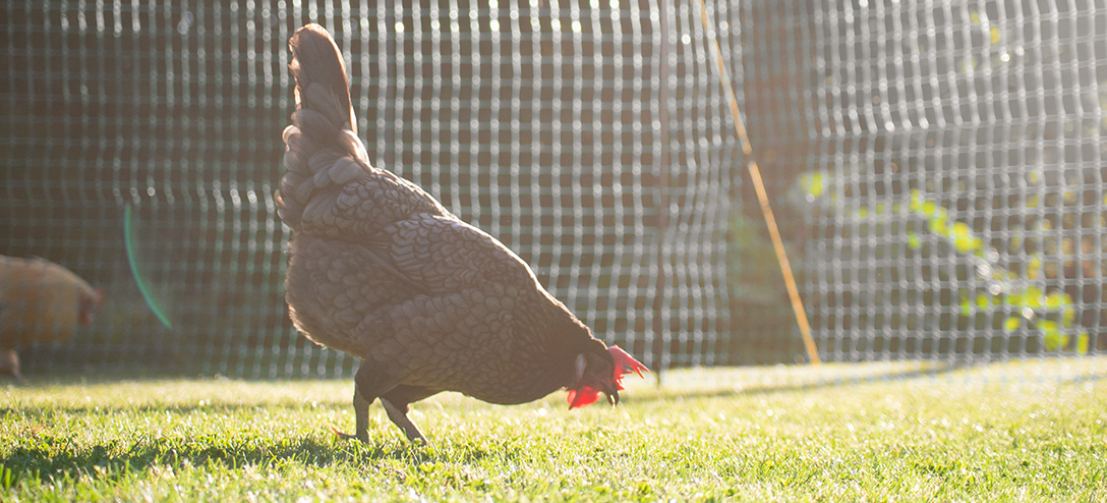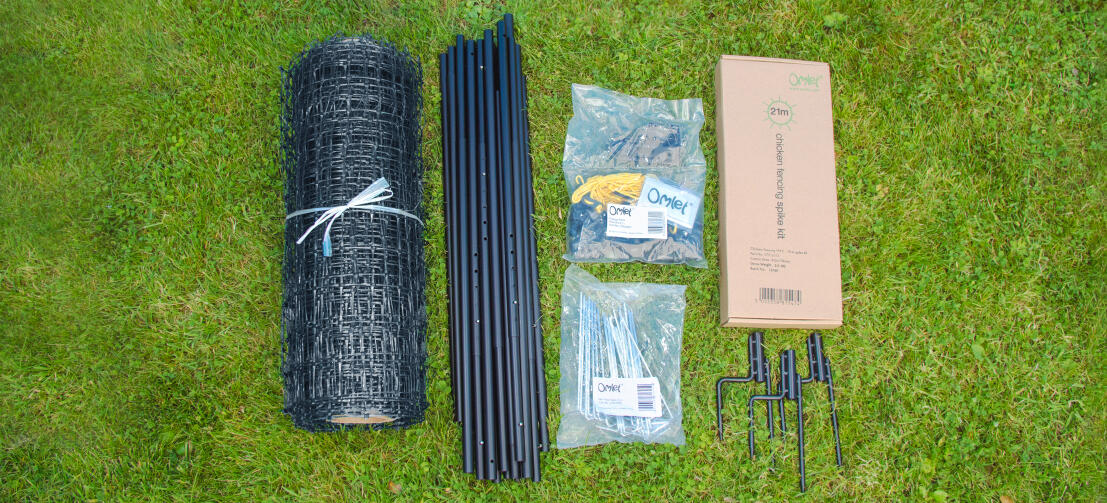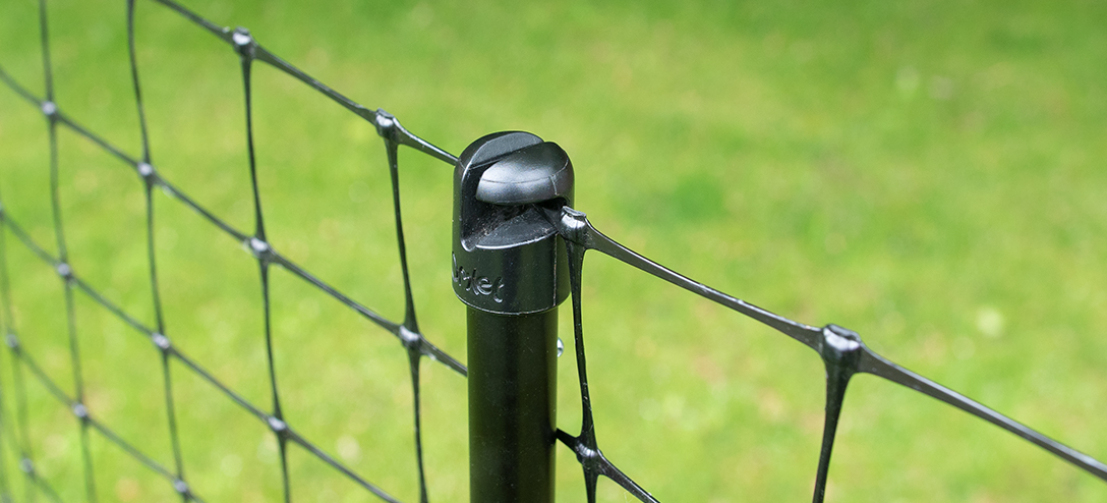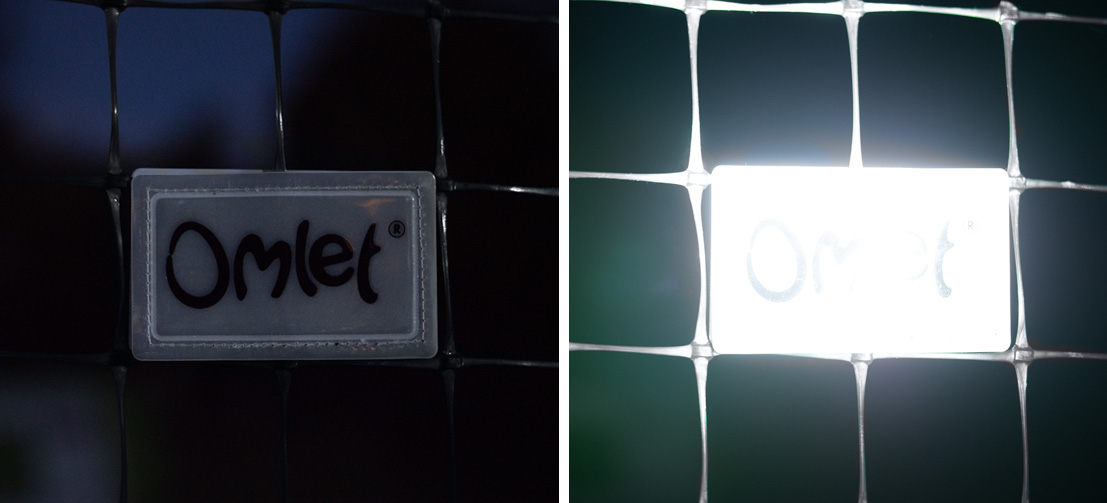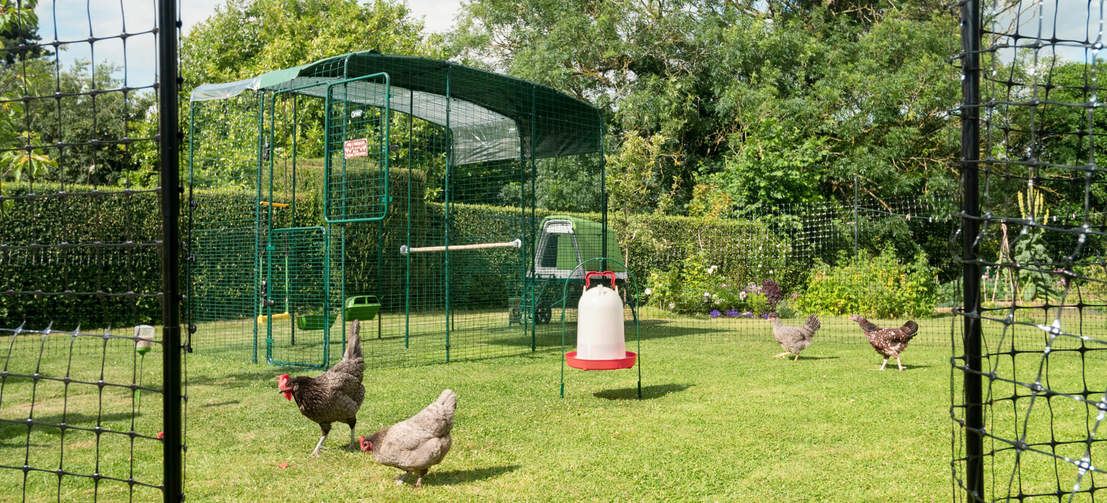 Choose Your Omlet Chicken Fencing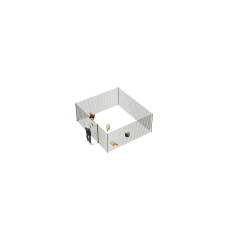 Omlet Chicken Fencing Mk2 - 39ft - inc. Gate, Poles and Guy Lines
$119.99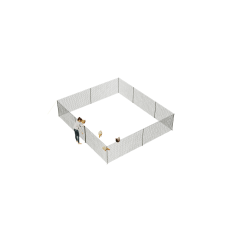 Omlet Chicken Fencing Mk2 - 69ft - inc. Gate, Poles and Guy Lines
$149.99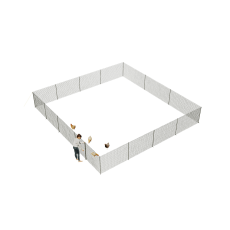 Omlet Chicken Fencing Mk2 - 105ft - inc. Gate, Poles and Guy Lines
$209.99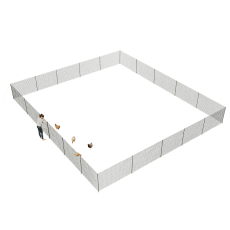 Omlet Chicken Fencing Mk2 - 138ft - inc. Gate, Poles and Guy Lines
$239.99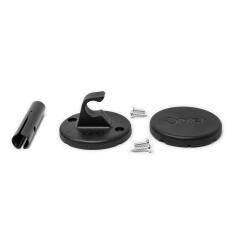 Wall Connection Kit for Omlet Chicken Fencing
$20.99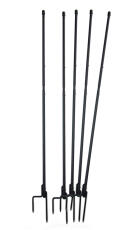 Omlet Chicken Fencing Poles - Set of 5
$44.99

6 Reasons To Buy From Omlet

30 Day Money Back Guarantee

Fast Delivery

2 Year Warranty

Excellent Customer Service

Secure Payment

Over 17,000
5 Star Reviews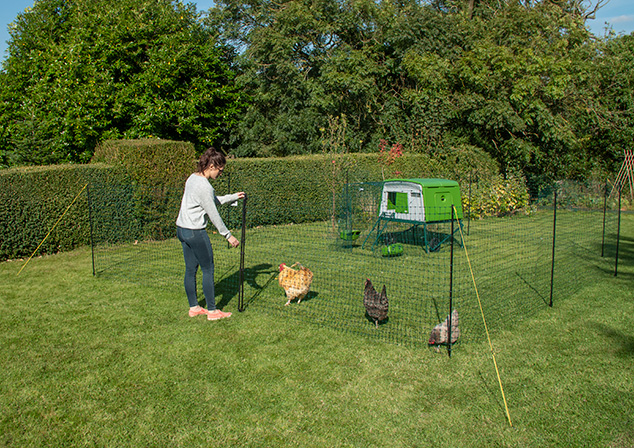 A simple way to keep your chickens in one area of the backyard or garden.
Looks Great In Your Backyard
The black movable poultry fencing blends well amongst the flowers and plants in your backyard, so it doesn't stand out and it's almost invisible from a distance. By contrast, the guy ropes are hi-vis and contain a reflective strand that makes them stand out day and night to guard against any trips or accidents.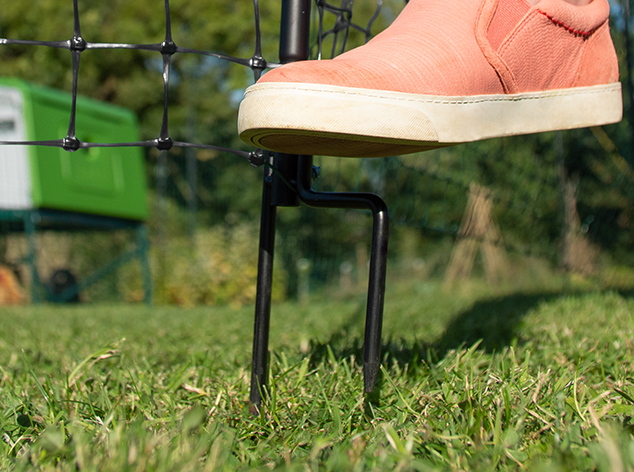 It is quick to set up the chicken fencing by pushing the poles in with your foot.
Easy to Put Up
The handy chicken fence comes in a roll and is very easy to put up and move around. It will save you so much time compared to a traditional post and chicken wire solution. All poles have two spikes that provide great stability and make it easy to 'tread' them into the ground. The netting is designed to be tangle-free and peck proof for added security and durability, meaning that it is easier to use and more secure than ever.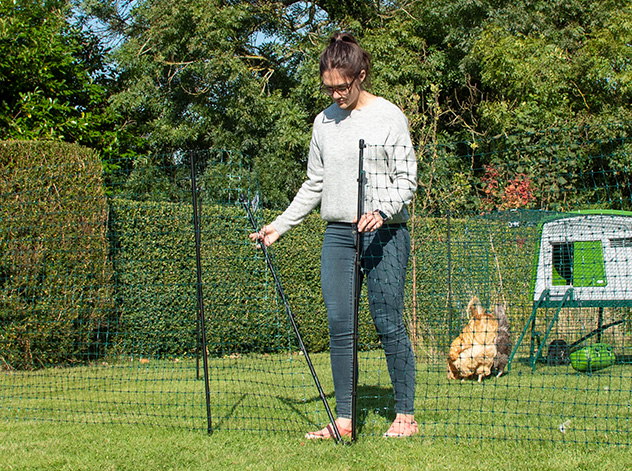 The handy gate gives you quick access to your chickens.
New Improved Gate Included
Omlet's flexible fencing for poultry comes with an inbuilt gate which features a newly redesigned catch that is stronger and more comfortable to use. You can also set the width of the gate opening to your preferred size making it easy to get in and out to feed your chickens. Another great feature of the gate is that you can position it wherever you want within the layout you have chosen, you can put it at any end, the middle or anywhere else. The width of the gate opening can also be adjusted at any time.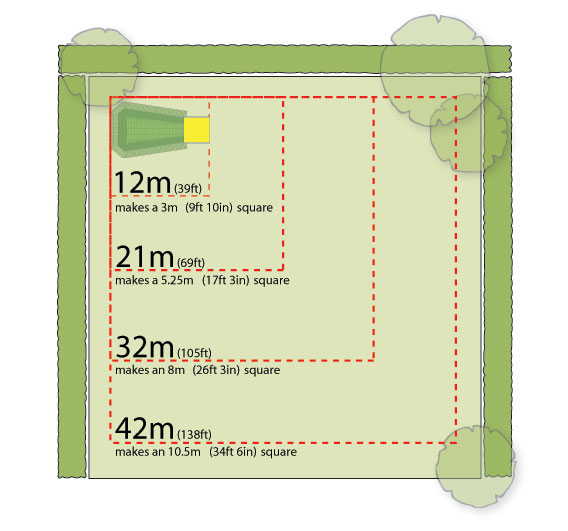 Fits Any Shape or Size of Garden or Backyard
Available in 4 different sized rolls to suit your garden's/chickens' needs. You can also make any shape of chicken enclosure you like, rather than just squares or rectangles. If you want to add another corner or give extra stability, you can purchase extra double spiked poles in packs of 5 here.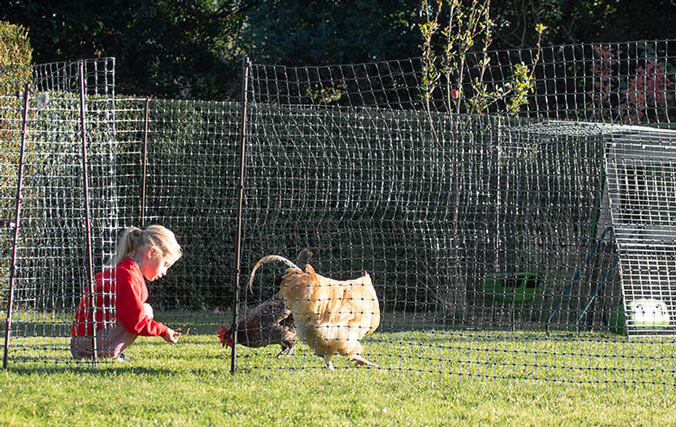 The flexibility of the Omlet fencing allows you to create the perfect area for your flock
Additional poles for unusual spaces or extra stability
With the Omlet Chicken coop fence it doesn't matter if the space you have available is not a perfect square. You can assemble the chicken netting in any shape you like, or your yard requires. For instance, you can decide if you want the portable chicken fence to curl around the corner of your house, run down a narrow path or sit along the side of your favorite flower bed. If your setup requires more poles, or you want to give some extra stability, you can purchase extra double spiked poles in packs of 5 here.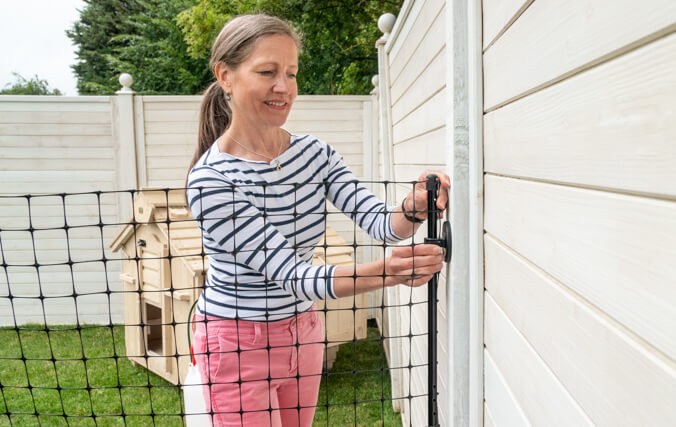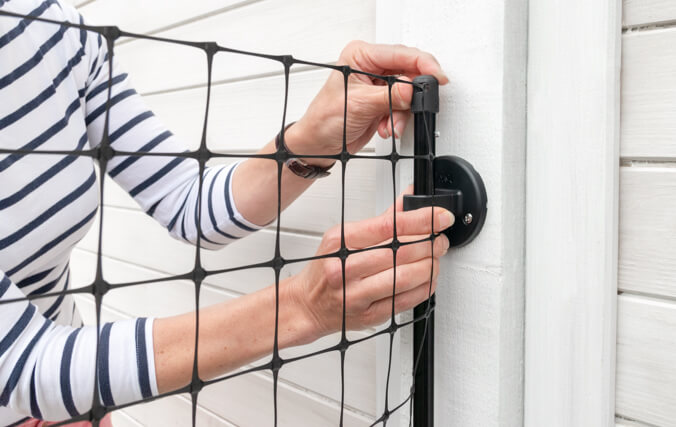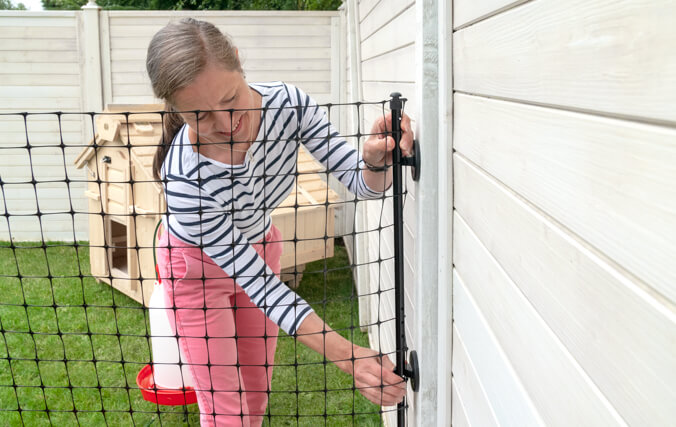 Connect To An Existing Fence or Walk In Run
The new Wall Connection Kit for Omlet Chicken Fencing is the simple way to connect your fencing with an existing wooden fence, a Walk In Chicken Run or the run of your Eglu Cube. Use it to create a larger area using less fencing, maximizing both space and product!
All you need to do is attach the Clip Plates to your existing structure. These allow you to clip the poles into position, giving your chickens a new playground. You can still choose the size and shape of the area, as well as where you would like to place the gate.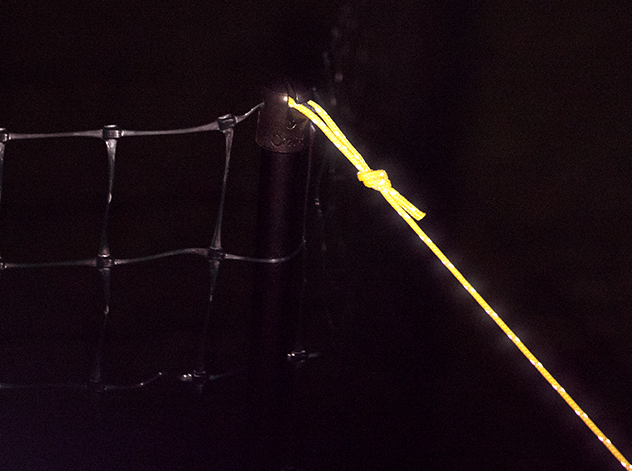 Reflective guy ropes provide high visibility when needed.
Reflective Chicken Fencing
The plastic chicken fencing is now easy to spot at night and on gloomy evenings thanks to some new reflective features. Not only are the guy ropes reflective but the gate now also features a reflective badge so you can find it easily in the dark. This is really handy in Winter when you might be stepping out to check on your hens at dusk.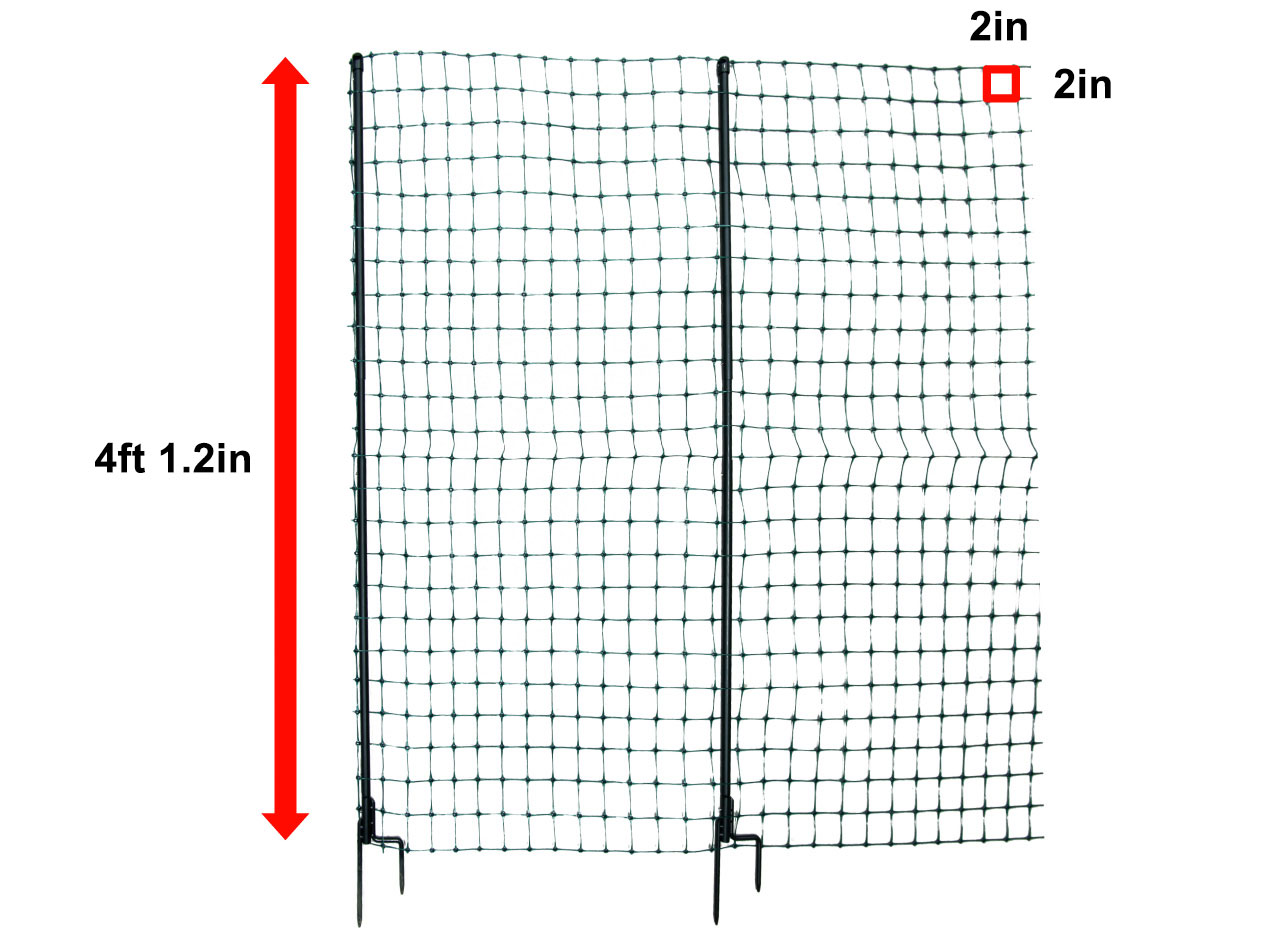 Omlet's chicken fencing is taller than most other fencing
Taller Than Most Poultry Fencing
With an overall height of approximately 4.1ft - which is taller than most chicken fencing - you can be confident that even the most determined of your feathered friends will not make a great escape! The poles of the fence are also adjustable to ensure that the netting remains tight and secure at all times.
Perfect For Smaller Poultry
This poultry fencing is also suitable for use with smaller chickens like bantams. The fencing has the same size holes from top to bottom that are approximately 2in wide.
Please note that this fencing is intended as a means of keeping your chickens in a contained area. It is not predator proof and cannot be electrified. If you are looking for a predator proof enclosure the Omlet Walk in Chicken Run is a great choice. The fencing will arrive folded down the middle and as a result you will need to unfold it. It may have a temporary crease when first assembled but this will disappear after a short period of use.
While the fencing is chicken proof, wild animals may chew holes in the fence if present in the yard. Repair kits are available.
Chicken Fencing Box Dimensions:
39ft Fencing: 28.1in x 10.8in x 6.0in
69ft Fencing: 28.1in x 12.0in x 8.0in
105ft Fencing: 28.1in x 14.2in x 8.6in
138ft Fencing: 28.1in x 15.8in x 10.5in
---
Frequently Asked Questions
Got another question? Please contact our friendly customer services team here.
---
Frequently Asked Questions
Verified Reviews - Omlet Chicken Fencing
---
Customer Images - Omlet Chicken Fencing
Related Products