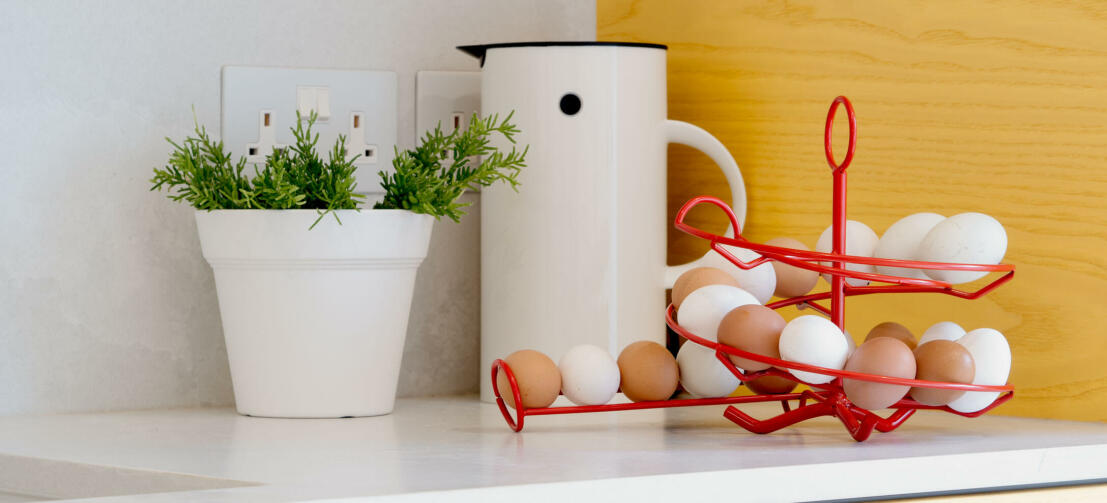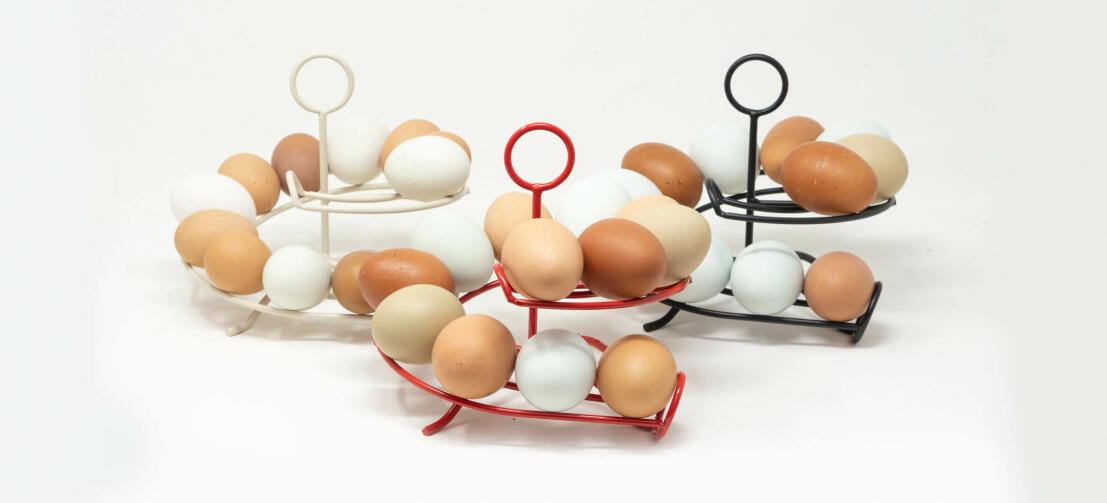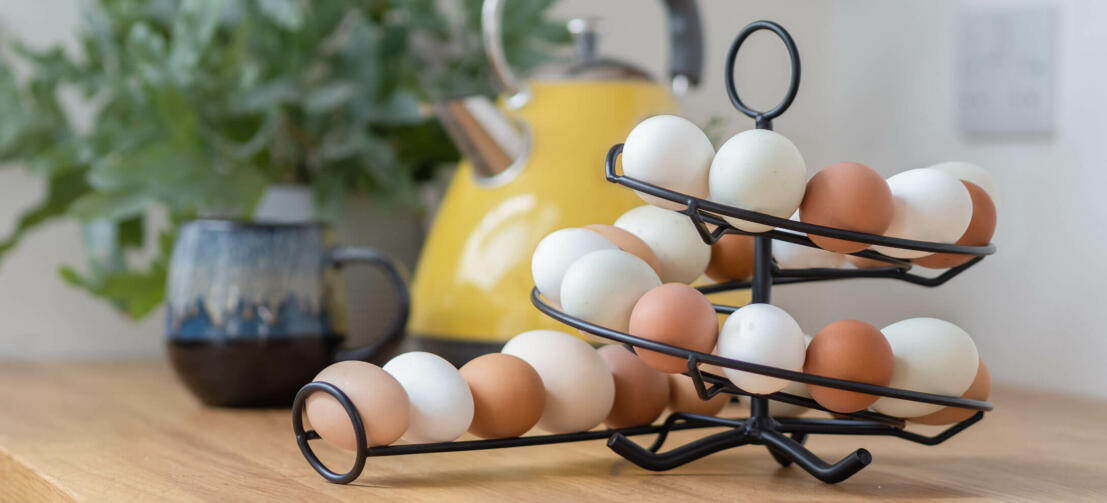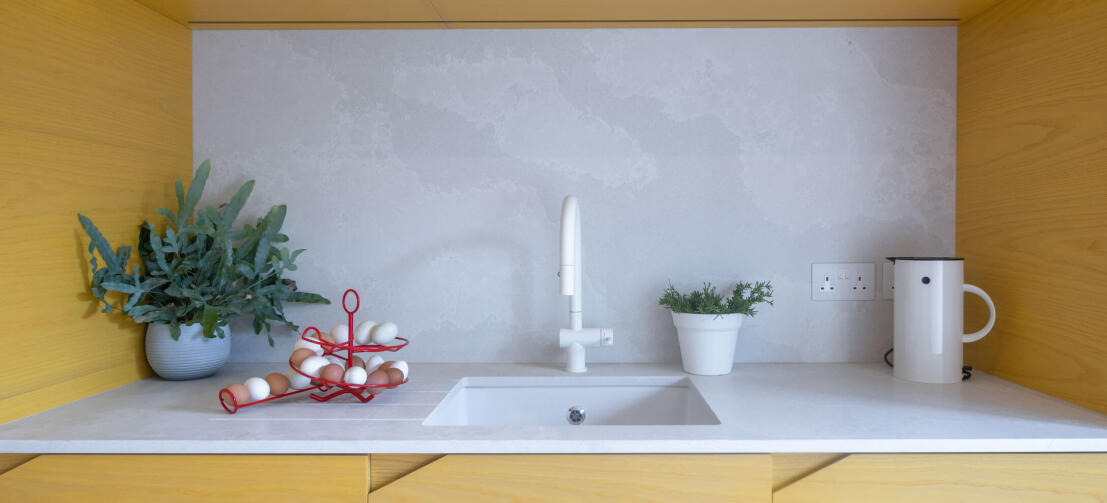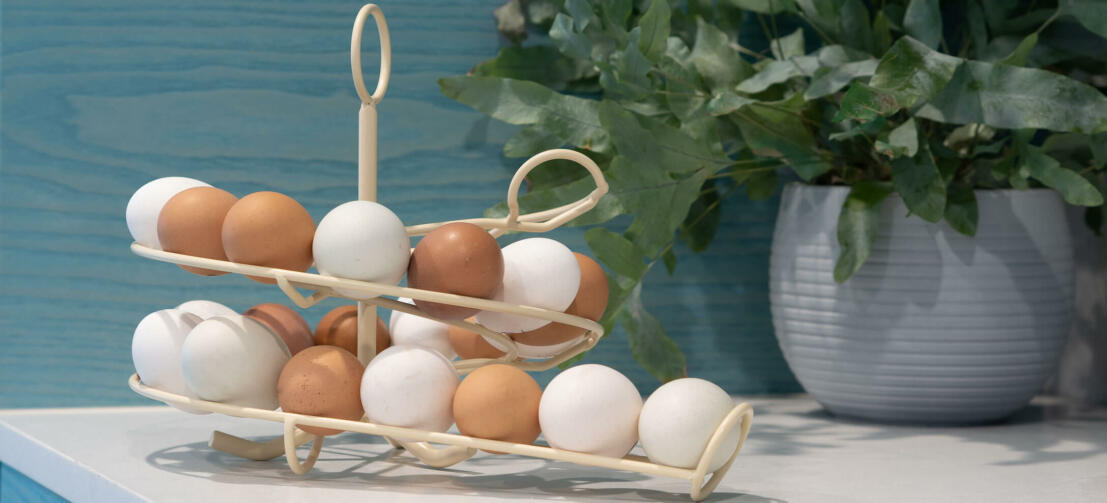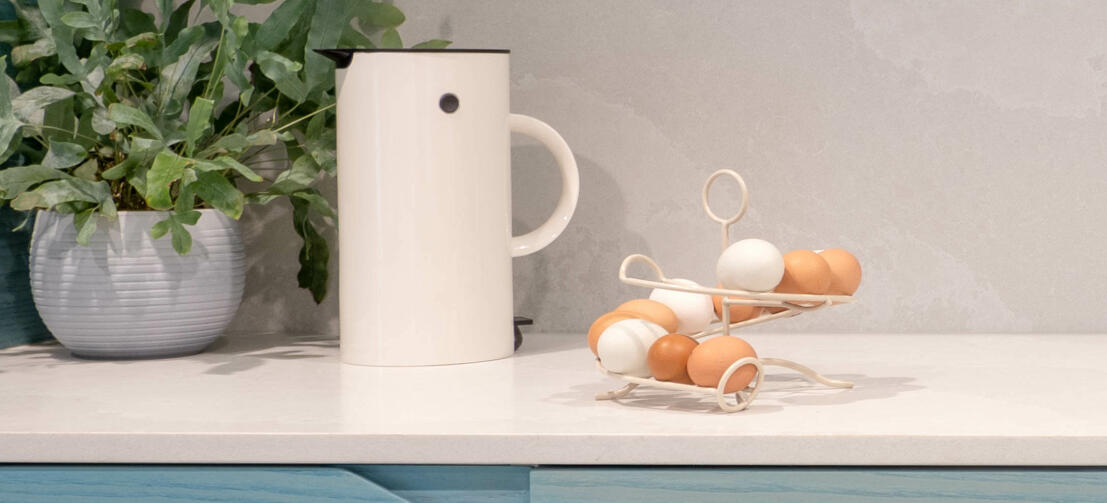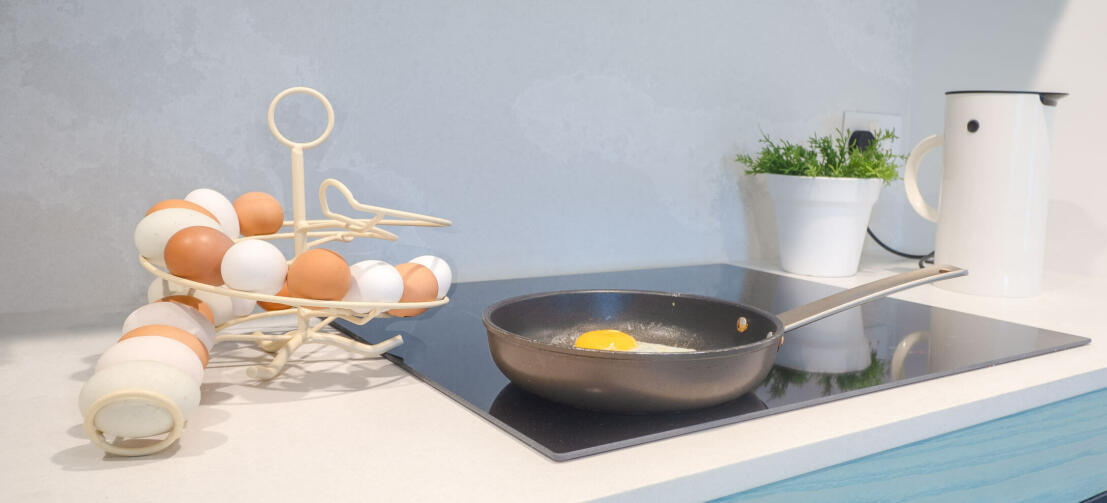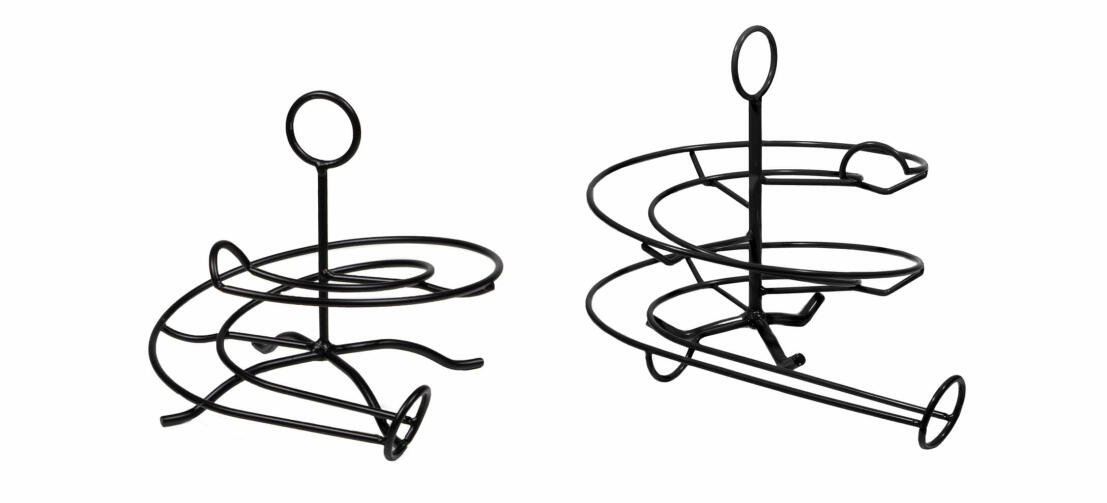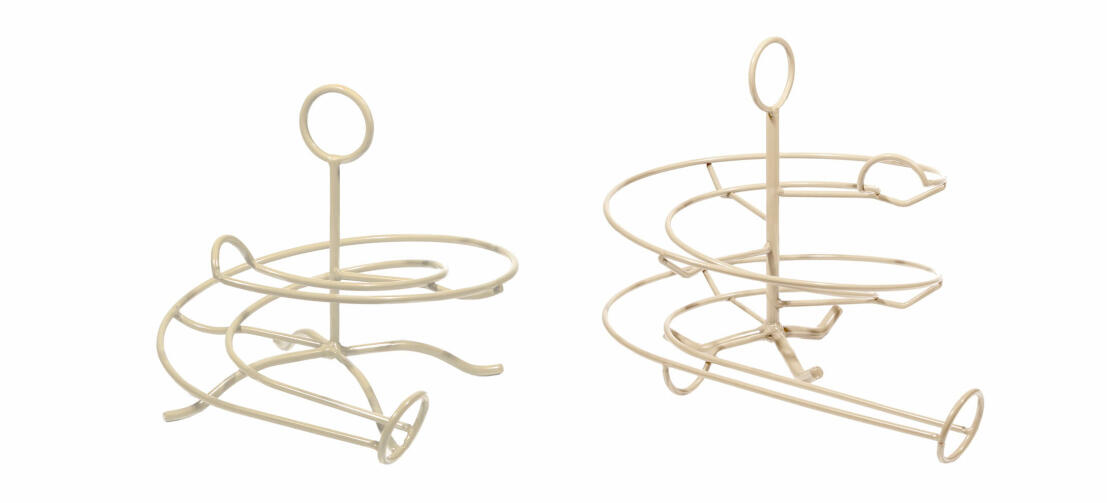 Egg Skelter
The Egg Skelter, available for 12 or 24 eggs is the perfect egg holder for keeping those lovely eggs in order, at room temperature and proudly on display.
You'll Never Get a Bad Egg Again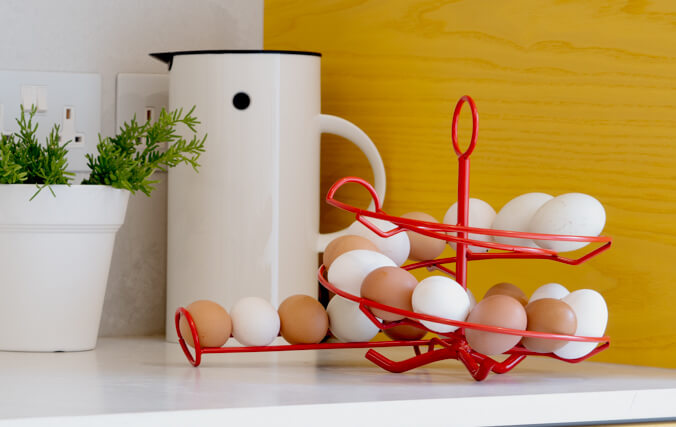 The Egg Skelter is a convenient way of storing eggs in date order, at room temperature.
Chicken keepers, and general egg lovers alike, will know the difficulty of making sure eggs are used in the right order. With the Egg Skelter this will never be a problem. If you take eggs from the front of the skelter, and add new ones to the back, you can be sure you always use up older eggs first.
Eggs Are Best at Room Temperature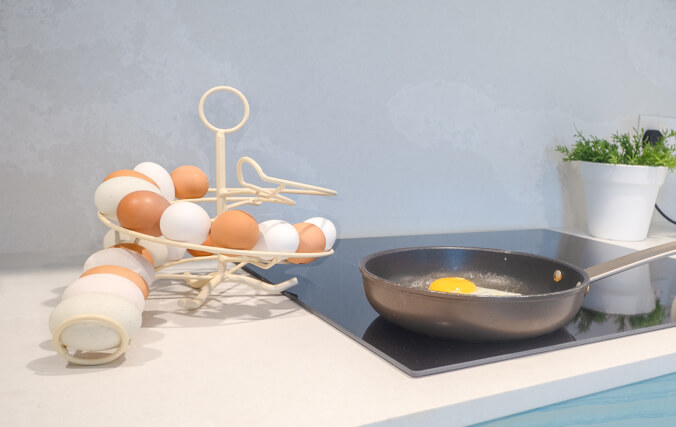 When cooking, just take eggs from the bottom of the Skelter, and the rest will roll down.
Most eggsperts agree that eggs don't belong in the fridge. Room temperature eggs combine easier when whisking and will disperse more evenly into a batter, resulting in lighter sponges and smoother omelettes.
A Great Looking Eggcessory - Two Sizes and Three Colours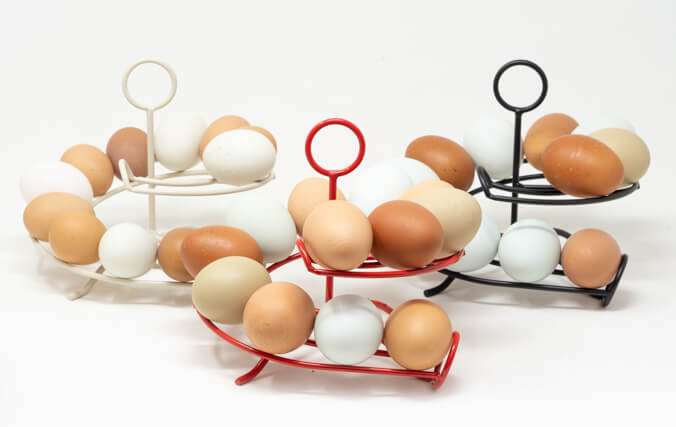 Choose from three colours that will all make sure the eggs are the star of the show!
The Egg Skelter comes in two sizes to suit both master bakers and those who enjoy the occasional poached egg at breakfast. Which size you go for might also be affected by the number of birds of your flock - more hens equals more eggs to store! The simple and timeless design will look great in any kitchen, and you can finally have your girls' hard work on display.
My niece is famously underwhelmed by gifts, but I got her the 24-egg skelter as a wedding gift, and she was thrilled! She took it directly in the kitchen and filled it up! So cute, so stylish, so clever. She was happy to not have to use two bowls (old and new) any longer. Thank you so much for providing me with a winning gift! ❤️
Review for:
Egg Skelter 24 Eggs - Red
Works well to fit large eggs and is stable.
Review for:
Egg Skelter 24 Eggs - Black
The reviewer has 2-4 Hybrid pets
Hi! I love the handle on this and it's cute! It could be improved by making the egg holder a little wider so that they don't get knocked out easily. Also, I'd love it if they actually slid down. But if you get 24 in there then it's because you are putting them vertically and not on their sides. They don't slide in the vertical position. So perhaps making it taller would allow the space for 24 eggs and the ability to have them slide into position. With a few tweaks, would be perfect!
Review for:
Egg Skelter 24 Eggs - Cream
The reviewer has 4-6 pets
I bought my first one around 2 months ago and absolutely love it. I even love that it doesn't roll! There is a trick to packing them in so that it rolls nicely but I let my kids put them on and I don't mind. I wish there was a version of this that could be wall mounted (obviously the design would need to be different) but I can't find anything like that anywhere so maybe think about it omlet. I'm about to buy the bigger one now as they're laying more eggs given that it's warming up.
Review for:
Egg Skelter 24 Eggs - Red
The reviewer has 10+ Orpingtons, wheaten pets
I recently bought this in red and am extremely happy I did. I took some other reviewers advice of placing the eggs pointy end inwards and it works perfectly everytime with both my large eggs and smaller eggs.
Review for:
Egg Skelter 24 Eggs - Red
The reviewer has 2-4 Isa Brown and Hyline pets
Read more reviews