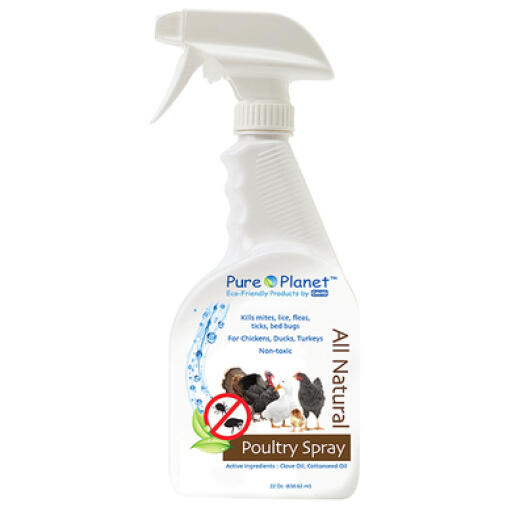 Pure Planet Poultry Spray 22 oz
Checking stock in our warehouse...
$12.95
Pure Planet Poultry Spray is a non-toxic formula designed to kill mites, fleas, ticks and bed bugs. It is safe to use in chicken coops and can also be applied directly on poultry over 10 days of age.
To apply to a chicken coop spray the floor area liberally and spray around the feed and water lines, walls and support beams. Pay special attention to the areas where pests have been seen or can find harborage such as cages, stalls, around feeders and facility entry points. Reapply as often as necessary.
To apply directly to poultry spray the bird's chest, behind the head, under their wings and around vent. For best results, invert birds during the application or manually displace their feathers to ensure the spray thoroughly coats the skin. Avoid spraying in the eyes, nose and mouth. Not recommended for extremely old or debilitated birds or birds under 10 days of age.
Contains 0.5% clove oil and 0.5% cottonseed oil. Suitable for use on chickens, ducks and turkeys. Made in the USA.
Pure Planet Poultry Spray 22 oz