Small Dog Crates
When it comes to dog crates, size matters - that's our philosophy behind each Omlet small dog crate design. As the pet company that challenges the pet care norm, we thought beyond the confines of just a single sleeping space to create exactly what small dogs need. Engineered with durability and a sleek furniture design, we not only created a dog den, we created a dog home within a home, where even the smallest of dogs can feel safe and secure.
---
Fido Studio Small Dog Crate
Furniture style dog crate with revolutionary closet solution
From $115.00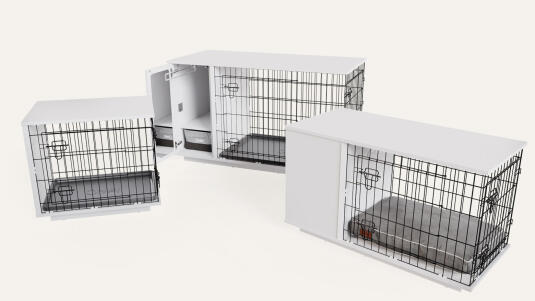 Shop Fido Studio Dog Crate >
Fido Classic Small Dog Crate
High quality dog crate, perfect for traveling
From $35.00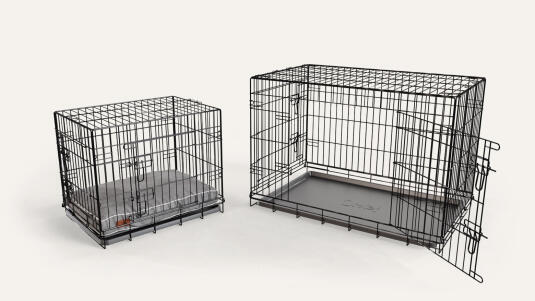 Shop Fido Classic Dog Crate >
Fido Nook Small Dog Crate
Removable dog crate solution for use from puppy to senior
From $176.00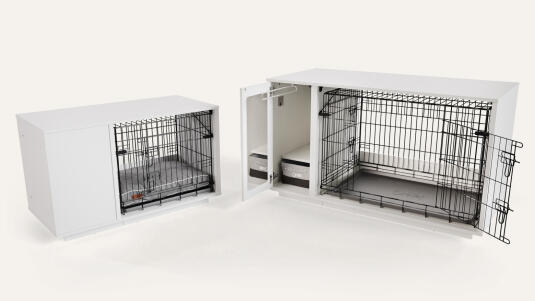 Shop Fido Nook Dog Crate >
Small dens for small dogs
Discover Omlet's wide variety of small
dog crates
, from single crate carriers to furniture-style dog dens that complement your interior. Exclusively designed as a slumber nook for your dog's daydream, the Omlet small dog crates offer the comfort and security your small dog craves. The easy folding, storage and twin door offerings make these small dog crates the perfect relaxation retreat to keep your pint-sized pup comfortable and safe.
3 reasons you will love a small dog crate from Omlet
As pet parents ourselves, we questioned the run-of-the-mill dog crates and asked if there was a way to give our dogs more. In the Omlet small dog crates, you will find 3 distinct benefits:
Durable: All of our dog crates are engineered from heavy duty welded steel wire that will stand the test of time and your dog's many years.
Usable: We see dog crates as more than just a training tool. Our dog crates are designed from classic to modern with the ability to integrate them into your space so your dog can enjoy it beyond puppyhood.
Comfortable: Dog dens should be as comfortable as your own bedroom. That's why our dog crates feature unique options like wardrobe storage and universal dog bed compatibility to create the ultimate in canine comfort.
Create your small pup's favorite spot
The best comfort solutions are the ones that think outside the box. Or in our case, inside the crate. Our sleep solution offerings extend beyond the dog crate to include supportive
dog beds
with memory foam mattresses that elevate your dog's sleep. Top off your top dog's daydreams with a
super soft dog blanket
to complete the total sleep satisfaction. And don't worry, we thought about you as well - every bed cover and blanket is easy-to-clean and machine washable.
Bringing you closer to your best friend
At Omlet, our mission is to bring people and pets closer together. By always questioning what is, we are able to create unique solutions for what can be. Our small dog crates are more than just a holding space for your dog. Omlet dog crates are the ultimate sleeping solution that allow you to treat your dog like the family member they are.