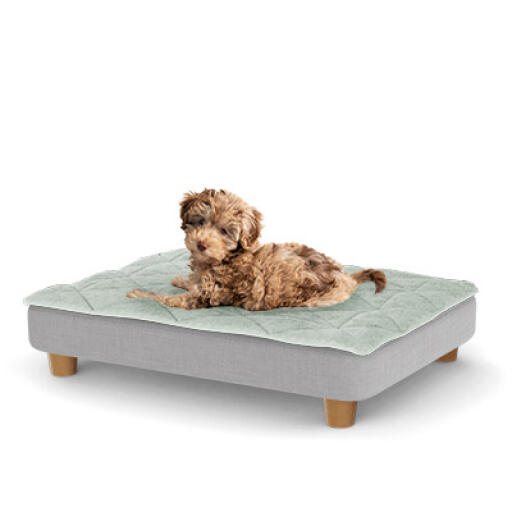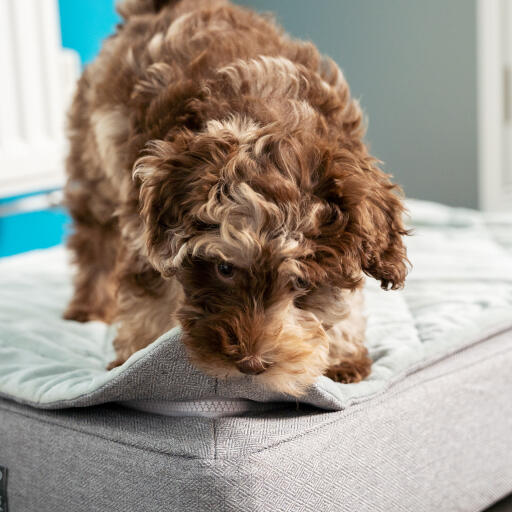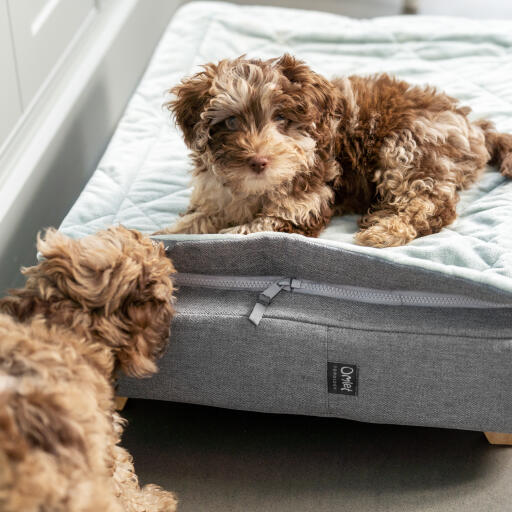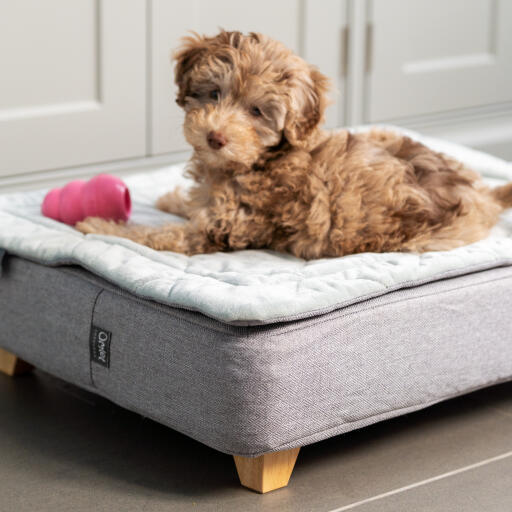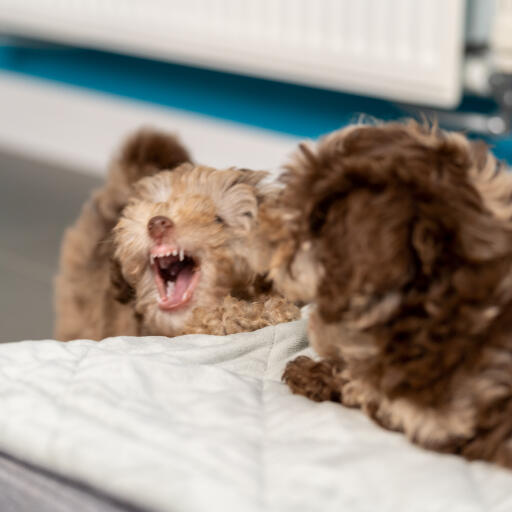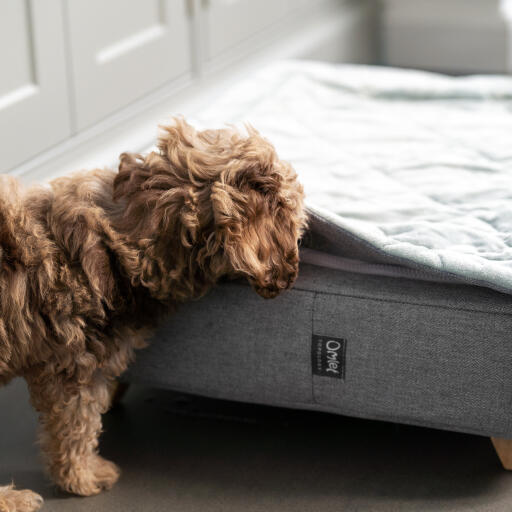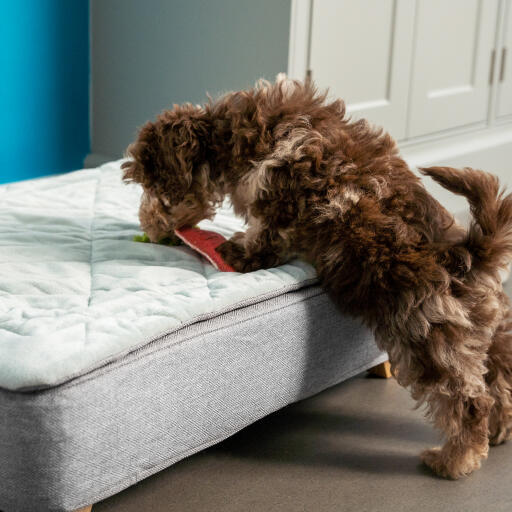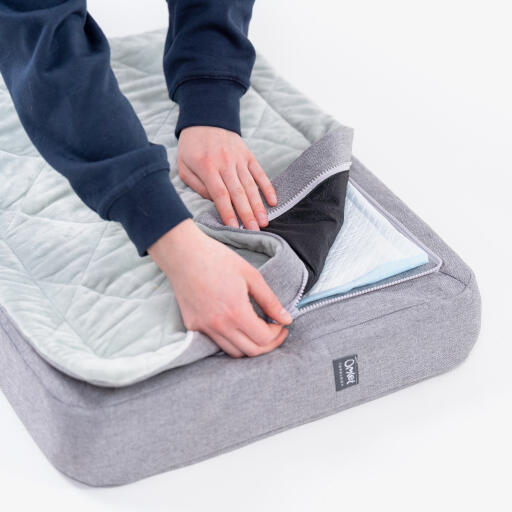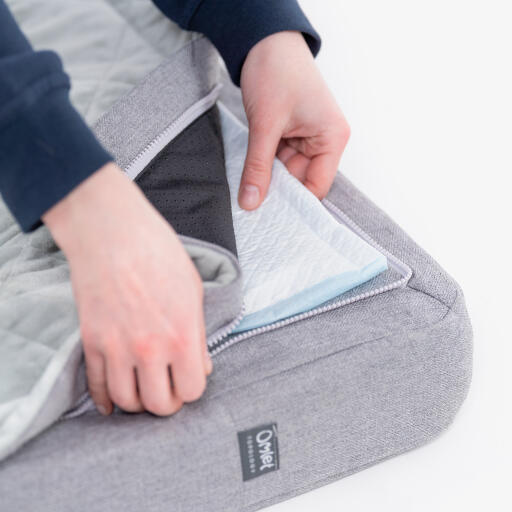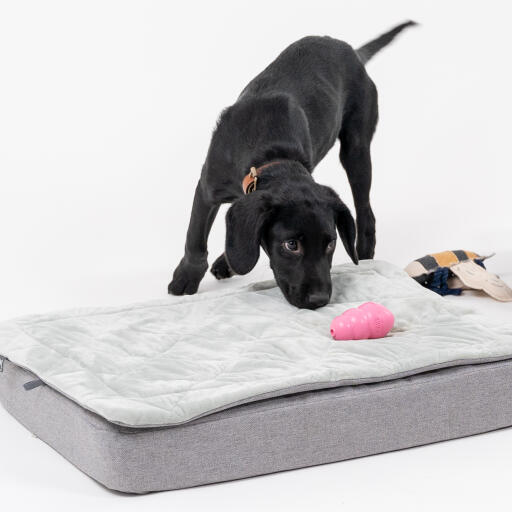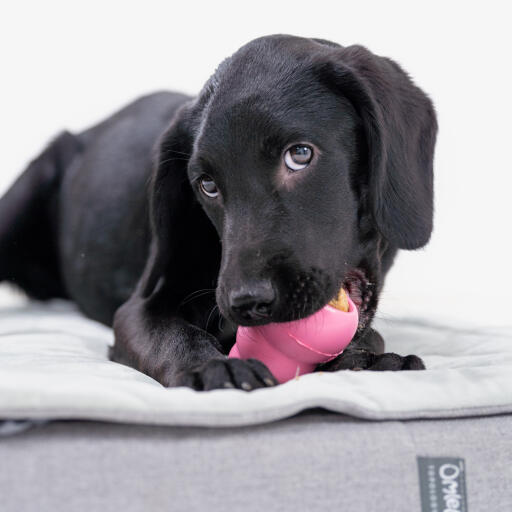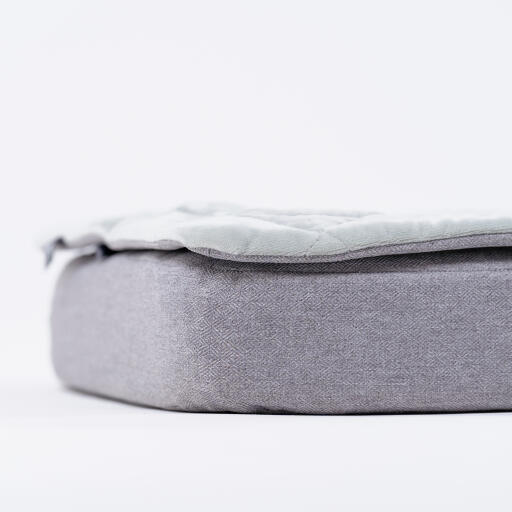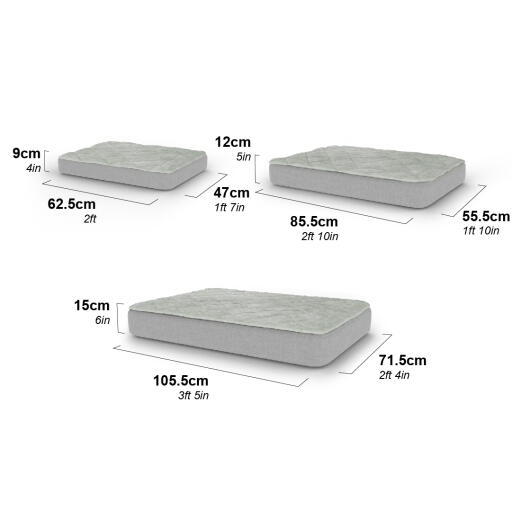 Topology Puppy Bed with Free Extra Topper - Round Wooden Feet - Small
Checking stock in our warehouse...
$175.00
Why your puppy needs the Topology bed
We'll replace the quilted topper for free if chewed in first 180 days
Premium memory foam mattress engineered for durability
Zip in a puppy pad beneath the topper to protect the mattress
Zip off the topper after puppy accidents to throw in the washing machine
Zip on the free extra topper so your puppy is never without their bed
Upgrade your bed with new topper styles when your puppy stops chewing
Elevate your puppy bed style with designer feet
What if your dog's bed was for life, not just for puppyhood?
Puppies explore with their teeth and chewing their bed is to be expected - and thin, flimsy dog beds that rip, smell and end up in landfill are just not up to the job. The Topology puppy bed was engineered by Omlet to be the first and last dog bed your new puppy will ever need, with replaceable and washable toppers in different styles and colours to suit your style and their personality.
No chewing, no smells, no worries
The memory foam mattress is too deep and tough for your puppy to chew, leaving only the topper exposed for puppy teeth which is completely replaceable. Whatsmore, you can zip a puppy pad beneath the quilted topper to protect the mattress from inevitable puppy accidents, and you can quickly zip off the topper, throw it in the washing machine and zip a clean one on in minutes.
Free extra topper and 180 day guarantee included when you buy this Topology quilted puppy bed, designed by Omlet.
Frequently Asked Questions
How does the 180 day puppy guarantee work?
Should your puppy be able to chew your Topology Puppy Bed's quilted topper within 6 months of use to the extent that you can no longer zip it onto their mattress, Omlet will replace with another quilted topper for free. Should your puppy be able to chew the cover on the Topology's memory foam mattress within 6 months to the extent of exposing the waterproof mattress cover beneath, Omlet will replace the mattress cover for free. You should always ensure your puppy has lots of teething toys to help them find other ways to channel their exploration of the world around them. We may ask you to return your quilted topper or mattress cover. We cannot replace soiled toppers or covers - and we encourage you to wash your topper regularly to maintain a fresh and functional bed for your puppy.
What size Topology luxury dog bed should I get for my dog?
The mattress measures:
Small
2ft x 1ft 7in x 4in
Medium
2ft 10in x 1ft 10in x 5in
Large
3ft 5in x 2ft 4in x 6in
What size Topology dog bed should I get for my dog?
To find the right size for your dog, use our dog bed size guide. The guide is based on an average adult dog for each breed.
The mattress has arrived looking misshapen, is something wrong?
Don't worry, that's how it should be. As it's been vacuumed packed, the mattress needs up to 48 hours to fully inflate. If your pet is too excited to wait, they can start using it straight away!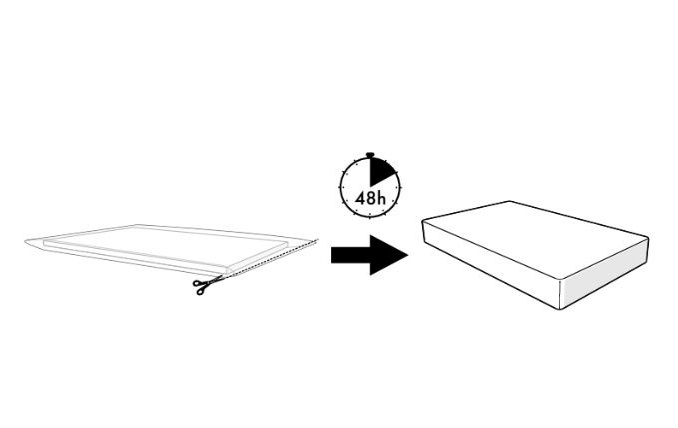 How do I wash the topper?
We recommend washing the topper at least once a month, or whenever needed. In the winter, or if your dog easily gets dirty you might have to clean it more often. All toppers zip off and can be put straight into the washing machine on a gentle cycle.
Topology Puppy Bed with Free Extra Topper - Round Wooden Feet - Small