If you have collected lots of eggs, you will need to select the best eggs to incubate. Remember you will have a hatch rate of between 40 to 80% and half of these will be cockerels. A good guideline for selecting eggs is as follows:
Egg Size
It is best to choose eggs that are the average size. If the egg is too large it might contain a double-yolk (you can check by using a candler). If the egg is too small it might not have a yolk at all. The average chicken's egg should be between 53g - 63g and so a good egg will be within this range.
Small, medium and large eggs.
Shell Condition
You should check each egg to ensure that it doesn't have a damaged shell. Some eggs can have tiny hairline cracks and unless there is no alternative, these should not be incubated. If you really want to incubate an egg with a thin crack, some breeders recommend repairing the crack using either sellotape or nail varnish (it is recommended to put these only over the crack itself).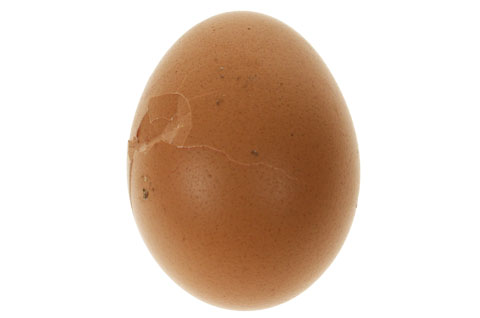 A cracked egg that you shouldn't incubate.
Shell Abnormalities
You should also check that the egg doesn't have any other shell abnormalities. Things to look out for and avoid are eggs which aren't very egg shaped or eggs with ridges, oblong, or overly round.
Strange eggs that you wouldn't want to incubate.