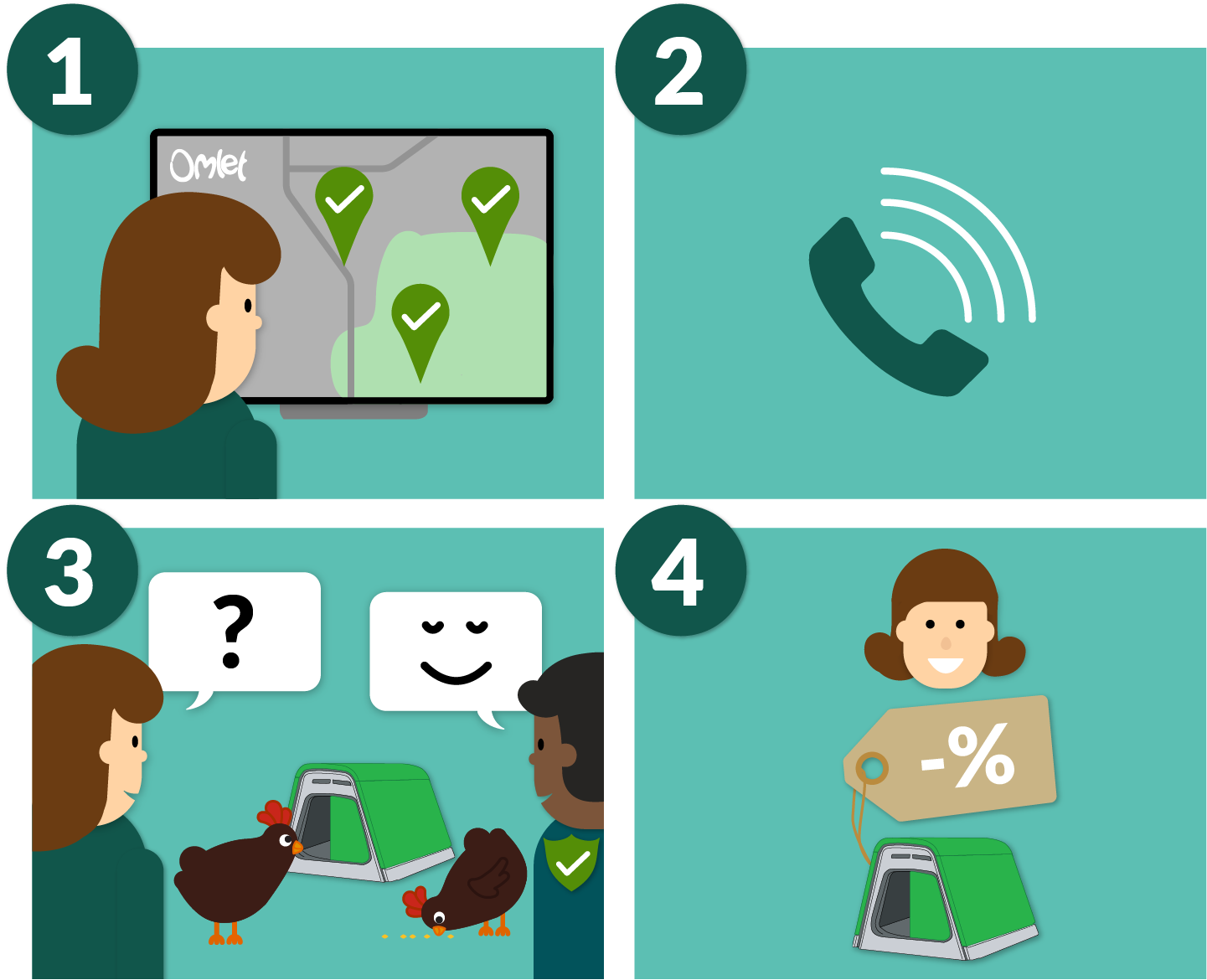 Terms and Conditions for users of the Omlet Ambassadors Service
Omlet Ambassadors are friendly, experienced pet owners who are happy to pass on their knowledge of Omlet products and pet ownership to help you decide if you'd like to get started too. You should bear in mind that Omlet has no control over and cannot be held responsible for the quality, accuracy or competency of advice that an Ambassador may give you regarding the use of Omlet products or pet keeping. Anything that Ambassadors say is their own opinion. If you have any questions following your visit or call with an Ambassador you are always welcome to ask Omlet's brilliant customer service team (click here for their contact details).
Although every effort is made to ensure Ambassadors listed on Omlet's website are legitimate owners of Omlet products, we cannot be held responsible for the products or the condition of the products that are displayed by an Omlet Ambassador. Products may have been modified from their original condition and product specifications may have changed since the product was purchased. You should always refer to the Omlet website or contact Omlet customer service for the most up to date product advice. If you didn't see what you expected to see on your Ambassador visit please notify Omlet customer services.
Omlet has no control over and cannot be held responsible for an Ambassadors location accuracy or availability. If you experience difficulty contacting an Omlet Ambassador or didn't manage to arrange a visit you should contact Omlet's customer service team who will be happy to help.
Omlet cannot guarantee the accuracy of content generated by Omlet Ambassadors displayed on Omlet's website. We cannot accept responsibility for errors, omissions, or inaccurate material. Please notify Omlet customer services if you spot a mistake and we will do our best to correct it.
We do not accept any responsibility or liability for any loss suffered by you or by any other person arising out of a visit to an Ambassador's property. Take sensible precautions, visit with a friend or relative and let someone know where you are going.