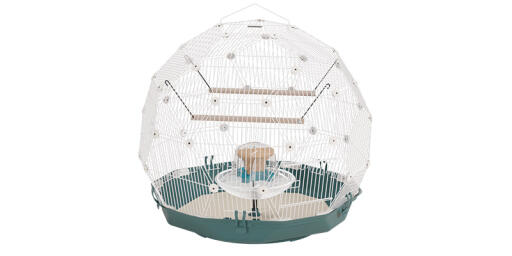 Checking stock in our warehouse...
$189.00
Geo Bird Cage - Teal and White
Bought the right choice of cage on the market
Review for:
Geo Bird Cage - Teal and White
The reviewer has 2-4 pets
Definitely not your average bird cage!
Yes, it's more expensive than the cages you find at the pet store, but it's so well designed, it's worth it. The geodesic shape allows for wing spread in all directions, and the clips allow for super easy removal of the base for cleaning. But the most ingenius parts are the centered food and water stations, which have reduced the amount of seed mess on my floor by at least 95%. My existing rope perches, toys, and special food/treat bowls fit the cage just fine. It did take my bird several days to find the food and water station. I helped this process along by placing clusters of millet on the central food section and in the food openings. While it isn't necessary to use the Omlet liners, they do fit the cage perfectly, and they are made of thick paper that doesn't lift like newspaper does when the bird flutters around, and doesn't disintegrate when it gets wet. I also ordered the tall stand, which is pretty and has a stable tripod structure, and the dark blue cover, which is quite thick and does a good job of blocking light. I was hesitant to purchase because of the cost, but ultimately, I am so glad I did.
Review for:
Geo Bird Cage - Teal and White
The reviewer has 1 Budgie pets
Great features and our little guy loves his new home
He was so excited when we first put him in it. He had to look all around before he went investigating.
Review for:
Geo Bird Cage - Teal and White
The reviewer has 1 Parrotlet pets
Novel dome cage architecture
It takes a puzzle solver to put the dome together, and more time than advertised, but it's well worth it. My 2 older parakeets got the hang of the water and seed feeding station after a couple of days. The collection bowl underneath is great - gathers the chaff. A bit awkward to clean the dome - unhook 5 locks, make sure the birds are on a perch, and separate the cage bottom. But that's the price for a very fine looking architectural house for small birds.
Review for:
Geo Bird Cage - Teal and White
Bobby loves his new cage
Review for:
Geo Bird Cage - Teal and White
The reviewer has 1 Canary pets
Read more reviews