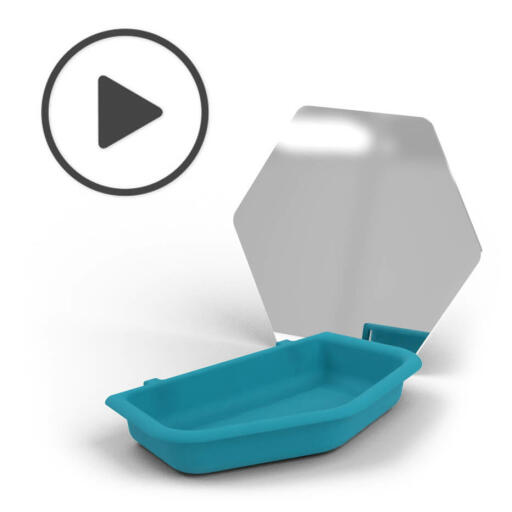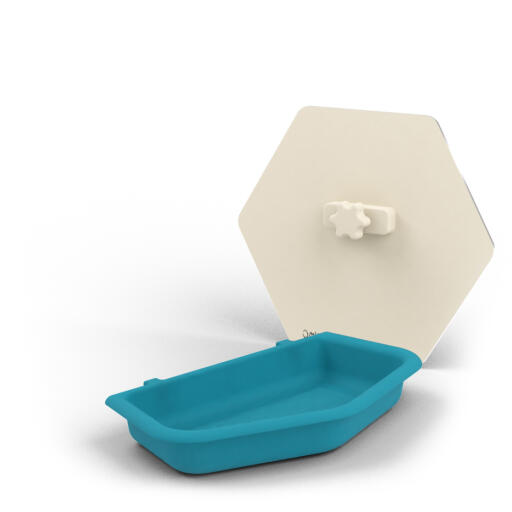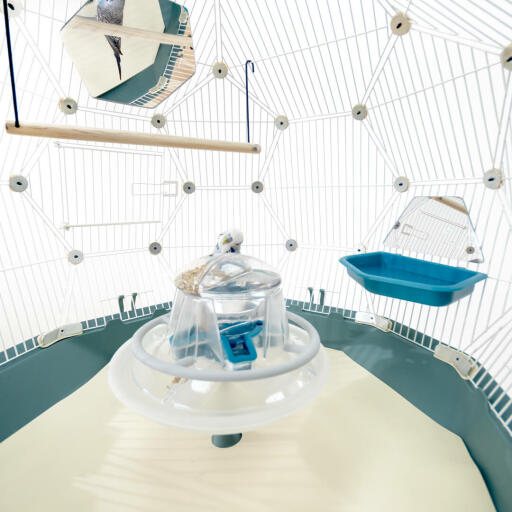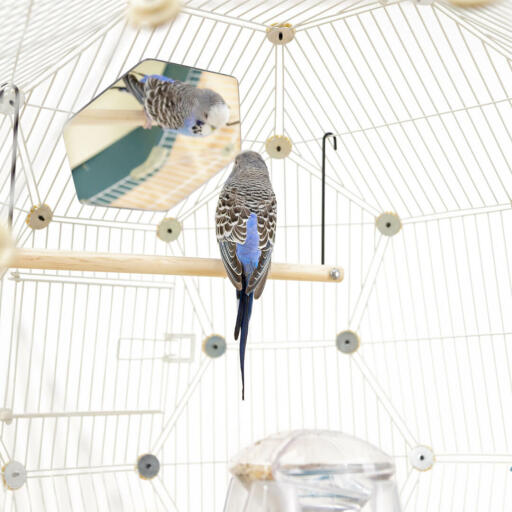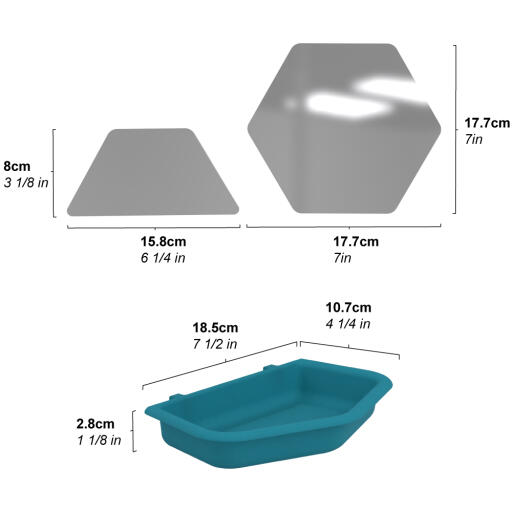 This great combination set of the Hexagon Geo Bird Mirror and the Geo Bird Bath will delight your bird. The Geo Bird Mirror fits perfectly to the
Geo Bird Cage
, matching the modern and stylish geodesic cage shape, while allowing your bird to admire their beautiful reflection. The Geo Bird Bath gives your pet birds the opportunity to splash around. Bathing is an essential part of plumage maintenance for birds; by dampening the feathers they loosen dust and dirt, making it easier to preen their beautiful feathers. Your bird will love the addition of this striking blue Bird Bath, which can also be used as a container, ideal for yummy greens or other larger treats. The Geo Bird Bath has been custom designed for the angled side of the Geo Bird Cage, with two hooks which secure it in place. It's super quick and easy to install and remove so you can keep the bath fresh and clean for your pets. Like other birds, parakeets love shiny things, and the Geo Bird Mirror is a fantastic cage accessory for them to enjoy. Your bird will love the sparkling reflections from the mirror, and be intrigued by the good looking twin in front of them! They can spend hours chirping to and preening with their new roommate, and for solitary as well as paired birds, this is a stimulating way to enrich their habitat. This Geo Bird Bath and Hexagon Mirror set perfectly compliments the revolutionary Geo Bird Cage, and provides enriching entertainment for your bird to enjoy. The Geo Mirror is also available as a half Hexagon, which makes an ideal splash guard for use with the Bird Bath. Both Geo Mirrors are shatterproof so there is no risk they will break when your bird pecks and plays with them.
$13.95 Ex Tax
Checking stock in our warehouse...
If you would like to be notified when it becomes available, please enter your email address below.
---
Frequently Asked Questions
Half Hexagon: 6.2" x 3.1" x 0.9"
Full Hexagon: 6.9" x 6.1" x 0.9"
The mirror arrives with a protective film on top that can make it look broken. Remove the film and check the mirror. If there is any damage to the actual mirror, please let us know!
Latest Product Reviews For Geo Bird Bath & Mirror - Hexagon
---
Customer Images - Geo Bird Bath & Mirror - Hexagon