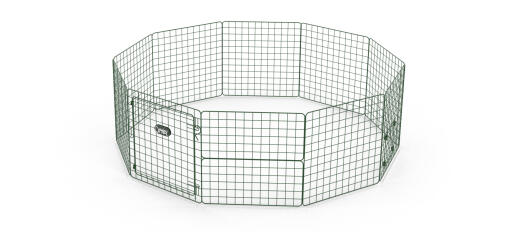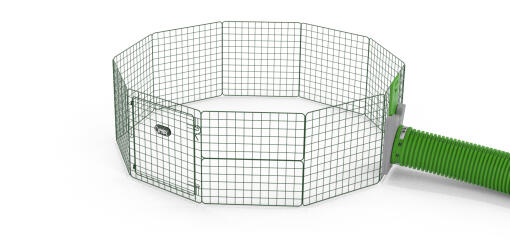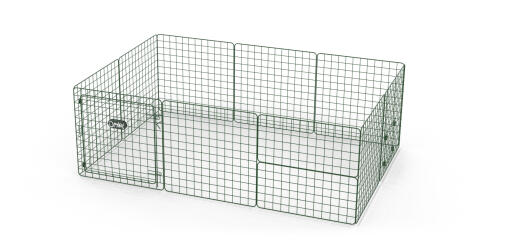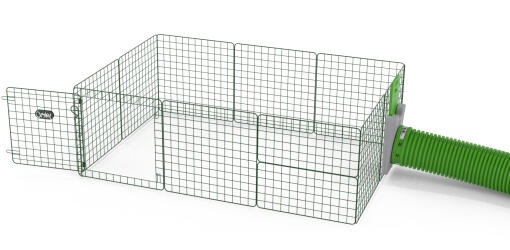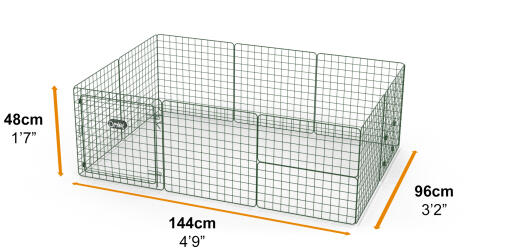 Zippi Guinea Pig Playpen Starter Pack - Single Height
Read 1 Review
Checking stock in our warehouse...
$65.00
The new Zippi Guinea Pig Playpen from Omlet provides a movable exercise solution for your guinea pigs while allowing you to spend more quality time with your pet within a secure environment. The Zippi playpen is an open style exercise and play space which provides easy access for children and pet owners alike and is great for interactive play. It is fully compatible with and can be linked to the Zippi Tunnel system quickly and securely.
The Zippi Playpen Starter Pack includes 10 panels (18.89in x 18.89in each) of secure Omlet weld mesh and Omlet run clips which can be configured in any shape that you desire to fit your available space. One of the panels can be un-clipped and folded down for easy personal access to the pen. There is also a specially designed connection portal should you wish to join up your Zippi Guinea Pig Tunnel.
You can add to and extend your Zippi playpen over time with optional extras such as mesh roofing and underfloor mesh. Extension panels are also available so you build the playpen to any size that you desire. A range of specially designed covers and shades for the Zippi can also be added.
Please note that the playpen is designed for interactive play and supervised exercise for your rabbit and your pet should not be left unattended during use.
The Zippi Playpen Starter Pack covers an area of 56.69in x 37.79in when assembled in a rectangular shape, with a height of 18.89in.
Patent Pending. Design Registered.
Frequently Asked Questions
Yes, the runs can be extended lengthwise however big you want using
extension kits
. You can also extend a two panel wide run to three panels wide. You can't however turn a single height run into a double height run.
Yes, you can find extra panels (both single and double height) on the
Zippi spares page
.
What are the mesh dimensions?
Walls and Roof mesh size: 1.5in x 1.5in Underfloor mesh size: 3in x 3in Skirt mesh size: 1.5in x 3in
What are the mesh dimensions of the underfloor mesh?
The underfloor mesh is 3in x 3in, measured from the ends of the mesh wires.
Are the Zippi runs predator proof?
While the strong materials and thought out design makes it extremely hard for predators to get to your pets, no run is 100% predator proof.
If you live in an area with lots of predators (foxes or smaller ones like martens and weasels) or rats, you might want to consider adding additional protection to the run.
Can I add a roof later on?
Will my rabbits be able to dig through the underfloor mesh?
Depending on the size of your rabbit and their eagerness to dig, you will likely see your pets trying to dig through the underfloor mesh. Make sure your pets have lots of opportunities to exercise and play (digging is often a sign of boredom), or give them a designated safe spot to dig. If you notice that your rabbits have been digging, regularly move the run to new spots to prevent your pets escaping. If you're still worried, you can contact our customer service team who will be able to give you more tips.
Can I extend the height of my single height Zippi run?
Unfortunately you can only extend a Zippi run length- and widthwise. The sturdiness of the run can't be guaranteed when extended in height.
Will the underfloor mesh hurt my pets' feet?
The sizing of the mesh has been designed to fit rabbit and guinea pig feet. If you're placing the run on grass, it will barely be noticeable to your pet, but even on a harder surface it won't cause your pets' any discomfort.
Why can't I fit two Zippi runs together instead of buying an extension?
You can technically connect two runs together, but it's not something we recommend. The extension packs will provide you with exactly what you need; if you connect two runs together you will have spares. Connecting two runs rather than extending also compromises the structure of the roof, and it will not be as strong.
Can I keep baby animals in the run?
As long as your rabbit or guinea pig is old enough to go outside, they can be kept in the Zippi Run. For very small babies of certain breeds, you may want to add additional mesh or covers to exclude the risk of escapes.
Zippi Guinea Pig Playpen Starter Pack - Single Height
I like this setup for the fact that it's super easy to clean. and Guinea pig also has access to grass. but the front of the tray doesn't hook on anything or has any thing supporting the bottom. Every time I move the hutch to a different spot, it will leave a gap between the bottom tray and door and drop bedding out from the bottom. Would suggest to add a support piece under there.
Review for:
Zippi Guinea Pig Playpen Starter Pack - Single Height
The reviewer has 1 smooth hair pets
Write a Review