Chicken Runs
Omlet's chicken runs and chicken fencing allow you to create a customizable enclosure that is adaptable to the dynamic nature of chicken keeping. The heavy duty, welded steel runs, fitted with an integrated anti-tunnel skirt provide a secure space for your hens, and the strong and highly flexible chicken netting offers more scratching, perching and pecking opportunities, while still keeping the hens on the right side of the fence.
---
Walk In Chicken Runs
Secure, heavy duty steel runs, customizable to fit any flock
From $695.00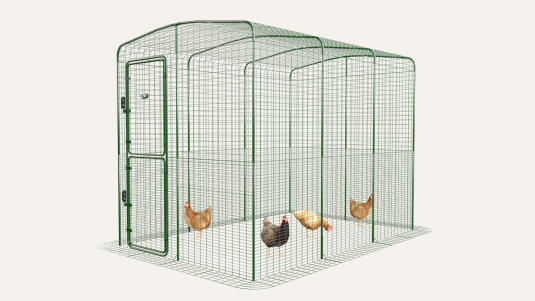 Shop Chicken Walk In Runs >
Chicken Fencing
Flexible, easy-to-move chicken netting in a range of sizes
From $145.00
Why buy a chicken run designed by Omlet
Our chicken runs are built from materials strong enough to withstand the elements, and designed to thwart even the most persistent predator's attempts. We're proud to offer durable, long-lasting chicken runs that suit every chicken keeper's needs. Flocks of all types and sizes will enjoy the spacious interiors of our chicken runs. We understand that raising chickens is dynamic, which is why we've taken special care to ensure all of our chicken runs are as customizable as possible - both in height and length. And with various modifications, we invite you to invent right along with us in designing your flock's run.