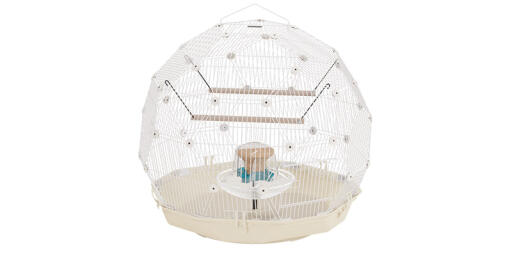 Checking stock in our warehouse...
$189.00
Geo Bird Cage - Cream and White
Best cage I ever had and will ever have!
Review for:
Geo Bird Cage - Cream and White
The reviewer has 2-4 Parakeet pets
Really cute cute, a little bit hard to clean but so much better than most bird cages!
I've had this cage for a while now and it's been pretty great. However I may be changing it for a different cage due to the mess my bird makes. Pros: - Unique and attractive design, choice of matching colours etc - Good amount of space for side-to side flight for bird - Very good quality of perches, bath and feeding/water accessories - Easy unlocking mechanism for floor of cage to clean - Customer service has been amazing when I needed to replace something (I accidentally cracked a food dispenser) Cons — (My bird is a pacific parrotlet and therefore probably way more messy than most birds… and boisterous, she's a bit of a pain) - Food debris/feathers and such is able to fall over the sides - especially if food dishes are anywhere near the sides. this is a problem it's all cages really unless you have the whole thing covered by netting. - The supplied cage floor paper covers are not very useful? It's just a donut paper thing. I used them for a while but they didn't really do anything and it was just a bit difficult to try and pour the floor contents into a bin. Again my bird is untidy but it could be better if something covered the whole of the cage bottom (I'm using a plastic bag that I fold into the middle and throw away when cleaning the cage). - While the shape is nice, if you put literally any toys in the cage it really restricts the space and there isn't a huge variation of how you can put the perches. - Again, shape it cute but then practically for small flats/spaces it's a bit awkward. Personally I think if there was larger/more fitted floor covers and maybe some kind of raised plastic guard going around the bottom of the cage then that would make my life a lot easier.
Review for:
Geo Bird Cage - Cream and White
The reviewer has 1 Pacific parrotlet pets
Birds love the space and i love the look.
Review for:
Geo Bird Cage - Cream and White
The reviewer has 2-4 Parakeets pets
I love the design of the cage and it fits in beautifully with the rest of our home. My biggest problem is that it doesn't have the metal fencing at the floor of the cage, as other generic cages do, to keep the birds from constantly stepping in their own poop. Even if I stayed home from work and cleaned the floor of the cage every hour, it would still have poop in it (I have 2 birds). My birds step in it and sometimes even try to eat their poop - really bad for my baby lovebird. If Omlet came out with an add on to place at the bottom creating a barrier between the floor and where birds walk, I would DEFINITELY buy it and have no complaints. I see some people fill their cages with sand, but even then I'd imagine it gets full of poop extremely often. I hope that Omlet's design team sees this review and comes out with a bottom piece, as I've seen them be very interactive with commenters!
Review for:
Geo Bird Cage - Cream and White
The reviewer has 2-4 Lovebird pets
I'm super happy with this cage and my birds are enjoying the extra space. I also love the feeder and waterer.
Review for:
Geo Bird Cage - Cream and White
Read more reviews