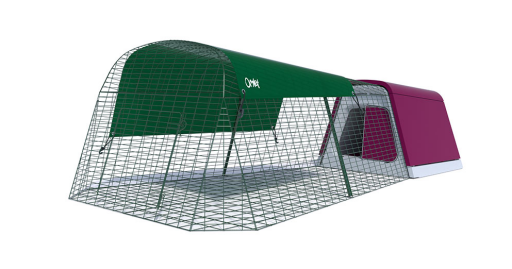 Checking stock in our warehouse...
$230.00
The Eglu Go 6ft Run with Underfloor Wire is perfect for your rabbits to enjoy a hop around and some fresh air. The underfloor wire ensures you can relax knowing that even the most intrepid of bunnies won't tunnel out during the night!
The biggest benefit of having a run attached to your hutch is your pet's freedom to go in and out as it pleases, according to its own routine. As a result, your pet will be happy, relaxed and easier to handle.
Run only. Hutch not included.
Looking for an Eglu Go Hutch? Click here.
Patent Pending. Design Registered.
6ft Run with Underfloor Wire for Eglu Go Hutch
Delighted with this sturdy product!
Brought this to replace my wooden run after having a foxy visitor in our garden. We currently use it for our 3 guinea pigs. Was slightly irritating to put together (and we are quite handy) but once up it's very sturdy and I can't imagine anything similar being more fox proof. Attached securely to eglu and guinea pigs seem happy. Cover works well in the sun. Takes 2 people to move around garden. Extremely happy!
Review for:
6ft Run with Underfloor Wire for Eglu Go Hutch
The reviewer has 2-4 Guinea pigs pets
Run is over-designed and more complicated to assemble than necessary... i don't expect the overabundance of plastic clips needed to hold the Run together will survive for long in our hot southwestern US climate. ..by comparison, we have a large dog crate that came in a box about the same size as the Run... the dog crate is pre- assembled and easily folds open or closed for use or storage,.. there's no reason why this Run couldn't have been designed in a similar way... i suppose the Run is fine for a backyard lawn but it is in no way adequate for rolling throughout our two acre farm/pastures as a rabbit "tractor". ,,perhaps it wasn't designed for such use...i should've known better.
Review for:
6ft Run with Underfloor Wire for Eglu Go Hutch
The reviewer has 2-4 mixed domestic rabbi pets
Read more reviews