Large Chicken Coops
Not too big, not too small– finally, a large chicken coop that is just right for up to 10 hens. Introducing the Eglu Cube – our largest and most accommodating chicken coop yet. We've reimagined our classic coop, added the space and features larger flock-raisers need, and turned the world of chicken-keeping on its head once again with the Eglu Cube large chicken coop!
---
Eglu Cube - Large Chicken Coops
Spacious design for up to 10 chickens, with or without run
From $895.00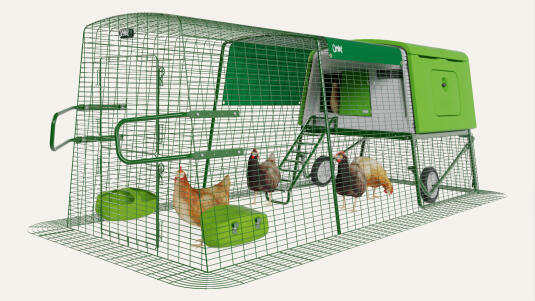 Why buy a large chicken coop designed by Omlet
We believe humans and chickens need balance, which is why we've added features such as an easy-access egg port to the nest box and an inner partition, complete with sliding door, to keep your chickens home and work life separate. Beginners and advanced chicken keepers alike can enjoy this easy to maintain large chicken coop, designed by Omlet. Spacious enough to prevent squabbles, yet cozy enough for all of your chickens to sleep soundly, the Eglu Cube fits the bill.