Parrots come in all sizes, from sparrow-sized Parrotlets to huge Cockatoos. Some, like the popular Cockatiel, are easy-to-keep, while the Macaws can be challenging. The dozens of other available species fall somewhere between the two.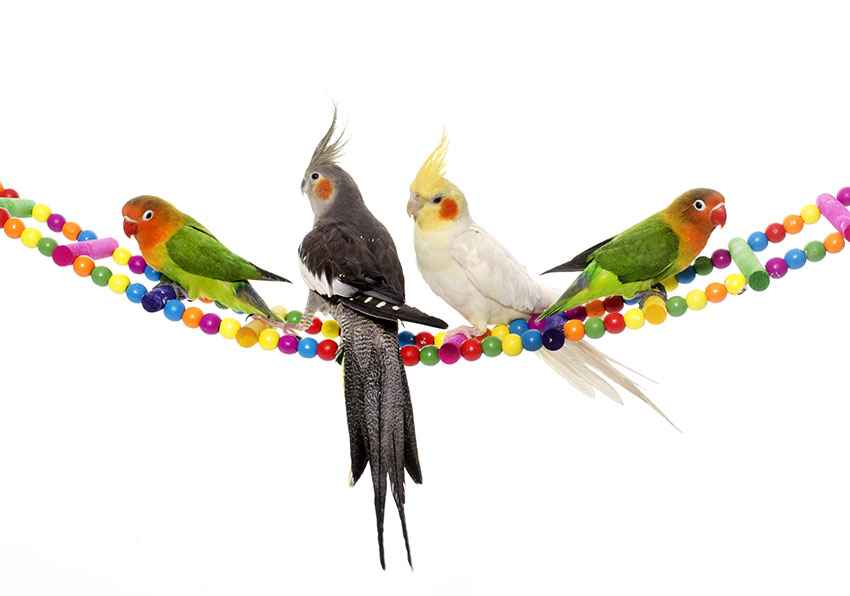 Cockatiels and Fischers Lovebirds - popular birds worldwide
Keeping a basic equality in terms of bird size is important in any aviary. Larger parrots will bully smaller ones. You also need to make sure all the birds' food requirements are catered for. Hand-taming your parrots will make the pet-keeping experience more satisfying, and a certain amount of training should be seen as essential rather than optional. After all, with some of the larger birds, you're dealing with an animal whose intelligence has been compared to that of a five-year-old child.
It's worth pausing and digesting that fact. Parrots are up there with Dolphins and Chimpanzees, and in the bird world only certain members of the crow family can give them a run for their money when it comes to being smart cookies.
Within this diverse range of sizes and intellects there is bound to be a parrot to suit your home. This guide looks at what some of the most popular species require in terms of housing and feeding, but also acts as a useful guide for all parrot species kept as pets.