The healthiest fruit and veg ted to have the deepest colors. Pale-fleshed apples, pears and turnips are low in nutrients, while vivid orange-fleshed peaches, pumpkins, sweet potatoes and carrots are terrific. They contain beta-carotene, which the parrot's body converts to vitamin A, an essential nutrient for animal health.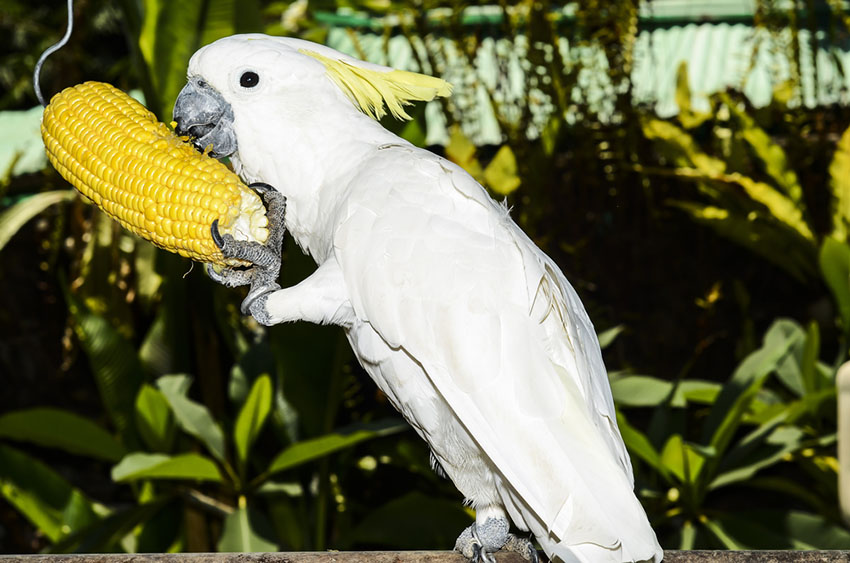 This Sulfur-crested Cockatoo loves her corn on the cob!
Dark green is another color to go for - nutrient-rich cabbages such as kale, along with broccoli and dandelion leaves, are packed with B vitamins, antioxidants and a multitude of minerals.
As a rule of thumb, make sure the vegetables outnumber the fruits in your parrots' diet by around 10:1. (Again, this is a general rule, and there are exceptions: Caiques, Eclectus and Lories are fruit fanatics and require more fruit than the other parrots).
The following fresh foods are suitable for most parrots:
Vegetables:

Alfalfa
Artichokes
Asparagus
Beet Greens (cooked)
Beetroot
Broccoli
Brussels Sprouts (cooked)
Carrots
Cauliflower
Chard (cooked)
Chicory
Corn (on the cob)
Cress and mustard
Dandelion Greens
Endive
Green Beans
Kale
Okra
Parsley
Peas (still in the pod)
Peppers (including hot ones)
Potato (cooked)
Pumpkin
Soy Beans
Spinach (in small amounts: it can prevent a parrot absorbing calcium if eaten in large amount)
Spring Greens (Collard Greens)
Squash
Sweet Potato
Turnip Greens
Yams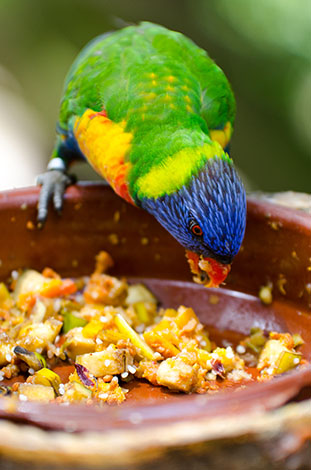 A Rainbow Lorikeet mixing and matching fresh food and dry seed
Fruits:

Apples (no seeds)
Apricots (no stones)
Bananas
Blueberries
Cantaloupe
Cherries (stoned, and not too sweet)
Cranberries
Figs
Grapes (dark ones are best)
Guava
Kiwi
Mango (no skin)
Nectarines (no stones)
Orange (seedless)
Papaya
Peach (no stones)
Persimmons
Pineapple
Plantains
Plums
Pomegranates