Source your birds from your home State if possible. Your home county is even better - in other words check out the parrots for sale as close to home as possible. That way you will avoid long journeys, which can be very stressful for birds.
Larger parrots can travel in cat or dog carriers. You can buy purpose-made parrot carriers too, and as you will be taking your bird to the vet every now and then, these are a good investment. For smaller parrots you can use a cardboard carrier - pet stores or breeders will be able to supply one of these.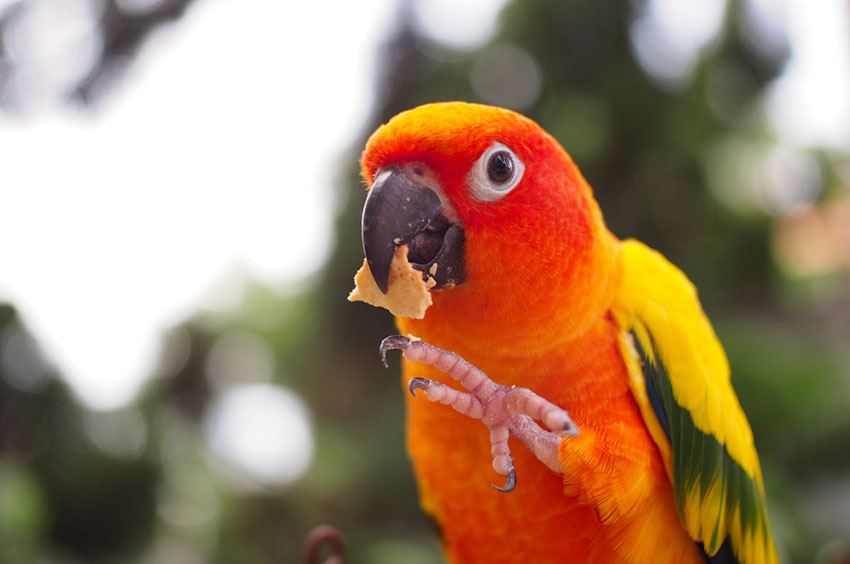 When travelling home with you, parrots like this Sun Conure will need a carrying box or cage
Transporting Parrots
It's best to cover the carrying cage during any journey, to minimize stress on the bird. The cage will need to be secured with a seatbelt too. Don't put it in the trunk or anywhere it can slide around. The trunk can also accumulate deadly car fumes, so it's a double hazard.
It's possible to use the parrot's home cage for trips in the car, if it's sufficiently small. If doing so, remove anything that can slide around - non-fixed bowls, swings and toys - and make sure there's a secure perch.
If your parrots are in a larger aviary you will need to have acquired the skill of netting and re-caging them for the journey. This definitely needs an expert hand, and by far the best option would be for your local bird vet to pay you a visit.