(9-13 inches)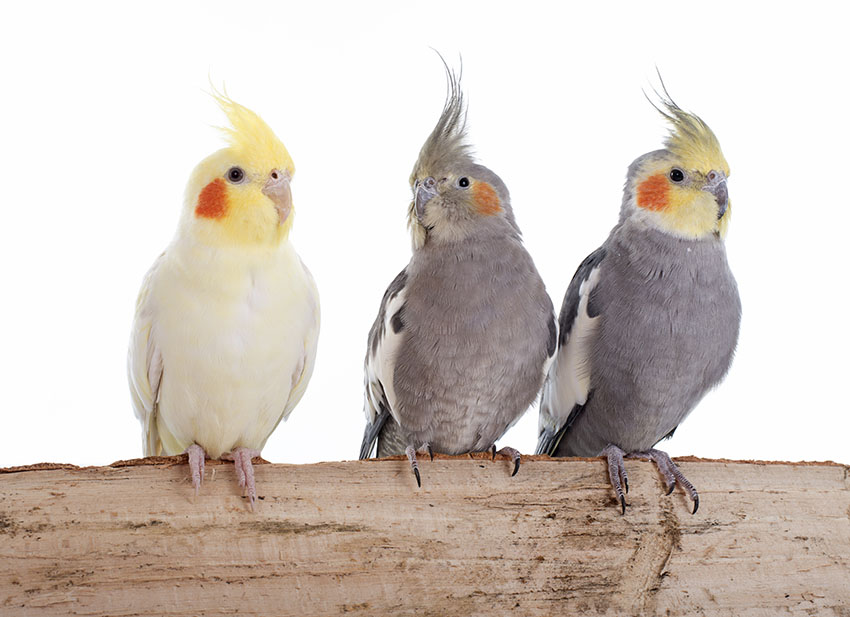 Cockatiels
Cockatiel
(Nymphicus hollandicus)
Hahn's Macaw (Noble Macaw, Red-shouldered Macaw) (Diopsittaca nobilis)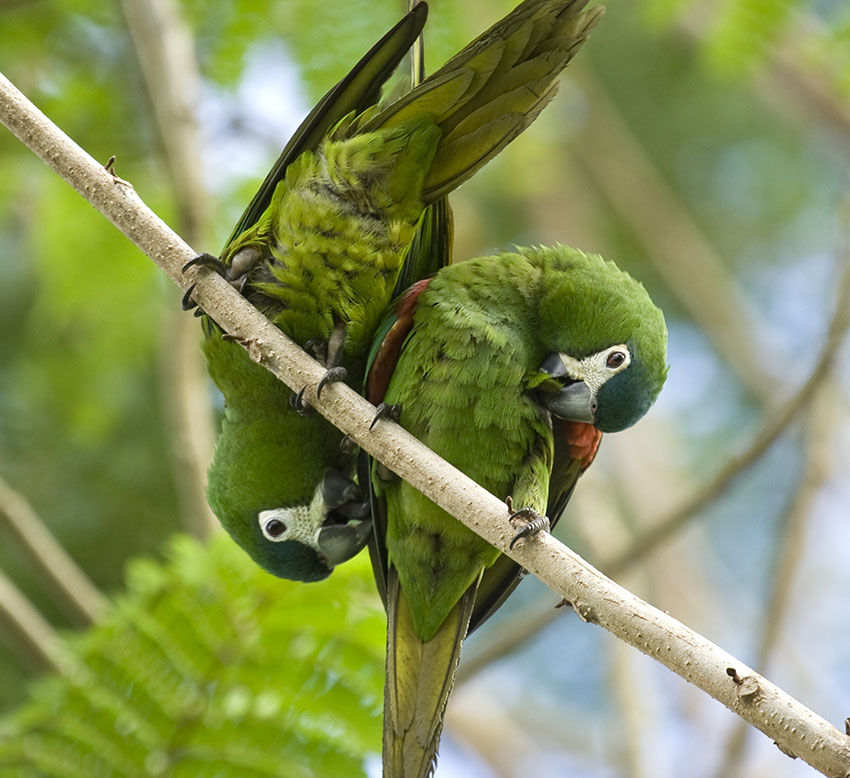 Hahn's Macaw
Quaker Parrot (Monk Parakeet) (Myiopsitta monachus)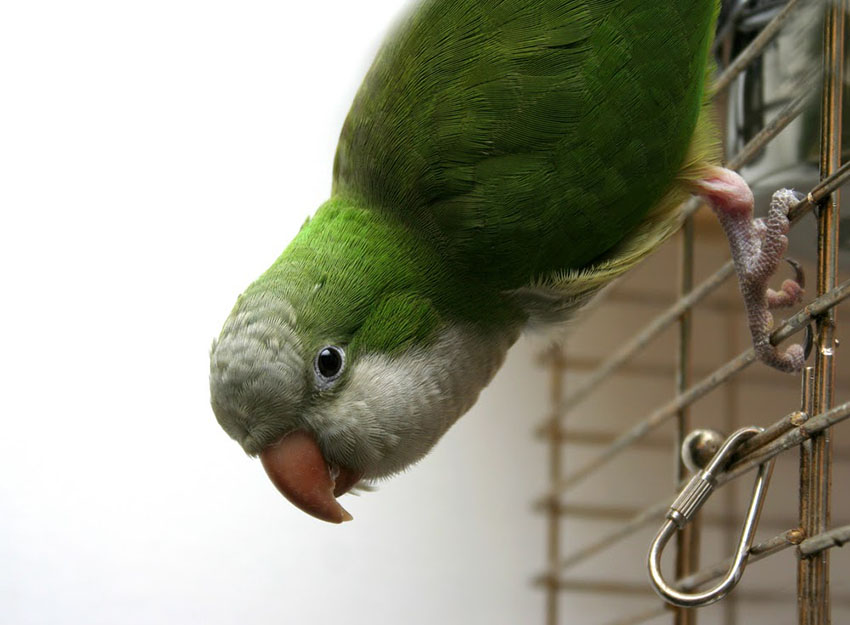 Quaker Parrot
Quaker Parrots and the Law
Quaker Parrots (aka Quaker Parakeets), originally from South America, have colonised some US states. These populations are based on escapees rather than wild birds moving north. Florida, Texas, and New York have well-established colonies of the bird. Unfortunately, this has made Quaker parrots some enemies, and farmers have urged to have them designated as pests.
As a result it is now illegal to own Quaker parrots in California, Colorado, Connecticut, Georgia, Hawaii, Kentucky, Maine, Pennsylvania, Rhode Island, Tennessee, and Wyoming.
In New Jersey you need a permit to keep the parrots, issued by the New Jersey Division of Fish & Wildlife at its discretion.
In New York the birds need identification tags.
In Ohio the Quaker's wings must be clipped.
The birds are legal in all other States.
Caiques:

Black-headed Caique (Black-headed or Black-capped Parrot, Pallid Parrot) (Pionites melanocephalus)
White-bellied Caique (White-bellied or Green-thighed Parrot) (Pionites leucogaster)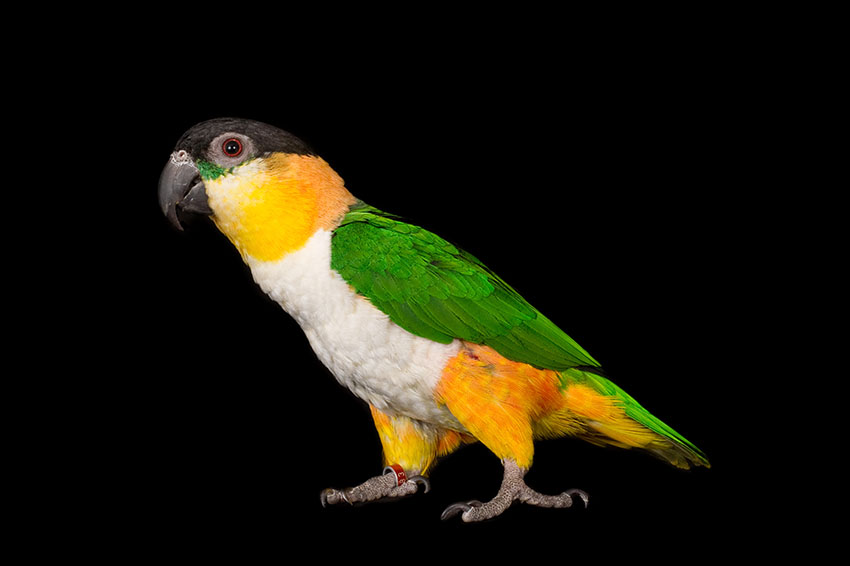 Black-headed Caique
Aratinga Conures:

Blue-crowned Conure or Parakeet (Sharp-tailed Parakeet) (Thectocercus acuticaudatus)
Brown-throated Conure or Parakeet (St Thomas Conure) (Eupsittula pertinax)
Cherry-headed Conure (Red-headed Conure, Red-masked Parakeet) (Psittacara erythrogenys)
Dusky-headed Conure or Parakeet (Weddell's Conure) (Aratinga weddellii)
Jenday Conure (Jendaya Parakeet) (Aratinga jandaya)
Mitred Conure or Parakeet (Psittacara mitrata)
Nanday Conure or Parakeet (Black-hooded Parakeet) (Aratinga nenday)
Orange-fronted Conure or Parakeet (Half-moon Conure) (Eupsittula canicularis)
Peach-fronted Conure or Parakeet (Eupsittula aurea)
Sun Conure or Parakeet (Aratinga solstitialis)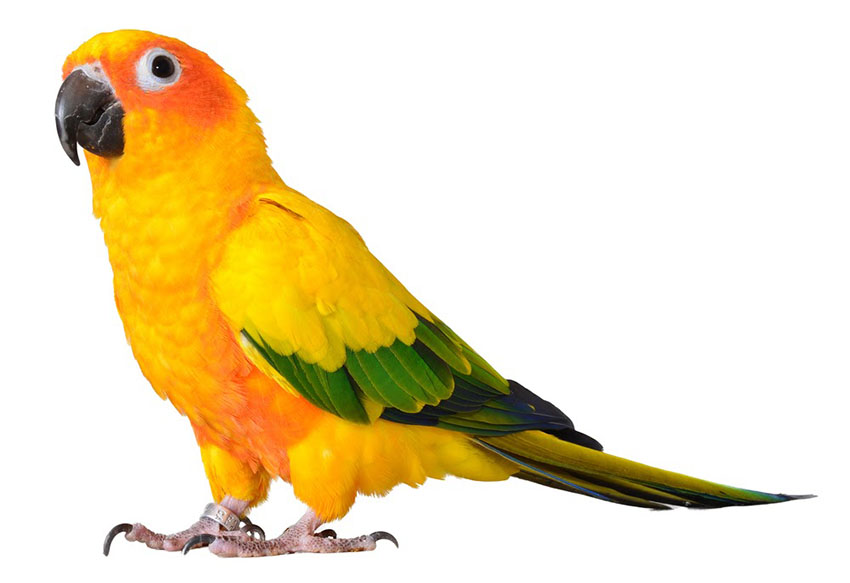 Sun Conure
Pyrrhura Conures:

Black-capped Conure or Parakeet (Rock Conure) (Pyrrhura rupicola)
Blue-throated Parakeet (Red-eared Conure, Ochre-marked Parakeet) (Pyrrhura cruentata)
Crimson-bellied Conure or Parakeet (Pyrrhura perlata)
Green-cheeked Conure or Parakeet (Pyrrhura molinae)
Maroon-bellied Conure or Parakeet (Reddish-bellied Parakeet or Conure, Brown-eared Conure) (Pyrrhura frontalis)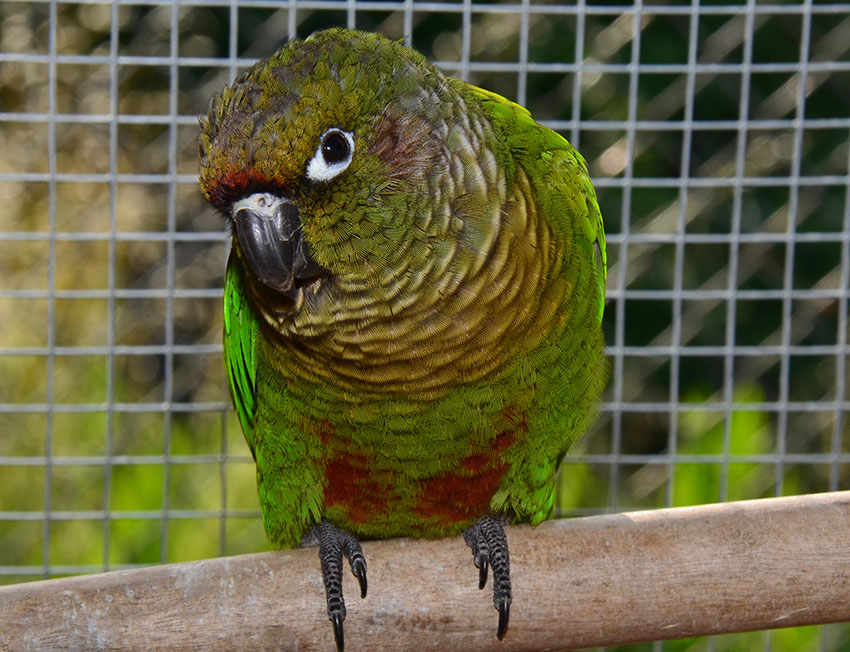 Maroon-bellied Conure
Lories and Lorikeets:

Black-capped Lory (Tricolored Lory) (Lorius lory)
Blue-streaked Lory (Blue-streak, Blue-necked Lory) (Eos reticulate)
Chattering Lory (Lorius garrulous)
Dusky Lory (White-rumped or Dusky-orange Lory) (Pseudeos fuscata)
Rainbow Lorikeet (Trichoglossus moluccanus)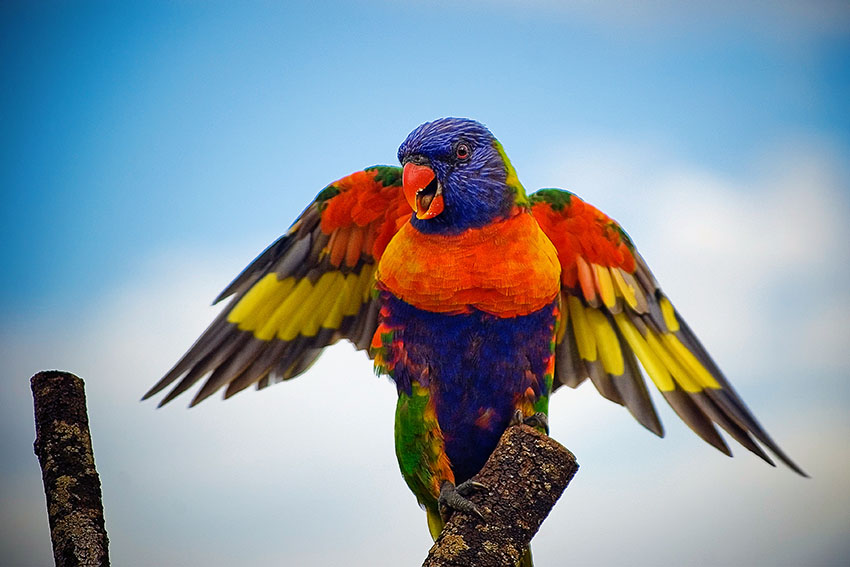 Rainbow Lorikeet
Pionus Parrots:

Blue-headed Pionus or Parrot (Pionus menstruus)
Bronze-winged Pionus or Parrot (Pionus chalcopterus)
Dusky Pionus or Parrot (Pionus fuscus)
Maximilian's Pionus or Parrot (Scaly-headed) (Pionus maximiliani)
White-capped Pionus or Parrot (Pionus senilis)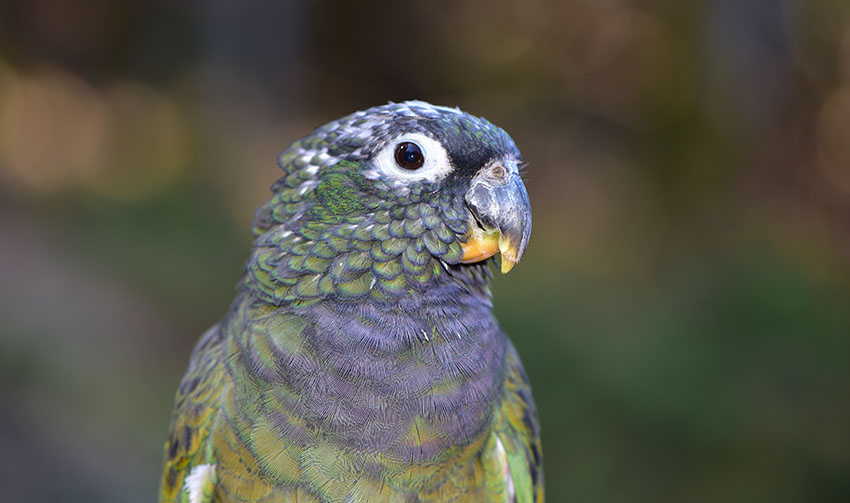 Maximilian's Pionus
Brown-headed Parrot (Poicephalus cryptoxanthus)
Cape Parrot (Levaillant's Parrot) (Poicephalus robustus)
Jardine's Parrot (Red-fronted Parrot) (Poicephalus gulielmi)
Meyer's Parrot (Brown Parrot) (Poicephalus meyeri)
Red-bellied Parrot (Poicephalus rufiventris)
Senegal Parrot (Poicephalus senegalus)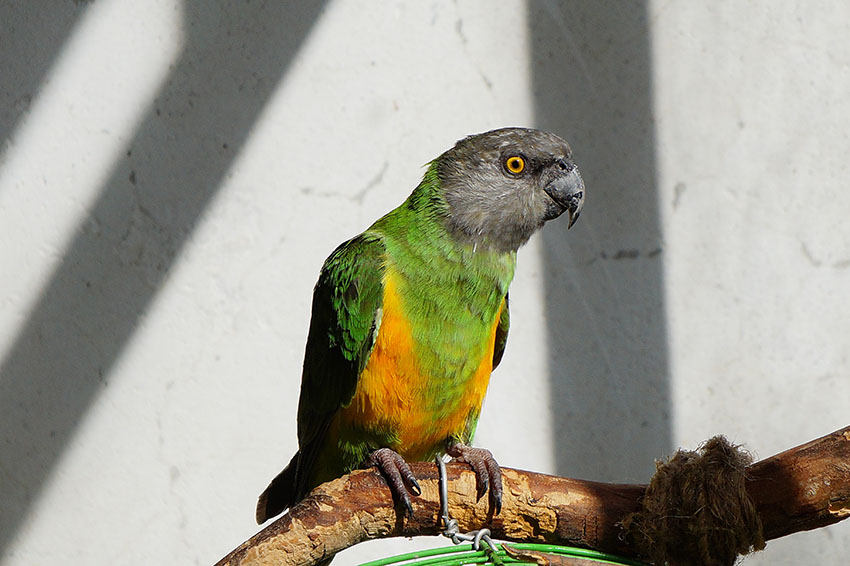 Senegal Parrot
Cockatoos:

Bare-eyed Cockatoo (Blood-stained, Blue-eyed, Little Cockatoo, Short-billed Corella, Little Corella) (Cacatua sanguinea)
Ducorp's Cockatoo (Solomons Cockatoo or Corella, Broad-crested Corella) (Cacatua ducorpsii)
Goffin's Cockatoo or Corella (Tanimbar Corella) (Cacatua goffiniana)
Major Mitchell's Cockatoo (Leadbeater's Cockatoo, Pink cockatoo) (Lophochroa leadbeateri)
Rose-breasted Cockatoo (Galah, Galah cockatoo, Roseate cockatoo, Pink and Grey Cockatoo) (Eolophus roseicapilla)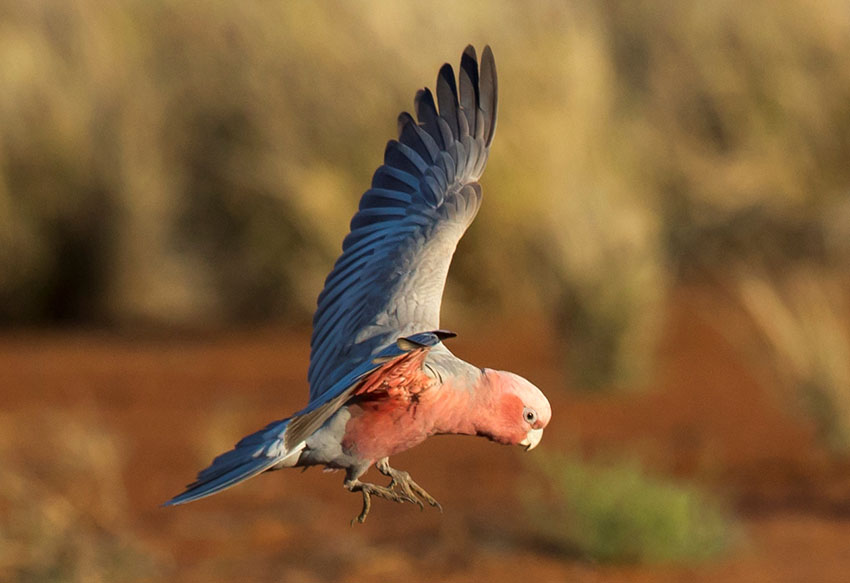 Galah Cockatoo