Like children complaining about early bedtime, whining in the crate usually happens when puppies either have too much energy, or if they feel worried or uncomfortable. It's really important to remember that a crate should not be used to hold your dog for long periods of time. That's why we call it a dog crate, and not a cage. Crate training always works best when your dog is given breaks to exercise, play and bond with you and your family.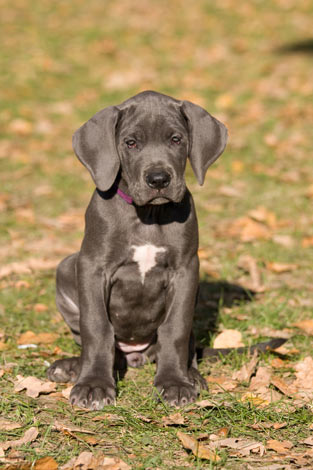 Great Dane puppy who can actually be over exercised">
A Great Dane puppy - he needs a good balance of time in and out of the crate
Step One
When your puppy begins to whine it is important that you do not approach him. Every time you give him attention he will think that he is being rewarded for it. Instead, make a noise that he will associate with bad behavior - "Tsst!", for example.
Step Two
As soon as your puppy is quiet and calm, reward him with a dog treat. Don't give him too much praise, though, otherwise he might actually think that you are rewarding his whining, and move away as soon as you have given him the treat. Repeat this process every time he stops whining. Your dog will begin to learn that you (the pack leader), will only reappear when he is calm and quiet.
Step Three
After a few times rewarding your dog and correcting his unwanted behavior, open the crate door and invite him out. Repeat this process several times a day (or every time he is in his crate) so that he begins to understand how he needs to behave to work for a reward.