Using a crate to train your dog is an extremely effective technique. It allows dogs to have a comfortable place for them to call their own within your home. Not only is it useful for house-training, as they are unlikely to mess up their own space, but there are some situations in life where you will need your pet to be still and quiet - such as when you're driving.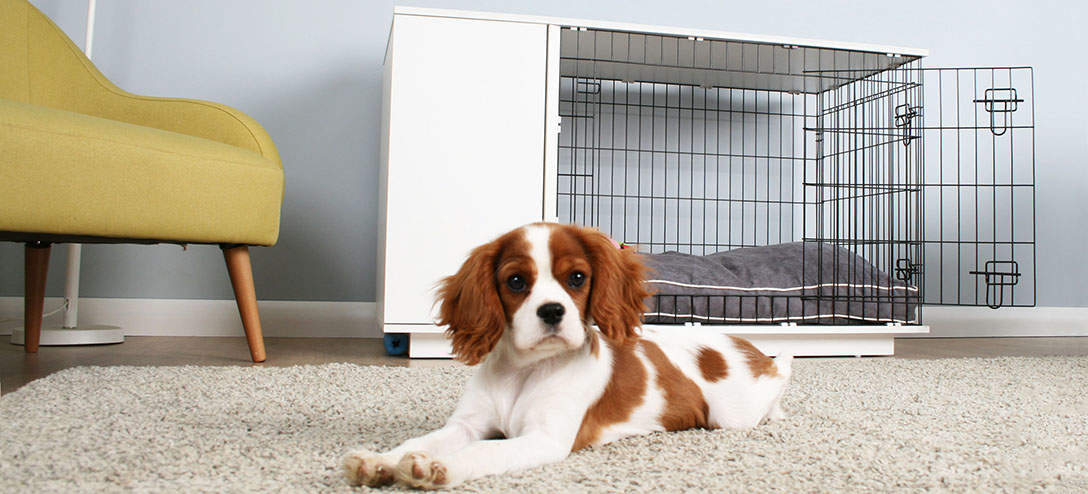 The Fido Studio is a great choice for providing your dog with their own space
If you'd like to crate-train your dog, then we have some great < ahref='https://www.omlet.us/shop/dog_products/fido_studio_dog_crate/'>dog crate choices available on our website. The Fido Studio is specially designed to provide a neat crate and storage solution that blends in with your other furniture. Before you jump right into crate training, though, you must first decide on the best place to put the crate, as once it's in place it should remain where it is, to add to the dog's sense of security.
What A Dog Crate Should Not Be Used For
If crate training is not done correctly, your dog can feel trapped and can get frustrated very quickly. This is when destructive behavior can develop, which can cause your dog harm. A dog crate must never be used as a place of punishment, it should only be used as a place of rest and reward, and at first you must never make your dog go into the crate if they don't want to. Furthermore, a dog crate must never be used to hold your dog while you're at work all day.
Puppies under the age of six months shouldn't be left in a dog crate for more than three hours at a time. At this age they can be a lot like a toddler and may need to pee at a moment's notice. Taking them outside to relieve themselves will usually help prevent any accidents, especially after they have been fed or had a drink.
Take a tour of the Fido Studio - not just a crate, but also a contemporary piece of furniture.