Gerbils can make a variety of noises, from squeaks to chirps. If you notice that your gerbil is making a peculiar noise it's natural to be a bit worried, but there are lots of different reasons for vocalisations, and some of them are perfectly normal. Below we discuss two potential causes - relationships between gerbils, and health issues.
One of the reasons gerbils squeak and chirp is to talk to each other. Do you have more than one gerbil? If you do not, you will need to get another. Gerbils are very family orientated and will be very depressed without a friend to talk to. Have a look at our pages on introducing gerbils if you're worried about how you would go about this. If your have baby gerbils and a gerbil mother, then the chirping could be the babies talking to each other and calling out for mum.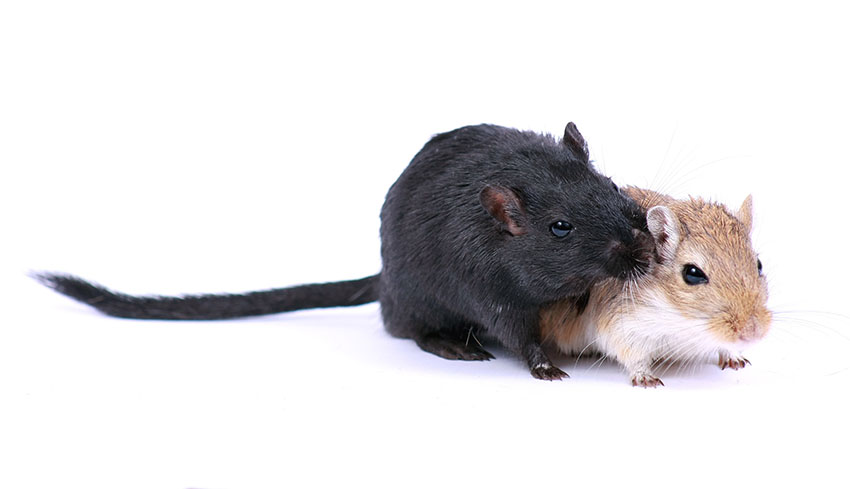 There are a number of reasons for gerbils chirping at one another - it's used for communication, both to each other and to you
Another potential cause of the noise is some form of health problem. Does the noise sound as if it's caused by pain? Is your gerbil in any distress? If you suspect that your gerbil is unwell then it will need to be taken to the vet. If it's a wheezy kind of chirp, and it happens as your gerbil breathes, then it could be a respiratory infection that's causing the noise. Does your gerbil exhibit any other symptoms of a respiratory infection, such as sneezing or a runny nose? If so, it could be that the gerbil needs to see a vet.