There is a huge selection of chicken coops currently on the market. Whether you have a large garden flock or just a couple of hens, there is a perfect coop for you.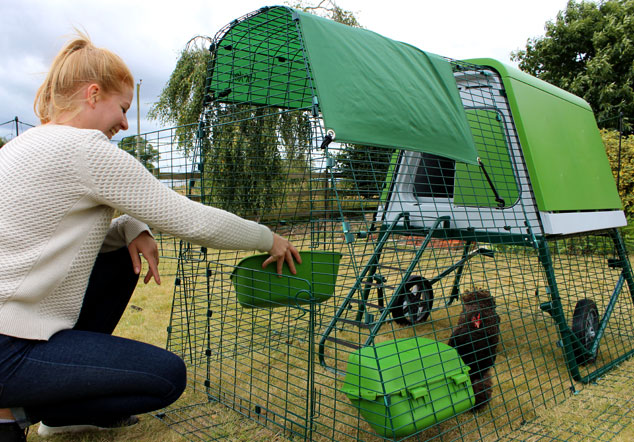 The green Eglu Go UP Chicken Coop  looks great in the garden and chickens love it
Size
The bigger the coop, the more hens you can have but you would be surprised by how many hens can fit in even some of the smaller coops. When your hens are sleeping they will roost on bars and huddle together to keep warm. You may think that your coop is totally full but try opening it at night and you will be amazed by how much space the chickens leave as they huddle as close together as possible.
The number of chickens you can keep will be limited by local ordinances, so always check first before deciding what type of chicken run you want.
You should pick a coop that has plenty of room, and should be aware of coop adverts that can sometimes be misleading. You have to assume that a coop advertised to hold 6 hens is talking about smaller breeds of chicken, therefore larger breeds may struggle to squeeze in.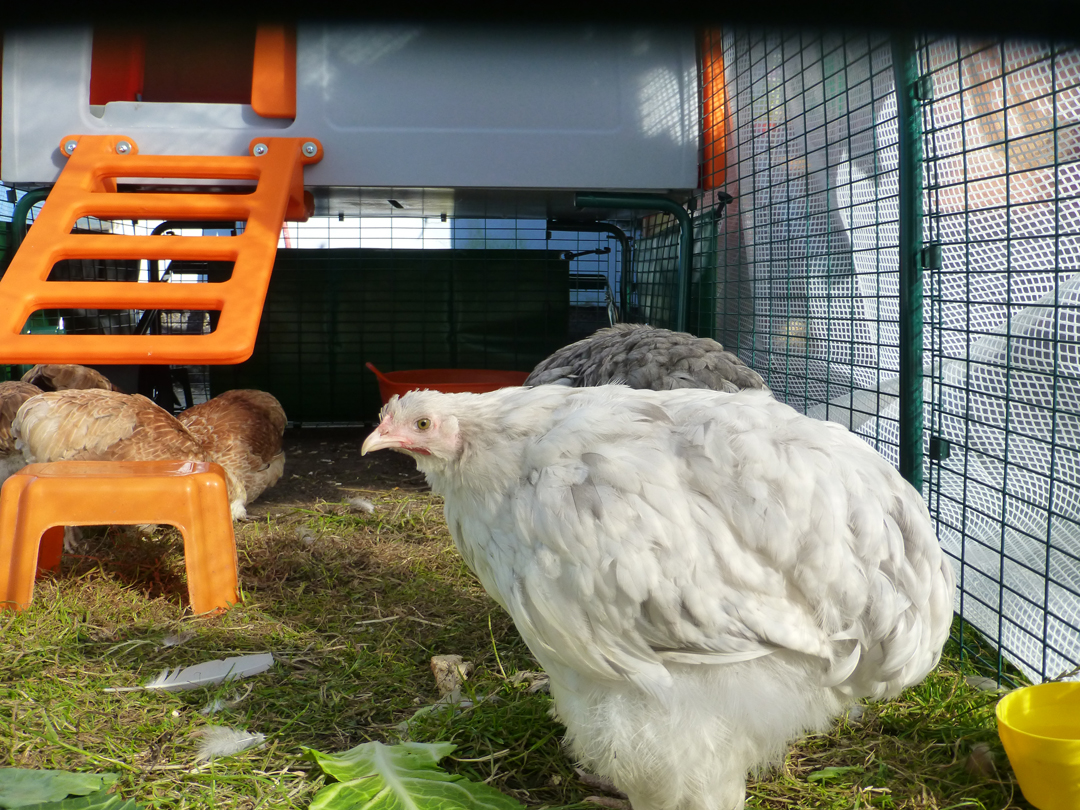 These Bantams and Cochins love their Eglu Cube
See how easy it is to clean, maintain and move the Eglu Cube.
Raised
The biggest benefit to having a coop that is raised off the ground - such as the Eglu Go UP or Eglu Cube - is the extra run space you get without increasing the footprint of the coop. Raised coops give your chickens a shaded area underneath them and are perfect to maximise the space you dedicate to your hens.
For wooden coops, a raised coop may also have a longer life expectancy as they generally remain dryer and have less chance of rotting. An added benefit of a raised coop is that they tend to be at a more convenient working height, this can be perfect for us chicken keepers that prefer not to be bent double or have limited mobility.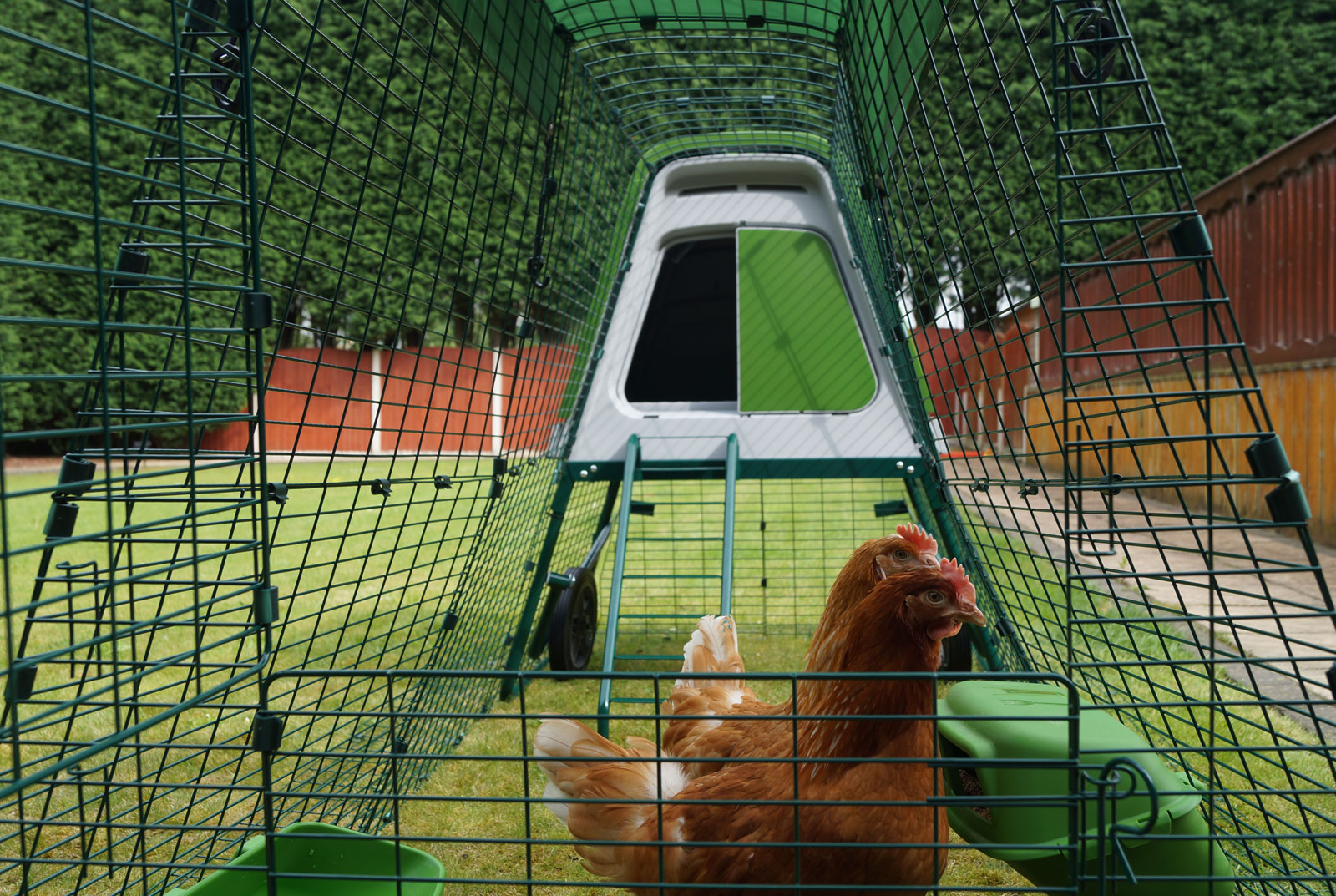 These hens are enjoying their new Eglu Go UP and Run
Check out this raised coop.
Materials
The Material that your coop is made of can make a huge difference to the coop's lifespan, its likelihood to harbour parasites, how easy it is to clean and insulating properties.
One main benefit of plastic coops is that they are much less likely to become infested with red mite. This is because there are almost no nooks and crannies for the parasites to hideaway in. If you do have red mite you can just disassemble a plastic coop and pressure wash it to get it spotlessly clean.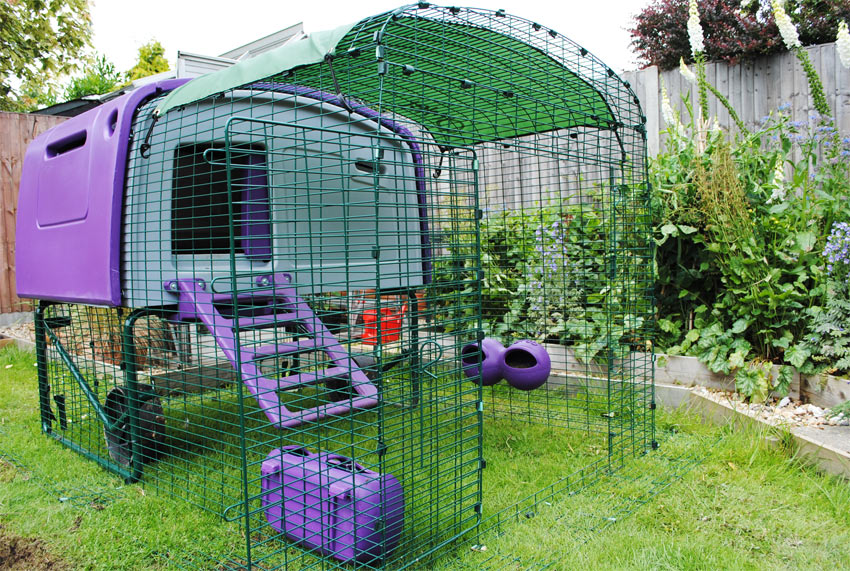 An Omlet Eglu Cube is really easy to wash and dry
Plastic coops also won't absorb any moisture like a wooden coop will. This not only means you can pressure wash them but also that they won't become sodden and start to rot. An added benefit, no waiting for the coop to dry...
Wood
If you are a traditionalist then you might only be considering wooden coops. Wooden coops have been used for hundreds, if not thousands of years and are a fantastic way to keep hens. One thing you need to beware is cheap materials that simply won't last more than a couple of years.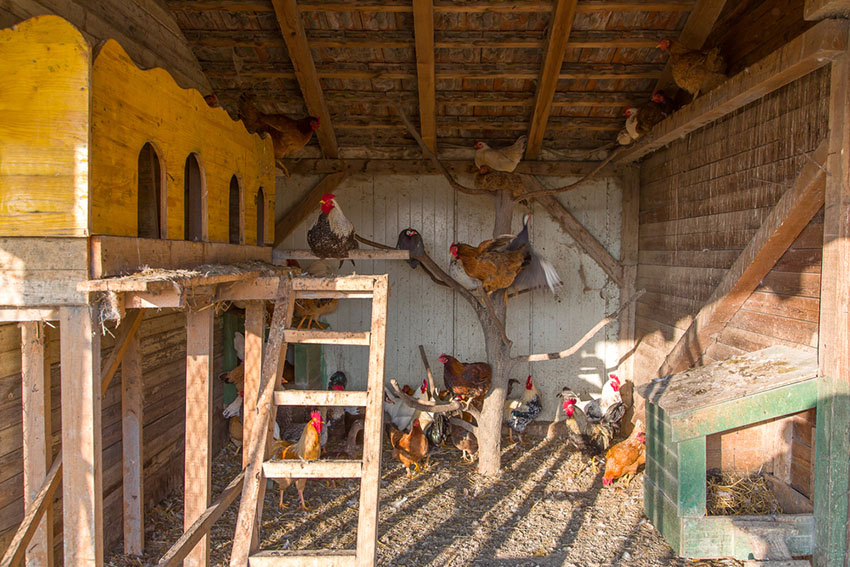 A wooden hen house, old fashioned but functional
Check out the Eglu Coops and Walk-In Chicken Runs available from Omlet.