Like any other pet, chickens can sometimes have health problems. Illness is quite uncommon in mst hens, but when problems occur, your birds deserve some extra special care. This section of our Guide covers symptoms, possible causes, and what to do about it.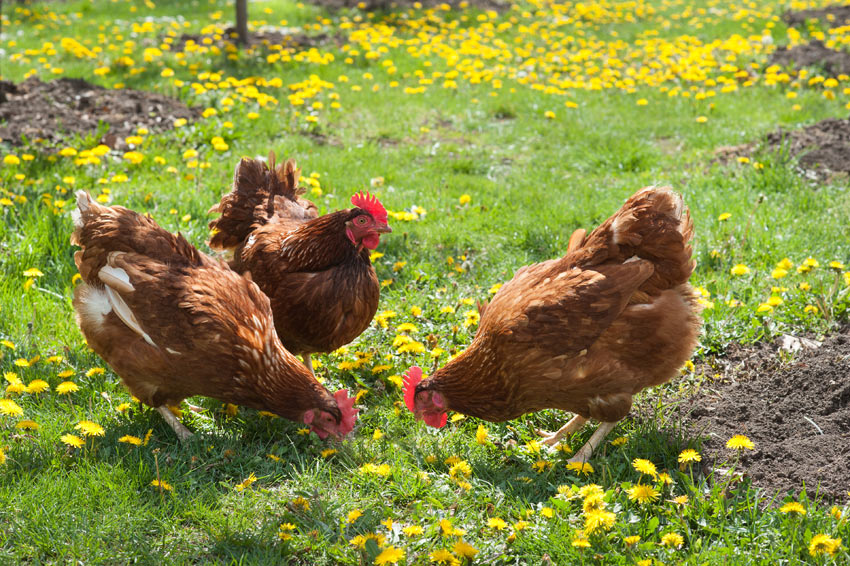 A trio of healthy chickens roaming the garden
Sick Chickens
The following signs will tell you if your hens are unwell. Isolate any ill birds, and call the vet.
Dirty or messy feathers outside the molting season
Hunched-up posture
Lethargy, sitting alone, or perching on a roosting bar in the daytime
Evidence of parasites on skin or feathers
Runny poo, completely white poo, or signs of blood or worms in the poo
Sneezing, wheezing or other unusual sounds
Being bullied by the other hens suddenly
No appetite
Slow growth compared to birds of similar breed and age
Don't Panic! Five Signs that a Hen is Healthy, In Spite of Appearances!
Small, soft-shelled or shell-less eggs in young birds. The first few are usually a bit abnormal, so this is fine.
Loss of feathers. This happens every year during the molt, so don't worry.
No egg-laying. This is a regular cycle – eggs will all but disappear during the colder months, and also during the molt.
Red or dark spots in or next to the egg yolk. This is normal, and unless there's a lot of red – i.e. blood – or blood in every single egg, everything's fine.
New birds hiding in the coop - they're just finding their feet in the new flock and will be out and pecking in no time!