Canaries and Finches both like to keep themselves clean. In the wild they will usually go for a dust bath or a puddle to do this cleaning. In captivity, a bath is always preferred. You can buy special made bird baths in pet stores, though most of the time a simple dish of water will be just as good. Bathing helps clear any dirt and dust from the feathers whilst also cooling the birds down. Even if they're not particularly dusty or hot, finches and canaries enjoy simply splashing about in the water. If there is no bird bath provided, your birds will at some point try to bathe themselves on their drinking water, a clear sign that a bath is in order.
There is a wide selection of bird-baths readily available online or in pet stores, ranging from simple plastic items that clip onto the side of the cage to concrete plinths used in aviaries. The most practical ones for most owners tend to be the ones that clip directly onto the cage side. A non-tippin shallow tray will do the job just as well, but will cause a bit more splashing. You should also keep in mind the fact that the nath needs to be placed in and removed from the cage with ease as not to cause unnecessary stress to the birds.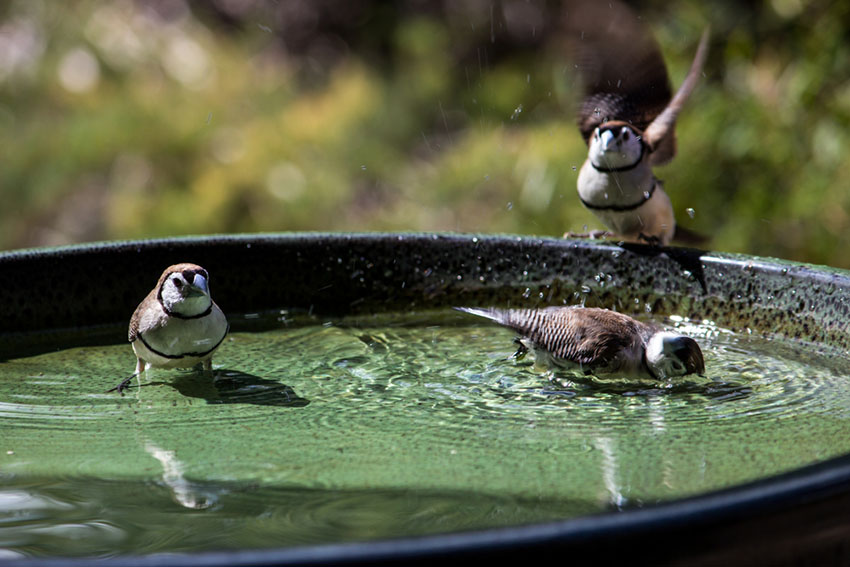 Owl finches enjoying a bath
Baths can also sit on the cage floor. If your canary is allowed to fly freely in the room, you can place a try of water on your house floor, on top of a napkin or cloth to soak up all the spillage. Make sure to choose a bowl that sits securely on the floor, a bowl that tips or rocks will cause panic in your bird.
Many canaries enjoy the occasional spray with lukewarm water. Once your bird is happily bathing, and of course once he is used to you and your presence, try spraying them with a plant mister spray. If your bird spreads out his wings and sluffs up all his feathers, he is enjoying it. If they flee from the spray, well the message is clear and the spraying is a no-go. Some birds will enjoy it straight away whereas some birds will have to get to grips with the idea first.
Finch Bath Water Temperature
Your birds should always be bathing in cool or lukewarm water. Do not use cold water that has been refrigerated. In general, the water should be anywhere from cool - room temperature. No hot or cold baths for these birds.