This is a small bird, coming in at only 4 inches long, yet despite this they remain the second most popular pet finch in the world, second only to the canary. Wild Zebra Finches can be found across much of Australia, with only the cooler, wetter and more tropical parts of the country being Zebra Finch free. Outside of Australia wild populations can be found in Indonesia and East Timor. There are thriving populations of introduced birds in the USA, Brazil and Puerto Rico. In Europe, any escaped birds have failed to survive, save for a small feral population in Portugal.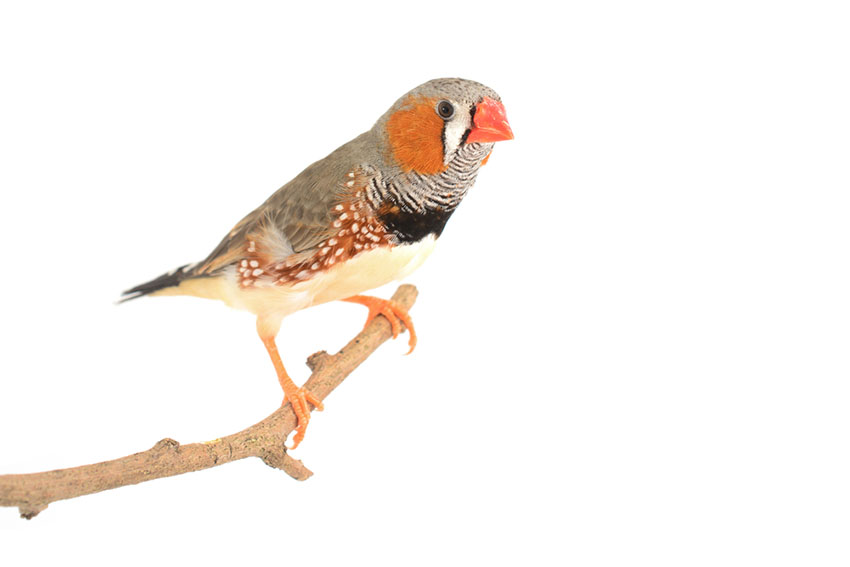 The Zebra Finch, one of the world's most popular Australians
Different native populations all across the world have led to separate subspecies being able to thrive, most notably the Timor, or Lesser Sudas, Zebra Finch (Taeniopygia guttata guttata) and the Australian, Chestnut-eared or Spotted-sided Finch (Taeniopygia guttata castanotis). The latter is sometimes classed as a separate species all together - Taeniopygia castanotis. The differences between these subspecies are usually largely down to subtle differences in markings.
In the tongue of the native Australians, the bird is called "Nyi-Nyi" or "Nyeen-Ka". A vast majority (99.9%) of all pet Zebra Finches are derived from this Australian subspecies.
Wild Zebra Finches
Wild Zebra Finches are a flock animal. They live together in these large groups, feeding, drinking and eating together. They feed on the ground or in shrubs and grasses, and sometimes even nest on the ground (though usually they nest in bushes or on trees). They are a very adaptable bird, a trait which has helped them thrive. They can soon acclimate to any non-urban human landscape. They also have a huge bonus of having extremely efficient kidneys, allowing them to extract every last molecule of moisture from any foods, it also allows them to drink the brackish waters of coastal saltmarsh.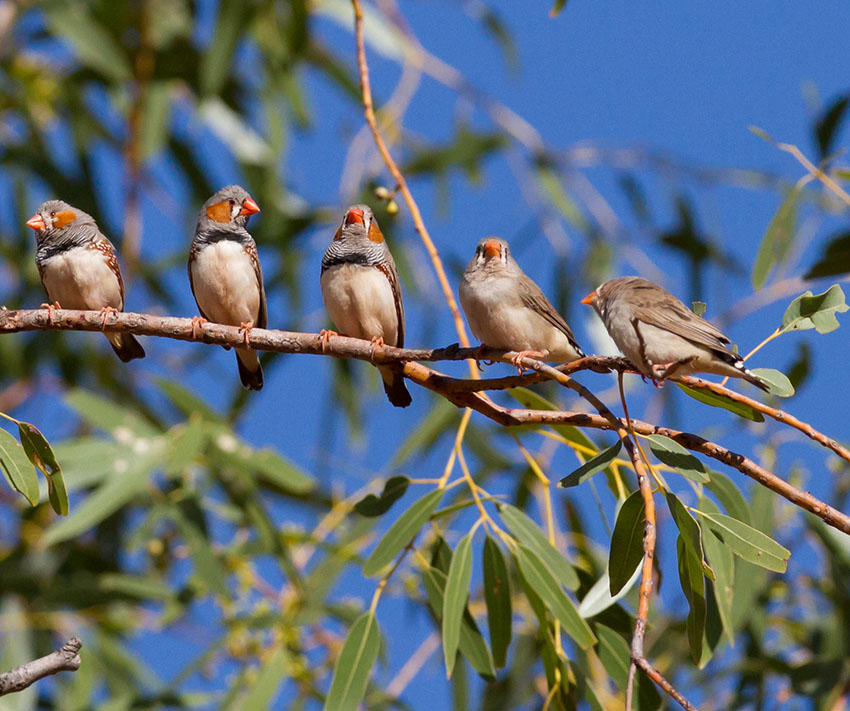 Zebra Finches - hardy and adaptable in the wild
Zebra Finch Facts
The Australian variety of the Zebra Finch was first discovered by western science in 1838. Within a decade the birds were already being imported into Europe to be sold as pets. Germany became the first country to successfully breed the birds in the 1870s, and much of Europe soon caught up by the 1900s, led by an enthusiastic Britain.
The wild population took a hit with the ever growing demand for pet Zebra FInches and in 1960 the exportation of all native animals from Australia was banned. By this time, the captive bred birds had already set off on their own path and were acknowledged as a genetically distinct bird. In general, captive birds are larger and there are even differences, although subtle, in their behaviour and vocalisations.